Book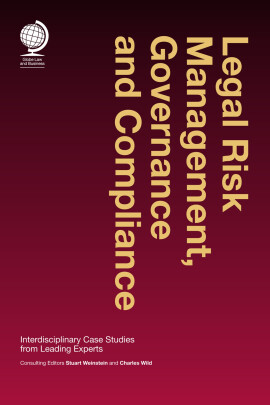 Legal Risk Management, Governance and Compliance
Interdisciplinary Case Studies from Leading Experts
Stuart Weinstein, Charles Wild
Published: 2016
Pages: 196

eBook: 9781787420557
This case-study companion provides the next level of critical analysis and legal commentary. Leading experts analyse real-life cases and make recommendations based on lessons learned, offering solutions that will be of use to all those directly involved in or concerned with, the management of legal risk in the commercial, government or third sector
This new volume charts the biggest successes – and failures – of legal risk management, governance and compliance at global brands over the past two decades; the cases that have led to our understanding, and myriad national and international regulations, today.

Succeeding bestseller Legal Risk Management, Governance and Compliance: A Guide to Best Practice, this case-study companion provides the next level of critical analysis and legal commentary. Leading experts analyse real-life cases and make recommendations based on lessons learned, offering solutions that will be of use to all those directly involved in, or concerned with, the management of legal risk in the commercial, government or non-profit sector. Key cases under the microscope include the FIFA scandal, coverage of MetLife's fight against being designated 'too big to fail' by the US and lessons learned from the General Motors case. Checklists and diagrams are included to consolidate core issues and provide a readily accessible view of corporate group structures and associated timelines.

Legal Risk Management, Governance and Compliance: Interdisciplinary Case Studies from Leading Experts will support practitioners and executives in their professional development while directly demonstrating, case by case, the difference that an effective risk management strategy makes towards organisational goals.

Table of Contents
| | | |
| --- | --- | --- |
| Front cover | 1 | |
| Title | 2 | |
| Copyright | 3 | |
| Table of contents | 4 | |
| Foreword Lord David Gold | 8 | |
| Preface Stuart Weinstein Charles Wild | 10 | |
| Developing the right formula for successful legal risk management, governance and compliance Stuart Weinstein Charles Wild University of Hertfordshire | 12 | |
| The transformation of general counsel: setting the strategic legal agenda Constance E Bagley Yale University Mark Roellig Massachusetts Mutual Life Insurance Company | 46 | |
| Using alternative dispute resolution as a tool for containing legal risk Wolf Juergen von Kumberg Northrop Grumman Stuart Weinstein Charles Wild University of Hertfordshire | 68 | |
| Legal risk management and governance in the financial world Boris Georg Hallik DekaBank | 112 | |
| An international overview of board structures Jan M Eickelberg Peter Ries Berlin School of Economics and Law | 126 | |
| Sarbanes-Oxley requirements and the implementation of US corporate governance controls: an overview fornon-US corporates Zabihollah Rezaee University of Memphis | 146 | |
| Risk management and the board of directors: lessons to be learned from UBS Roger Barker Institute of Directors Stuart Weinstein Charles Wild University of Hertfordshire | 166 | |
| Understanding the role of the independent director in family-controlled listed enterprises Richard L Narva Narva & Company LLC | 188 | |
| Corporate social responsibility Richard Smerdon Editor, CCH Corporate Governance Handbook | 202 | |
| 'Tone at the top' and corporate governance Peter Giblin Cass Business School | 220 | |
| The Foreign Corrupt Practices Act: compliance to protect business clients globally Aaron Schildhaus Law Offices of Aaron Schildhaus | 230 | |
| The rising tide of a new international phenomenon: carbon-copy prosecutions Andrew S Boutros* United States Attorney's Office for the Northern District of IllinoisT Markus Funk Perkins Coie LLP | 248 | |
| The Bribery Act 2010 Paul Feldberg Willkie Farr & Gallagher LLP Ian Leist QC Fulcrum Chambers LLP | 274 | |
| Issues relating to health, safety and environment practice Jon Cooper Bond Pearce LLP | 296 | |
| Human resources issues for managers Marjorie Hurwitz Bremner Berg Kaprow Lewis LLP Thushara Polpitiye Astute HR Ltd | 316 | |
| Data privacy: data transfers, offshoring and the cloud Hazel Grant Mark Watts Bristows | 352 | |
| Corporate information risk management Rita Esen University of Northumbria | 378 | |
| Managing legal risks in China Fang Ma University of Hertfordshire | 394 | |
| Third parties, agents and supply chain due diligence David Curran Risk Readiness Corporation Wolf Juergen von Kumberg Northrop Grumman Peter Mancusi Weber Shandwick | 410 | |
| Implementing compliance management systems: an organisational learning process Lutz-Ulrich Haack German Graduate School of Management and Law, Heilbronn Robert Nothhelfer Former head of GRC Lidl International and University of Freiburg, Asperg | 420 | |
| European debt capital markets regulation in the context of retail market risks Ferdinando Bruno University of Lugano, Switzerland | 432 | |
| Fraud within the banking sector Nikolay Dobrev University of Liverpool | 454 | |
| About the authors | 470 | |
The salutatory lessons in every chapter amply illustrate what -- and what not to do -- in planning and implementing an effective risk management strategy

Phillip Taylor MBE
Richmond Green Chambers

Of particular interest is it's up to date approach which brings street smart analysis and advice - explicit and implicit - to those faced with huge consequences, financially and reputationally, to those who are not 'risk ready'.

Professor Peter Giblin
Cass Business School

Constance E Bagley
Professor, Yale University
connie.bagley@yale.edu
Constance E Bagley is a professor in the practice of law and management at Yale University and a senior research scholar at Yale Law School. She was previously an associate professor at the Harvard Business School and a senior lecturer at the Stanford University Graduate School of Business. Before joining the Stanford faculty, she was a corporate securities partner in the San Francisco office of Bingham McCutchen. She was also a member of the faculty of the Young Presidents' Organisation International University for Presidents in Hong Kong and the Czech Republic, and is the author of Winning Legally and Managers and the Legal Environment.

Roger Barker
Head of corporate governance, Institute of Directors
roger.barker@iod.com

Roger Barker has been head of corporate governance at the Institute of Directors (IoD) since 2008. He is senior adviser to the Board of the European Confederation of Directors' Associations (ecoDa) and the director of ecoDa's education programmes. Dr Barker is a visiting lecturer at the Said Business School (University of Oxford), the École Supérieure des Sciences Économiques et Commerciales, Paris, University College, London and the UK Ministry of Defence. Dr Barker's book Corporate Governance, Competition, and Political Parties: Explaining Corporate Governance Change in Europe was published by Oxford University Press in January 2010. He is also the author of the IoD's main guide to the role of the board, The Effective Board: Building Individual and Board Success (Kogan Page, 2010). During the first part of his career, Dr Barker worked as an investment banker in London and Zurich. He is the holder of a doctorate on corporate governance from Oxford University, where he was a lecturer at Merton College, and has degrees in economics, finance and political science from the universities of Cambridge, Southampton and Cardiff.

Andrew S Boutros
Assistant US attorney, US Attorney's Office for the Northern District of Illinois
asboutros@gmail.com

Andrew S Boutros is an assistant US attorney in Chicago and currently serves in the office's Financial Crimes and Special Prosecutions Section. As a federal prosecutor, Mr Boutros has conducted some of the office's most significant complex, multi-district, international fraud investigations and prosecutions of business organisations and corporate executives.
While in private practice, Mr Boutros conducted a variety of corporate investigations, litigated cases in federal court and in arbitration, and advised clients on corporate compliance matters, including the Foreign Corrupt Practices Act. Mr Boutros also represented corporations and executives in criminal and regulatory matters being investigated by the Fraud Section of the Department of Justice, the US Attorneys' Offices, the Securities and Exchange Commission and other government agencies. Mr Boutros has significant experience in negotiating corporate deferred prosecution agreements.
Mr Boutros teaches at the University of Chicago Law School and is co-chair of the American Bar Association Global Anti-corruption Task Force. He has authored several articles on white-collar defence matters, international corruption and other related topics, and also lectures on the subject.

Marjorie Hurwitz Bremner
Human resources partner, Berg Kaprow Lewis LLP
marjorie.bremner@bkl.co.uk

Marjorie Hurwitz Bremner is a human resources (HR) partner at Berg Kaprow Lewis LLP, chartered accountants and business advisers, and heads up BKL HR Consultancy. BKL HR advises clients on all aspects of the employment lifecycle. After graduating from Glasgow University, Ms Hurwitz Bremner studied personnel management in Edinburgh. She is a fellow of the Chartered Institute of Personnel and Development, holds a Further and Adult Teaching Certificate and is a Centre for Effective Disputes Resolutionaccredited and ONC-qualified mediator.
Ms Hurwitz Bremner has worked in a range of business sectors, including charities, healthcare, retail, manufacturing, design, architecture, information technology, media and professional practice. She is chair of the UK 200 Group Forensic Accounting and Disputes Resolution Panel and a member of Resolve UK Mediation Panel. Ms Hurwitz Bremner lectures and produces topical articles on a regular basis. She carried the Olympic Torch on July 25 2012 in recognition of her extensive voluntary work for a range of community organisations, as well as her fundraising achievements, including completing nine marathons. Ms Hurwitz Bremner was especially privileged to be passed the flame by Gordon Banks (1966 World Cup) outside Wembley Stadium.

Ferdinando Bruno
Appointed professor, University of Lugano, Switzerland
ferdinando.bruno@usi.ch

Ferdinando Bruno is an appointed professor (docente a contratto) of the courses "The Law and Practice of International Capital Markets" and "International Taxation and Financial Instruments" at the University of Lugano, Switzerland.
Mr Bruno is a dual qualified as an avvocato in Italy and as a solicitor in England and Wales. He gained several years' experience in corporate and commercial law, insolvency law, international capital markets, international tax law, banking and finance, European and international law and international financial services law. He graduated with a degree in law from University Federico II of Naples (Italy) and holds a PhD in economic law from University Federico II of Naples, international practice diplomas in international capital markets and loans and international mergers and acquisitions from The College of Law of England and Wales, London/International Bar Association, an LLM in international business law from the London School of Economics and Political Science, a postgraduate diploma in EU competition law from King's College, London, a certificate in banking and finance from London Guildhall University, a master's (diploma di specializzazione) in EU law and economy from University Federico II of Naples and a certificate in international private and public law from The Hague Academy of International Law, Netherlands. He has more than 100 articles and research books to his credit.

Jon Cooper
Partner, Bond Pearce LLP
jon.cooper@bondpearce.com

Jon Cooper is a partner and head of the health and safety team at Bond Pearce LLP. Bond Pearce has been recognised for many years as one of the leading UK practices in health and safety. In the current edition of the Chambers Guide to the Legal Profession, Mr Cooper is recognised as a "star individual". He and his team have been involved in many of the most significant cases in health and safety in recent years, including the Buncefield prosecution, the prosecutions arising from the explosion and multiple fatalities at Corus, Port Talbot, the Channel Tunnel rail link fire and the prosecution of the Health Protection Agency for failings in relation to e-coli.
Mr Cooper sits on the editorial advisery committee of Lexis Nexis's Health and Safety at Work publication.

David Curran
Chief executive officer and chief legal officer, Risk Readiness Corporation
dcurran@riskreadinesscorp.com

David Curran is chief executive officer and chief legal officer of Risk Readiness Corporation, a risk technology and advisery firm focused on proactive reduction and elimination of risk and costs for complex organisations. Mr Curran has spent more than 25 years at the intersection of risk, law, business and technology. He has served as a senior legal officer with companies such as IntraLinks, Inc, Campbell Soup Company, Reader's Digest and Vertis, Inc; and as chief executive officer of three technology companies focused on compliance and risk, including Integrity Interactive Corporation and Data Communique, a part of Havas. Mr Curran has written and spoken widely about the need for transformative solutions on how organisations approach and combat risk and compliance and ethics failures.

Nikolay Dobrev
Associate professor, Sofia University Business School and Law School
Lecturer, University of Liverpool
nikolay.dobrev@my.ohecampus.com

Nikolay Dobrev is an instructor and faculty manager for the University of Liverpool/Laureate online LLM programmes. He has taught the following courses: "Aspects of Banking Law", "Commercial Contracts"; "International Financial Services Law"; "Law of the World Trade Organisation"; "International Law and Foreign Investment"; and "LLM Research Methods Training/Dissertation". As an associate professor at Sofia University Business School and Law School (Bulgaria), Dr Dobrev has delivered lectures on banking law, insurance law, financial law, international law and EU law.
Dr Dobrev is an LLM graduate of Columbia Law School, New York. He is the editor in chief of the Bulgarian Journal of International Law. Dr Dobrev has had some considerable experience as a practising lawyer, including as head of legal and compliance at Citibank NA (Sofia), a legal consultant at PricewaterhouseCoopers and a lawyer at the US Agency for International Development. He has been a member of the Sofia Bar since 2005 and is managing partner of Dobrev Law Office.

Jan M Eickelberg
Professor of law, Berlin School of Economics and Law
eickelberg@gmx.de

Jan Eickelberg is a professor in civil law at the Berlin School of Economics and Law with a special focus on commercial and company law. After studying at the Universities of Bonn, Lausanne (Switzerland), Munster (PhD on gap-filling in uniform law in Germany, England and United States) and Cambridge (LLM in international law), Mr Eickelberg started his working life as a lawyer at international law firm Freshfields Bruckhaus Deringer in Cologne. He then moved to one of the biggest insolvency administrators in Germany, Görg Lawyers, Cologne. In 2006 Professor Eickelberg was appointed associate notary in Cologne. Three years later he moved to Berlin and became managing director of the German Association of Notaries (with offices in Berlin and Brussels). In 2011 he was nominated professor in law at the Berlin School of Law and Economics. Professor Eickelberg also holds university teaching positions at the Humboldt University (Berlin) and the University of Breslau (Poland). He has published articles for numerous publications, including the Neue Juristische Wochenschrift, Deutsche Notarzeitschrift, notar and Europäische Zeitschrift für Wirtschaftsrecht. Furthermore, he is co-writer of various books on different aspects of civil and commercial law.

Rita Esen
Reader, University of Northumbria
rita.esen@northumbria.ac.uk

Rita Esen has a PhD in law and extensive experience in the legal/regulatory issues of computer investigations, ethical hacking and computer network security. She has successfully worked nationally and internationally on the legally sensitive areas of computer forensic investigations and computer data authentication/ admissibility, developing a reputation for professionalism, expertise and competence which has been put to excellent use in academic and research initiatives and consultations.

Paul Feldberg
Senior associate, Willkie Farr & Gallagher LLP
pfeldberg@willkie.com

Paul Feldberg has practised for over 15 years in the areas of criminal fraud, money laundering and corruption, gaining valuable experience from his work both in the private sector and at two major fraud regulators, Her Majesty's Revenue and Customs and the Serious Fraud Office. In recent years Mr Feldberg has advised large multinational organisations on a variety of complex governance, corruption and fraud issues. He has also worked for multilateral development banks such as the European Bank for Reconstruction and Development, advising on their internal investigation and governance processes. Mr Feldberg led the Serious Fraud Office investigation into BAE System's alleged corrupt practices in Eastern Europe, working closely with both Eurojust and the US Department of Justice. He recently worked with the legal team advising Macmillan Publishers Limited in connection with its settlements with the Serious Fraud Office and the World Bank Group. His work has included leading internal investigations in Africa, conducting risk assessments in Eastern Europe and delivering anti-bribery and corruption training in a number of countries.

T Markus Funk
Partner, Perkins Coie LLP
mfunk@perkinscoie.com

T Markus Funk is a partner at Perkins Coie specialising in anti-corruption and corporate social responsibility compliance. Mr Funk, a former federal prosecutor in Chicago with 10 years' experience, from 2004 to 2006 served as the US Department of Justice resident legal adviser for Kosovo. He has the distinction of being the only person to have received both the Department of Justice's Attorney General's Award for trial performance and the State Department's Superior Honour Award.
Mr Funk, who in 2012 was named both Colorado Lawyer of the Year and the state's top corporate/compliance lawyer, has also authored a number of books, including Child Exploitation and Human Trafficking: Examining the Global Challenges and US Responses (co-authored with Chicago US District Judge Virginia M Kendall), The Haiti Trial Skills Manual, Stemming the Suffering: Victims' Rights and the International Criminal Court, The Kosovo Trial Skills Handbook and the forthcoming Mutual Legal Assistance Treaty Guide for Federal Judges. His legal work has been featured by outlets such as CNN, The Economist, MSNBC, The National Law Journal, The New York Times and The Wall Street Journal. He started his legal career as a law clerk to Morris S Arnold of the US Court of Appeals for the Eighth Circuit and Chief US District Judge Catherine Perry, and as a lecturer in law at Oxford University.

Peter Giblin
Professor, Cass Business School
peter@giblin.com

Peter Giblin specialises in working with senior-level decision makers to support them as they grow their businesses by identifying, attracting, managing, developing and evaluating talented personnel. He also practised corporate and tax law in both the United States and France, and was managing director and worldwide head of finance and administration of a major British merchant bank. Mr Giblin is a visiting professor in the Faculty of Management at Cass Business School, where he is a founding member of the Centre for Research in Corporate Governance. He is a graduate of Yale University and the Columbia School of Law, and was a Fulbright scholar in Venezuela and a Hague fellow in the Netherlands. He is a member of the board of trustees of the American University in Cairo and the Audit and Risk Management Committee of the University of Essex, and a member of the British Psychological Society, where he is Level A/Level B-qualified in occupational testing.

Hazel Grant
Partner, Bristows
hazel.grant@bristows.com

Hazel Grant is an IT lawyer, specialising in IT procurements and information law. Her work regularly involves advising on commercial and procurement law issues including structuring public procurements, handling complaints and drafting agreements in line with government guidance. Her clients include government bodies, global IT service providers and national charities. As a data protection specialist, Ms Grant advises on data protection compliance strategies (eg, planning international data transfers using EU model clauses and binding corporate rules), as well as the implementation of privacy-compliant technologies and processes. Her data protection work includes advising on cloud computing, cookie law compliance and data security breaches. Additionally, she advises on responses to freedom of information requests and handling subject access requests.
As part of her compliance work, Ms Grant advises on the implementation of the anti-bribery procedures required by the Bribery Act 2010. Ms Grant is an editor of the Encyclopedia of Data Protection and Privacy and a contributing editor for the Encyclopedia of Information Technology Law. She is a member of the editorial board of the Freedom of Information Journal and of the Certification Advisory Board of the International Association of Privacy Professionals.

Lutz-Ulrich Haack
Student, German Graduate School of Management and Law, Heilbronn Doctoral candidate, Otto von Guericke University
lutz-ulrich.haack@hhl.de

Lutz-Ulrich Haack graduated from HHL-Leipzig Graduate School of Management as a Diplom- Kaufmann (equivalent to an MSc in business administration). He studied at Peking University and UC Berkeley Extension. Mr Haack is currently enrolled in business law at the German Graduate School of Management and Law in Heilbronn. He also is a doctoral candidate of marketing at Otto von Guericke University, Magdeburg.

Boris Georg Hallik
DekaBank, Frankfurt
borisgeorg.hallik@deka.de

Boris Hallik is a fully qualified German lawyer and worked for DekaBank for 11 years. For the past four years he has been head of the strategic sourcing department at DekaBank Frankfurt. He has seven years' experience as senior counsel in IT and e-commerce law and detailed knowledge of German IT and outsourcing law, English IT and e-commerce law, and data protection law. He is highly experienced in IT contract negotiations with major international and national IT licensors and providers.
The strategic sourcing team is responsible for controlling and reporting the annual expenses of DekaBank Group and for the permanent risk management of DekaBank's top 500 providers. In addition, Mr Hallik is in charge of governance procurement management and legal procurement procedures and directives. DekaBank's strategic sourcing department takes responsibility for commodity group strategy, supplier evaluation and development, supplier portfolio management and commodity market research.
Mr Hallik is an active member of the German Association of Law and Informatics, the Society of Computer and Law, Bristol and the German Association Materials Management Purchasing and Logistics Working Group on Banking and Finance. In 2011 and 2012 he was a main speaker at several contract management seminars.

Wolf Juergen von Kumberg
European legal director and assistant general counsel, Northrop Grumman Corporation
wolf.vonkumberg@euro.ngc.com

Wolf Juergen von Kumberg has been the European legal director and assistant general counsel to Northrop Grumman Corporation and its predecessor, Litton Industries, Inc, for over 20 years. Before that he served five years as the vice president – legal affairs for Litton Canada, after having spent several years in legal practice with a major Toronto law firm. He has received law degrees from Canadian and European universities and is qualified as a lawyer in both Canada and England. As legal director, Mr Von Kumberg manages the European corporate staff and is responsible for the legal affairs of Northrop Grumman Corporation in Europe and several Asian locations. He has offices in both London and Zurich.
Mr Von Kumberg has been involved in many of the company's international legal conflicts and has been a keen advocate for early dispute resolution. In that context, he is a director of the International Mediation Institute, which has advocated international standards for mediators. He is in also a fellow of the Chartered Institute of Arbitrators and sits on its board of management, and is a director of the American Arbitration Association.

Ian Leist
Barrister, Fulcrum Chambers
ianleistqc@fulcrumchambers.com

Ian Leist QC is a 'silk' and a leading criminal court advocate, with expertise in terrorism cases and cases with political and human rights dimensions. He is a commercial fraud and anti-corruption specialist.
He has substantial experience in both jury and non-jury trial and appellate advocacy, including before the Court of Appeal and the Supreme Court. Between 2000 and 2010 he represented former soldiers from the Parachute Regiment on behalf of the Ministry of Defence in the Bloody Sunday inquiry. Between 2004 and 2009 he acted as independent counsel instructed by the Metropolitan Police and Her Majesty's Revenue and Customs investigating allegations of internal corruption in the London City Bond judicial inquiry.
Mr Leist is a human rights adviser to Islam Channel TV and has advised members of the Muslim community in Bosnia on matters arising from the Srebrenica massacre. He has advised on the impact of counterterrorism legislation on community relations and human rights, and has advised commonwealth and foreign governments in Africa on rule of law and governance issues, including money laundering.
Mr Leist is a director of Future Radio Africa. He writes regularly for Thomson Reuters on antibribery and corruption, good governance antiterrorism and human rights.

Fang Ma
Lecturer in law, University of Hertfordshire
f.f.ma@herts.ac.uk

Fang Ma is a lecturer at the School of Law of the University of Hertfordshire. Dr Ma teaches company law and international commercial law at both undergraduate and postgraduate levels.
Her research interests include Chinese and English company law, corporate governance and international trade law. Dr Ma has recently published Company Law (Q&A) with Pearson; in addition, she has published in leading corporate and commercial law journals such as Company Lawyer, International Commercial and Company Law Review and the Journal of Business Law.

Peter Mancusi
Executive vice president, Weber Shandwick
peter.mancusi@gmail.com

Peter Mancusi is an executive vice president in the Boston office of Weber Shandwick, one of the world's leading public relations firms, where he has counselled a broad range of corporate and institutional clients facing reputational issues. Mr Mancusi also oversees audits designed to assist corporate clients in identifying vulnerabilities and develops crisis preparedness plans that enable executive teams to communicate immediately and confidently when a crisis hits. He is also a lawyer and veteran journalist, having spent more than 20 years at The Boston Globe as a reporter and editor, including four years as the paper's business editor.

Richard L Narva
Founder and senior adviser, Narva & Company
rnarva@narvaandcompany.com

Richard Narva leads an interdisciplinary team of advisers helping family-controlled enterprises to preserve their values and vision while addressing organisational, strategic, governance and human capital issues. He has been a member of the Massachusetts Bar since 1975 and practised corporate law specialising in mergers and acquisitions, before succeeding his father as president of Morton Shoe Companies, Inc, becoming the third generation in his family to head this American Stock Exchange-listed firm founded in 1921. He presents frequently and is the author and editor of numerous publications on the general theme of improving governance of family-controlled enterprises. Mr Narva has been elected to the boards of directors of both public and private family-controlled businesses.
He currently serves on the councils of advisers of several family-controlled companies and as a trustee of a trust for the benefit of the family shareholder group that controls an international retail company.

Robert Nothhelfer
Former head of GRC Lidl International and University of Freiburg
Robert.nothhelfer@gmx.de

Robert Nothhelfer graduated in economics and was awarded his PhD for researching on learning processes in organisations at the University of Freiburg. After working for BDO as an auditor and for Bertelsmann in corporate reporting, he joined the Schwarz Group heading the accounting and reporting. After an internal change to Lidl Germany he was responsible for all administrative processes and in 2008 he set up the new data protection system and organisation. In 2011 he started to set up the new governance, risk management, compliance department for Lidl International. Currently, he researches the most effective ways to implement compliance management systems in large organisations.

Thushara Polpitiye
Solicitor and managing director, Astute HR Ltd
thushara.polpitiye@astutehr.co.uk

Thushara Polpitiye is a solicitor specialising in human resources support and employment law advice and assistance to employers and employees operating in a wide range of sectors, for both contentious and non-contentious matters. He has helped employers and employees to deal with a variety of legal claims including unfair dismissal, discrimination, harassment, unpaid wages, Transfer of Undertakings (Protection of Employment) Regulations and numerous other types of claim. He has extensive experience in dispute resolution and strategic thinking and his experience spans public and private sector companies and employees.
Mr Polpitiye is a member of the Employment Lawyers Association.

Zabihollah Rezaee
Thompson-Hill chair of excellence and professor of accountancy, University of Memphis
zrezaee@memphis.edu

Zabihollah Rezaee is the Thompson-Hill chair of excellence and professor of accountancy at the University of Memphis and has served a two-year term on the Standing Advisery Group of the Public Company Accounting Oversight Board. He received his BS from the Iranian Institute of Advanced Accounting, his MBA from Tarleton State University, Texas and his PhD from the University of Mississippi. Professor Rezaee holds several certifications. He has also been a finalist for the SOX Institute's SOX MVP 2007, 2009 and 2010 Award.
Professor Rezaee has published over 200 articles in a variety of accounting and business journals and made more than 210 presentations at national and international conferences. He has also published numerous books – Financial Institutions, Valuations, Mergers, and Acquisitions: The Fair Value Approach, Financial Statement Fraud: Prevention and Detection, U.S. Master Auditing Guide (third edition), Audit Committee Oversight Effectiveness Post-Sarbanes-Oxley Act, Corporate Governance Post-Sarbanes-Oxley: Regulations, Requirements, and Integrated Processes, Corporate Governance and Business Ethics and Financial Services Firms: Governance, Regulations, Valuations, Mergers and Acquisitions – and has contributed to several other books. Dr Rezaee's recent book Corporate Sustainability: Integrating Performance and Reporting, co-authored with Ann Brockett at E&Y, won the 2013 Axiom Gold Award in the category of business ethics.

Peter Ries
Professor of corporate law Berlin School of Economics and Law
peter.ries@hwr-berlin.de

Peter Ries is a professor of corporate and commercial law at the Berlin School of Economics and Law. In addition, he works as a judge at a Berlin court in charge of corporate law matters. From 1990 to 1995 he worked for international law firms in the United States (McGuire Woods Battle & Boothe, Washington DC) and Germany (Droste, merged with Lovells), where he specialised in M&A and corporate law. Dr Ries studied law and history in Wurzburg, Munich and at the London School of Economics and Political Science. He earned his PhD at Munich University with a thesis about antique Roman contract law. He has published articles for numerous publications and is co-writer of various books on different aspects of corporate and commercial law. In 2008 he was appointed as an expert by the German Parliament for the reform of the German Closed Corporation Act.

Mark Roellig
Executive vice president and general counsel, Massachusetts Mutual Life Insurance Company
mroellig49@massmutual.com

Mark Roellig is the executive vice president and general counsel of Massachusetts Mutual Life Insurance Company ('MassMutual'). In this capacity Mr Roellig is responsible for the legal affairs of the company and advises management and the board of directors to ensure that MassMutual complies with corporate governance requirements and safeguards the interests of its policyholders. He is also responsible for the corporate secretary, corporate compliance, internal audit, government relations and the corporate administration and real estate and facilities departments of MassMutual. Before joining MassMutual in 2005, Mr Roellig served as general counsel and secretary to three public companies before their sales/mergers: Fisher Scientific International Inc, Storage Technology Corporation and US WEST Inc. In 2012 Mr Roellig was the recipient of the Association of Corporate Counsel Excellence in Corporate Practice Award. He has published numerous articles on corporate law department leadership and management and is the co-chair of the PLI Corporate Counsel Institute. Mr Roellig received his bachelor's degree in applied mathematics from the University of Michigan, his law degree from George Washington University and his MBA from the University of Washington.

Aaron Schildhaus
Lawyer, Law Offices of Aaron Schildhaus
schildhaus@dosins.com

Aaron Schildhaus, an international corporate and business lawyer with over 40 years' experience specialising in commercial transactions, investment, trade and finance. Mr Schildhaus provides advice and assistance to US and non-US entities and law firms on global corporate structuring, data protection matters, international money laundering, international anti-corruption, US export control issues and the design and implementation of corporate compliance programmes relative to these and other areas of global business concern. He has been a frequent speaker and writer on anti-corruption compliance matters worldwide for over 20 years.
Mr Schildhaus is past chair of the American Bar Association's Section of International Law, has been a member of its council since 2004 and serves as senior adviser to its International Anticorruption Committee. Mr Schildhaus is an active member of the District of Columbia Bar. In March 2013 Mr Schildhaus became president/chief executive officer of D&O Supplemental (Directors and Officers Supplemental International Insurance LLC), a US company specialising in providing insurance to companies and their officers and directors to protect them personally against the high expenses of criminal investigations (www.dosins.com). He speaks English, French, German, Italian and Spanish.

Richard Smerdon
Editor, CCH Corporate Governance Handbook
richard.smerdon@mailbox.co.uk

Richard Smerdon is the executive editor of the Wolters Kluwer UK/CCH publication Corporate Governance Handbook. He is also a former rapporteur for the All-Party Parliamentary Corporate Governance Group, a guest lecturer at the Financial Times non-executive directors' programme "So you want to be a non-executive director?" and at the Jersey International Business School, and a contributing editor to the research paper programme of the European Corporate Governance Institute.
He is the author of books and many articles on company law and corporate governance, and was also cited as a specialist in corporate governance matters in relation to the United Kingdom in the foreword of the European Commission's 2003 report on governance codes written by Holly Gregory of US law firm Weil, Gotschal & Manges LLP. During his career Mr Smerdon has been a corporate finance partner with European and California law firm Osborne Clarke.

Mark Watts
Partner, Bristows
mark.watts@bristows.com

Mark Watts is an IT specialist with over 18 years' experience. He advises companies on IT legal issues such as software development, system deployment, outsourcing, e-commerce and data protection. Much of his experience was gained in house at IBM, where he held various roles. Mr Watts has advised on many high-profile private and public sector outsourcing transactions. He advises companies deploying business-critical IT platforms and applications, as well as advising on the creation of social networking websites, cloud computing, mobile apps and online trading websites. Mr Watts has particular expertise in data protection; he was global privacy counsel at IBM for many years. He advises many multinationals companies on general international data protection compliance issues, particularly on international data transfers matters, such as binding corporate rules.
Mr Watts has particular expertise in advising companies on how to respond to data protection enforcement actions, including monetary penalty notices.
Mr Watts is on the correspondent panel of Computer Law & Security and is a member of the editorial board of Privacy & Data Protection.

Stuart Weinstein
Associate dean (research and enterprise), University of Hertfordshire School of Law
s.weinstein@herts.ac.uk

Stuart Weinstein is associate dean (research and enterprise) at the University of Hertfordshire School of Law, Hatfield, Hertfordshire. Before joining the University of Hertfordshire School of Law, he worked as general counsel to Korean multinational Daewoo in Seoul, Republic of Korea, and Los Angeles. Mr Weinstein is co-author with Charles Wild of Smith & Keenan's English Law (17th ed, Pearson 2013) and Smith & Keenan's Company Law (16th ed, Pearson 2013). In addition to his various research and writing projects, Mr Weinstein remains active in practice as a solicitor of the Superior Courts of England and Wales advising companies, governmental entities and non-profit organisations on aspects of legal risk management, governance and compliance. He is admitted to practise law in the US jurisdictions of California, District of Columbia and New York. Mr Weinstein earned his BA (honours) in the history of ideas from Williams College, Williamstown, Massachusetts, his JD from Columbia Law School, New York City, where he was a Harlan Fiske Stone scholar, and an MBA with commendation from the University of Hertfordshire Business School, and he was selected to be a Fulbright scholar grantee. Mr Weinstein also serves as vice chair of the Bar Standards Board's Education and Training Committee.

Charles Wild
Professor of legal education and dean, University of Hertfordshire School of Law
c.wild@herts.ac.uk

Charles Wild is professor of legal education and dean of the University of Hertfordshire School of Law, where he teaches company law, corporate governance and risk management. He is the coauthor with Stuart Weinstein of Smith & Keenan's English Law (17th ed, Pearson 2013) and Smith & Keenan's Company Law (16th ed, Pearson 2013). Dr Wild holds a PhD in law from the University of Sheffield, an MBA (distinction) from the University of Hertfordshire Business School and an LLM in international and commercial law from the University of Sheffield (distinction), together with a number of other qualifications, including a BSc (hons) in economics from University College, London. Dr Wild is also a member of the Education and Training (Standard Setting) Committee at the Law Society of Scotland.