Book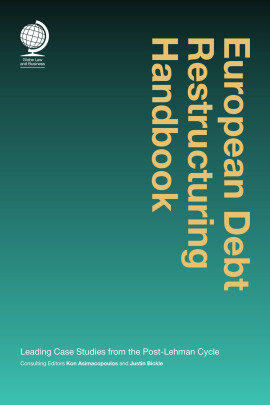 European Debt Restructuring Handbook
Leading Case Studies from the Post-Lehman Cycle
Kon Asimacopoulos, Justin Bickle
Published: 2013
Pages: 208

eBook: 9781787428850
Each chapter is a detailed case study, by key lawyers centrally involved, on leading restructurings including McCarthy& Stone, IMO Carwash, Monier, Countrywide, Autodistribution, SGD, La Seda de Barcelona, Schoeller Arca Systems, Risanamento SpA, Almatis, Wind Hellas I and II, European Directories and Rodenstock.
Over the past decade in Europe, the number of companies with complex corporate and financing structures has increased to levels unseen at any time in history.

While efforts have been made by the European Union and various jurisdictions to improve their restructuring and insolvency regimes, restructuring practitioners and their clients have had to extend the boundaries of what was supposed to be possible in order to restructure corporate groups' balance sheets in a manner that is reflective of value and that preserves the going concern.

This publication brings together Europe's leading restructuring lawyers who were and remain instrumental in shaping the way that European restructurings are conducted and implemented today. Each chapter is a detailed case study, by key lawyers centrally involved, on leading restructurings including McCarthy & Stone, IMO Carwash, Monier, Countrywide, Truvo, Autodistribution, SGD, La Seda de Barcelona, Schoeller Arca Systems, Risanamento SpA, Almatis, WIND Hellas, European Directories and Rodenstock.

This practical handbook represents an unprecedented record of the leading restructurings of the era by those involved and leads the reader through each in detail, unlike any other publication to date. It is an invaluable tool for restructuring and insolvency practitioners throughout Europe.

Table of Contents
| | | |
| --- | --- | --- |
| Cover | Cover | |
| Title | 1 | |
| Copyright | 2 | |
| Table of contents | 3 | |
| Introduction | 5 | |
| McCarthy & Stone | 7 | |
| IMO Carwash | 19 | |
| Monier | 37 | |
| Countrywide | 51 | |
| Truvo | 61 | |
| Autodistribution | 75 | |
| SGD | 87 | |
| La Seda de Barcelona SA | 103 | |
| Schoeller Arca Systems | 115 | |
| Risanamento | 131 | |
| Almatis | 153 | |
| WIND Hellas | 163 | |
| European Directories | 175 | |
| Rodenstock | 187 | |
| Conclusion | 197 | |
| About the authors | 199 | |
If you want to read an account of some of Europe's most important, and sometimes contentious, restructurings in the recent downturn written by the advisers that actually worked on the deals, then this is the book for you.

Global Turnaround

Whilst the book is primarily aimed at insolvency and restructuring practitioners, its clear and approachable style makes it both accessible and useful for wider corporate and financing practitioners as well as principals
Wayne McArdle and Gareth Jones
Gibson, Dunn & Crutcher LLP

Adam Al-Attar
Barrister, South Square
adamal-attar@southsquare.com

Adam Al-Attar, BA (Oxon), BCL, is a barrister at South Square called to the bar of England and Wales (2007) and the British Virgin Islands (2011), and specialising in corporate insolvency and restructuring with a focus on banking and financial services-related insolvencies, including Lehman Brothers and MF Global. Recent UK restructurings in which he was involved include IMO Carwash, Cattles plc and Punch Taverns. Recent foreign restructurings and related proceedings include Fuji Food Holdings in the Cayman Islands and Hong Kong, and Pioneer Iron and Steel Co in the British Virgin Islands.

Kon Asimacopoulos
Partner, Kirkland & Ellis International LLP
kon.asimacopoulos@kirkland.com

Kon Asimacopoulos is a partner in Kirkland's European restructuring group, based in London. Mr Asimacopoulos is recognised in Chambers & Partners, Legal 500, IFLR 1000 and the Euromoney Guide to the World's Leading Insolvency and Restructuring Lawyers as a leading corporate restructuring and insolvency lawyer, and is often engaged to act in the following scenarios: acting for debtors and insolvency practitioners of national and multinational corporations in crossborder insolvencies and reorganisation transactions; and acting for debt and equity investors – including a number of leading investment banks, private equity houses and hedge funds – in par, stressed and distressed transactions. These engagements extend to acting for committees of lenders and shareholders in distressed and restructuring scenarios. Mr Asimacopoulos also acts for a range of stakeholders in complex commercial disputes, including administrators in contentious insolvency scenarios, investors in rights enforcement actions, and corporations and individuals in a variety of disputes.

Justin Bickle
Managing director, Oaktree
jbickle@oaktreecapital.com

Justin Bickle is a managing director in the European control investing team at Oaktree in London and a member of the strategy's investment committee. Oaktree currently manages approximately $80 billion worldwide and is listed on the New York Stock Exchange. Before joining Oaktree seven years ago, Mr Bickle was a partner in the financial restructuring department of US law firm Cadwalader, Wickersham & Taft LLP, where he specialised in European debt restructurings.
Mr Bickle is a board member of various Oaktree portfolio companies and is responsible for structuring and executing Oaktree's control investments across Europe. He serves as a member of the advisory board of the Private Equity Institute at Säid Business School, Oxford University, is a member of the Dean's Advisory Council at Plymouth Business School, and is chairman of the English National Ballet. Mr Bickle is a UK solicitor and law graduate from the University of Exeter.

Florian Bruder
Lawyer, Kirkland & Ellis International LLP, Munich
fbruder@kirkland.com

Florian Bruder is an attorney in the restructuring and insolvency department of Kirkland & Ellis International LLP's Munich office. He advises in financial restructuring and insolvency cases, as well as related litigation and arbitration, with special focus on the areas of high-yield and distressed debt, as well as corporations undergoing transnational and multinational restructuring. Mr Bruder is licensed in Germany.

Melissa Coakley
Senior associate, Clifford Chance LLP
melissa.coakley@cliffordchance.com

Melissa Coakley is a senior associate in the Clifford Chance LLP London banking and finance practice, with six years of dedicated restructuring and insolvency experience. Since February 2010 Ms Coakley has been seconded to the Dubai office, advising on the Dubai World, Nakheel and Dubai International Capital restructurings, among others. Previous experience includes advising the senior lenders and the agent in respect of the Monier restructuring; advising the Bank of England in respect of Northern Rock; and advising the senior lenders in respect of the Eurotunnel restructuring.

Bruno Cova
Partner, Paul Hastings
brunocova@paulhastings.com

Bruno Cova is co-chair of the Milan office of Paul Hastings. He focuses his practice on mergers and acquisitions, restructurings and white-collar crime. Mr Cova started his career in Milan and London, before working as general counsel for Eni E&P, chief compliance officer for the European Bank for Reconstruction and Development and group general counsel for Fiat. Immediately before joining Paul Hastings, he served as chief legal adviser to the commissioner appointed by the Italian government to restructure Parmalat. Mr Cova regularly advises distressed businesses, their shareholders and creditors in distressed situations, and has been involved in the majority of Italian restructurings over the last several years.
Mr Cova is recognised as one of Italy's leading restructuring lawyers by Chambers, Legal 500 and other publications. He won the Client Choice Awards 2010 and 2011 for insolvency and restructuring in Italy, and the Top Legal Award 2010 for restructuring.

Ben Davies
Associate, White & Case LLP
bdavies@whitecase.com

Ben Davies is an associate in White & Case's financial restructuring and insolvency group in London. His experience includes advising banks, noteholders, funds, insolvency practitioners and companies in relation to a wide range of transactions, including financial restructurings, cross-border acquisition finance, general bank lending and high-yield and emerging-market debt offerings.
Mr Davies has completed a secondment to the loan syndications and trading team of the BNP Paribas London office, as well as spending time in White & Case's Hong Kong office.

Eduardo J Fernandez
Partner, Willkie Farr & Gallagher LLP
efernandez@willkie.com

Eduardo J Fernandez is a partner in the corporate and financial services department of Willkie Farr & Gallagher LLP in Paris. He holds an AB (government) from Dartmouth College and a JD from NYU School of Law. A native New Yorker, Mr Fernandez commenced his career as an associate in Willkie's New York office and has, during more than 15 years based in Paris, specialised in M&A, private equity transactions and corporate finance transactions. In particular, Mr Fernandez regularly represents private equity sponsors (eg, PAI Partners, IK Investment Partners and Apax MidMarket Partners) on leveraged buy-outs and distressed M&A transactions. He also led the Willkie team advising Oaktree Capital in Oaktreeled restructuring of the SGD Group.
In addition, Mr Fernandez advises a number of corporate clients on significant acquisitions, disposals, strategic alliances and corporate finance (notably debt private placement) transactions.

Carlos Gila
Senior adviser, Oaktree
carlosagila@yahoo.es

Carlos Gila is a frequent lecturer, widely recognised as one of the leading Spanish financial and operational crisis management professionals. He is a hands-on expert in turnarounds and workouts, with extensive experience in bankruptcy reorganisation, the restructuring of troubled businesses, and acquisitions and divestures.
Mr Gila began his professional career as a strategic management consultant at Andersen Consulting; he then established and led Gila & Co to become the groundbreaking turnaround firm in Spain for over a decade. Mr Gila is now senior adviser for and serves as non-executive director for company boards, chairing audit and governance committees.
Mr Gila graduated with a BA in finance from the University of San Francisco and an MA in law from Universidad Europea, and earned an OPM from Harvard Business School. He received the prestigious TMA International Turnaround of the Year Award in 2011.

Mark Glengarry
Managing director, Morgan Stanley
mark.glengarry@morganstanley.com

Mark Glengarry is managing director in Morgan Stanley's investment bank. He provides financial advice for corporate borrowers across the restructuring spectrum. Before joining Morgan Stanley, Mr Glengarry was a financial restructuring partner at White & Case LLP. He has worked on some of the biggest European restructurings in the market, including the €206 billion Greek private sector involvement, and the financial restructurings of SAS Airlines, Wind Hellas and Almatis.

Martin Graham
Vice president, Oaktree
mgraham@OakTreeCap.com

Martin Graham has been a vice president at Oaktree since 2007, having previously worked at Freshfields Bruckhaus Deringer, Cadwalader and Goldman Sachs. He specialises in cross-border debt restructuring, as well as distressed debt and special situations private equity investing. Mr Graham holds degrees in law from the universities of Glasgow and Oxford.

Mark Hyde
Partner, Clifford Chance LLP
mark.hyde@cliffordchance.com

Mark Hyde has been a partner at Clifford Chance LLP since 1993 and global head of its insolvency and restructuring practice since 1998. He is regularly listed in UK and global insolvency and restructuring publications as a leading practitioner. Mr Hyde is a member of R3, INSOL and a member and past president of the Insolvency Lawyers Association. He has worked on some of the highest-profile restructurings and insolvencies over a career spanning more than 25 years. Career highlights for insolvency work include acting for the liquidators of Banco Ambrosiano; advising the government of Brunei in relation to the collapse of the National Bank of Brunei; and advising the insolvency officeholders of Barlow Clowes and the Peregrine insolvency officeholders in Hong Kong. Restructuring career highlights include advising Lyondell Basell and Dubai World on their restructurings and advising the lenders in the Metronet, NTL, Kirsch Group and Monier restructurings.

Partha Kar
Partner, Kirkland & Ellis International LLP
partha.kar@kirkland.com

Partha Kar is a restructuring partner in the London office of Kirkland & Ellis International LLP, with a wide range of cross-border restructuring and insolvency experience. He has acted for financial creditors (including non-bank funds), turnaround advisers, corporates (debtors and creditors) and insolvency practitioners/appointees in multijurisdictional restructurings and all classes of insolvency proceeding; directors, shareholders and creditors of companies that are financially impaired or subject to solvent reorganisation; and vendors and purchasers of distressed debt or equity. Mr Kar has worked on all stages of this work, including contingency planning and strategy, negotiations, documentation, postrestructuring/ appointment and exit. He has been recognised as a leading restructuring lawyer in the Legal 500 and Chamber UK and one of the "Hot 100" lawyers in Europe for 2011 by The Lawyer.

Nicolas Laurent
Partner, Bredin Prat
nl@bredinprat.com

Nicolas Laurent is a partner at Bredin Prat whose primary areas of practice include bankruptcy/ restructuring and mergers and acquisitions. He has recently advised SNCF, the operator of the French railways, in its recovery proceedings for SeaFrance, its wholly owned subsidiary operating ferries across the Channel; the coordination committee of senior banks in the restructuring of Consolis, a leading construction operator in Europe; TowerBrook on the buy-out of Autodistribution, a leading French automotive spare parts distributor, in the context of pre-packed safeguard proceedings; and DHL on the disposal of its French courier business to Caravelle, a leading French turnaround fund.
A member of the Paris Bar since 1998, Mr Laurent received his law degree from the University of Paris, Sorbonne and taught bankruptcy law there from 1996 to 1997. He is a member of the French Association for Turnaround.

Karen McMaster
Special counsel, Cadwalader, Wickersham & Taft LLP
Karen.McMaster@cwt.com

Karen McMaster is special counsel in the financial restructuring department of the London office of Cadwalader, Wickersham & Taft LLP. She focuses on debt restructuring and reorganisation, including contingency planning, insolvency and options analysis, and advising in relation to new financing. Ms McMaster has considerable experience devising and implementing creative restructuring solutions for a diverse range of clients including collateralised loan obligation funds and distressed investors, sponsors, corporates and creditor committees. She has represented the interests of stakeholders on a number of bank/bond structures and other complex European cross-border restructurings. Before joining Cadwalader, Ms McMaster was a managing associate at Linklaters LLP in its London restructuring practice.

Wolfgang Nardi
Partner, Kirkland & Ellis International LLP, Munich
wnardi@kirkland.com

Wolfgang Nardi is an attorney and partner in the finance department of Kirkland & Ellis International LLP's Munich office. He advises on all aspects of financing in the areas of private equity transactions and corporate finance, with a particular focus on international acquisitions financing and restructuring. Mr Nardi has particular expertise in restructuring transactions involving an English scheme of arrangement. In addition to being a licensed attorney in Germany, Mr Nardi is licensed as a solicitor in England and Wales.

Holly Neavill
Partner, Latham & Watkins
holly.neavill@lw.com

Holly Neavill is a partner in the London office specialising in complex cross-border restructurings and insolvencies, encompassing debt and equity restructuring, distressed M&A activity, formal insolvency procedures and contingency planning, and debtor advisory work. She has substantial experience with legal systems and workout procedures across Europe and the United States, serving a diverse client base comprising creditors, steering committees, private placement noteholders, bondholders, banks and other financial investors, as well as debtors and sponsors/ equity investors. Ms Neavill has represented the committee of junior bondholders in the €2.8 billion financial restructuring of SEAT Pagine Gialle SpA, the listed Italian directories business; acted as international counsel to AfriSam Group, a Southern Africa cement-producing business in connection with financial restructuring; represented Schoeller Arca in the first of its kind private court-sanctioned enforcement sale; and represented the Renova Group as majority shareholder in the Sfr3.1 billion financial restructuring of Oerlikon AG.

Yushan Ng
Partner, Cadwalader Wickersham & Taft LLP
yushan.ng@cwt.com

Yushan Ng is a partner in Cadwalader London's financial restructuring department. Before joining Cadwalader in 2012, he was a partner in the restructuring and insolvency group at Linklaters LLP.
Mr Ng regularly acts on complex cross-border and domestic restructurings, insolvency proceedings and financings, with particular experience in representing institutions that invest in distressed situations or finance impaired credits. He has been heavily involved in engineering and executing market-leading loan-to-own strategies in a number of high-profile restructuring transactions.

Elaine Nolan
Partner, Kirkland & Ellis International LLP
enolan@kirkland.com

Elaine Nolan is a restructuring partner in the London office of Kirkland & Ellis International LLP. She advises strategic investors, sponsors, insolvency practitioners, turnaround managers, directors, debtors and creditors in all forms of national and international financial restructurings and insolvencies. Ms Nolan has been involved in a number of recent high-profile restructurings, including advising the European Directories group, the Fitness First group, certain bondholders of the Petroplus group, Sankaty Advisors LLC on the purchase of a portfolio of loans from the Lloyds banking group, the Civil Aviation Authority in relation to the Thomas Cook Group and Regency Entertainment Leisure & Tourism SA. She also advises leading investment banks, hedge funds and private equity houses in relation to their diligence and review of European investment opportunities in par, stressed and distressed transactions.

Samuel Pariente
Partner, Bredin Prat
samuelpariente@bredinprat.com

Samuel Pariente is a partner at Bredin Prat, specialising in financing work, including restructuring, banking, acquisition finance, real estate financing and project finance. Before joining Bredin Prat in 2007, he worked as an associate at an American firm in New York, London and Paris. A member of the New York Bar since 2000 and of the Paris Bar since 2007, Mr Pariente received his French law degree from the University of Paris, Sorbonne, an LLB from King's College London and an LLM from Harvard Law School.

Adam Paul
Partner, Kirkland & Ellis LLP
adam.paul@kirkland.com

Adam Paul is a restructuring partner in the international law firm of Kirkland & Ellis LLP. He represents both debtor and creditor clients in complex US Chapter 11 reorganisations; advises purchasers and sellers in myriad bankruptcy transactions and acquisitions; counsels boards of directors and senior officers regarding fiduciary duties and restructuring strategies; and advises financially troubled companies regarding the structure of various commercial transactions outside of bankruptcy.
Most recently, Mr Paul was recognised in the 2012 edition of the Legal 500 US and in March 2012 was selected by Law360 as one of its annual "Rising Stars", a list of five restructuring lawyers in the United States under the age of 40 to watch. Mr Paul regularly represents clients from the United States, Europe and Asia in cross-border restructurings, and is a frequent speaker and author on restructuring issues.

Leo Plank
Partner, Kirkland & Ellis International LLP, Munich
Lplank@kirkland.com

Leo Plank is an attorney and partner in the restructuring and insolvency department of Kirkland & Ellis International LLP's Munich office. He advises in financial restructuring and insolvency cases, with special emphasis on representation of institutional investors in the areas of high-yield and distressed debt, as well as corporations undergoing transnational and multinational restructuring. He has particular expertise in leveraged buy-out restructurings and complex transnational issues. Dr Plank is a licensed attorney in Germany, as well as an attorney at law in New York and a solicitor in England and Wales. He has authored various professional publications, in particular in the areas of restructuring, recapitalisation financing and insolvency law.

Freddie Powles
Associate, Kirkland & Ellis International LLP
frederick.powles@kirkland.com

Freddie Powles is an associate in the European restructuring group of Kirkland & Ellis International LLP in London. He specialises in advising sponsors, debtors, creditors and strategic investors on the restructuring of stressed and distressed businesses. Recent representative matters include acting for debtors and stakeholders in restructuring negotiations in relation to Klöckner Pentaplast, European Directories and Rodenstock. Mr Powles holds a degree in experimental psychology from the University of Oxford.

Teun Struycken
Partner, NautaDutilh
teun.struycken@nautadutilh.com

Teun Struycken is a partner in the loan finance group of NautaDutilh in Amsterdam, the Netherlands. He specialises in the law on restructuring and insolvency, secured transactions and asset finance.
Mr Struycken has substantial experience with the restructuring of multinational and domestic groups of companies, and advises both lenders and borrowers. Representative matters include the cross-border restructuring of European Directories, Schoeller Arca, Endemol, Vivacom and Pfleiderer, and the domestic restructuring of Kroymans, Thieme, Selexyz, Phanos and Koop.

Richard Tett
Partner, Freshfields Bruckhaus Deringer LLP
richard.tett@freshfields.com

Richard Tett is a partner in Freshfields' restructuring and insolvency group, with over 15 years of restructuring experience. He has worked on refinancings, in and out-of-court restructurings, distressed M&A, formal insolvency appointments, US Chapter 11s, pension deficits, insurance workouts, telecommunications, commercial mortgage-backed securities and bondholder restructurings, and insolvency aspects of structured finance.
Non-confidential matters on which Mr Tett has advised include Endemol, Deutsche Annington, Carl Zeiss Vision, La Seda de Barcelona, EMI, Primacom, McCarthy & Stone, Paroc, Bank of England (Bradford & Bingley, Landsbanki and Kaupthing), Honsel, TMD Friction, XL Airways, Amtel Vredestein, Schieder Möbel, Polestar, and the separate acquisitions of the London Eye and Budget Rent-A-Car Group's Europe, Middle East and Africa assets.
Mr Tett is a qualified solicitor-advocate (civil) and a member of the Insolvency Lawyers Association, the Association of Business Recovery Professionals and the Turnaround Management Association.

Alan Tilley
Principal, Bryan Mansell & Tilley LLP
atilley@bmandt.eu

Alan Tilley is an experienced turnaround manager and has significant expertise in international turnarounds, helping to preserve enterprise value for businesses operating in the zone of insolvency. He was the 2008 recipient of the Turnaround Management Association's (TMA) international chairman's award for outstanding service to the international turnaround profession, and Insolvency & Rescue UK Turnaround Manager of the Year 2010. Mr Tilley is the co-author of the Institute of Chartered Accountants in England and Wales' best practice guideline on turnarounds, 2011, and co-winner of TMA International Turnaround of the Year award for La Seda. Mr Tilley qualified as a chartered accountant with Arthur Andersen in the United Kingdom and France, and between 1976 and 1994 held senior and chief executive positions with Grove Cranes, Lansing Bagnall and Simon Access. He began as a turnaround practitioner in 1994, undertaking the management buy-in of Lynton Group. Mr Tilley was European managing director of Glass & Associates between 1997 and 2007 and is past president of TMA UK and TMA International's vice president of international relations 2010-11.