Book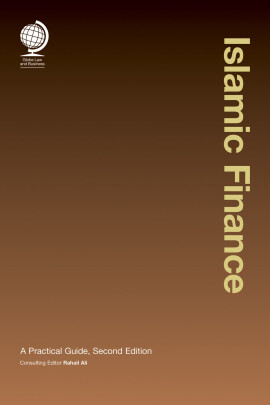 Islamic Finance
A Practical Guide, Second Edition
Published: 2014
Pages: 200

eBook: 9781787428959
This new second edition features fully updated, insightful chapters by leading practitioners in Islamic financing (including from Hogan Lovells, White & Case and Taylor Wessing), and analyses market trends, key developments and structures for sukuk, syndications, funds, takaful, project financing and Islamic liquidity management.
Islamic finance has seen unprecedented growth in recent years and the pace of this growth is accelerating. This is evidenced not only by the size of the Islamic finance market, but also by the increasing range of sophisticated products and services. The markets for Shariah-compliant funds and takaful (Islamic insurance) are sectors in their own right.

Today, Islamic finance attracts sovereigns, financial institutions, multinationals, corporates and customers across the retail spectrum who are looking to tap Islamic liquidity from sukuk (Islamic bonds), corporate, retail, acquisition, development and project financings.

This second edition features fully updated, insightful chapters by leading practitioners in Islamic financing and analyses market trends, key developments and structures for sukuk, syndications, funds, takaful, project financing and Islamic liquidity management. New to the second edition are chapters on the regulation of Islamic finance and an overview of the sukuk market.

This unique title is essential reading whether you are already engaged in Islamic financing transactions or interested in understanding the Islamic finance market and the structures underpinning the world's fastest-growing finance sector.

Table of Contents
| | | |
| --- | --- | --- |
| Cover | Cover | |
| Title | 1 | |
| Copyright | 2 | |
| Contents | 3 | |
| Preface | 5 | |
| Part 1. Islamic finance overview | 7 | |
| Islamic finance: introduction to the market and key principles | 7 | |
| Legal issues and standards in Islamic finance | 19 | |
| Part 2. Equity and funds | 31 | |
| Overview of Islamic asset management | 31 | |
| Sharia screening and Islamic equity indexes | 41 | |
| Part 3. Finance | 59 | |
| Islamic finance in the syndicated bank markets | 59 | |
| Islamic project finance | 73 | |
| Part 4. Capital markets | 91 | |
| Islamic finance and documentation | 91 | |
| The global sukuk market and legal structuring considerations | 109 | |
| The sukuk market: resilience and resurgence – the foundations for future growth | 119 | |
| Part 5. Insurance | 137 | |
| Takaful and conventional insurance: a comparative overview | 137 | |
| Islamic insurance products: a case study | 161 | |
| Part 6. Regulation | 175 | |
| Malaysia and GCC regulation: comparisons and contrasts | 175 | |
| Regulating Islamic finance | 183 | |
| About the authors | 197 | |
In conclusion, any researcher who is interested in Islamic finance would do quietly well to read carefully this excellent book. The authors offer an interesting analysis and also present a more intuitive approach to Islamic finance to non-experts.


Professor Amir Kia
Professor of Economics, Utah Valley University, The Journal of Business Inquiry

Shibeer Ahmed
Partner, White & Case LLP
[email protected]

Shibeer Ahmed is a partner in the global project finance practice of White & Case LLP and has expertise in both Islamic and conventional banking and project finance. His experience includes advising project sponsors, commercial banks and development finance institutions on energy, power and transport infrastructure (including private-public partnerships) projects in Western and Eastern Europe, the Middle East and Africa. Mr Ahmed has extensive experience of advising on Islamic financings. His experience includes advising on the Sadara Petrochemical Project in Saudi Arabia (including the first greenfield project finance sukuk), the Barzan Gas Project in Qatar, the EMAL Aluminium Project in the United Arab Emirates, the Djibouti Port Project (the first Islamic project financing benefiting from a MIGA-World Bank Group political risk guarantee) and advising the issuers on the state of Qatar and republic of Indonesia sukuk issues.

Rahail Ali
Global head of Islamic finance, Hogan Lovells
[email protected]

Rahail Ali is the global head of Islamic finance at Hogan Lovells, an international law firm, and is based in their Dubai office. Mr Ali is a worldrenowned expert on Islamic finance, reflected in numerous accreditations from leading industry and journals. Mr Ali has worked on many of the most innovative and high-value Islamic finance transactions closed to date, including jumbo syndicated financings and inaugural sukuk issuances ("Rahail Ali is arguably the leading figure in the sukuk market" – Legal 500 Europe, Middle East and Africa). Mr Ali is regularly consulted by governments, regulatory authorities and supra-national bodies. He is also the consulting editor of Sukuk and Islamic Capital Markets.

Mamoon Ashraf
Associate, Bin Shabib & Associates (BSA) LLP
[email protected]

Mamoon Ashraf has in-depth knowledge of insurance law, having prepared a practical guide on the regulatory framework in 14 jurisdictions throughout the Gulf Cooperation Council (GCC) and Middle East and North Africa (MENA) region for a large multinational insurance company planning strategic expansion. He regularly advises insurance entities on corporate governance, regulatory and risk management matters. He has a particular interest in takaful. Before joining Bin Shabib and Associates, Mr Ashraf worked as a solicitor for a leading UK firm, the Insolvency Service and Her Majesty's Revenue and Customs in London, where he focused on commercial law and insolvency.
Mr Ashraf holds an LLB in law and chemistry from the University of Greenwich and completed his Legal Practice Course at the Inns of Court School of Law, London. He qualified as a solicitor in the United Kingdom in 2007 and is a practising solicitor of the Supreme Court of England and Wales.

Hari Bhambra
Senior partner, Praesidium LLP
[email protected]

Hari Bhambra is the senior partner of boutique advisory Firm, Praesidium LLP. Previously she was part of the development and drafting team of both the UK Financial Services Authority and the Dubai Financial Services Authority. She drafted parts of both regulatory structures, including developing the supervisory philosophy of both regulators. Ms Bhambra was also the architect of the Dubai International Financial Centre (DIFC) sharia systems regulatory model and the key driver of the first mutual recognition model for crossborder flows of sharia-compliant capital market products. Ms Bhambra is the author of the DIFC Guide to Islamic Finance In or From the DIFC. Ms Bhambra is a postgraduate in law. She received her LLB hons (2:1) from the University of East London, her LLM (merit) from University College, London and her Diploma in Legal Practice from the College of Law, London. She has developed and delivered Islamic finance modules for CASS Business School for the Executive MBA programmes. She also delivers specialised Islamic finance training to regulators around the world.

Omar Clark Fisher
Managing director, Khidr Solutions Consultancy
[email protected]

Omar Clark Fisher led a UIB team which founded t'azur, a regional takaful company, in October 2007 with authorised capital of $500 million and operations in many GCC states. His 26 years of work experience span international project finance, Islamic leasing, political risk guaranties and takaful (Islamic) insurance. Previously, Dr Fisher was Deputy Head, Takaful Taawuni at Bank Aljazira, Jeddah, where he launched the first life takaful business in Saudi Arabia. He was also Founder and Chairman, First Takaful USA from 1997 until 2000. Dr Fisher is the author of numerous articles on cross-border financing, hedging political risks, Islamic leasing and Islamic insurance (takaful), as well as writing an internationally accepted takaful training manual. In 2007, he published an interactive book – Islamic Wealth Guide: wealth creation, risk management and wealth distribution in accordance with Islamic Sharia.

Mustafa Kamal
Senior associate, Hogan Lovells
[email protected]

Mustafa Kamal is a senior associate in Hogan Lovells' Saudi Arabian practice based in Jeddah. He holds a Juris Doctor from the University of Maryland School of Law, and has specialised in Islamic finance for over eight years while based in Dubai, Riyadh and Jeddah. He has worked with clients on a wide range of Islamic finance matters including project finance, capital markets and structured products.

Sajjad Khoshroo
Associate, White & Case LLP
[email protected]

Sajjad Khoshroo is a senior associate in White & Case's London office and a DPhil candidate at the Faculty of Law, University of Oxford. He holds an LLM in international finance from Harvard Law School and an LLB in Islamic law from Shahid Beheshti University. He is a qualified lawyer in England and Wales, New York and Iran. Chambers UK ranked him as an Associate to Watch for Banking and Finance: Islamic Finance in 2013 and 2014. Mr Khoshroo specialises in international project finance transactions, focused on the power, oil and gas and petrochemical sectors. He has worked on many of the Middle East's marketleading Islamic project finance transactions, including Sadara and Barzan.
He is a certified Islamic finance executive and holds the Islamic finance qualification. He frequently provides Islamic finance lectures and training and is a teaching fellow at SOAS, University of London.

Michael Kortbawi
Partner, Bin Shabib & Associates (BSA) LLP
[email protected]

Michael Kortbawi has extensive hands-on experience in both national and regional corporate and insurance laws. He has advised several international and regional insurance and reinsurance companies on setting up their businesses in the United Arab Emirates and expanding their operations throughout the region.
His expertise covers planning and implementing legal structures for large and medium-sized insurers and reinsurers, as well as assisting insurers and reinsurers in adapting their business model to comply with the changing legal and regulatory environment in the region. He was recently appointed by the UAE Insurance Authority to advise on a new draft of the UAE Insurance Law to bring it into line with international standards.
Mr Kortbawi holds an LLB degree from St Joseph University, Lebanon and is a member of the Beirut Bar Association.

Kamal M Amjad Mian
Director, Fast Cables Limited
[email protected]

Kamal Mian is an executive member of the board of directors of Fast Cables Limited. Mr Mian has more than 18 years' experience in the local and international corporate and investment banking industry. In his capacity as head of asset finance and Islamic banking at Saudi Hollandi Bank, Riyadh, Mr Mian was instrumental in developing the Islamic and asset finance business of the bank. Prior to Saudi Hollandi Bank, he worked as director at HSBC Amanah, HSBC Bank, Dubai. Mr Mian worked on several landmark sukuk (Islamic bond) transactions in the region, including the first Tier II capital sukuk for Saudi Hollandi Bank and the first sovereign sukuk for the government of Pakistan.
Mr Mian holds an LLM specialising in corporate law from Harvard Law School. He has published several articles in international journals and is an expert speaker at local and international forums.
Before his time at WestLB, Mr Testa was a solicitor in London and Tokyo with Slaughter and May and Ashurst. He holds an MA in modern history from Oxford University.

Rima Mrad
Partner, Bin Shabib & Associates (BSA) LLP
[email protected]

Rima Mrad is an accomplished and successful insurance law expert, having worked with local and international insurers in developing their business throughout the GCC and having advised on regulatory matters related to the United Arab Emirates, Bahrain, Qatar and Oman, covering both conventional and Islamic insurance. Although she is involved in all aspects of corporate law, her main specialisation is in the insurance sector. Ms Mrad has specific expertise in advising insurance and reinsurance companies on enterprise risk management from a regulatory and legal aspect. She holds an LLB degree from the Lebanese University.

Imran Mufti
Partner, Hogan Lovells
[email protected]

Imran Mufti is a partner in the finance practice of Hogan Lovells in the Dubai and Saudi offices. He has a particular interest in sukuk and has advised on transactions originating in Dubai, Saudi Arabia, Malaysia, the United States and Western Africa.
Mr Mufti has practised in the Middle East for over 11 years. He studied law at Queen Mary College, University of London and is qualified as a solicitor in England and Wales and as an attorney at law in New York.

Imtiaz Shah
Partner, Hogan Lovells
[email protected]

Imtiaz Shah is a partner in Hogan Lovells' corporate group, based in Dubai. His practice is a mix of mergers and acquisitions, investment funds, private equity, capital markets and regulatory advice.
Mr Shah is consistently recognised as a leading lawyer for investment funds and corporate commercial work in the Middle East by Chambers Global. Having been based in the Middle East for more than 13 years, he has advised on transactions in every country of the Arabian Gulf. He has advised on the establishment of many high-profile funds in the region, both conventional and sharia-compliant. His advice also covers fund management, investment and regulation.

David Testa
Chief executive officer, Armila Capital Limited
[email protected]

David Testa is chief executive officer (CEO) of Armila Capital Limited, a financial advisory boutique owned by significant investors in the Middle East, focusing on commercial property and other asset management opportunities, primarily in the United Kingdom. Mr Testa is also a cofounding shareholder and non-executive director of Cobalt Insurance Holdings Limited, a Londonbased Islamic underwriting agency.
As an experienced specialist in Islamic finance he was previously CEO of Gatehouse Bank from July 2007 to August 2009, where he was responsible for setting up the bank and successfully obtaining its banking licence from the Financial Services Authority.
Before joining Gatehouse, Mr Testa worked for WestLB for 10 years and led the Islamic finance team there, successfully closing sharia-compliant transactions with an aggregate value of more than $5 billion.