Book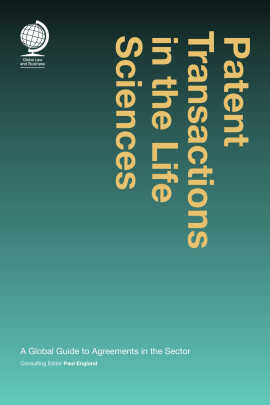 Patent Transactions in the Life Sciences
A Global Guide to Agreements in the Sector
Published: 2014
Pages: 385

eBook: 9781787429017
As a companion to Intellectual Property in the Life Sciences, it is intended to cover the practical what, where, why and when of patent transactions in this sector, under the leading legal regimes
Patent Transactions in the Life Sciences is designed to provide guidance on the structure and detail of those agreements in the life sciences sector that are based on its most important assets - patents and know-how. As a companion to Intellectual Property in the Life Sciences, it is intended to cover the practical what, where, why and when of patent transactions in this sector, under the leading legal regimes.

The book explains the rights that underpin life sciences transactions and describes the architecture, features and purpose of those transactions. It covers issues from the basics of a licence and assignment to complex agreements. The book also explores the types of deal that commonly feature in the industry at the corporate level and how patents fit in. Associated issues of licence disputes, competition rules, securitisation, insolvency and taxation are also examined.

This guide will be a valuable resource for lawyers, in-house counsel and other professionals advising on transactions in the life sciences industry, particularly where they have global reach.

Table of Contents
| | | |
| --- | --- | --- |
| Cover | Cover | |
| Title | 1 | |
| Copyright | 2 | |
| Contents | 3 | |
| Introduction | 5 | |
| Looking ahead to the unitary patent | 13 | |
| Belgium | 19 | |
| Canada | 35 | |
| China and Hong Kong | 51 | |
| Denmark | 85 | |
| France | 99 | |
| Germany | 121 | |
| India | 153 | |
| Israel | 169 | |
| Italy | 191 | |
| Japan | 209 | |
| Netherlands | 237 | |
| South Korea | 255 | |
| Sweden | 271 | |
| Switzerland | 285 | |
| United Kingdom | 303 | |
| United States | 343 | |
| About the authors | 373 | |
Introduction 5
Paul England
Taylor Wessing

Looking ahead to the unitary patent

Paul England
Taylor Wessing

Belgium

Philippe de Jong
Christophe Ronse
ALTIUS

Canada

Rory Cattanach
Kevin Fritz
Wildeboer Dellelce LLP
Noel Courage
Bereskin & Parr LLP

China and Hong Kong

Joanna Chan
Lewis Ho
Monique Lee
Dechert LLP

Denmark

Klaus Ewald Madsen
Christian Bennet Rosenbæk
Bech-Bruun

France

Laëtitia Bénard
Allen & Overy LLP

Germany

Nicole Battistini-Kohler
Manja Epping
Michael Gaul
Christof Höhne
Matthias Hülsewig
Anja Lunze
Steffen Wirsing
Taylor Wessing

India

Disket Angmo
Fiona Desouza
Jose Madan
Khaitan & Co

Israel

Uri Fruchtman
Liad Whatstein
Dr Shlomo Cohen & Co

Italy

Luca Trevisan
Trevisan & Cuonzo

Japan

Frederick Ch'en
Eiichiro Kubota
Hogan Lovells

Netherlands

Carreen Shannon
Deterink

South Korea

Mikyung Choe
H Joon Chung
Yoon Young Huh
Ji Eun Kim
Jongguk Pak
Kim & Chang

Sweden

Jennie Klingberg
Odd Swarting
Setterwalls

Switzerland

David Broenimann
Christoph Heiz
Simon Holzer
Kilian Schärli
Andrea Sieber
Meyerlustenberger Lachenal

United Kingdom

Malcolm Bates
Colin McCall
Louisa Penny
James Stewart
Tim Worden
Taylor Wessing LLP

United States

Chuck Larsen
Anita Varma
Ropes & Gray LLP