Book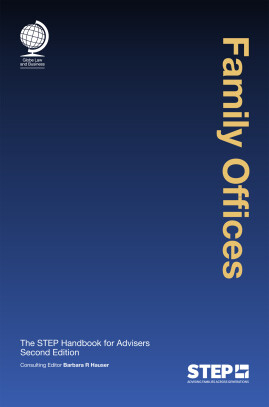 Family Offices
The STEP Handbook for Advisers, Second Edition
Published: 2019
Pages: 457

eBook: 9781787422797
Prepared in association with STEP, the world's leading organisation for private wealth professionals, this new edition of Family Offices features updated chapters from key players in the field including JPMorgan, Sandaire, Pitcairn, Penningtons Manches, Withers and Farrer & Co.
Prepared in association with STEP, the world's leading organisation for private wealth professionals, this new edition of Family Offices features updated chapters from key players in the field including Sandaire, Pitcairn and Farrer & Co.

This practical guide steers readers through the family office model, from its inception to the final stage in its "life cycle", and covers:
•Establishing a family office and choosing the right jurisdiction
•Recruiting and managing staff
•The pros and cons of a "virtual" office
•Evaluating a multi-family office
•Millennials' interest in investments
•Reputation protection
•Using social media, total risk analysis and tools
•Communication and cultural issues
•Governance, crisis planning and long-term resilience

The second part of the book explores the increasing number of important jurisdictions and features chapters on Australia, Bermuda, Canada, the Gulf region, Hong Kong, India, Israel, the Netherlands, Singapore, Switzerland, the United Kingdom and the United States.

Whether you are a professional practising in the family office sphere, a family member or a new entrant to this diverse and challenging arena, this comprehensive publication provides essential insight into all aspects of the family office world.

Table of Contents
| | | |
| --- | --- | --- |
| Cover | Cover | |
| Title Page | 1 | |
| Copyright Page | 2 | |
| Table of Contents | 3 | |
| About STEP | 7 | |
| Introduction | 9 | |
| What is a family office? | 11 | |
| Establishing the family office | 27 | |
| Selecting the right family office jurisdiction | 35 | |
| Global virtual family offices | 47 | |
| Recruitment and talent management strategies | 63 | |
| Investment | 79 | |
| Health and wellbeing: the journey to family longevity | 93 | |
| Professionals and family offices: putting a square peg in a round hole? | 105 | |
| Family offices and technology: the challenge, approach and opportunity | 111 | |
| Don't let a risk become a crisis | 123 | |
| Risk and insurance management | 131 | |
| The 'prepared mind' at a time of crisis | 141 | |
| Family values, mission and vision and the family office | 149 | |
| Culture, communication and conflict | 161 | |
| What next? Governing a family office through leadership succession | 175 | |
| The five challenges for wealth inheritors to develop a positive wealth identity | 185 | |
| The golden rucksack – insights from qualitative research among wealthy heirs | 195 | |
| The resilient single family office: a developmental perspective | 217 | |
| The lifecycle of the family office | 233 | |
| The global culture of giving: four key trends | 243 | |
| Australia | 251 | |
| Bermuda | 271 | |
| Canada | 281 | |
| The Gulf states | 299 | |
| Hong Kong | 309 | |
| India | 333 | |
| Israel | 347 | |
| Italy | 371 | |
| Netherlands | 379 | |
| Singapore | 391 | |
| Switzerland | 399 | |
| United Kingdom | 405 | |
| United States | 423 | |
| About the authors | 439 | |
| About Globe Law and Business | 457 | |
This book sets the gold standard for the sophisticated family advisor's increasingly higher duty of care for protection and preservation of existing assets and continuing pursuit of success in business. For family members, it frames the many important choices for families confronting an increasingly complex, hostile and intrusive world.
William B Bierce
Bierce & Kenerson, P.C. The International Family Offices Journal (September '19 issue)

Whether using the handbook as a comprehensive overview to be read in one sitting or as an ongoing thorough resource to probe into, in my opinion this book is an excellent timely investment for those dealing with the family office, wherever they are established. I would recommend this wholeheartedly and consider that it should be in the library of all concerned families, practitioners and advisors.
Dr Linda S Spedding

Feisal Alibhai

Founder and chief executive officer, Qineticare
feisal.alibhai@qineticare.com

Feisal Alibhai is the founder and chief executive officer (CEO) of Qineticare, the world's first 'family health office', based in Hong Kong. He was born in the Democratic Republic of Congo, raised in Belgium, finished his schooling in Canada and graduated from the Wharton School. He worked in crossborder mergers and acquisitions in New York before moving to Hong Kong to become a serial entrepreneur, specialising in Eastern Europe and war-torn Africa. He epitomised life's definition of success until a life-changing event at the age of 35 caused him to change direction. He now serves families across the globe, helping to transform their lives.

Clare Archer

Partner, Penningtons Manches
clare.archer@penningtons.co.uk

Clare Archer qualified in 1994 and leads Penningtons Manches' 60-strong private client and tax team. Described as "technically superb", "wonderfully sensitive" and "terribly calm", she focuses on relationships with landed and business families, including some of the firm's longest-standing clients. She advises on generational planning and governance, often to avoid disputes. Recent work highlights include instigating complicated negotiations with Her Majesty's Revenue and Customs on the valuation of a substantial shareholding in a private family company and advising executors and trustees on a complex family dispute. She was consulting editor on the first edition of the Family Offices: The STEP Handbook for Advisers, is a member of the Association of Contentious Trust and Probate Specialists and speaks regularly on private client issues. She was named as one of the 50 most influential people in private client in 2018 and has been shortlisted for 'Woman of the Year' by CityWealth in 2019.

Grania Baird

Partner, Farrer & Co
grania.baird@farrer.co.uk

Grania Baird is sought after by clients across the banking and financial services sector, including private banks, wealth and asset managers, as well as other regulated businesses. Her client base extends to both established institutions and start-up Prudential Regulation Authority and Financial Conduct Authority regulated businesses, which value her ability to combine a high degree of technical knowledge and expertise with a commercial and practical approach.
With an impressive track record in the sector stretching over 20 years, Ms Baird has supported clients – in particular, private banking and wealth management firms – through dramatic changes in the regulatory landscape. She advises her clients on the impact of the full raft of emerging law and regulation.
Ms Baird advises clients on contractual and client-facing documentation for investment and banking products and services, as well as on general compliance and regulatory queries.

Melissa A Berman

President and CEO, Rockefeller Philanthropy Advisors
mberman@rockpa.org

Melissa A Berman is the founding president and CEO of Rockefeller Philanthropy Advisors, an innovative non-profit philanthropy service whose mission is to help donors create thoughtful, effective philanthropy throughout the world. She has led Rockefeller Philanthropy Advisors since its launch by the Rockefeller family in 2002, building it into one of the world's leading philanthropic advisory, grantmaking, research and project management services. Rockefeller Philanthropy Advisors annually manages or facilitates over $250 million in giving to more than 25 countries.
Ms Berman is a frequent speaker and widely recognised expert in philanthropy. She is an adjunct professor at Columbia University's Business School and a director/trustee of Rockefeller Philanthropy Advisors, the Adrian Brinkerhoff Foundation and the Foundation Center. She serves on the Advisory Boards of the Marshall Center for Philanthropy and Social Entrepreneurship at the London School of Economics and the Tamer Center for Social Enterprise at Columbia University. She holds a BA from Harvard University and a PhD from Stanford University.

Andrea B Bolliger

Office counsel, Baker McKenzie Zurich
andrea.bolliger@bakermckenzie.com

Andrea B Bolliger is a member of Baker McKenzie's tax and global wealth management practice groups in Zurich, Switzerland. He has over 10 years' experience in all tax matters, both individual and corporate. His practice focuses in particular on advising private clients on complex national and international tax planning, including relocation, estate planning and all aspects of wealth management. Further, he has broad experience in national and international corporate tax matters, including restructurings, mergers and acquisitions, corporate finance, tax planning and structuring, as well as tax disputes.

Linda Bourn

Director, Family Enterprise Risk Practice, Crystal, Alliant Private Client
linda.bourn@alliant.com

Linda Bourn leads the family enterprise risk practice of Crystal, the private client group of Alliant.
With over 20 years of experience, she is an expert at advising family enterprise boards, directors, officers and trustees on enterprise risk management for their organisations, and guiding generational families on aligning risks with insurance strategy.
She specialises in working alongside highwealth families and their advisers to help them evaluate family risk exposures using holistic assessment tools and to help them develop a customised strategies to manage risk.
She is a fellow of the Family Firm Institute (FFI), and serves on the Babson College Board of Overseers and as an Advisory Council Member to Babson's Institute for Family Entrepreneurship. She holds an MBA and BA, and the FFI Global Education Network Advanced Certificate in Family Business Advising.

Jan van Bueren

Global head family office advisory, FOSS Family Office Advisory – Union Bancaire Privée, UBP SA
bueren@family-office-advisory.com

Jan van Bueren is global head of family office advisory at Swiss private bank Union Bancaire Privée (UBP) and co-founder of UBP's awardwinning family office advisory service – FOSS Family Office Advisory. He holds a master's in tax law from the University of Groningen, the Netherlands. Mr van Bueren assists families from all over the world with the establishment of their single family office or, alternatively, supports them with the selection of a multifamily office in Switzerland or abroad. He is a regular speaker at conferences on the topic of family offices, family business meetings and educational events dealing with the subject. He has also written numerous articles on setting up a single family office or how to select a multi-family office.

Mary Anne Bueschkens

Counsel, Miller Thomson LLP
mabueschkens@me.com

Mary Anne Bueschkens is a recognised global expert in advising on multi-jurisdictional legal, tax, commercial, risk and corporate governance issues for high-net-worth clients, their families, their business operations and charitable foundations. She has over 20 years of experience in collaborating and working with international advisers to create a vision and execution plan for private clients in their business expansion, divestiture, governance, succession planning and philanthropic giving.
Ms Bueschkens is vice president, Americas, of the International Academy of Trust and Estate Law, past national chair of STEP Canada, and on the board of governors of the Royal Ontario Museum. She also serves on the board of two global manufacturing companies, ACPS and ABC Group Inc.

Jing Cameron

Partner, Qineticare
jing.cameron@qineticare.com

Jing Cameron is a partner at Qineticare, the world's first family office for health and wellbeing and the originator of the 'family wellbeing trust'. In her prior career, she spent eight years with JPMorgan Private Bank, advising families across the Asia-Pacific region.
A Joseph Wharton scholar, Ms Cameron graduated from the Huntsman Programme at the Wharton School of the University of Pennsylvania. Born and raised in Beijing, Ms Cameron spent her formative years in Singapore, Japan and the United States. She now lives in Hong Kong with her husband David and three children.

David Chee

Director, corporate and finance, Drew & Napier LLC
david.chee@drewnapier.com

David Chee is a private client specialist. His principal areas of practice are trusts and estate planning. He has been in the industry since 2004, having also worked as a legal counsel in trust companies and a wealth planner in private banks. His familiarity with international tax and trust structures, insurance solutions and asset management, and strong network with players within the wealth management industry, enable him to provide holistic advice to clients.
Mr Chee works with and advises clients on all aspects of their estate planning needs, ranging from drafting of wills to complex solutions such as setting up structures that address concerns including asset transfers from one generation to another; asset protection and preservation; tax efficiency; family governance; and philanthropy and incapacity.
Mr Chee also advises professional trustees on various matters related to trust business, including regulatory requirements, fiduciary risk and obligations, and administration of trusts and estates.

John Deverell

Founder and CEO, Deverell Associates
john@deverellassociates.com

John Deverell advises on risk, business continuity, effective leadership and governance. He writes plans, conducts workshops and gives talks. He has a Cambridge MPhil in international relations and a diploma in advanced negotiation and mediation skills. After 34 years in the British Army – including much work for the Foreign Office – he was headhunted into the commercial world 10 years ago. Since then, he has helped clients to reduce the likelihood and impact of risk. He has appeared frequently on national radio and television, advising on national strategy and security. A former manager at Control Risks has described his offering as "better than the market leader".

Keith Drewery

Director, Drewery Consulting
keith@dreweryconsulting.com

Keith Drewery has worked for over 30 years in providing advice to private clients and their families. Commencing his career in London, he emigrated to Sydney in 1994, working for KPMG as a tax adviser before joining Perpetual Limited working in national roles before becoming regional manager of its private client business.
In 2006, he opened the Sydney office of the Myer Family Office, at the time Australia's leading multi-family office, where he worked to develop the business in the Sydney marketplace. In 2012, he rejoined KPMG before commencing his own consultancy practice.
Latterly his work has concentrated on consulting to wealth owners, family offices and professional services firms with a focus on inter-generational wealth management services including succession and legacy development through philanthropy. Mr Drewery lives in Sydney and is married with three daughters.

Mary Duke

Independent adviser to families
mkduke@thehighrd.com

Mary Duke is an internationally recognised adviser to families navigating the complexities of substantial wealth. She is known for her deep understanding of the impact of trusts on families, generational transition in family businesses and empowering rising generations. Her work is typically anchored in the facilitation of family meetings, mentoring and strategic planning.
With a background in private client law and business consulting, she has led two private family offices. With training in family systems, mediation and managing conflict, she has an excellent track record helping families collaborate more effectively and leverage governance for joint decision-making.

Ori Ephraim

Founder and manager, O Ephraim Multi Family Office Services
oriephraim@gmail.com

Ori Ephraim founded O Ephraim Multi Family Office Services in 2002. Mr Ephraim provides independent and trusted chief financial officer services to ultra-high-net-worth individual clients and their companies, in order to preserve the family's assets and multigenerational vision. The firm's services include comprehensive investment advice in liquid and non-liquid investments, tax and accounting as well as acting as liaison between the auditors and lawyers of the clients. Mr Ephraim represents international investors in their investment activities in Israeli start-ups. Mr Ephraim serves, in addition, as a court expert in the field of valuations for companies and economic disputes between business and family members.
Mr Ephraim holds an MA in economic and business administration (cum laude) and a BA in economics and accounting (cum laude), both from the Hebrew University in Jerusalem. In addition, he holds a diploma in international trust management from STEP. Mr Ephraim is a licensed accountant in Israel and is a member of the Institute of Certified Public Accountants in Israel. He was an external lecturer on tax and accounting at the Hebrew University and at Bar Ilan University, and lectures widely in his areas of expertise.

Lyat Eyal

Partner, Aronson, Ronkin-Noor, Eyal Law Firm
lyat@are-legal.com

Lyat Eyal is admitted to practise in New York (1998) and Israel (2005). Ms Eyal manages the firm's private client practice, advising highnet- worth Israeli resident and non-resident individuals in connection with cross-border estate planning matters, private international laws with respect to estate planning, trusts and estate administration. Ms Eyal also provides pre-immigration planning advice to new immigrants as well as Israelis returning to reside in Israel relating to estate planning and trusts. Ms Eyal is a member of the New York State Bar Association Trusts and Estates Section and International Section, as well as a member of the Tax Specialist Group. Ms Eyal is also an academician of the International Academy of Estate and Trust Law and a fellow of the American College of Trust and Estate Counsel. She publishes in leading professional journals and lectures widely in her areas of expertise.

Joseph A Field

Senior counsel, Pillsbury Winthrop Shaw Pittman LLP
joseph.field@pillsburylaw.com

Joseph (Joe) Field is a senior counsel in the private client group at Pillsbury in New York. He holds degrees in politics from Princeton University and a JD from the Columbia University Law School. He has practised in Brussels, Paris, New York, London and Hong Kong.
Mr Field ran the Asia offices of Withers for a number of years and has had considerable experience in working with international family offices and families, particularly with respect to cross-border issues.
He lectures frequently and is the author of numerous articles and most recently collaborated with Milton Grundy and John Briggs on a book related to asset protection. Mr Field is a participant in a number of legal forums and participates in many STEP events. He is currently the chair of the STEP International Special Interest Group.

Aditya Gadge

Founder and CEO, Association of International Wealth Management of India (AIWMI)
aditya@aiwmindia.com

Aditya Gadge is the founder and CEO of the Association of International Wealth Management of India (AIWMI) – a global certification body for advanced financial education programmes. A recognised pioneer in the private wealth, alternative investments and family office education space, he provides strategic direction to AIWMI and leads the development of educational programmes for professionals and clients in the wealth management sector. He is also the founder and principal adviser of the Indian Association of Alternative Investment Funds and the founder of Priwexus – The Indian Private Wealth Network.
Mr Gadge has 16 years of experience in the financial services sector; holds a master's in human resources and a master's in economics; and is a certified financial planner. He regularly contributes to business, financial and education publications and is a member of the editorial board of the International Family Offices Journal. Mr Gadge has recently co-authored books on credit research and global family offices.

Rebecca Goldring

Associate, Penningtons Manches
rebecca.goldring@penningtons.co.uk

Rebecca Goldring qualified in 2012 and specialises in UK and international tax planning at Penningtons Manches. She has experience advising individuals, entrepreneurs, families, family offices and trust companies on cross-border estate planning issues, which frequently involves complex tax advice with an international element and liaising with advisers in different jurisdictions. Her work also extends to advice on complex probate matters. A student member of STEP, she writes articles for many prominent professional publications, provides comments for the media and has been quoted in articles written by The Telegraph and the BBC. Clients and peers praise Ms Goldring for being "excellent, so well organised", "extremely knowledgeable" and "a fantastic private client lawyer".

James Grubman

Owner, Family Wealth Consulting
jim@jamesgrubman.com

James Grubman is a consultant to multigenerational families and their advisers about the issues that arise around wealth. He helps families to establish healthy patterns of communication, governance, estate planning and parenting for succeeding generations. He is the author of the renowned book, Strangers in Paradise: How Families Adapt to Wealth Across Generations, and co-author (with Dr Dennis T Jaffe) of Cross Cultures: How Global Families Navigate Change Across Generations. Dr Grubman has been published and quoted extensively by The Wall Street Journal, The New York Times, CNBC and other media, including Malcolm Gladwell's 2013 book, David and Goliath. Dr Grubman holds fellow status in the Family Firm Institute and the Purposeful Planning Institute, and is one of only a handful of psychologists in the 20,000- member STEP. His global consulting practice, Family Wealth Consulting, is based in Massachusetts, United States.

Thomas J Handler

Partner, Handler Thayer LLP
thandler@handlerthayer.com

Thomas Handler is an advanced planning attorney focused on taxation, estate planning and business planning for executives, celebrities, professional athletes, family offices and family businesses. He has extensive experience in the analysis, design and implementation of domestic and international business planning, estate planning, asset protection, family office compliance and advanced tax planning strategies.
He has authored numerous professional articles and lectured extensively both nationally and internationally at wealth industry, professional and family office educational conferences. Mr Handler is a recognised thought leader in the advanced planning and family office marketplaces who has been quoted regularly in publications and has appeared as an expert commentator on numerous radio and television programmes.
He has been named one of the top 100 lawyers in the United States, was awarded the 2017 Family Wealth Alliance Leadership Award for Lifetime Achievement and received the Brink Leadership Awards for Lifetime Service to the family office industry.

Barbara R Hauser

Independent family adviser
brhauser@gmail.com

Barbara Hauser combines extensive experience advising families, family businesses and family offices first as a private client lawyer and later with a focus on governance. Ms Hauser helps families to develop their unique governance process, which may include a family constitution, a family council and a holding company board. She is a sought-after speaker and prolific writer, and is often referred to as a true thought leader in the family office field.
Her books include International Family Governance, International Estate Planning, Trusts in Prime Jurisdictions (advisory editor, Globe Law and Business), "Mommy, are we Rich?": Talking to Children about Family Money (co-author) and Saudi-Girl Barbara.
Her articles include "The Family Office: Insights into Their Development in the US, A Proposed Prototype and Advice for Adaptation in Other Countries," "Family Office Trends: Lessons from Dubai?" and "The Family Office Landscape: Today's Trends & Five Predictions for the Family Office of Tomorrow". Ms Hauser is also the editor of Globe Law and Business's International Family Offices Journal.

Dennis T Jaffe

Adviser to families, Wise Counsel Research
djaffe@dennisjaffe.com

Dennis Jaffe advises families on family business, governance, wealth and philanthropy. He recently completed working papers "Governing the Family Enterprise: Evolution of Family Councils, Assemblies and Constitutions", "Releasing the Potential of the Rising Generation" and "Good Fortune: Building a Hundred Year Family Enterprise".
He is author (or co-author) of Cross Cultures: How Global Families Negotiate Change Across Generations; Stewardship in your Family Enterprise: Developing Responsible Family Leadership Across Generations and Working With the Ones You Love, as well as management books Rekindling Commitment, Getting Your Organization to Change and Take this Work and Love It. He has taught and consulted in Asia, Europe, the Middle East, and Latin America. The FFI recently awarded him the 2017 International Award for service and in 2005 he received the Beckhard Award for service to the field. He has a BA in philosophy, an MA in management and a PhD in sociology, all from Yale University, and is a professor emeritus at Saybrook University in San Francisco.

Emily Jamieson

Associate, Farrer & Co
emily.jamieson@farrer.co.uk

Emily Jamieson is an associate in the Farrer & Co corporate team. Her expertise spans the life of a business, from company incorporation through investments and restructurings to company or business disposals. Her experience also includes advising clients on matters of corporate governance and English company law. Clients enjoy working closely and building relationships with Ms Jamieson so that she understands their legal requirements and the issues concerning them. They value her advice both on landmark transactions and on day-today matters.

Marianne Kafena

Partner, Farrer & Co
marianne.kafena@farrer.co.uk

Marianne Kafena is a partner in the private client department. Her clients tend to be families with businesses and private wealth located in more than one country. Her work ranges from establishing and supporting the work of family offices to structuring international personal and business assets, taking account of cross-border tax and succession. One important aspect of her work is ensuring that those involved in implementing a family's plan maintain the enthusiasm and discipline required to see it through as practically and simply as possible. Ms Kafena speaks Arabic and French and grew up in Jordan. The families she advises tend to have strong links in Europe and the Middle East and their concerns tend to centre on personal and business succession, in a context of conflicting legal systems and emotionally charged periods of transition.

Raimund Kamp

Partner, Guidato
raimund.kamp@guidato.nl

Raimund Kamp is the co-founder and partner of Guidato, a multi-family office in the Netherlands. His special expertise relates to families which are in transition and the transfer of the wealth or family business to the upcoming generation. Mr Kamp holds degrees in tax and notary law from the University of Amsterdam and has held tax adviser positions with Arthur Andersen in Amsterdam and London, EY and MeesPierson. Together with his business partner Marijke Kuijpers, he carried out in-depth qualitative research in the Netherlands among 18 wealthy heirs, focusing on their upbringing and preparation for their inheritance and their experiences with inherited wealth. The results have been published in The Golden Rucksack – Handbook for Wealthy Families. He regularly speaks at international conferences and writes articles about family office topics, families and their business.

Alon Kaplan

Advocate and notary, Alon Kaplan, Advocate and Notary Firm
alon@alonkaplan-law.com

Alon Kaplan is a sole practitioner in the Alon Kaplan, Advocate and Notary Firm, practising in trusts, estates and succession planning, international charitable giving and counselling family offices. He holds an MA from the Hebrew University in Jerusalem and a PhD from Zurich University. Mr Kaplan is a member of the Israel, New York State and Frankfurt Bars and chairman of the Israel Bar Association's private international law committee. He is a member of STEP and president of STEP Israel. He is an academician at the International Academy of Estate and Trust Law and a fellow of the American College of Trust and Estate Counsel. He is the general editor of Trusts in Prime Jurisdictions (4th edition, 2016, Globe Law and Business, 5th edition in process) and author of Trust and Estate Practice in Israel (2016 Juris publications). His book in Hebrew on Trusts in Israel: Theory and Practice was published in December 2017 by Halachot Publishing, Israel. He regularly speaks at international conferences and writes articles about trusts, cross-border succession, family office topics, families and their business.

Marijke Kuijpers

Partner and co-founder, Guidato
marijke.kuijpers@guidato.nl

Marijke Kuijpers studied business administration at Nyenrode Business University and financial economics at the Vrije Universiteit in Amsterdam. She has more than 20 years' experience in banking, mainly in investment consultancy and relationship management for ultra-high-net-worth clients at MeesPierson Amsterdam. Together with her business partner Raimund Kamp, she carried out in-depth qualitative research in the Netherlands among 18 wealthy heirs, focusing on their upbringing and preparation for their inheritance and their experiences with inherited wealth. The results were published in The Golden Rucksack – Handbook for Wealthy Families. Ms Kuijpers is experienced in advising and assisting clients who acquire substantial capital unexpectedly. The multi-family office Guidato, which she co-founded in 2008, gives her ample room to work within her field of expertise. Another of her passions is teaching on finance and related topics.

Ian Macdonald

Head of private client, Wright, Johnston & Mackenzie LLP
IM@wjm.co.uk

Ian Macdonald is head of private client at Wright, Johnston & Mackenzie LLP, Solicitors in Glasgow. He is dual-qualified in Scottish and English law and is accredited by the Law Society of Scotland as a specialist in trusts law. Mr Macdonald advises high-net-worth individuals and families throughout the United Kingdom and abroad on tax and estate planning, wills, trusts and family governance. He has been a member of STEP almost since it was founded in 1990 and currently represents Scotland on STEP's council. He was deputy chairman of the STEP Business Families Special Interest Group from its formation in 2007 until the end of 2017 and is also chair of STEP's Professional Development Committee and a member of the STEP Scotland Branch Committee.

Lucinda (Lucy) Main

Partner, Beard Winter LLP
lmain@beardwinter.com

Lucy Main is a partner at Beard Winter LLP, in Toronto, Canada. She advises Canadian and international clients on a wide range of estate and trust matters, including drafting estate planning documents, establishing private charitable foundations for individuals and families, helping with the administration of estates, assisting in the setting up and maintenance of trusts and providing support to litigators in contentious matters. Her accomplishments in, and contributions to, these areas of law were recognised in 2016 when she was awarded the Hoffstein Book Prize by the Ontario Bar Association (OBA). She earned her trust and estate practitioner (TEP) designation from STEP in 2013. She has been an executive member of the OBA's Tax Section and Trusts and Estates Section, a member of the Canadian Tax Foundation's organising committee for the annual Ontario conference for advisers to owner-manager businesses and the Canadian representative for the International Association of Young Lawyers.

Ian A Marsh

iam.good2talk@gmail.com

Ian Marsh is a renowned listener, speaker, author, coach, facilitator and mediator, who focuses on helping people talk about the things that matter most to them; the things they generally find it hardest to talk about. A former lawyer, Mr Marsh has worked with enterprising families for more than 40 years and has seen at first hand the damage that intractable conflict can do to people and their relationships if it is left to its own devices. His passion is helping people to overcome the perils, and to rediscover the power, of face-to-face conversation in a digital, and increasingly polarised, world. See www.good2talk.online.

Mark McMullen

Partner, BDO UK
Mark.McMullen@bdo.co.uk

Mark McMullen is a partner in the BDO private client services team, with over 30 years' experience. Mr McMullen enjoys dealing with the complex challenges that face UK and international families and businesses. This includes advising private clients, their families and structures on their financial and tax affairs. His specialisms include UK direct taxes, UK property, non-UK domiciliaries and trusts. Mr McMullen also acts for several family offices, working with them on strategic and practical tax and financial issues. He has good experience of planning and administering offshore trusts and sat on the board of an overseas trust company for several years. He is a member of STEP and sits on its City of London branch committee, having served on its UK technical committee for several years.

Thomas Ming

Senior family office adviser, FOSS Family Office Advisory – Union Bancaire Privée, UBP SA
ming@family-office-advisory.com

Thomas Ming is senior family office adviser at Swiss private bank Union Bancaire Privée (UBP) and co-founder of UBP's family office advisory service – FOSS Family Office Advisory, located in Zurich. He holds a master's degree in law from the University of Basel, Switzerland. Through FOSS, Mr Ming assists families with the establishment of a singlefamily office or, alternatively, supports them with the selection of a multi-family office. In addition to family offices, Mr Ming has, over the past years, focused on life insurance (eg, private placement life insurance and (jumbo) universal life insurance) as a compliant wealthplanning structure for wealthy families from around the globe.

Francis Moore

Director, Moore Family Office Limited
Francis.Moore@moorefamilyofficegroup.com

Francis Moore joined Moore Family Office Limited as a director in early 2019, after leaving his position as an associate director within the Moore Stephens private client services team. Mr Moore specialises in tax planning and compliance issues associated with high-networth individuals, in particular those who are not domiciled in the UK. This includes advice on remittances to the United Kingdom, as well as offshore structure issues and residence and planning concerns for those coming to and leaving the United Kingdom. Mr Moore comments: "My work is all about addressing issues that matter to clients. You get a sense that you can help people, which is rewarding. I also enjoy the individuality and diversity of the work." He was named as one of the 'Top 35 Under 35' by ePrivateclient in 2018.

Asher Noor

Chief investment officer, AlTouq Group
asher@altouq.com

Asher Noor is the chief investment officer for AlTouq Group, a Saudi Arabian single family office. He previously worked for PricewaterhouseCoopers and Banque Saudi Fransi. His last position was chief financial officer for Morgan Stanley in Saudi Arabia. His role includes managing the investment portfolio of the family office, which is allocated in the traditional and alternative asset classes globally. He also sits on the boards of several companies globally. Mr Noor is a qualified trust and estate practitioner and a fellow chartered accountant. He was profiled as a top 30 global family office investor by Trusted Insight. He serves on the board, faculty and editorial committee of Family Firm Institute (FFI) in USA. He holds a double master's, including an MBA from EDHEC Business School, France and has also served on the university's global alumni board. Presently he is also serving a term on the editorial board of the STEP Journal, published out of the United Kingdom.

Charles Peacock

Client relationship director, Sandaire
charles.peacock@sandaire.com

Charles Peacock is a client relationship director of Sandaire, which acts as the family office for some 25 families, including the Scott Family, which founded the firm over 20 years ago. Each of these families has significant wealth, which raises unique challenges and to which Sandaire brings its experience in investment management and good financial stewardship. Mr Peacock is a graduate in law from Exeter University. He qualified as a chartered accountant with Price Waterhouse and worked for nine years in its corporate finance units in London and Frankfurt, advising on management buy-outs, company acquisitions and disposals and valuations. He then spent 12 years in international equity markets in a number of companies, including HSBC and ABN AMRO, before joining Sandaire in 2010. He is a member of the Chartered Institute for Securities and Investment, a trustee of a number of grant-making charitable trusts and a former trustee of Fairbridge, a national youth charity.

M J Rankin

Partner, The Rankin Group LLC
mj@trgsearch.com

M J Rankin has been an entrepreneur and wellknown thought leader within the private wealth management industry since 1980. She is recognised as an expert in family office management and in the hiring of executive leaders for single and multi-family offices and privately held companies. She is the architect of The Rankin Group's customised consulting and search process, which focuses on clients' long-term human capital needs and integrates a comprehensive organisational development approach to the executive hiring process. Recently, Ms Rankin has shifted the focus of her consulting away from the executive search side of the business to strategic HR management consulting for family offices and privately held enterprises. This reflects the growing need for more proactive thinking and planning on how these organisations can better meet the needs of their employees, and for employees to better meet the needs of these organisations.

Simon Rees

Director of family office services, Farrer & Co
simon.rees@farrer.co.uk

After more than 20 years advising on private client tax and trusts, Simon Rees left PricewaterhouseCoopers in 2005 to become head of tax at Ansbacher. He was one of the founding principals at New Quadrant Partners, looking after the firm's trust management services, before becoming head of UK fiduciary at Kleinwort Hambros. He joined Farrer & Co in 2017, to focus on services for client families. The scope of that work is very broad, including trustee issues, simplification of structures, governance, compliance and administration. He often adopts an informed liaison or coordination role. He takes a particular interest in investment manager performance (he was a member of the judging panel for the Private Asset Managers Awards 2011–2013). Mr Rees especially enjoys working across family generations and looking at succession and family governance issues. He believes strongly in the benefits of working in a collegiate way with the family's other advisers.

Amelia Renkert-Thomas

Founder, Renkert Thomas Consulting LLC
amelia@renkertthomasconsulting.com

Amelia Renkert-Thomas is the founder of Renkert Thomas Consulting LLC and the author of Engaged Ownership: A Guide for Owners of Family Businesses (Wiley, 2015). Renkert Thomas Consulting LLC works with family businesses and family offices on issues related to strategy, ownership and governance. Ms Renkert-Thomas developed The Engagement Toolkit, a six-module educational system, to help family members and advisers alike learn the critical skills and processes needed to build engagement among family owners, board and management. A tax, trusts and estates attorney by training, Ms Renkert-Thomas was a partner with international law firm Withers Bergman LLP before launching her consulting practice. Ms Renkert-Thomas ran her family's fifthgeneration manufacturing business from 1991 to 2002.

Keith Robinson

Partner, Carey Olsen Bermuda Limited
keith.robinson@careyolsen.com

Keith Robinson is a partner in the trusts and private wealth and dispute resolution practices of Carey Olsen Bermuda Limited. He has over 20 years' experience in non-contentious and contentious trust and private wealth matters. He has particular expertise in high-value trust litigation and court-approved trust restructurings, often with a multi-jurisdictional element. He has represented family offices, trustees, beneficiaries, settlors and protectors in a range of cases before the Supreme Court of Bermuda, and has been involved in many major trust cases in Bermuda. He advises in respect of a wide range of non-contentious Bermuda trust matters and also acts as a protector. He has been recognised in Legal Week's Private Client Global Elite listings 2018 and as a leading individual for Offshore: Trusts in Bermuda in the Chambers High Net Worth Guide 2019.

Tobias F Rohner

Partner, Baker McKenzie Zurich
Tobias.Rohner@bakermckenzie.com

Tobias F Rohner, attorney at law and Swiss certified tax expert, is a partner at Baker McKenzie's Zurich office. Dr Rohner holds a PhD from the University of St Gallen. He has been practising for more than 15 years in the areas of national and international tax planning for corporations and high-net-worth individuals. He also has broad experience in value added tax matters. He is a lecturer in tax law at Zurich University and the Zurich University of Applied Sciences, a frequent speaker at national and international conferences and a member of the editorial board of the prestigious tax law journal Zürcher Steuerpraxis. He also regularly writes articles on taxation.

Kirby Rosplock

Founder and CEO, Tamarind Partners Inc
kirby@tamarindpartners.com

Kirby Rosplock is a highly regarded speaker, innovator and thought leader in the family office and business fields. She is founder of Tamarind Partners, Inc, a family office consulting firm, and author of The Complete Family Office Handbook and The Complete Direct Investing Handbook. She holds a PhD in organisational systems psychology from Saybrook University and an MBA from Marquette University, and she was director of research and development at GenSpring Family Offices. Dr Rosplock is dean of family offices at the Purposeful Planning Institute (PPI), a fellow and Global Education Network Faculty of the FFI, former editor of the FFI Practitioner, former board member of Family Enterprise USA, co-trustee of the Harbeck Family Foundation and advisory board member of Hope Trust and Merton Venture Philanthropy. Dr Rosplock grew up in a multigenerational business-owning family. Her family roles include owner, entrepreneur, beneficiary, trustee, former board member and executive member of her family's foundation.

Nicola Saccardo

Partner, Maisto e Associati
n.saccardo@maisto.it

Nicola Saccardo graduated from the Bocconi University in Milan and holds an LLM in international taxation from the University of Leiden (Netherlands). He is admitted to the Italian Bar and the Italian Association of Chartered Accountants. He is a member of the International Academy of Estate and Trust Law, as well as its vice president and chair of its Tax Committee. He is a member of STEP and a member of the International Client Global Special Interest Group Steering Committee of STEP. He is ranked as a leading expert in several legal directories, including Chambers High Net Worth, Legal Week Private Clients Global Elite and Citywealth Leaders list. He has authored many publications on Italian tax matters and is a frequent speaker at conferences. His areas of expertise include taxation of trusts, estates and high-net-worth individuals; international and EU tax law; and estate planning.

Alexander Scott
Chairman, Applerigg Limited alexander.scott@applerigg.com A fourth-generation family business owner, leader and strategist, Alex Scott is chairman of Applerigg, a private, family-owned business built on the foundations of a financial services group established by his great-grandfather in 1903. Following his leadership of the sale of Provincial Insurance Group in 1994, Mr Scott founded the first of the Applerigg group portfolio companies – Sandaire, an international multi-family investment office – later joined by Yealand Administration, a funds administration company; Mount Kendal, a real estate investment advisory firm; and Horizons, a contemporary network and learning environment for the leaders of tomorrow. He is a non-executive director of his family's investment holding company, as well as of several private companies. Mr Scott is a director of the Family Business Network International, co-founded and is a life president of the Institute for Family Business (UK) and has served as a director of the FFI.

Christian Stewart

Managing director, Family Legacy Asia (HK) Limited
cstewart@familylegacyasia.com

Christian Stewart is the managing director of Family Legacy Asia (HK) Limited, a process consulting firm based in Hong Kong. He is also an associate of the Boston-based think tank and consultancy Wise Counsel Research Associates. Mr Stewart assists families around Asia with family governance and succession. Mr Stewart originally qualified and practised as a solicitor in South Australia from 1990 to 1994. He moved to Hong Kong in late 1994, joining PricewaterhouseCoopers, and was later promoted to be a partner in its tax practice and head of its trust and private client group. In July 2002 he joined JPMorgan Private Bank to head the bank's wealth advisory team for Asia, where he worked for six years. He founded Family Legacy Asia in July 2008 to provide independent advice to Asian families on family and family business governance issues.

Andrea Tratnik

Associate lawyer, Beard Winter LLP
atratnik@beardwinter.com

Andrea Tratnik is an associate lawyer at Beard Winter LLP in Toronto. She holds a JD and has earned her TEP designation from STEP. Ms Tratnik assists domestic and international clients with their estate and trust planning and administration needs. In her practice she routinely works with family offices and financial planners in implementing their wealth management plans for clients. She also advises privately held companies and their owners on a variety of corporate transactions and succession planning strategies. Ms Tratnik has written several articles on taxation, trusts, and estates law for Canadian and global publications.

William S Wyman

CEO, Summitas LLC
bill@summitas.com

William (Bill) Wyman joined Summitas – the award-winning reference platform for communication privacy and data security in the family office and wealth advisory space – in 2010. Summitas Platform delivers client selectable apps spanning document management and e-signature, collaboration, and advisory and family services within a private and secure client-branded portal. Summitas offers protection against increasingly sophisticated cyber threats, while transforming the client experience through improved communication, transparency and operational efficiency. With over 35 years of experience working with single family offices, multi-family offices and registered investment advisers, he was previously a senior director with BNY Mellon Family Office and managing director with Rockefeller & Co. Earlier, he was managing director at Deutsche Bank and a vice president with JP Morgan, where he was stationed in Geneva, Switzerland. Mr Wyman often speaks about software trends, technology risks and family office operations. He earned his BA from the University of Notre Dame and MBA, summa cum laude, from Fordham University.

Leslie Voth

President and CEO, Pitcairn
l.voth@pitcairn.com

Having led Pitcairn's transformation from an over 95-year-old single family office into a leading multi-family office, Leslie Voth has a unique perspective on managing the inevitable change that all families must navigate to achieve multi-generational success. She believes that prosperous families and winning family offices must focus on people as much as portfolios. It is this guiding principle, coupled with her immense industry experience, invaluable insights and fearless leadership skills, that has contributed to the long-term growth of the firm and its families. Ms Voth has received multiple industry accolades over the years. In 2018, she was awarded "Multi-Family Office Executive" by Family Wealth Alliance. She also received the top honour of "Women in Wealth Management" by Family Wealth Report in 2014 and 2018 for her individual contributions to the wealth management industry. She was named "Family Office Leader of the Year" by Family Office Review in 2015 for her dedication as a leader and for her contributions to the family office industry. In addition, Ms Voth is a member of the Wigmore Association, a global collaboration of chief executive officers and chief investment officers from eight family offices across North America, Europe, Australia and South America.