Book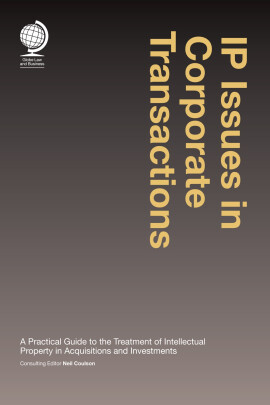 IP Issues in Corporate Transactions
A Practical Guide to the Treatment of Intellectual Property in Acquisitions and Investments
Published: 2015
Pages: 208

eBook: 9781909416611
This book provides comprehensive guidance to the treatment of intellectual property across the full range of corporate transactions, from initial deal preparation, through negotiating points, to post-closure considerations.
As intellectual property and intangible assets play an increasingly important role in determining company value, it is more important than ever that businesses and their legal advisers are able to identify and understand the key issues surrounding intellectual property when negotiating and implementing corporate transactions.

This book provides comprehensive guidance to the treatment of intellectual property across the full range of corporate transactions, from initial deal preparation, through negotiating points, to post-closure considerations. Chapters cover intellectual property in the context of all types of merger, acquisition and joint venture, with specialist examination of the core IP sectors: telecoms and electronics, life sciences, media and entertainment, and fast-moving consumer goods.

Exploring such allied topics as IP valuation and the relationship between intellectual property and competition law, this guide will be a valuable tool to anyone involved in corporate transactions, of which intellectual property now forms such an integral part.

Table of Contents
| | | |
| --- | --- | --- |
| Cover | Cover | |
| Title | 1 | |
| Copyright | 2 | |
| Table of contents | 3 | |
| Introduction | 5 | |
| Intellectual property rights | 7 | |
| Types of transaction | 19 | |
| IP due diligence in corporate transactions | 33 | |
| Warranties and indemnities | 45 | |
| Joint ventures | 59 | |
| Life sciences | 77 | |
| Fast-moving consumer goods | 95 | |
| Technology and telecoms | 117 | |
| Media and entertainment sectors: further copyright considerations | 133 | |
| Post-completion steps for intellectual property rights | 157 | |
| IP valuation | 171 | |
| The relationship between IP law and competition law | 187 | |
| About the authors | 201 | |
This book is different because it tackles the core elements of frequently encountered corporate transactions—due diligence and the disclosure-warranty conundrum.
John Hull
International Company and Commercial Law Review

IP Issues in Corporate Transactions provides an introduction to the basic features of IP law and practice, seen through the lens of large corporate transactions. It provides useful information for its target audience, which is non-IP lawyers, or perhaps that should be non-IP-lawyers who work in M&A.
Mark Anderson
Anderson Law LLP

Richard Binns
Partner, Simmons & Simmons LLP
richard.binns@simmons-simmons.com

Richard Binns is widely recognised as a leading commercial IP lawyer. Having advised both public and private sector clients on IP aspects of corporate transactions and on complex, highvalue, international IP deals across a range of sectors, he is familiar with the IP issues that can arise in such deals. He has extensive experience of technology transfer and licensing, as well as advising on related competition law and regulatory issues. He has advised on numerous collaboration agreements, R&D agreements and consortium agreements, and he regularly assists corporate lawyers in the sale of shares and assets of companies and in financings where intellectual property is involved.
Mr Binns has written a substantial number of articles for legal and industry journals and he lectures extensively in the United Kingdom and elsewhere on IP-related matters. He sits on the healthcare committee of the Licensing Executives Society, is a member of the IP committee of the Confederation of British Industry and is a past member of the IP subcommittee of the City of London Solicitors' Company.

Jonathan Cornthwaite
Partner, Wedlake Bell LLP
jcornthwaite@wedlakebell.com

Jonathan Cornthwaite specialises in IP law and competition law at London-based law firm Wedlake Bell LLP, where he has been a partner since 1988. He also lectures and publishes extensively on these subjects in the United Kingdom and abroad. He was educated at St Paul's School, London, and the Universities of Oxford and Cambridge.
Mr Cornthwaite is a member of the Society for Computers and Law, the Federation against Software Theft Legal Advisory Group, the Intellectual Property Lawyers' Organisation, the Licensing Executives' Society, the Competition Law Society and the British-Spanish Law Association. He is a fellow of the Royal Society of Arts and an honorary fellow of the Association of Fellows and Legal Scholars of the Centre for International Legal Studies. He sits on the electronics, IT and e-commerce committee of the Licensing Executive Society International; and he serves as honorary secretary of the City of Westminster and Holborn Law Society, of which he is a director.

Neil Coulson
Partner, Baker Botts LLP
neil.coulson@bakerbotts.com

Neil Coulson is an IP lawyer with a broad-based practice focused on dispute resolution and the exploitation of IP rights – including advising on protection strategies and the full range of commercial agreements. Mr Coulson has worked in all key industry sectors, including oil and gas, engineering, chemicals, electronics, and pharmaceuticals and biotechnology. He has represented clients asserting and defending their IP rights before the UK courts, as well as in patent matters before the UK and European Patent Offices and in trademark and design matters before the UK Intellectual Property Office and the Office for Harmonisation in the Internal Market. In transactional matters, Mr Coulson advises on cross-border technology licensing issues, on standalone IP agreements and on intellectual property in the context of corporate and commercial transactions. Mr Coulson also advises on matters related to data privacy and has a particular interest in advertising and sponsorship matters.

Paul Davies
Head of intellectual property, EverEdgeIP
p.davies@everedgeip.com

Paul Davies is a global leader on the commercialisation of intellectual property, with significant experience in a number of facets of technology commercialisation. Mr Davies has been heavily involved in negotiating commercial deals (particularly licensing deals between technology firms and large multinationals) as well as providing advice on multi-million-dollar transactions in IP and associated business units. Before joining EverEdgeIP, Mr Davies held a number of senior positions with patent attorney and law firms internationally, before moving into IP strategy and portfolio management. Mr Davies has worked with a host of companies, from technology start-ups to multi-billion-dollar US multinationals, developing and implementing strategies for intellectual property held in registered forms, such as patents, or unregistered forms, such as trade secrets and know-how. Mr Davies is a New Zealand-registered patent attorney and has been recognised by IAM magazine as one of the top 300 IP strategists in the world.

Tim Davison
Senior associate, Baker Botts (UK) LLP
tim.davison@bakerbotts.com

Tim Davison has significant experience in the areas of technology and telecommunications, media and entertainment, life sciences and healthcare. He advises on a wide range of transactions, including corporate finance, mergers and acquisitions, reorganisations, joint ventures and other general corporate and commercial matters. In addition, he advises on general company procedure, corporate law and governance.
Within the technology sector, Mr Davison's practice includes advising on strategic alliances, licensing, and complex technology and sourcing transactions covering the whole range of hardware, software, security and data usage, online assets, IT services, engineering assets, 'cleantech' and alternative energy. In the media and telecoms industries, he advises clients on digital media, online and offline brands, mobile and other telecoms, film, broadcasting, games, television channels, distribution and content.

Tom Farrand
Managing director, Novagraaf UK
t.farrand@novagraaf.com

Tom Farrand is a registered trademark attorney, with more than 30 years' experience in the IP field. His expertise includes: providing strategic IP advice; filing and prosecuting UK, EU and international trademark applications and oppositions; coordinating litigation and dispute resolution; dealing with UK and Registered Community Design (RCD) registrations; and advising on copyright and unregistered design rights. Mr Farrand is a mathematics graduate, an alumnus of the London Business School and has spent many years in senior management in the IP sector.
Mr Farrand provides expert advice for established and growing companies on the protection and exploitation of intellectual property, including trademark clearance, registration and licensing. He has hands-on experience of IP auditing, including establishing copyright ownership, changes of ownership, and inbound and outbound licensing advice and support. Mr Farrand utilises an extensive network of skilled colleagues and contacts, aimed at helping businesses succeed through innovation and the exploitation of intellectual property.

Mark Heaney
Partner, Baker Botts LLP
mark.heaney@bakerbotts.com

Mark Heaney is a partner in the IP practice of Baker Botts. He has experience in contentious matters and his practice covers a broad range of IP work, with a focus on patents, confidential information, and copyright and related rights. He has a particular interest in matters that relate to computers, electronics and telecommunications and has been involved in a large number of such cases. The majority of Mr Heaney's work involves international disputes, with litigation taking place in multiple jurisdictions and usually involving either the United Kingdom and the United States or the United Kingdom and other European jurisdictions.
Mr Heaney has a BSc degree in computer science and was employed as a software and electronic engineer before qualifying as a solicitor in 1998.

Michelle Korman
Senior analyst and IP valuation manager, Metis Partners
michelle@metispartners.com

Michelle Korman works across the breadth of Metis Partners' business, carrying out assignments ranging from managing IP valuation assignments in advance of fundraising, investment, restructuring or exit, to IP audits, licensing negotiations and IP strategy. Ms Korman has significant experience in identifying, valuing and marketing critical IP assets in both solvent and distressed scenarios, and has worked on a number of high-profile IP sales and IP valuations during her time at Metis Partners. She is also the voice behind many of the Metis Partners blogs.
Ms Korman has gained four degrees, the most recent of which is an LLM in internet law and policy.

Colin McCall
Senior associate, Taylor Wessing
c.mccall@taylorwessing.com

Colin McCall is a senior associate in Taylor Wessing's IP department. His practice focuses on the life sciences, healthcare and technology sectors (with a particular focus on med-tech and clean technology), and he advises on both noncontentious and contentious matters. Key areas of his practice include: commercial agreements (eg, patent and know-how licensing, R&D agreements, collaborations and distribution agreements); contract disputes in the life sciences and technology sectors; and IP aspects of mergers and acquisitions, joint ventures and investments. Chambers and Partners recently named Mr McCall as a key individual for having impressed clients with his "very practical" approach and his ability to give business-like solutions. Mr McCall has a first-class degree in cell biology from Durham University, and he holds both a diploma in IP law and practice from Bristol University and an MSc in energy, environmental technology and economics from the London City University.

Christoff Pienaar
Partner, Cliffe Dekker Hofmeyr Inc
Christoff.Pienaar@dlacdh.com

Christoff Pienaar is a director (partner) in the technology, media and telecommunications practice of Cliffe Dekker Hofmeyr Inc. He advises on commercial, IT and IP law, specialising in IT and commercial matters with particular expertise in technology outsourcing, business process outsourcing, systems integration, IT consultancy services, managed services, disaster recovery services, software development, and software licensing and support transactions. He also advises on general commercial and IP issues across a diverse range of industry sectors, especially financial services.
Mr Pienaar is a solicitor of the senior courts of England and Wales and an attorney of the High Court of South Africa.

Zarah Rasool
Associate, Baker Botts LLP
zarah.rasool@bakerbotts.com

Zarah Rasool is an associate in the IP team at Baker Botts. She has a broad-based IP practice covering contentious and non-contentious matters; in particular, she advises on the exploitation, protection and enforcement of IP rights across all areas of the IP field (including patents, trademarks, copyright, designs and confidential information). Ms Rasool has extensive experience advising on IP aspects of corporate transactions – including licensing, research and development, confidentiality, and vendor and purchaser due diligence relating to acquisitions in the retail, design, engineering, chemical, and food and beverages sectors.

Stephen Robertson
Director, Metis Partners
stephen@metispartners.com

Acknowledged as one of the world's 300 leading IP strategists by IAM magazine, Stephen Robertson founded Metis Partners in 2003 with the aim of assisting businesses with the maximisation of value from their IP assets. He has advised a range of enterprises, including FTSE-quoted companies, small and medium-sized enterprises, global banks, insolvency practitioners and public sector organisations across Europe and the United States. Mr Robertson's experience includes valuing and monetising IP assets, providing IP due diligence, delivering IP strategies and IP asset brokerage. He also provides expertise with IP commercialisation, using IP assets as security in order to restructure debt, and IP infringement and invalidity. Mr Robertson has 20 years' experience in corporate finance and has worked in banking, 'business angel' investment and the public limited company sectors.
Mr Robertson graduated with a degree in law before qualifying as a chartered accountant with Deloitte and Touche. He is currently chairman of the Licensing Executives Society (LES) for Scotland and is a member of the LES Council for Britain and Ireland.

Clive Thorne
Partner, Wedlake Bell LLP
cthorne@wedlakebell.com

Clive Thorne is a partner at Wedlake Bell LLP. He specialises in IP and IT disputes, in which he has more than 40 years' experience in the United Kingdom and Far East. He has acted in numerous leading IP cases, including coordinating multijurisdictional litigation and arbitration. He has a particular interest in the arbitration of IP disputes, especially patent disputes.
Mr Thorne is a fellow of the Chartered Institute of Arbitrators and sits as a World Intellectual Property Organization (WIPO) domain name panellist. He is also on the WIPO arbitration panel. Mr Thorne is admitted to practise law in England, Australia and Hong Kong.

Lydia Torne
Supervising associate, Simmons & Simmons LLP
lydia.torne@simmons-simmons.com

Lydia Torne is a member of the IP team at Simmons & Simmons. She advises on a range of contentious and non-contentious IP matters, with a particular focus on commercial IP transactions (including commercial licensing, collaboration agreements, R&D agreements, consortium agreements, monetisation agreements and related commercial arrangements for public and private corporate transactions and financings). Ms Torne advises clients in a wide range of sectors, including fast-moving consumer goods, telecommunications media and technology, life sciences, financial institutions, and energy and infrastructure.

Amy Williams
Associate, Baker Botts LLP
amy.williams@bakerbotts.com

Amy Williams advises on a wide range of intellectual property law and has experience of advising on all areas of IP rights, in both contentious and non-contentious matters. She advises on IP licence and contract interpretation, as well as IP issues in corporate transactions; she has also advised on contentious matters relating to software copyright ownership and branding disputes. Her professional experience includes acting for international corporations in the United Kingdom's High Court, Court of Appeal and Intellectual Property and Enterprise Court, and coordinating multi-jurisdictional litigation across Europe.
Ms Williams has a degree in physiological sciences from Oxford University and is particularly experienced in advising on patent actions across a number of different sectors, including the telecommunications, biotechnology and chemical industries.