Book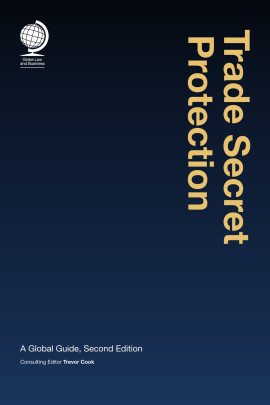 Trade Secret Protection
A Global Guide, Second Edition
Published: 2022
Pages: 616

eBook: 9781787424609
Edited by leading IP practitioner Trevor Cook, this important title demystifies the law of trade secrets in over 30 jurisdictions, covering substantive and procedural aspects of both criminal and civil law and exploring the final remedies available under each.
The law of trade secrets is one of the most important and fastest developing areas of intellectual property, but is by far the least harmonised internationally. Indeed, the protection of trade secrets was not mandated by any international treaty until the 1994 Agreement on Trade-Related Aspects of Intellectual Property Rights, which nonetheless left countries with significant latitude as to how they should implement such obligations. Since the last edition the EU Trade Secrets Directive has had the effect of establishing minimum levels of protection in the Member States of the EEA, but major differences of approach still remain, and the Directive has neither achieved total harmonisation under the civil law nor had any effect on the protection of trade secrets by means of the criminal law.

The wide variety of approaches to the protection of trade secrets internationally betrays the murky legal origins of such protection. Are they protected by civil actions, in the criminal courts, or both? And from the point of view of the civil courts, is their protection effected under unfair competition law, as seen in many civil law countries, or is it based instead on some implied contract, fiduciary or other equitable obligation theory, as seen in common law countries?

Edited by leading IP practitioner Trevor Cook, this important title demystifies the law of trade secrets in over 30 jurisdictions, covering substantive and procedural aspects of both criminal and civil law and exploring the final remedies available under each. Designed to provide clear, comprehensive and practical guidance, this is a powerful tool for anyone requiring a broader and fuller understanding of trade secret protection globally.
Table of Contents
| | | |
| --- | --- | --- |
| Cover | Cover | |
| Title | 1 | |
| Copyright | 2 | |
| Contents | 3 | |
| Introduction | 7 | |
| An overview of trade secret misappropriation damages | 13 | |
| Argentina | 39 | |
| Australia | 49 | |
| Austria | 69 | |
| Belgium | 83 | |
| Brazil | 115 | |
| Canada | 131 | |
| China | 153 | |
| Czech Republic | 171 | |
| Denmark | 191 | |
| Finland | 211 | |
| France | 227 | |
| Germany | 249 | |
| Hungary | 279 | |
| India | 299 | |
| Ireland | 321 | |
| Italy | 349 | |
| Japan | 369 | |
| Mexico | 381 | |
| Portugal | 391 | |
| Russia | 403 | |
| Singapore | 433 | |
| South Africa | 447 | |
| South Korea | 467 | |
| Spain | 491 | |
| Sweden | 507 | |
| Switzerland | 523 | |
| Turkey | 541 | |
| United Kingdom | 557 | |
| United States | 575 | |
| About the authors | 595 | |
| About Globe Law and Business | 611 | |
Nastasia Achilles
Senior associate, Dentons Europe LLP
nastasia.achilles@dentons.com

Nastasia Achilles is a senior associate in the IP and IT department of Dentons Europe LLP in Berlin, Germany. She advises and represents national and international clients in all matters regarding IP and technology law, including consumer law, e-commerce and the protection of trade secrets. In the course of her work, Nastasia has already published on trade secrets protection law. Nastasia holds law degrees from Humboldt-Universität Berlin (German Law) and King's College London (Diploma in Legal Studies in English and European Law) and a PhD degree from Freie Universität Berlin (Consumer Law). Her PhD thesis was awarded with several grants and published by Nomos under the title Vom Homo Oeconomicus zum Differenzierten Verbraucher, Analyse von Begriff, Entwicklung und neuen Herausforderungen des verbrauchervertragsrechtlichen Leitbildes auf EU-Ebene (From homo economicus to differentiated consumers, analysis of the concept, development and new challenges of the consumer contract law model at EU level).

Uğur Aktekin
Partner, Gün + Partners
ugur.aktekin@gun.av.tr

Uğur Aktekin joined Gün + Partners in 1999 and has been a partner since 2003. He is cochair of the firm's IP practice and the technology, media and telecom industry practice. Uğur's IP practice focuses on trademarks, designs and copyright, prosecution, opposition and trademark infringement.

David A Aylen
Partner, Gowling WLG
david.aylen@gowlingwlg.com

David Aylen is an IP lawyer with experience advising foreign nationals on doing business in international markets.
David is consistently recognised as a leading IP lawyer by IAM Patent 1000, Managing Intellectual Property, World Intellectual Property Review and World Trademark Review. Under his leadership, the Russian office has been frequently voted Russia IP Firm of the Year.
For more than 10 years David was the managing partner of the firm's Moscow office and prior to that he practised in Canada for many years. He is certified by the Law Society of Ontario as an IP specialist (trademarks, patents and copyright).

Yves Bizollon
Partner, Bird & Bird
yves.bizollon@twobirds.com

Yves Bizollon is a lawyer registered with the Paris Bar. He heads the IP department of the French Bird & Bird offices. With more than 30 years' experience in intellectual property, particularly in the industrial field, Yves has extensive experience in litigation and has a deep knowledge of the protection of technical inventions and trade secrets under French law. He has dealt with some of the most significant cross-border patent cases in the fields of pharmaceuticals, electronics, telecommunications and mechanics. Before joining Bird & Bird, Yves was an IP partner at Lamy Véron & Associés. Yves is a professor at CEIPI (Strasbourg) and regularly teaches at Montpellier Law University. He is a member of many professional organisations such as APEB, EPLAW, APRAM, GRAPI and AAPI. He is President of Honour of the AIPPI French Group and vice-president of the AAPI. He is a member of the trade secret working committee of the French Group of AIPPI.

Donald M Cameron
Partner, Bereskin & Parr LLP
dcameron@bereskinparr.com

Donald Cameron is a partner with Bereskin & Parr LLP and a member of the litigation, patents, trademarks and copyright & digital media practice groups.
Don's practice focuses on IP litigation, particularly relating to patent, trademark, copyright, trade secrets law and technology licences. He also advises clients on the IP aspects of technology licensing. He is certified as a specialist by the Law Society of Ontario in IP law (patents, trademarks and copyright) and civil litigation. He was a senior trial counsel in Canada's first DNA patent trial and appeal, and Canada's first all-electronic IP trial.
Don is an adjunct professor of law at the University of Toronto Faculty of Law, and Osgoode Hall Law School at York University, teaching patent and trade secret law at undergraduate and graduate levels.

Vojtěch Chloupek
Partner, Bird & Bird
vojtech.chloupek@twobirds.com

Vojtěch Chloupek heads up Bird & Bird's intellectual property group in the Czech Republic and Slovakia. Vojtěch specialises primarily in IP and competition law. His expertise covers both contentious and noncontentious aspects of IP rights, including copyright, trademarks, designs, patents, unfair competition, information technology, domain names, trade secrets and data protection. Vojtěch has significant industry expertise in a number of sectors, including aviation, electronics, financial services, food & beverages, gaming, media, life sciences and software.
Vojtěch joined Bird & Bird in 2009 having previously worked in a leading international law firm. He was admitted to the Czech Bar in 2007 and to the Slovak Bar in 2017. He gained a Magister Juris degree at the University of Oxford. He also studied law at Charles University in Prague and theatre management at the Academy of Performing Arts in Prague. Vojtěch is consistently top-ranked by major legal directories including Chambers Europe, Legal 500 and World Trademark Review 1000.

Trevor Cook
Partner, Wilmer Cutler Pickering Hale and Dorr LLP
trevor.cook@wilmerhale.com

Trevor Cook is an English solicitor with over 40 years' experience in the field of intellectual property – notably global patent litigation – and has acted in many of the leading English patent infringement cases. He also advises on life sciences regulatory law and acted in several leading European cases regarding data exclusivity. Trevor is a partner in Wilmer Cutler Pickering Hale & Dorr LLP, based in their New York office, having joined in 2014 from Bird & Bird LLP in London, where he had been a partner since 1981. He chairs the British Copyright Council and was for several years president of the UK group of the International Association for the Protection of Intellectual Property (AIPPI).
He is on the World Intellectual Property Organization (WIPO) list of arbitrators. In addition to numerous articles and book chapters Trevor has authored the following books: A User's Guide to Patents (Butterworths, 2002; Tottel, 2007; Bloomsbury, 2011, 2016, 2019); Pharmaceuticals Biotechnology and the Law (Macmillan, 1991; LexisNexis Butterworths, 2009, 2016, 2022); EU Intellectual Property Law (Oxford University Press, 2010); A European Perspective as to the Extent to Which Experimental Use, and Certain Other, Defences to Patent Infringement, Apply to Differing Types of Research (Intellectual Property Institute, 2006); and The Protection of Regulatory Data in the Pharmaceutical and Other Sectors (Sweet & Maxwell, 2000). He is a co-author (with Audrey Horton) of Practical Intellectual Property Precedents (Sweet & Maxwell, 1998 to date); and (with Alejandro Garcia) International Intellectual Property Arbitration (Kluwer, 2010). He is one of the general editors of The Modern Law of Patents (LexisNexis Butterworths, 2005, 2009, 2014, 2018, 2021) and editor of Sterling on World Copyright Law (Sweet & Maxwell, 2015, 2018, 2022); Trade Secret Protection – A Global Guide (Globe Law & Business, 2016, 2022); and The Patent Litigation Law Review (Law Business Research, 2017 to date). He contributes to the Chartered Institute of Patent Attorneys European Patents Handbook (Sweet & Maxwell), the Chartered Institute of Patent Attorneys Guide to the Patents Act 1977 (Sweet & Maxwell) and Vaughan & Robertson's Law of the European Union (Oxford University Press).

Daniele De Angelis
Counsel, Bird & Bird
daniele.de.angelis@twobirds.com

Daniele De Angelis specialises in intellectual property (in particular focusing on copyright, new media, software, database and digital works, trade secret, design, works of art, advertising, plant variety, trademarks and patents) and acts for many Italian and international clients. His practice extends to litigation, legal advice, and transfer and licence agreements.
Daniele is author of several publications on IP topics. He holds a PhD in intellectual property – his final thesis was on copyright protection of audiovisual works. He has been teaching on masters and postgraduate courses, lecturing for both the Università Ca' Foscari in Venice and the Università di Pavia, and he speaks at seminars and conferences in the field of intellectual property.

Güldeniz Doğan Alkan
Partner, Gün + Partners
guldeniz.dogan@gun.av.tr

Güldeniz Doğan Alkan joined Gün + Partners in 2006 and has been a partner since 2017. Güldeniz is a trademark and patent lawyer specialising in IP law. She focuses on trademark and design, copyright, and unfair competition, in addition to oppositions and trademark infringement.

Ignacio Domínguez-Torrado
Managing partner, Dot Consulting
ignacio@dotconsulting.com.mx

Ignacio Domínguez-Torrado has over 20 years of experience in all matters related to corporate and commercial law, licensing, agreement drafting, reviewing and negotiations, ADR settlement negotiations and franchises. He also has a deep knowledge of intellectual property. Ignacio has published various papers and collaborates regularly with local and international journals and newspapers on legal subjects. He has been a professor in a number of universities in Mexico and an invited lecturer in several associations. Ignacio is an active member of various domestic and international law associations. He holds a law degree from Universidad Panamericana in Mexico City as well as a postgraduate degree in business law. Ignacio has a master's degree in law from the University of Virginia.

Alexander Dovgalyuk
Associate, Gowling WLG
alexander.dovgalyuk@gowlingwlg.com

Alexander Dovgalyuk is a litigation and enforcement lawyer in Gowling WLG's Moscow office. He is a seasoned IP professional with more than 12 years of experience in IP enforcement. Alexander assists domestic and foreign clients with a full range of services related to IP enforcement and litigation in Russia, including unfair competition cases, and regularly represents clients before the IP Court and state commercial courts. Before joining Gowling WLG, Alexander spent seven years at a leading international law firm in Russia as an IP enforcement and litigation associate. He holds a Master of Laws from the Higher School of Economics and practises in English and Russian. He also has a basic knowledge of French.

Cristina Duch
Partner, Baker McKenzie Barcelona
cristina.duch@bakermckenzie.com

Cristina Duch is a partner in the intellectual property practice group in Barcelona and leader of the EMEA brand enforcement and disputes practice group of the firm. She has significant experience in a wide range of intellectual property matters, with particular emphasis on trademarks, designs, unfair competition and advertising. She is a member of the Spanish Institute of Chartered Industrial Property Agents.
Cristina provides general and contractual advice and handles litigation work before civil, commercial and community courts. In the last several years, she has handled significant contentious cases involving pressing issues for clients in the textile, luxury and consumer goods, food and beverages, internet, technology and electronics sectors, among others.

Christopher Gerardi
Vice president, Charles River Associates
cgerardi@crai.com

Christopher Gerardi is a vice president at Charles River Associates, based in Washington DC and New York. He has more than 30 years' experience providing economic, financial and accounting advisory services to companies, legal counsel, regulatory authorities and tribunals involved in transactions, investigations and disputes. Prior to joining CRA, Christopher was senior managing director at FTI Consulting and co-leader of FTI's dispute advisory services practice.
An internationally recognised quantum expert, he has expertise in matters relating to intellectual property, ITC investigations and a wide array of commercial litigation and international arbitration. He has worked on trade secret disputes in many industries, among them aerospace, autonomous and electric vehicles, (petro)chemicals, energy (traditional and renewable), life sciences, and software and information engineering. He is a member of the Sedona Conference's trade secrets working group and serves on the drafting committee for monetary relief in trade secrets litigation.
Christopher has given evidence before multiple US federal and state courts and international arbitration forums.

Simon Holzer
Partner and head of patent and life sciences team, MLL Meyerlustenberger Lachenal Froriep Ltd
simon.holzer@mll-legal.com

Simon Holzer has been the head of MLL's patent and life sciences team since 2012. He specialises in IP litigation and the field of technical know-how. MLL's technical IP team is a leader in the protection, development and marketing of technical innovations.

Baraa Kahf
Partner, Knobbe Martens
baraa.kahf@knobbe.com

Baraa Kahf is an experienced litigation partner in the Orange County, California office of Knobbe Martens. His practice focuses primarily on computer software and information technology, including litigating patents, trademarks and trade secrets in various disciplines within that field. He has represented clients in disputes involving banking software, genome diagnostics software, mobile phones and GPS software, pulse oximetry technology, dental surgery software, and other technology areas such as dental implant design, diesel engine combustion and power generators. Baraa is experienced in federal district courts, the International Trade Commission, and the Patent Trial and Appeal Board. He also represents a number of clients in opposition proceedings before the Trademark Trial and Appeals Board. Before law school, Baraa was a developer for IBM Global Services. At IBM, he designed, developed and implemented various software and internet applications, including supply chain management software, financial data mining software and resource management software.

Thomas Kainz
Partner and founder, LEGAL CHAMBERS Kainz
thomas.kainz@legal-chambers.at

Thomas Kainz is a partner at LEGAL CHAMBERS Kainz in Vienna and Berlin. He holds degrees in law from the University of Vienna and King's College London, and has specialised in banking and investment law, litigation and arbitration, and company and competition law including trade secret protection.
Thomas has led multiple investors cases against a well-known Austrian bank and several other complex proceedings in banking and investment law. Before he founded LEGAL CHAMBERS Kainz, Thomas was part of the arbitration team of Austria's largest law firm and head of the civil law and litigation department of a well-known business law firm in Vienna. Currently, Thomas is leading a huge number of claims against several automobile manufacturers in both Austria and Germany.
Thomas is admitted to the Vienna Bar Association and member of the Berlin Bar Association. He previously taught banking law in Vienna.

Alban Kang
Partner, Bird & Bird
alban.kang@twobirds.com

Alban Kang is a partner in the Bird & Bird intellectual property group, based in Singapore, with a specialised focus on complex patent litigation and other contentious IP-related matters.
Alban represents major software companies, computer manufacturers, wellknown trade mark owners, pharmaceutical companies, book publishers, international airlines and well-known hotel chains, as well as collection agencies and advertising agencies. He also represents a number of Japanese clients. He is regularly engaged in complex patent litigation and other contentious IP-related cases, and has been involved in a number of high-profile IP cases before the Singapore Court of Appeal. He also handles multi-jurisdictional IP litigation cases. Alban has been consistently ranked as a leading IP lawyer in various prestigious directories, including Legal 500 Asia Pacific Hall of Fame, IAM Patent 1000 and Chambers Asia-Pacific.
His sector focus includes aviation and aerospace; defence and security; devices and components; life sciences and healthcare; media, entertainment and sports; online and digital; cloud, software and services; and technology and communications. Alban is a member of the WIPO panel of mediators and is a certified patent valuation analyst.

Elisabeth Kasznar Fekete
Senior partner, Kasznar Leonardos IP
elisabeth.kasznar@kasznarleonardos.com

Elisabeth Kasznar Fekete is a co-founder and board member of Kasznar Leonardos IP, with offices in Rio de Janeiro and São Paulo. She has over 40 years of practice experience covering prosecution and litigation, and counselling international companies in the areas of trademarks, anti-counterfeiting, patent infringement, copyright, contracts and trade secrets lawsuits. She specialises in strategic planning of IP-related litigation and arbitration and holds a doctorate in commercial law from the University of São Paulo. She is a former member of INTA's board of directors and a former senior editor of The Trademark Reporter; a former president of the Brazilian Intellectual Property Association (ABPI); and a former president of AIPPI's Brazilian group. She is the author of the leading Brazilian treatise on trade secrets and has more than 40 published papers and book chapters to her name. Elisabeth was a research fellow at the Max Planck Institute in Munich. Besides her activities in litigation, frequently recognised by rankings of leading lawyers, she acts as an examining professor of doctoral theses and coordinator of IP courses, and speaks seven languages.

Dilan Sıla Kayalıca
Senior associate, Gün + Partners
dilan.aslan@gun.av.tr

Dilan Sıla Kayalıca joined Gün + Partners in 2013 and was promoted to senior associate in early 2020. Sıla's practice focuses on trademarks, designs, unfair competition and copyright. She advises a wide range of foreign and domestic clients from numerous business sectors on implementing IP protection and enforcement strategies.

Jongmin Lee
Attorney, Kim & Chang
jongmin.lee@kimchang.com

Jongmin Lee is an attorney in the IP practice group of Kim & Chang, his focus being primarily in the areas of IP and trade secret litigation. He has extensive experience in disputes and transactions with issues involving IP laws, especially those relating to patent, in-service invention, character, brand, computer programs, IT systems and confidential information including trade secrets. He gained his bachelor's degree in electrical engineering from the Korea Advanced Institute of Science and Technology (KAIST) in 2008. In 2011, he graduated from the Judicial Research and Training Institute of the Supreme Court of Korea.

Seok Hee Lee
Attorney, Kim & Chang
shlee3@kimchang.com

Seok Hee Lee is a member of the IP litigation group at Kim & Chang. He has extensive experience in disputes and transactions with regard to trade secrets, patents, trademarks, unfair competition, copyright and licensing. He has particular expertise in handling trade secret infringement cases, both on the criminal and the civil side. He received his LLM from Santa Clara University Law School in 2011 and his LLB from Yonsei University College of Law in 2001. He attended the Judicial Research and Training Institute of the Supreme Court of Korea in 2003. He is admitted to the Korean Bar and joined Kim & Chang in 2003. He was official adviser to the Korea Trade Commission on trade secret issues from 2013–2021.

Binxin Li
Partner, Baker McKenzie FenXun Joint Operation Office
binxin.li@bakermckenziefenxun.com

Binxin Li heads the patent team in China of Baker McKenzie FenXun Joint Operation Office, Shanghai. He supports clients' business operations and commercial growth in China and overseas, delivering practical and comprehensive solutions to protect and utilise their IP assets including trade secrets and patents. He advises many leading multinational and domestic companies in the pharmaceutical, chemical, mechanical, telecommunication and entertainment industries on complex IP issues related to trade secret misappropriation, patent enforcement/invalidation, technology transfers and regulatory compliance. Binxin graduated from University of California at Berkeley with an LLM, University of Toronto with an MSc and Peking University with a BSc in chemistry. He is an attorney at law and a patent attorney in China.

Gabriel Lidman
Partner, Bird & Bird
gabriel.lidman@twobirds.com

Gabriel Lidman heads the IP practice group in Bird & Bird's Stockholm office. He has extensive experience in the areas of contentious and non-contentious IP law as well as commercial work in the fields of media and technology. Gabriel is an experienced litigator, regularly advising clients in court disputes, and is recommended by the leading international ranking institutes for his excellent IP practice.

Johan Løje
Partner, LØJE IP
jl@loje-ip.dk

Johan Løje is entitled to appear before the Supreme Court and has almost 30 years of experience dealing with trade secrets and IP, as well as litigation in these areas. Johan has an LLM from the University of San Diego School of Law and is an associate professor teaching IP law at the University of Copenhagen School of Law and in several design universities around Denmark. Johan is a sought-after lecturer and teaches IP rights and international IP matters. On several occasions Johan has been appointed IP expert by the EU Commission and has in that capacity (among others) taught IP rights to Chinese Supreme Court judges, and enforcement of good marketing practice to the leading officers of the Chinese AIC. Johan is counsel for DesignDenmark and is the Danish member of the international organisation Global Advertising Lawyers Alliance (GALA). He has contributed to several books on IP law and food law. He is also a member of the board of the World Wide Fund for Nature (WWF), Denmark.

Shwetasree Majumder
Founder and managing partner, Fidus Law Chambers
shwetasree@fiduslawchambers.com

Shwetasree Majumder founded the awardwinning IP firm Fidus Law Chambers in 2008 where she is the managing partner. Her practice spans litigation, policy and strategy in intellectual property, technology, advertising and trade secrets matters. She has represented clients in over 500 litigation proceedings in courts in India.
The IBLJ has placed Shwetasree in the A-list of top 100 lawyers in India, the WIPR named her as one of two women from India in its list of 80 most influential women in IP in the world in 2020 and the WTR identifies her as a Global Leader among trademark lawyers worldwide.
Shwetasree was a member of INTA's board of directors from 2013–2015 and is also a WIPO panellist under the UDRP system.
She has been the co-chair of a working group under the Ministry of Commerce, Government of India, which simplified IP for children under the national education policy. She has been appointed amicus curiae by the Delhi High Court on multiple IP matters.

Miklós Maráczi
Senior legal counsel, Egis Pharmaceuticals PLC
miklos.maraczi@gmail.com

Miklós Maráczi is a senior legal counsel at Egis Pharmaceuticals PLC, a leading CEE regional value-added generic pharmaceutical company, where he supports the company's R&D, intellectual property, distribution, biological medicine and M&A activities, among other things.
Before that he worked for seven years with Sár and Partners Attorneys at Law, a prominent law firm specialising in IP enforcement and licensing matters, providing services for a predominantly international clientele, mostly in the field of life sciences. He is a father of four and in his spare time enjoys motorcycling.

Kei Matsumoto
Partner, Baker & McKenzie (Gaikokuho Joint Enterprise)
kei.matsumoto@bakermckenzie.com

Kei Matsumoto is a partner in the IP tech group in Baker & McKenzie's Tokyo office. Kei primarily handles IP transactions and domestic and international IP disputes. He provides overall legal advice on the protection of intellectual property, contents of contracts and related issues to Japanese companies establishing operations overseas as well as foreign clients doing business in Japan.
In addition to trade secret-related work in transactions and disputes, Kei regularly supports the IP division of the Ministry of Economy, Trade and Industry in the area of research and analysis of foreign laws (including US, EU and China) to prepare for the amendment to the Unfair Competition Prevention Act covering the rules on trade secrets.
Kei graduated from the University of Tokyo (LLB) in 1999 and Northwestern University School of Law (LLM) in 2006. He is qualified as an attorney at law in Japan and in the State of New York.

Nicole Nance
nicoleenance@gmail.com

Nicole Nance served as a law clerk in the New York office of Knobbe Martens, awaiting admission to the New York Bar. At Knobbe Martens Nicole's work focused on trademark prosecution and copyright law. She worked with a large variety of clients including entrepreneurs, start-ups and large corporations in the technology, insurance and real estate industries. She received her BA in English at Oberlin College and her JD at Columbia Law School.

Chloé Nicolas
Associate, Bardehle Pagenberg
nicolas@bardehle.fr

Chloé Nicolas is a lawyer registered with the Paris Bar and an associate with Bardehle Pagenberg in Paris. Acting both as adviser and litigator, she works with French and international clients on all aspects of intellectual property, but most particularly on patent and trade secret matters. She regularly advises companies in the life sciences industry. Chloé is a member of the AIPPI, AAPI and APRAM.

Domien Op de Beeck
Partner, Bird & Bird
domien.op.de.beeck@twobirds.com

Domien Op de Beeck is a partner in the IP team of Bird & Bird in Brussels. He assists clients in all areas of intellectual property, with a particular focus on patent, trade secret and design law and practice. Clients appreciate his openness to the technology and his drive to grasp the most complex science.
After numerous cases representing clients before the courts and IP offices in Belgium and abroad, Domien is well versed in the procedural intricacies of IP litigation. Contract drafting and negotiation is another inherent part of his practice, helping clients add value to their intellectual property, negotiating safe passage to bring products to market, or finding constructive out-of-court solutions.
Domien has authored a number of articles and regularly talks on IP-related topics. He is a member of BMM, EPLAW and LES, and a board member of the AIPPI in Belgium, as well as a permanent member of its design and patent groups.

Itziar Osinaga
Senior associate, Baker McKenzie Barcelona
itziar.osinaga@bakermckenzie.com

Itziar Osinaga is a senior associate in the IP practice group at Baker McKenzie Barcelona.
She has a degree in law. Itziar advises clients on IP matters, including plant variety rights, unfair competition, trade secrets, advertising, consumer protection and privacy law, whether contentious or not. She also represents individuals and legal entities in all types of litigation involving her specialty before Spanish civil, commercial and criminal courts as well as EU courts. She specialises in IP-related litigation such as patent, trademark, design and copyright infringement and cancellation actions before the Spanish Patent and Trademark Office, the Spanish courts and the EU courts.
Itziar has experience in drafting agreements (settlement agreements, licences, technology transfer agreements, etc) and is also experienced in due diligence and corporate IP-related cases.

Ana Rita Paínho
Partner, SÉRVULO
arp@servulo.com

Ana Rita Paínho is a partner at SÉRVULO's Life Sciences, in the IP and TMT departments, working in the areas of trademarks, patents and information technology, focusing on software, ecommerce, data protection, marketing and advertising. Before joining SÉRVULO, Ana was a consultant and partner at Anselmo Vaz, Afra & Associados and a lawyer at Abreu, Cardigos & Associados.
Ana Rita is a 'specialised lawyer in intellectual property' by order of the General Council of the Bar Association in 2007, and gained a postgraduate degree in industrial property from the faculty of law at Moderna University in 2003. She was made a Certified Information Privacy Professional Europe (CIPP/E) by the International Association of Privacy Professionals (IAPP) in 2018. She joined the Bar Association in 2000.
Ana Rita is chair of the Tax Council of AIPPI in Portugal and a member of UNION, IAPP and IBA. She is a regular speaker at conferences related to her areas of specialisation.

Pablo A Palazzi
Partner, Allende & Brea
pap@allendebrea.com.ar

Pablo A Palazzi joined Allende & Brea in 2008 and became a partner in 2012. His practice focuses on industrial and IP issues, internet and technology law, data protection, cyber security and computer crime, domain name registration, trademarks and patents, and fintech-related matters. His clients include several internet companies, social networks, online payment companies, hardware and software manufacturers and online retailers. He has been named as a leading professional in IP law by internationally recognised publications such as Chambers Latin America, Legal 500 Latin America and Latin Lawyer 250.

Hong Qiao
Principal, Charles River Associates
hqiao@crai.com

Hong Qiao is a principal at Charles River Associates based in New York. She has more than 15 years of experience providing economic, financial and accounting advisory services to companies, legal counsel, regulatory authorities and tribunals involved in transactions, investigations and disputes. Hong has advised clients on matters across a broad spectrum of industries and before multiple US federal and state courts and international arbitration forums. She has substantial experience in matters relating to intellectual property (patent infringement, trade secret misappropriation, trademark and copyright infringement) and commercial litigation (breach of contract, business interruption, tortious interference, merger termination, failed systems implementation and price discrimination). Hong also has extensive experience in advising clients on financial reporting and regulatory compliance, analysing complex financial and accounting data, conducting financial investigations and valuing assets and businesses.

Kilian Schärli
Partner, MLL Meyerlustenberger Lachenal Froriep Ltd
kilian.schaerli@mll-legal.com

Kilian Schärli is a partner in MLL's IP team, which is consistently ranked as one of the top Swiss IP teams by peers and clients. Kilian works with domestic and international clients in the technology, industrial and internet sectors. He specialises in the fields of intellectual property, blockchain, unfair competition, licensing and distribution. He has particular expertise in commercial and transactional work relating to these fields. Kilian is a notary public in Zug and co-head of MLL's blockchain industry group.

Auriane Schockaert
Associate, Bird & Bird
auriane.schockaert@twobirds.com

Auriane Schockaert is an associate in the IP team of Bird & Bird in Brussels. She advises clients on protecting and enforcing their IP rights in a variety of sectors. Auriane's work is focused on trademark, trade secrets, patent and copyright litigation, as well as contract drafting. She also assists clients with questions regarding consumer and distribution law, with a particular focus on advice on promotional games and social media, unfair trade practice litigation and advice, as well as matters relating to exclusive and selective distributor agreements.

Stefan Schröter
Counsel, MLL Meyerlustenberger Lachenal Froriep Ltd
stefan.schroeter@mll-legal.com

Stefan Schröter is counsel of MLL's IP team and has wide-ranging experience with unfair competition cases as well as enforcement of trademarks, copyright and designs. He specialises in cross-border litigation and is admitted to the bar in Switzerland and Germany.

Steven Schwartz
Managing director, Intensity LLC
steven.schwartz@intensity.com

Steven Schwartz is an economist and experienced expert witness in IP matters, including the analysis of damages from the theft of trade secrets. He has analysed damages under state and federal laws, as well as the laws of Canada, and he has presented his analyses in expert reports, arbitrations and at trial. He has also advised clients about potential damages claims and exposure in both pre-litigation and settlement situations. Steven is also an expert in the assessment of damages from patent infringement and has opined on reasonable royalties in both patent and trade secret matters. He was recognised as a top expert in the 2021 and 2022 IAM Patent 1000.

Laura Scott
Partner, William Fry
laura.scott@williamfry.com

Laura Scott is a partner in William Fry, specialising in IP and dealing with both contentious and advisory matters. She is head of the contentious IP department and is also head of the firm's life sciences and healthcare group.
Laura advises on all aspects of work involving patents, trademarks, copyright, designs, trade secrets and confidential information and has extensive experience in large-scale litigation before the Irish Commercial Court. She is particularly experienced in complex multi-jurisdictional patent disputes and has acted in many of the patent cases that have come before the Irish Court in recent years.

Kevin Shipley
Partner, Fogler, Rubinoff LLP
kshipley@foglers.com

Kevin Shipley is an engineer, patent agent, lawyer, trusted adviser and (self-professed) allaround good guy. As partner at Fogler, Rubinoff LLP, Kevin's practice is focused on IP strategy and commercialisation, with an emphasis on patent prosecution and IP planning for start-ups and emerging companies. He is also experienced with largescale freedom-to-operate projects and confidentiality and trade secret matters. Kevin has provided support to a number of start-up incubators and accelerators, and provides assistance with developing IP strategic plans, identifying commercially relevant innovations, and securing and leveraging IP assets for commercial advantage.

Matthew Swinn
Partner, King & Wood Mallesons
matthew.swinn@au.kwm.com

Matthew Swinn is a partner in the Melbourne office of King & Wood Mallesons and specialises in complex IP disputes, including those for breaches of trade secrets and other confidential information. In this respect, he has acted for clients across many industries, involving technical subject matter from software to life sciences. In addition, he advises and represents clients in patent, trademark, copyright and regulatory disputes, as well as advising in non-contentious matters.
Matthew is recognised as a leading practitioner in the major legal directories. He is chair of the IP committee of the Law Council of Australia and president of the Australian national group of the International Association for the Protection of Intellectual Property (AIPPI).

József Tálas
Partner, Danubia Legal
jozsef.talas@danubialegal.hu

József Tálas is a partner at Danubia Legal; before that he worked for 18 years with Sár and Partners. He has considerable experience in litigation, advisory and licensing practice in all fields of intellectual property, including the enforcement of patents and designs as well as unfair competition and related tax issues. He also has significant expertise in relation to technology transfers and licence agreement negotiations. József is currently a member of the advisory board of EPLAW, and a member of AIPPI, the Hungarian Experts Body of Industrial Property and the Hungarian Industrial Property and Copyright Association.

Joanne van Harmelen
Patent attorney, ENSafrica
jvanharmelen@ensafrica.com

Joanne van Harmelen heads up the biotechnology and life sciences cluster in ENSafrica's IP department. She is a qualified patent attorney with a PhD in molecular biology and specialises in patent filing and prosecution locally and abroad in the biotech, pharmaceuticals and chemicals sectors. Joanne also has extensive expertise in relation to assessment of the patentability of inventions, performance of freedom-tooperate assessments, general IP commercial transactional advice and IP due diligence assessments. She also advises on IP- and biotech-related legislation, in particular legislation relating to publicly financed research and development; bioprospecting involving indigenous biological resources and traditional knowledge; and genetically modified organisms.
Joanne's clients include leading international biotech and chemicals companies and start-ups with operations in Africa, North America, Europe, Australasia and Asia.

Tom Vapaavuori
Partner, Bird & Bird
tom.vapaavuori@twobirds.com

Tom Vapaavuori is the co-head of Bird & Bird's international trade secret group and Finland's dispute resolution group. Tom has been working for over 25 years as an attorney in Finland specialising in noncontentious and contentious legal matters relating to trade secret protection. He has written the only legal handbook in Finland on the subject – Trade Secrets and Non- Disclosure Agreements (published in 2005, 2016 and 2019) – which makes him one of the leading trade secret experts in Finland and Europe. Tom regularly handles trade secret disputes as well as other commercial and white-collar crime disputes for major international companies. In 2017 he participated in drafting Finland's new Trade Secrets Act, which is based on the EU Trade Secrets Directive. He is also a highly respected arbitrator and lecturer in trade secrets, dispute resolution and contract law.

Jacqueline Wang
Associate, Baker McKenzie FenXun Joint Operation Office
jacqueline.wang@bakermckenziefenxun.com

Jacqueline Wang is an associate in Baker McKenzie FenXun Joint Operation Office in Shanghai. She assists in comprehensive trade secret issues. She also supports multinational companies in the industries of fashion, food and beverage, and machinery manufacturing on contentious and non-contentious IP issues, with a focus on trademark and patent litigation, IP enforcement, trademark prosecution and plant variety rights protection. Jacqueline obtained a bachelor's degree in law from Hunan University and participated in an exchange programme at Oxford University. She graduated from University College London with an LLM and was selected as a member of the Law Without Walls (LWOW) programme launched by the law school of the University of Miami in 2017. She obtained the PCR Bar qualification in 2018.

Chun Y Yang
Foreign attorney, Kim & Chang
cyyang@kimchang.com

Chun Y Yang is a lead foreign attorney (US patent attorney) in the IP practice group of Kim & Chang. Since joining Kim & Chang in 2000, Chun has advised clients on all aspects of IP practice, both contentious and non-contentious. His litigation and prelitigation cases include criminal trade secret actions, patent litigation, and privacy and data breach cases involving multiple jurisdictions including Korea, the United States, Japan, Europe and Taiwan. Prior to joining Kim & Chang, he clerked at the Court of Appeals for the Federal Circuit and worked at US law firms, and as an in-house IP counsel in New York and Washington DC, from 1992 to 2000. Chun has been consistently named in peerbased directories and major international surveys such as Chambers Global, Chambers Asia-Pacific, Managing Intellectual Property and Intellectual Asset Management as a leading IP expert in Korea.

Dong Hyun Yang
Patent attorney, Kim & Chang
dhyang@kimchang.com

Dong Hyun Yang is a patent attorney in Kim & Chang's electrical and software practice. His practice mainly focuses on patent litigation, patent prosecution, prior art search and licensing negotiation in the electrical and electronic engineering fields. Since joining the firm in 2008, he has dealt with various matters involving telecommunication systems, digital broadcasting systems, computer technologies and semiconductors. Before joining Kim & Chang he worked at Protection Solutions Inc from 2002 to 2005, designing circuits for power quality analysers. He received his bachelor's degree in electrical engineering from Seoul National University in 2007 and was admitted to the Korean Patent Bar in 2006.

Elva Yao
Associate, Baker McKenzie FenXun Joint Operation Office
elva.yao@bakermckenzie.com

Elva Yao is an associate in Baker McKenzie FenXun Joint Operation Office in Shanghai. Her practice focuses on commercial transactions involving intellectual properties and technologies as well as various regulatory matters in the pharmaceutical and life science areas. She advises extensively on IP issues, including trade secret protection, portfolio management and advice on trademark, copyright and patent protection. She also advises on IP enforcement strategies and dispute resolution. She assisted a major pharmaceutical company in trade secret infringement litigation lawsuits and a major US material company in defending a trade secret infringement lawsuit in China. Elva gained a Magister Juris degree from Fudan University and was a participant in an exchange programme in Columbia Law School in 2014. She graduated with a Bachelor of Science (Life Science) degree from Fudan University. She obtained the PRC Bar qualification in 2012 and PRC patent attorney qualification in 2014.