Book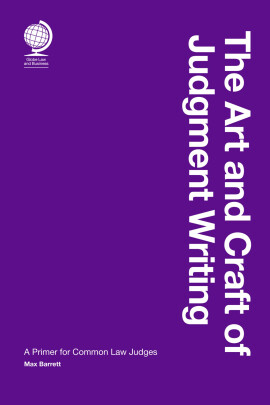 The Art and Craft of Judgment Writing
A Primer for Common Law Judges
Published: 2022
Pages: 373

eBook: 9781787428591
Judges are increasingly aware that the best way of enhancing public confidence in court systems is not only by providing a quality service but doing so compassionately and respectfully. The art and craft of judgment-writing is a critical element of this process. This book looks at the judgments of historically great judgment-writers from the US, UK and wider common law world (in particular Australia, Canada, India, Ireland, Israel and New Zealand). It is written not from the perspective of what the author can teach but with the aim of identifying essential elements of good judgment-writing in great judgments and insightful commentary.

Written by Dr Max Barrett, a judge of the High Court of Ireland, individual chapters focus on subjects such as judgment purpose, length, style and structure, concurring and dissenting judgments, judgment-writing for children and vulnerable parties, as well as more general lessons in good writing offered by great authors from Orwell to Twain. Among the lessons to be taken from great common law judges are that:

a good judgment possesses an ability to rise above immediate facts and to see a problem in its wider perspective;
a sense of empathy/sympathy for those faring badly is always important; and
there is nothing wrong with language that is occasionally flowery and ornate; however, the best judgments are crisp and persuasive.
A great author such as Mark Twain teaches, for example, that:

every element of a judgment should be necessary to that judgment and any unnecessary element excised;
any person or event included in a judgment should be included for a reason; and
a judge should always use the right word for what she wants to state, 'not its second cousin'.
This book is intended for novice superior court judges, their more seasoned colleagues and all with an interest in legal writing (including legal practitioners, law teachers and law students). Lower-court judges required to write judgments should find the book valuable; and judges at all levels should find the additional chapter on ex tempore judgments of use.
Table of Contents
| | | |
| --- | --- | --- |
| Cover | Cover | |
| Title | 1 | |
| Copyright | 2 | |
| Contents | 3 | |
| Preface | 5 | |
| Foreword | 7 | |
| Part I: The theory of the art and craft of judgment writing | 13 | |
| 1. On judgments | 15 | |
| 2. Judgments: purpose and audience | 29 | |
| 3. Judgment length | 39 | |
| 4. Judgment style | 47 | |
| 5. Judgment structure | 79 | |
| 6. Dissenting and concurring judgments | 103 | |
| 7. Children, families and immigrants | 119 | |
| 8. Authors and judges | 135 | |
| Part II: The practice of the art and craft of judgment writing | 151 | |
| 9. Three great and pioneering women judges: Justices O'Connor, Ginsburg and Wilson | 153 | |
| 10. Three great American judges: Justices Holmes, Jackson and Scalia | 187 | |
| 11. Three great British judges: Lords Atkin, Denning and Bingham | 219 | |
| 12. Some great judges from the wider common law world | 253 | |
| Part III: Ex tempore judgments | 285 | |
| 13. The art and craft of ex tempore judgments | 287 | |
| Appendix: The judgment as the art of truth | 303 | |
| Table of cases | 309 | |
| Select bibliography | 315 | |
| Index | 353 | |
| About the author | 371 | |
| About Globe Law and Business | 373 | |
This is a marvellous book, full of wisdom and literary references. It is written by a leading Irish judge and brings with it an international flavour, featuring judgments from common law jurisdictions across the world.
David Pickup
Law Society Gazette

This is an enjoyable and instructive book for all who are interested in how law is made.
Joshua Rozenberg
"A Lawyer Writes", https://rozenberg.substack.com/p/the-art-of-judgment-writing

Max Barrett
Justice of the High Court of Ireland

Mr Justice Max Barrett is a judge of the High Court of Ireland. Having worked as a solicitor in private practice and also as an in-house lawyer in the financial services sector, he was appointed to the High Court in January 2014. As a judge, he worked initially on the Commercial Court. Over time he has worked in all major areas of the High Court's activity, including the Asylum, Chancery, Family, Immigration, Insolvency, Judicial Review, Jury and Non- Jury Lists. Justice Barrett has also headed the Competition List since his appointment to the bench. During his time as a judge, Justice Barrett has delivered close to 600 reserved judgments. On the Asylum and Family Law Lists, he has taken a pioneering role in evolving a novel form of judgment – a traditional-form judgment to which a litigant-friendly letter in 'plain English' is appended – in a bid to maximise the comprehensibility of judgments for court users. Some of Justice Barrett's many judgments are now prominent/leading judgments in their respective areas. In addition to his judicial experience, Justice Barrett holds a PhD in law, a first-class master's in English literature and first-class postgraduate diplomas in arbitration and financial services law. He is among the most widely published of the current Irish judiciary (books and articles). Justice Barrett is a member of the Law Society of Ireland and a bencher of King's Inns.