Book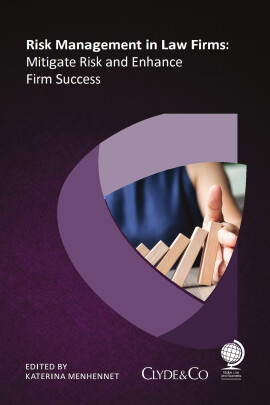 Risk Management in Law Firms
Mitigate Risk and Enhance Firm Success
Katerina Menhennet, William Glynn, Niya Phiri, Alexia Howard, Simon Konsta, Nigel Miller, Simon Chester, Sandy Gill, Anousheh Bromfield, Charles Kuhn, Brian Rogers, Rebecca Atkinson, Frank Maher, Peter Noyce, Noah Fiedler, Tracey Calvert, Jamie Butler, Ruth Bonino, Chris Holme, Jessica Clay, Iain Miller, Lucinda Soon, Jonathon Bray
Published: 2022
Pages: 195

eBook: 9781787429185
Risk Management in Law Firms brings together lawyers, consultants and other risk and compliance professionals to provide expert and practical guidance on essential risk management topics.
Effective risk management in law firms has never been more important. Lawyers must contend with the long-standing risks associated with the practice of law, such as anti-money laundering and issues of client confidentiality, as well as new risk areas such as data protection and cybersecurity, and increased regulatory burdens. Poor handling of these risks can lead to reputational damage, diminished client relationships, and even regulatory action, and so it is critical for law firms to remain vigilant and put in place robust risk management policies, processes and systems.

Risk Management in Law Firms brings together lawyers, consultants and other risk and compliance professionals to provide expert and practical guidance on essential risk management topics. Chapters cover risks relating to clients, internal operations and law and regulation, and address recent developments including issues arising from the shift to hybrid working, the increased focus on ESG and climate change, and the extended influence of clients through outside counsel guidelines. There is also consideration of the future of risk management with coverage of the proposed changes to the SRA Codes of Conduct to address issues relating to wellbeing and unfair treatment at work, and the commercial opportunities for law firms and individual lawyers presented by the increasingly flexible principles-based regulation.

This title aims to help law firm leaders and individual lawyers understand and prepare for the risks they face – as well effectively handle them when issues do arise – whether they occur in the firm's internal operations or its dealings with clients. In-house counsel and others will also find it useful to understand their law firm colleagues better, enhancing professional relationships. With the comprehensive coverage of key risk areas in this title, lawyers and firms can not only ensure compliance, but also maintain healthy client relationships, educated staff, a positive reputation, and continued success and growth.
Table of Contents
| | | |
| --- | --- | --- |
| Cover | Cover | |
| Title Page | i | |
| Copyright Page | ii | |
| Table of Contents | iii | |
| Executive summary | ix | |
| About the authors | xvii | |
| Chapter 1: Managing risks in the hybrid "office" | 1 | |
| Introduction | 1 | |
| People risks | 1 | |
| Operational risks | 5 | |
| Data/IT risks | 7 | |
| Legal/regulatory risks | 9 | |
| Conclusion | 11 | |
| Chapter 2: Climate change and ESG risks for lawyers | 13 | |
| Introduction | 13 | |
| What is ESG? | 13 | |
| Reputational risks | 14 | |
| Transition and transactional risks | 16 | |
| Corporate disclosure and liability risks | 17 | |
| Greenwashing | 20 | |
| Diversity and inclusion | 21 | |
| Conclusion | 22 | |
| Chapter 3: Data protection | 29 | |
| Introduction | 29 | |
| Overview | 29 | |
| Data protection principles | 31 | |
| Lawful ground for processing | 34 | |
| Accountability | 35 | |
| Data processors | 37 | |
| Individual rights | 37 | |
| Personal data breach | 39 | |
| International data transfers | 39 | |
| Marketing and cookies | 40 | |
| Conclusion | 41 | |
| Chapter 4: Cybersecurity: an existential risk for law firms | 43 | |
| Regulatory requirements | 45 | |
| Client pressures | 46 | |
| Cloud computing | 47 | |
| Remote working | 48 | |
| Policies and procedures | 48 | |
| Insider risks | 50 | |
| Assessing precautions | 52 | |
| Insurance | 54 | |
| Planning for breach | 55 | |
| Next steps | 58 | |
| Chapter 5: Criminal finances and investigations | 63 | |
| Introduction and types of financial crime | 63 | |
| Investigations | 63 | |
| Privilege | 66 | |
| Representation | 69 | |
| Jurisdiction | 69 | |
| Specific considerations for certain offences in law firms – (section 330 POCA) | 70 | |
| Conclusion | 71 | |
| Chapter 6: Anti-money laundering – are you doing enough to protect your firm? | 73 | |
| The money laundering landscape | 73 | |
| Law firm sanctions | 73 | |
| SRA AML thematic reviews | 74 | |
| AML guidance | 75 | |
| AML governance | 76 | |
| Firm (practice)-wide risk assessment | 76 | |
| Client/matter level risk assessment | 77 | |
| AML policies, controls, and procedures | 77 | |
| Conclusion | 80 | |
| Chapter 7: Professional indemnity insurance | 81 | |
| The requirement to have professional indemnity insurance | 81 | |
| How much insurance cover to buy | 82 | |
| What a circumstance is, when and how to notify possible claims to insurers, and who will handle the claim | 83 | |
| Should you rectify mistakes? Beware own interest conflict | 85 | |
| PI insurance renewal – what happens each year and top tips for renewal: how to present your firm well | 86 | |
| Possible PI insurance exclusions for sanctioned entities and certain types of work | 88 | |
| A short note about cybercrime insurance | 88 | |
| Limiting liability clauses | 88 | |
| Conclusion | 89 | |
| Chapter 8: Protecting partner assets | 91 | |
| Introduction | 91 | |
| Professional indemnity insurance and the exclusions | 92 | |
| Retirement and professional indemnity insurance | 95 | |
| Defensive practice | 96 | |
| Insurance options | 98 | |
| Conclusion | 98 | |
| Chapter 9: SRA compliance | 101 | |
| What is the SRA and when do you need to be authorized by it? | 101 | |
| How to get authorized | 104 | |
| The annual reauthorization process | 104 | |
| The SRA Standards and Regulations | 106 | |
| SRA Enforcement Strategy | 112 | |
| The COLP and COFA role and reporting requirements | 113 | |
| Ethics and how to approach | 115 | |
| SRA warning notices and guidance | 115 | |
| Chapter 10: Mitigating risk through your client journeys and practices | 119 | |
| Take on process | 119 | |
| Throughout the transaction | 120 | |
| Completion | 120 | |
| Financial disciplines and controls should also be part of the toolkit | 121 | |
| Conclusion | 123 | |
| Chapter 11: Outside counsel guidelines | 125 | |
| Comprehensive outside counsel guidelines become standard | 125 | |
| Indemnity provisions | 126 | |
| Defining conflicts of interest | 127 | |
| Managing the risk of OCGs | 129 | |
| OCGs are here to stay | 130 | |
| Chapter 12: Conflicts of interest and confidentiality duties – effective risk management | 133 | |
| Own interest conflict | 133 | |
| Conflicts of interests when acting for clients | 134 | |
| Confidentiality and disclosure | 135 | |
| Risk management | 136 | |
| Risk compliance objectives | 137 | |
| Risk management pinch points | 138 | |
| Compliance solutions | 140 | |
| The bigger picture | 141 | |
| Chapter 13: Complaints | 143 | |
| The requirements regarding complaints | 143 | |
| What should the complaints handling process be and who should undertake complaint handling in the firm? | 144 | |
| How to effectively handle complaints | 146 | |
| Complaints made by non-clients | 149 | |
| How to handle online reviews – good or bad | 149 | |
| The Legal Ombudsman Scheme Rules, publication, and case fee | 150 | |
| Further guidance | 152 | |
| Chapter 14: Effective supervision in remote and hybrid teams | 155 | |
| Why is good supervision important? | 155 | |
| Risks, challenges, and opportunities of remote supervision | 156 | |
| Core skills and characteristics of an effective remote supervisor | 156 | |
| Setting "ground rules" to establish responsibility and build trust | 157 | |
| Communicating for effectiveness and productivity | 158 | |
| Maximizing engagement, inclusion, and wellbeing | 158 | |
| Hybrid working – developing approaches | 160 | |
| Hybrid working and supervision – opportunities and challenges | 161 | |
| "Supervisor as coach" skills – managing from a distance | 162 | |
| Chapter 15: Lateral hiring in law firms – risks and reward | 165 | |
| Introduction | 165 | |
| Basic legal, ethical, and regulatory obligations of partners in UK law firms | 165 | |
| Setting the scene | 167 | |
| The due diligence process – how to avoid overstepping the mark | 168 | |
| Pre-employment vetting | 169 | |
| Conflict checks – how to avoid breaching confidentiality obligations | 170 | |
| Integration issues | 170 | |
| Key rules of the road | 172 | |
| Chapter 16: Culture matters – a new era for law firm risk management | 173 | |
| Ethical culture under the spotlight | 174 | |
| Assessments of unfair treatment | 177 | |
| Concurrent employment claims | 178 | |
| Challenging behavior that does not meet the standard | 179 | |
| Personal and professional boundaries | 180 | |
| Conclusion | 181 | |
| Chapter 17: Innovation and the opportunities in flexible regulation | 185 | |
| Regulation-led innovation | 185 | |
| CMA report | 186 | |
| Deregulation-led innovation | 187 | |
| Other external factors | 189 | |
| Ten years of ABSs – evolution rather than revolution? | 190 | |
| Innovation is easier said than done | 192 | |
| About Globe Law and Business | 195 | |
REBECCA ATKINSON
https://www.linkedin.com/in/rebecca-atkinson-83704336/

Rebecca Atkinson is director of risk and compliance at Howard Kennedy. She leads the firm's internal risk and compliance function and sets the related strategy. Rebecca is a skilled risk and compliance professional with over a decade of experience ensuring businesses are compliant. She is the firm's compliance officer for legal practice, money laundering reporting officer, money laundering compliance officer, anti-bribery officer and whistle-blowing officer. She additionally holds the position of data protection officer alongside head of technology and security, Jonathan Freedman. Rebecca is a barrister (non-practicing), New York attorney, and solicitor of England and Wales. Rebecca has authored two books (Assessing and Addressing Risk and Compliance in Your Law Firm and Financial Crime: A Compliance Manual) and regularly produces written content for compliance publications, as well as Practice Notes for Practical Law Company. Rebecca sits on the Board for the Law Society Legal Compliance Bulletin and is a member of the Law Society Regulatory Processes Committee.

RUTH BONINO
https://www.linkedin.com/in/ruthboninoemplawyer/

Ruth Bonino is a solicitor with more than 25 years' experience in employment law. She writes regular legal articles for external publications and has contributed to legal textbooks for a number of years. She has a Masters degree in employment law. Ruth's role at Clyde & Co involves keeping her colleagues and the firm's clients up to date on employment law developments by writing client alerts, organizing and preparing client training seminars, and managing and delivering the team's internal training. As a fee earner she was a senior associate at an international law firm based in the City of London where she handled a full case load of both contentious and non-contentious employment cases. Ruth is a member of the Employment Lawyers Association and PEN, the network of professional
support employment lawyers.

JONATHON BRAY
https://www.linkedin.com/in/jonathonbray/

Jonathon Bray is a recognized adviser to law firms on all aspects of risk and regulation. His consultancy is best known for its work in helping SRA-regulated firms navigate the compliance maze in a friendly and commercial way. Jonathon and his team have helped launch over 100 Alternative Business Structures, working with established practices, new entrants to the market, and international firms. COLPs, COFAs, and anti-money laundering officers all benefit from their direct and practical guidance.

ANOUSHEH BROMFIELD
https://www.linkedin.com/in/anousheh-bromfield-64494431/

Anousheh Bromfield is a senior associate at Clyde & Co LLP. She has specific experience advising FCA regulated companies and international trading companies on compliance with sanctions, money laundering, and bribery and corruption issues and regulatory issues. Her regulatory practice includes conducting and assisting with internal and external (including SFO, FCA, HMRC, and SRA) investigations, drafting disclosures to and liaising with the relevant authorities, drafting compliance policies, and advising on proposed transactions to ensure compliance with the relevant regulatory framework. She also conducts client training programs on compliance issues. In addition to regulatory work, Anousheh has a range of experience acting in all types of dispute resolution, representing clients in domestic and international arbitrations as well as before the English courts.

JAMIE BUTLER
https://www.linkedin.com/in/jamie-butler-7089631b/

Following a 21-year career in the legal sector, Jamie Butler now works as an executive coach and facilitator, founding Jamie Butler Coaching Limited in March 2020. Drawing on his background as a solicitor, law school lecturer, and learning and development leader, Jamie coaches individuals and groups, predominantly in law firms. He specializes in people skills and team development, particularly helping to navigate the path to partnership and building coaching skills in managers and leaders. He has also supported clients during the COVID-19 pandemic to develop remote management and supervision skills and with conversations around effective hybrid working. Most recently, Jamie was director of learning and development at Cleary Gottlieb Steen & Hamilton LLP. He is an accredited executive coach and member of the Association for Coaching.

TRACEY CALVERT
https://www.linkedin.com/in/tracey-calvert-179b4824/

Tracey Calvert is a lawyer and a regulatory, compliance, and ethics specialist. She is the founder and director of Oakalls Consultancy Limited and provides regulatory compliance, consultancy, and training services to lawyers and law firms. She is a regular speaker and trainer on these topics and has delivered presentations both within the UK and internationally. She is the co-chair of the International Bar Association's Professional Ethics Committee and is on the editorial board of the Law Society's Legal Compliance Bulletin. Tracey is a contributor to Cordery on Legal Services and has written several books on compliance and ethics. Tracey was previously employed by the Law Society and the SRA as a senior ethics adviser and a policy executive. She has also worked both in private practice and in an in-house role.

SIMON CHESTER
https://www.linkedin.com/in/rsgchester/

Simon Chester is counsel for conflicts and regulatory matters in Gowling WLG's Toronto office. With roots in three continents, Simon is a global lawyer and is qualified in both Europe and North America. His legal career includes a decade of public service, 30 years of experience as a risk partner with large business law firms, and teaching at Canada's largest English language law school. Throughout his career, he has been a pioneer in applying advanced technologies to legal practice. Educated at Oxford and Osgoode Hall Law School, where he held a Canadian Rhodes Trust Foundation Scholarship, he is qualified in Ontario (1982) and England and Wales (1988). Simon was the first non-American to chair the American Bar Association's Tech Show. He also chaired the ABA Law Practice Section's editorial advisory board, its education board and its new media and internet board. He served as president of the College of Law Practice Management and as president of the Oxford University Society in Toronto. He has spoken on law, technology, and professional issues to audiences across Canada, the United States, Australia, Mexico, India, Singapore, Scotland, England, France, Belgium, and the Netherlands.

JESSICA CLAY
https://www.linkedin.com/in/jessica-clay-96781816/

Jessica Clay is a partner at Kingsley Napley with over a decade of experience specializing in legal services regulation. Her work focuses on advising law firms, partnerships, and their members on a wide range of regulatory matters, including compliance with their regulatory and ethical obligations, changes to business structures and authorization processes, and any internal or regulatory investigations. In addition to her core legal services regulation practice, Jessica regularly advises regulators on their regulatory and disciplinary frameworks, regulatory policy reform, and governance issues, and is involved in a number of drafting projects. Jessica is also the deputy editor of the leading textbook on legal services regulation – Cordery on Legal Services. Prior to joining Kingsley Napley, Jessica was the principal lawyer in the General Counsel team at the SRA. Jessica was the day-to-day lead for two major projects – the drafting of the SRA Standards and Regulations and the Solicitors Qualifying Examination (SQE). She also advised the Investigations and Supervision team on case direction.

NOAH FIEDLER
https://www.linkedin.com/in/noahfiedler/

Noah Fiedler helps lawyers and law firms. He counsels clients on best practices to avoid ethical and liability problems and defends clients against claims. Noah has wide-ranging experience defending lawyers in malpractice, fiduciary duty breach, defamation, and misrepresentation claims and in disciplinary proceedings. He regularly counsels and educates lawyers and firms across the country on ethics, liability, and risk management topics. Noah has developed numerous law firm risk management resources, including Barron & Newburger P.C.'s Attorneys Risk Management program. Noah is a member of the Association of Professional Responsibility Lawyers and teaches Professional Responsibility at the University of Wisconsin Law School.

SANDY GILL
https://www.linkedin.com/in/sandy-gill-97269b1b/

Sandy Gill is assistant general counsel at Gowling WLG in Canada. Sandy's practice is focused on law firm governance, risk management, innovation, and professional responsibility and ethics in the changing legal and social landscape. She is interested in global trends and regulatory developments related to law practice management. Sandy has previously served as in-house counsel to both public and private companies in Canada and a Canadian university. Sandy completed her JD/MA in 2004 at the University of Toronto and previously practiced large firm corporate and commercial law, with a focus on securities and M&A transactions. She is also chair of the Calgary Public Library Board.

WILLIAM GLYNN
https://www.linkedin.com/in/william-glynn-86bb8a52/

William Glynn is a legal director whose dispute resolution practice focuses on regulatory investigations, disciplinary proceedings, and the defense of complex, multi-party, and high-value civil and commercial claims against lawyers and law firms. He has advised on high value claims involving underlying transactions or disputes in the corporate, finance, real estate, tax, and litigation sectors. In addition to advising on the defense of claims, William also has experience of advising lawyers in relation to disciplinary proceedings before both the Solicitors Disciplinary Tribunal and the Bar Standards Board, and also regularly advises law firms on risk management issues. William's professional practice also extends to defending claims against accountants and construction professionals, and he also has wide-ranging experience of general commercial litigation, acting for both claimants and defendants across a variety of sectors.

CHRIS HOLME
https://www.linkedin.com/in/chris-holme-4b7b8712/

Chris Holme is a leading lawyer in the field of employment law, supporting employers with the full range of issues that they face. He works predominately in the financial services and professional services sectors, supporting a number of law firms, accountancy firms, banks, and asset managers. Chris has various management roles at Clyde & Co; he is a member of the firm's UK board and leads the employment team's financial services and professional services groups. Chris carries out some of the most complex and reputationally significant work within the employment area. In particular, Chris works with clients on partnership issues and disputes, particularly alleged discrimination issues, confidentiality issues and partner moves, and disputes between partners in the UK and internationally.

ALEXIA HOWARD
https://www.linkedin.com/in/alexia-howard-48820363/

Alexia Howard is a senior associate at Clyde & Co LLP. Alexia qualified into the firm's insurance financial and professional disputes team in 2014. Her practice focuses on the defense of lawyers and firms of solicitors in professional negligence and malpractice proceedings. She also advises on regulatory investigations and risk management issues. As part of Clyde & Co's resilience program, Alexia is developing thought leadership on the effects of climate change and ESG issues on legal professionals. She has presented to clients on these issues and collaborated on climate conscious contractual clause precedents in a climate change action hackathon in conjunction with The Chancery Lane Project. Alexia is a representative on the firm's gender equality committee and its employee communication and consultation group, and is active within the firm's network for achieving cultural and ethnic diversity.

SIMON KONSTA
https://www.linkedin.com/in/simon-konsta-b9185b104/

Simon Konsta is a partner at Clyde & Co LLP. He is a specialist professional liability practitioner. He served as Clyde & Co's senior partner and chair of its global management board between 2016 and 2019, having previously headed up its global insurance practice. Simon acts on behalf of multiple global professional services firms in respect of their defense, regulatory, and disciplinary needs. He has acted on a number of landmark actions. Simon has amassed extensive experience of complex and multi-jurisdictional professional liability disputes. He also advises upon risk management issues, confronting professional services firms (and their insurers), as well as spearheading some of Clyde & Co's thought leadership campaigns such as on climate change, automation, and the application of technology.

CHARLES KUHN
https://www.linkedin.com/in/charles-kuhn-9b520b5/

Charles Kuhn is a regulatory and financial crime specialist who has worked for the Financial Conduct Authority (Enforcement and Financial Crime Division). Charles is experienced in defending complex financial markets and white-collar crime cases. Charles acts for institutions and individuals providing regulatory advice on financial markets cases including working for banks in their capacity as arranger/underwriter. His practice covers insider dealing, market abuse, money laundering, bribery and corruption, sanctions, and securities litigation. He is one of Clyde & Co's MLROs.

FRANK MAHER
https://www.linkedin.com/in/frankmaher/

Frank Maher is a practicing solicitor and partner in Legal Risk LLP, solicitors specializing in professional regulation and professional indemnity. He is also admitted as a solicitor in the Republic of Ireland, and has a diploma in anti-money laundering and a certificate in data protection. He advises leading US, European, and UK 100 law firms, insurers as far afield as the US and Australia, and members of other professions. Frank has over 38 years' experience of defending many of the UK's largest law firm claims for insurers and has even advised on a claim arising from the death penalty. He advises law firms extensively on the insurance aspects of their mergers and acquisitions, coverage disputes with insurers, disciplinary investigations, and a wide variety of regulatory issues such as conflicts of interests, practicing rights, and international law firm structures. His advice is often sought on "bet the firm" issues, including many examples of firms that have been impacted by activities of rogue partners and staff.

IAIN MILLER
https://www.linkedin.com/in/iaingmiller/

Iain Miller is a partner at Kingsley Napley with over 25 years of experience in legal services regulation. His primary area of practice focuses on providing regulatory advice to law firms, general counsel, COLPs, and partners. Iain's experience cuts across regulatory, public law, and investigations, and includes advising legal services regulators other than the SRA on their regulatory schemes, governance issues, and rule drafting as well as advice in relation to judicial reviews, investigations, and disciplinary prosecutions. Iain is general editor of Cordery on Legal Services and past chair of the Association of Regulatory and Disciplinary Lawyers. He was a member of the Advisory Board of UCL's Centre for Ethics and Law Review of the Statutory Framework for Legal Services. He is a member of the City of London Law Society's Professional Rules and Regulation Committee, an officer of the International Bar Association's Professional Ethics Committee, and a member of its International Trade in Legal Services Committee. He is also a member of the Consulting Editorial Board of LexisPSL Practice Compliance, and a member of the Editorial Board of the Law Society's Legal Compliance Bulletin.

NIGEL MILLER
https://www.linkedin.com/in/nigelmiller/

Nigel Miller is a founding partner of London law firm Fox Williams LLP and leads the firm's technology and data protection group. Nigel is a Certified Information Privacy Professional/Europe (CIPP/E) under the International Association of Privacy Professionals (IAPP). He advises professional services firms (including a number of UK and US law firms), financial services firms, and tech companies on data protection, privacy, and cyber-security matters, including GDPR advice and compliance programs. Nigel is a fellow, and past chairman, of the UK Society for Computers & Law (www.scl.org). He is also a past president of the International Federation of Computer Law Associations (www.ifcla.org). He is a member of the International Association of Privacy Professionals (IAPP) and the US iTechLaw Association and is a regular speaker at tech and tech law conferences. He is featured in Who's Who Legal: Data 2022.

PETER NOYCE
https://www.linkedin.com/in/peternoyce/

Peter Noyce is head of legal sector at Menzies LLP and author of Brighter Thinking for Law Firms. Peter advises law firms of all sizes in respect of strategy and profit improvement along with overseeing compliance assignments. This has seen Peter and Menzies' wider team play a key role in recent law firm mergers, including preparing firms in advance of this process. Peter's advice never loses sight of the fact that law firms must look to take as much risk out of their business as possible. Peter believes there are opportunities for law firms to reduce the inherent risk of their client relationships and the transactions upon which they are advising. Good financial disciplines are also never far away from the successful practice, and combining these will lead to a practice that scores well on any risk profile. It is the ability to drill down into the operation of the business that ensures Peter and Menzies are well placed to advise legal firms on all areas of their business.

NIYA PHIRI
https://www.linkedin.com/in/niya-phiri-1b4775194/

Niya Phiri is a partner in the malpractice, regulatory, investigations and disciplinary group at Clyde & Co LLP. For over 16 years, Niya has specialized in advising and defending law firms and legal professionals in complex and high value malpractice disputes. She has extensive experience of civil litigation in the High Court and Court of Appeal as well as arbitration, mediation, and ADR. Her practice also covers regulatory, disciplinary, and investigations work in the increasingly regulated world in which law firms and legal professionals operate, including advising on a wide range of regulatory obligations, and risk management issues including self-reporting, anti-money laundering, conflicts, confidentiality, and privilege, and representing clients in formal contact with the Solicitors Regulation Authority and the Solicitors Disciplinary Tribunal. As part of her practice, Niya has been involved in a number of cases that go beyond the usual parameters of legal malpractice into issues of civil fraud and dishonesty in both litigation and regulatory matters.

BRIAN ROGERS
https://www.linkedin.com/in/brian-rogers-access-group/

Brian Rogers worked as a senior management executive, including as a money laundering reporting officer, in various law firms for 20 years, and was the first non-solicitor to be appointed to a Law Society Council, serving as chair of Regulatory Affairs at Manchester Law Society. He created the Riliance online risk and compliance system for law firms, for which he won the British Chambers of Commerce North-West Region Innovation Through Technology Award. He was a shareholder and director in Riliance Software Limited, providing risk and compliance software solutions, online training, and consultancy services to law firms and other regulated businesses. Brian joined The Access Group in 2019 when it acquired his company as an initial step in creating a new legal division, and as regulatory director is a regulation and compliance subject matter expert. He regularly presents regulation and compliance webinars, speaks at legal sector conferences, contributes articles to various legal publications, and is a prolific LinkedIn blogger on regulation and compliance matters.

LUCINDA SOON
https://www.linkedin.com/in/lucindasoon/

Lucinda Soon is a professional support lawyer in the regulatory team at Kingsley Napley. She has over a decade of experience working in professional ethics and legal services regulation, including projects relating to policy development, and advising individuals and law firms on authorization matters, changes to business structures, and regulatory compliance. Prior to joining Kingsley Napley, Lucinda worked in the legal and enforcement and General Counsel Directorates at the SRA, as a professional support lawyer and knowledge management business lead, and subsequently as a consultant solicitor. Her work focused on knowledge development and training, advising on the legal services regulatory framework, and drafting policies and guidance on the SRA Standards and Regulations. Lucinda is a trustee for LawCare, the charity that supports mental health and well-being in the UK legal community. She is also a member of the British Psychological Society (MBPsS) and is pursuing her PhD in Organizational Psychology, focusing on law firm culture and well-being in the legal profession.