Book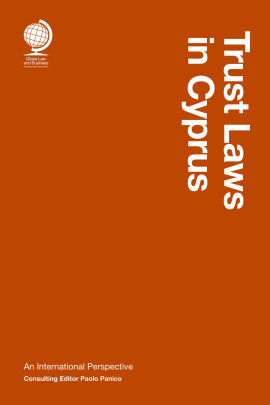 Trust Laws in Cyprus
An International Perspective
Published: 2022
Pages: 285

eBook: 9781787428805
Chapters specifically analyse the relevance of Cyprus trusts where settlors wish to retain certain powers, arrange their succession in a more flexible manner than would be possible under forced heirship provisions, or protect heirloom assets from creditor claims.
The Cyprus International Trust Law was originally enacted in 1992 and amended in 2012. It is a modern and flexible piece of legislation expressly addressing the needs of international families relying on Cyprus to arrange their wealth. At the same time, Cypriot resident families can apply the Trustee Law 1955, which is based on English law, to govern their trusts.

Trust Laws in Cyprus reviews both of these laws and places them in an international context, pointing out the solutions available on the island for wealth management, estate planning and asset protection purposes.

Authored by well-known experts in this field, chapters specifically analyse the relevance of Cyprus trusts where settlors wish to retain certain powers, arrange their succession in a more flexible manner than would be possible under forced heirship provisions, or protect heirloom assets from creditor claims. The book also covers the taxation of Cyprus trusts, both international and domestic, and the functioning of the UBO register of trusts under the 5th EU AML Directive.

This title is the only systematic review of the Cyprus trust laws in English. It will be an invaluable reference work to help lawyers and other private client advisers structure their clients' wealth. It will also assist professional trustees involved in the administration of Cyprus trusts, and be useful for accountants and tax advisers in relation to the tax treatment of various types of Cyprus trusts.
Table of Contents
| | | |
| --- | --- | --- |
| Front Cover | Cover | |
| Title | 1 | |
| Copyright | 2 | |
| Contents | 3 | |
| Foreword: Perspectives on the Cyprus international trust law journey | 5 | |
| Part I | 13 | |
| The Cypriot legal system: an overview | 13 | |
| Trusts in Cyprus under domestic law | 25 | |
| Vakfs: the Islamic version of trusts | 43 | |
| Charitable trusts and charitable organisations | 59 | |
| Part II | 77 | |
| The Cyprus International Trusts Law 1992–2012:new dynamics | 77 | |
| Settlor reserved powers trusts | 109 | |
| Beneficiaries' right to information | 117 | |
| Trustee investment powers and delegation | 135 | |
| Protectors | 145 | |
| Non-charitable purpose trusts | 153 | |
| The trustee's ability to request directions from the court | 165 | |
| Perpetuity and duration | 177 | |
| Forced heirship: the 'firewall legislation' | 183 | |
| Asset protection trusts | 201 | |
| The trustee's liability to third parties and mistake | 209 | |
| The main ingredients of an international trust law – some proposals for reform | 221 | |
| Analysis of Cyprus case law involving Cyprus international trusts | 237 | |
| Part III | 257 | |
| Taxation | 257 | |
| Trusts and ultimate beneficial ownership registers in Cyprus | 265 | |
| Appendix | 277 | |
| About the authors | 279 | |
| About Globe Law and Business | 285 | |
| Back Cover | 289 | |

Constantinos Constantinides
Senior associate, Christodoulos G Vassiliades & Co LLC
c.constantinides@vasslaw.com

Constantinos Constantinides is an advocate in Nicosia. He holds a law degree from the University of Essex and a master's in corporate and commercial law from University College London. He has practised law for more than 14 years, during which time he has been involved in a number of corporate and commercial litigation cases, both at a domestic and international level. His areas of expertise include shareholder dispute resolution, asset recovery, employment law, property law, corporate and commercial litigation.

Eleni Drakou
Partner, Michael Kyprianou & Co LLC
eleni.drakou@kyprianou.com

Eleni Drakou is a partner in the private client, real estate and corporate department of Michael Kyprianou & Co LLC in Cyprus. She holds degrees in law and management, and has specialised in private client matters and real estate transactions while based at the firm's offices in Cyprus and Greece.
Eleni is a member of the Cyprus Bar Association, the Investment Migration Council and a board member of STEP Cyprus. She regularly represents investors in their business and real estate transactions in Cyprus and advises clients on tax, corporate matters, estate planning, immigration matters and succession planning. She has assisted a number of local and international clients to execute their wills with regard to their Cyprus assets, while representing families on probate issues. She also advises charitable institutions operating in Cyprus or wishing to be established under the Cyprus law. Eleni has participated in panels and international conferences where she has presented on Cyprus tax and investment regimes. She has contributed to international legal and tax guides analysing the Cyprus regulations on private client matters.

George Economides
Partner, E & G Economides LLC
george.economides@economideslegal.com

George Economides is a partner at E & G Economides LLC, a full-service, highly ranked and proficient law firm based in Limassol, Cyprus. He is also the vice chair of Totalserve Management Limited. His areas of focus are tax, real estate, immigration and technology with intellectual property and the General Data Protection Regulation. George is a member of the Cyprus Bar Association, the Individual Tax and Private Client Committee of the International Bar Association, the International Tax Planning Conference and STEP.
He frequently works with high-net-worth individuals and international law firms and associates providing advice on restructurings, investments, acquisitions and disposals of either assets, intangible assets or real estate. He also represents and generally advises international companies and groups of companies that have relocated and headquartered to Cyprus in such sectors as ship owning, ship management, e-commerce, investment, financial services and real estate.
George has also been recognised by the Legal 500 and has co-authored various publications on consecutive occasions on topics such as mergers and acquisitions, tax, lending and finance and technology/digital business.

Peter G Economides
Founder and honorary chair, Totalserve Management Limited
peter.economides@totalserve.eu

Peter G Economides is a fellow member of the Association of Chartered Certified Accountants, a member of the Institute of Certified Public Accountants of Cyprus and is active in various other international professional associations. One of the first STEP members, Peter founded the Cyprus branch in 2003 and served as chair for eight years. He also served as a council member of STEP for five years. Moreover, Peter is the founder and honorary chairman of Totalserve Management Limited (trust and corporate services), as well as the founder and chairman of PG Economides & Co Limited (audit firm) and Cloudlayer8 Limited (cloud and IT services).
With 50 years of experience in the wider professional services industry, Peter has been instrumental in the landscaping of various related legislations, including Cyprus trust law. He regularly contributes articles to the international professional press and lectures at various conferences around the globe. Peter is the honorary consul of Cape Verde in Cyprus.

Savvas Georgiou
Head of Limassol office, Christodoulos G Vassiliades and Co LLC
savvasg@vasslaw.net

Savvas Georgiou graduated from the University of Warwick in 2005 with an LLB. He then completed the bar practice course and was called to the bar as a barrister of the Honourable Society of the Middle Temple in 2006. On his return to Cyprus, he qualified as a Cyprus advocate in 2007. Savvas joined Christodoulos G Vassiliades and Co LLC in 2007 and is currently the head of the Limassol office. As a corporate and contractual drafting lawyer he has been involved in a wide range of corporate, shipping and corporate finance transactions, including joint ventures, private equity transactions, securities offerings and other financings.
He also specialises in Cyprus trust law assisting clients to establish Cyprus international trusts and Cyprus trusts, which includes advising clients on the appropriate way to draft the relevant trust documents to accurately reflect clients' intentions. In addition, he has assisted certain trustees in relation to the administration of a trust.

Stella Kammitsi
Lawyer and managing director, Raza Corporate Services Ltd; Chair – STEP Cyprus
stella@kammitsi.com

Stella Kammitsi is a qualified lawyer and has been a member of the Cyprus Bar Association since 1992. She runs her own law firm and her fiduciary company, Raza Corporate Services Ltd, which is regulated by the Cyprus Bar Association. She specialises in corporate, banking, trust and estate succession planning and commercial law. She obtained her LLB (Hons) from the University of Leicester in 1990 and her LLM in international banking law from Boston University, School of Law in 1991.
Stella is a regular speaker at various international conferences and has an extensive network of international lawyers, accountants and auditors. She is a member of the boards of various companies and associations including, among others, chair of STEP Cyprus, board member of BPW Cyprus and president of its Committee for Legal Affairs, as well as chair of the BPW International Standing Committee for Legislation. She has previously served as chair and vice chair at the Housing Finance Corporation (appointed by the Council of Ministers) and president of the Cyprus Women's Lobby.

Panayiota Kouzoupi
Senior associate and advocate, Christodoulos G Vassiliades & Co LLC
panayiotak@vasslaw.net

Panayiota Kouzoupi is a senior associate and advocate in the corporate department and the shipping department of Christodoulos G Vassiliades & Co LLC, a leading law firm in Cyprus, recommended by Legal 500 as a top-tier firm with Tier 1 recognition in commercial, corporate, mergers and acquisitions, and maritime and admiralty.
Panayiota is a licensed advocate registered with the Cyprus Bar Association and has practised law in Cyprus since 2015. She holds an LLB (Hons) and an LLM (awarded with distinction), both obtained from the University of Surrey. Panayiota is heavily involved in various corporate, commercial and shipping transactions providing in-depth and specialised expertise of the highest professional standard. In addition, since the beginning of her legal career she has handled diverse legal and business matters, both domestic and international, related to a wide range of areas including company law; contract law; employment law; mergers and acquisitions; maritime and admiralty; and trusts and estates, as well as corporate governance, compliance and insolvency procedures.

Eleni Louca
Manager, Christodoulos G Vassiliades & Co LLC
elenilo@vasslaw.net

Eleni Louca holds an LLM awarded by the National and Kapodistrian University of Athens. She also holds an LLB in European Union law (commercial) awarded by the University of Leicester. Eleni has been a member of the Nicosia and the Cyprus Bar Association since 2011, and is registered with the Athens Bar Association under the status 'European Lawyer'.
Her main field of practice is corporate law. She has experience in trust law matters and other areas of law of compliance and regulatory nature.

Stefanos Marangos
Associate, Christodoulos G Vassiliades & Co LLC
stefanos.marangos@vasslaw.com

Stefanos Marangos is a graduate of political economy (BSc) from King's College London. He has also completed the graduate LLB (GDL conversion) at the University of Law, London. He subsequently joined Christodoulos G Vassiliades & Co LLC to complete his legal training and in September 2022 joined the firm as a litigation associate. Stefanos has served for five years at the European Youth Parliament – the biggest youth platform in Europe, with offices in 40 European countries – holding different positions including that of project manager and head of fundraising. In 2019 he served as president of the Executive Committee of the European Youth Parliament in Cyprus. He is fluent in Greek and English and conversational in Spanish and French.

Paolo Panico
Chair – Private Trustees SA; Chair – STEP Europe
paolo.panico@privatetrustees.net;
paolo@panico-chambers.eu

Paolo Panico is a Scottish solicitor, chair of Private Trustees SA, an independent trust company in Luxembourg, and a director of Teton Trust Company LLC, a regulated Wyoming trust company. He has an academic interest in the law of trusts and foundations and teaches courses at the University of Luxembourg and the University of Liechtenstein. He has published, among other works, Private Foundations, Law and Practice (Oxford University Press, 2014) and International Trust Laws (2nd edition, Oxford University Press, 2017). Paolo is a board and council member and chair of the Europe Region of STEP, deputy chair of the International Tax Planning Association, a member of the executive committee of the Italian Trust Society and an academician of the International Academy of Estate and Trust Law.

Chrysthia Papacleovoulou-Vassiliou
Lecturer of commercial law, Open University of Cyprus
chrysthia.papacleovoulou@ouc.ac.cy

Chrysthia Papacleovoulou-Vassiliou is a lecturer of commercial law at the Open University of Cyprus. She is a qualified lawyer and has been a member of the Cyprus Bar Association since 2004. Chrysthia holds an LLB from King's College, London and an LLM in Anglo-American law (with commendation) from City University, London. She completed, with a scholarship, her PhD thesis "The Emerging Global Corporation" at Birkbeck, University of London.
Chrysthia is an honorary fellow of the Association of Fellows and Legal Scholars of the Centre of International Legal Studies, and was recently appointed as examiner on company law by the Cyprus Bar Council. Chrysthia has extensive experience and expertise in corporate and commercial law, civil and cross-border commercial litigation, and also as an expert witness on Cyprus law in international commercial arbitration and High Court of Justice proceedings. Her academic research interests focus on company law, crossborder commercial judicial disputes, corporate and tax planning, trust law and international commercial and investment arbitration. She has taught numerous modules at private and state universities in Cyprus, as well as at Birkbeck, and has presented papers at local and international conferences. Chrysthia is the author of several book chapters and articles in international legal journals on commercial and company law matters.

Evi Papacleovoulou
Barrister, advocate at law, mediator and arbitrator, Law Chambers Nicos Papacleovoulou LLC
evi@papacleovoulou.com

Evi Papacleovoulou obtained her LLB (Hons) and LLM in EU law and taxation with merit from King's College, London, as well as the international postgraduate tax law diploma from Zurich. Evi is a practising lawyer and barrister, a member of the Cyprus Bar Association (CBA) and has served on the CBA's various committees. She is the managing partner at Law Chambers Nicos Papacleovoulou LLC, founded in 1978, with extensive experience in company and commercial law, M&A, contract law, conflict of laws, trust law, trust management and administration, wills, probate, administration of estates and estate planning, private law, conveyancing and property law, immigration, AMLD and litigation, advising both private and business clients in Cyprus and internationally.
Evi is a member of STEP and a board member of STEP Cyprus, of which she acts as secretary. Evi is a qualified mediator and arbitrator and has chaired panels in international and domestic commercial and civil matters. She is a member of the Chartered Institute of Arbitrators and Mediators; a documentary credit specialist of the Chartered Institute of Financial Services of the School of Finance and the International Financial Services Association, UK; certified in international trade and finance from IFS School of Finance, UK; a member and chartered director of the Institute of Directors, UK; a member of the International Association of Risk and Compliance Professionals; an associate member of the Chartered Institute of Tax Advisors, UK; and a member of the Chartered Institute of Legal Executives of the UK. Evi is a scientific collaborator at the University of Cyprus teaching business and commercial law. She is a PhD candidate and regularly lectures on commercial matters.

Richard FG Pease
Solicitor (England and Wales); Consultant (Geneva, Switzerland)
richard.pease@bluewin.ch

Richard Pease qualified as a solicitor in England before joining a leading firm in the City of London. In 1976 he moved to Geneva and joined Switzerland's largest law firm, Lenz & Staehelin, becoming a partner in 1985 and heading the firm's private client group. In 1990 he was engaged by the Central Bank of Cyprus to draft a modern law of trusts (the Cyprus International Trusts Law 1992). Richard advised the government of Mauritius on revisions to its trust law and was co-draftsman of the St Kitts Foundation Law 2005. He was co-founder of the Geneva branch of STEP in 1992 and was worldwide chair of STEP in 2006–2007. Richard now acts as a consultant in international tax and estate planning. He enjoys reading historical novels and sailing on Lake Geneva, or the warmer waters of the Mediterranean and the Caribbean.

Nicky Xenofontos
Founder and managing partner, N Xenofontos LLC
nicky@xenofontosllc.com

Nicky Xenofontos was born and raised in Johannesburg, South Africa. She obtained her LLB and LLM (EU law) from the University of Leicester. Nicky is a licenced insolvency practitioner, a certified trusts and estates practitioner (TEP – STEP UK), a member of the board of directors of STEP Cyprus and a certified anti-money laundering compliance officer from the Cyprus Securities and Exchange Commission. She is an active member of the Cyprus Bar Association Companies Committee, where she heads the Trusts and International Business Companies sub-committee and the IP committee.
She is the founder/managing partner of the law firm N Xenofontos LLC. The firm established NextStep Legal Training Centre, accredited by the Cyprus Bar Association for continuing professional development.
Major areas of expertise and practice include trusts, estate and inheritance planning, corporate insolvency/restructuring, IP law, general corporate and commercial law, advising on compliance and regulatory matters and providing general legal advice and legal opinions. Nicky's main area of expertise is trust law, acting as trustee/protector and counsel for corporate and individual clients.

Emily Yiolitis
CEO, Anemi Trustees Limited
emily.yiolitis@anemitrustees.com

Emily Yiolitis studied jurisprudence at the University of Oxford, Trinity College, obtaining her law degree in 1997. She received her postgraduate degree in legal studies in comparative European law from the European University Institute in Florence and was awarded her postgraduate degree in jurisprudence from Oxford University in 2000. Emily was a stagiaire at the European Commission in 1998 and a Robert Schuman Scholar in the Legal Service of the European Parliament in Luxembourg, in the Department of Internal Regulations in 2000. In Cyprus, Emily founded her own law firm, Aristodemou Loizides Yiolitis in 2005. Her firm merged with Harneys LLC in 2010, where she continued as partner until her appointment to the position of Minister of Justice and Public Order of the Republic of Cyprus on 29 June 2020. She served as minister for one year, until her resignation in June 2021. Today, she heads Anemi Trustees Limited as CEO and has founded a new law firm, Emily Yiolitis LLC. Emily specialises in tax, corporate and trust law.