Book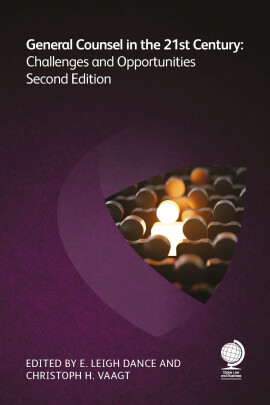 General Counsel in the 21st Century
Challenges and Opportunities, Second Edition
E Leigh Dance, Christoph H Vaagt
Published: 2022
Pages: 187

eBook: 9781787428652
Chapters are written by an international group of well-known general counsel, corporate legal leaders, and other experts, and cover important topics for general counsel today, including legal operations, how adaptive legal functions are embracing technology, managing change, and doing more with less.
The role of general counsel and in-house lawyers is changing continually. Legal is now considered a vital component of leadership in most enterprises, and it is increasingly common for the GC to be called on for strategic input prior to important business decisions. Added to this is the convergence of social and political trends driving new demand for legal advice and service delivery; an increasing focus on productivity and efficiency; pressure to demonstrate the value of legal to the business in order to gain budget support; and the need to adapt and advance digitally. The competencies required of the general counsel and their increasingly multi-disciplinary team are also growing with responsibilities expanding to encompass reputational risk, government relations, data privacy, ESG and interacting with diverse stakeholders including regulators.

Edited by E Leigh Dance and Christoph H Vaagt, both with distinguished careers advising legal departments and teams for more than two decades, the second edition of General Counsel in the 21st Century offers general counsel and all in-house legal professionals a variety of expert perspectives on the evolution of the role of the GC and the corporate legal department. Chapters are written by an international group of well-known general counsel, corporate legal leaders, and other experts, and cover important topics for general counsel today, including:

The evolution of the general counsel's role;
Legal operations as a competitive advantage;
How adaptive legal functions are embracing technology;
Managing change in a legal department; and
Doing more with less.
This title provides guidance on how legal departments can best support the businesses they serve, identify and address areas where change is necessary, and anticipate developments on the horizon. Readers - whether in-house counsel or private practitioners - will gather best practices and learn new and perhaps surprising lessons to help them succeed in their jobs as leaders at the intersection of law and business.
Table of Contents
| | | |
| --- | --- | --- |
| Front Cover | Front Cover | |
| Title Page | i | |
| Copyright Page | ii | |
| Contents | iii | |
| Executive summary | ix | |
| About the authors | xi | |
| Part 1: Strategy and structure | 1 | |
| Chapter 1: A slow motion riot – the evolving role of the general counsel and the legal department | 1 | |
| Introduction | 1 | |
| What makes in-house practice special? | 2 | |
| In the beginning… | 3 | |
| How the demographics of corporate legal practice shape this conversation | 4 | |
| Striking the right balance between "make" versus "buy" | 6 | |
| Why aren't GCs driving changes faster and farther than they are? | 7 | |
| So how does the distinguishing value in-house team lead toward a better future in law? | 8 | |
| The changing marketplace of legal service providers | 10 | |
| The challenges posed by old systems colliding with new markets, processes, and practices, and GCs who want to promote change | 11 | |
| The rising opportunity of the in-house team and general counsel to drive change in the marketplace | 12 | |
| Going forward – how will GCs and in-house teams lead? | 14 | |
| Final thoughts | 17 | |
| Chapter 2: The general counsel, corporate governance, and stakeholder capitalism | 19 | |
| Introduction | 19 | |
| Factors driving the role of general counsel in corporate governance | 19 | |
| Ensuring general counsel's effective corporate governance role | 23 | |
| The Mad Hatter – coping with unique and multiple roles | 28 | |
| Corporate governance issues for general counsel | 32 | |
| Corporate governance involves personal risks and opportunities | 37 | |
| Chapter 3: The general counsel's role in the digital transformation of legal | 41 | |
| Why should the general counsel and legal team embrace digital transformation? | 42 | |
| What is a "digital" legal department? | 43 | |
| Why do purpose and people come first in digital transformation? | 44 | |
| How does one address the massive topics of technology and data? | 46 | |
| What has worked in measuring value and demonstrating how we deliver it? | 48 | |
| Key elements of digital transformation for the general counsel to remember | 52 | |
| Conclusion | 55 | |
| Chapter 4: Legal operations as a competitive advantage | 57 | |
| Taming the final frontier of legal department modernization – legal operations hold the key | 57 | |
| Starting with technology is not the answer | 62 | |
| Where to start? | 62 | |
| The value of data | 64 | |
| Strategy trumps all | 65 | |
| Defining the legal department operating strategy | 66 | |
| Roles and responsibilities | 66 | |
| VMware: A legal operations case study | 67 | |
| The four faces of the legal operations executive | 69 | |
| Conclusion | 73 | |
| Part 2: Leadership skills for the GC | 75 | |
| Chapter 5: Leadership behaviors that distinguish great general counsel | 75 | |
| Introduction | 75 | |
| Self-reflection | 76 | |
| Successfully building and nurturing relationships | 77 | |
| Perfection is impossible but the journey is worth it | 78 | |
| Key behaviors | 79 | |
| Conclusion | 87 | |
| Chapter 6: Best supporting act – how adaptive legal functions are embracing technology | 89 | |
| Becoming a digital, adaptive organization | 89 | |
| The legal/business disconnect | 90 | |
| Legal departments – "eager but not ready" | 92 | |
| The three barriers to progress | 95 | |
| Meeting the challenges | 97 | |
| Examples of best practice | 98 | |
| Final thoughts | 102 | |
| Chapter 7: Considerations on doing more with less – leading the lean legal department | 105 | |
| Introduction | 105 | |
| Doing more with less – the importance of prioritization | 106 | |
| Your legal team's wellbeing is a critical priority | 108 | |
| Maximizing resources in a lean environment – removing work from the system | 111 | |
| Taking your first step | 115 | |
| Chapter 8: Crisis prevention and management – how must legal and communications act together? | 117 | |
| Introduction | 117 | |
| Reputation and trust as assets | 118 | |
| The crisis as a threat – and an opportunity | 120 | |
| Interconnection of the tasks of the legal department and the communications department | 123 | |
| Risk-minimizing factors in the cooperation between the legal and communications departments | 124 | |
| Cooperation between the legal and communications departments in the event of a crisis | 128 | |
| What is the most effective way to protect one's reputation? | 131 | |
| Chapter 9: Workforce management of the future – virtual teams, hybrid working, and the future workforce | 133 | |
| COVID-19 as change agent | 133 | |
| "It's not personal, it's strictly business" | 133 | |
| (Preliminary) tenets for future workforce management | 134 | |
| Teams can work together productively and cohesively without being in the office, day-in, day-out | 134 | |
| Hybrid work poses specific challenges to the legal department, which can be overcome by the right policies and technology | 136 | |
| (Predominantly) remote work has a corrosive effect on loyalty and sense of belonging | 137 | |
| Leadership needs to empower, not control, people | 138 | |
| Business unit embedded teams are more important than ever to avoid being siloed | 139 | |
| Different jobs/tasks need different workplace models | 139 | |
| Part 3: Adding value and managing change | 143 | |
| Chapter 10: ESG – how the GC and legal function contribute to sustainability initiatives | 143 | |
| Part 1: Why ESG requires your attention | 144 | |
| Part 2: Key elements of ESG for general counsel | 146 | |
| Part 3: The general counsel's evolving role in ESG | 152 | |
| Part 4: Setting priorities and structure for ESG in legal | 157 | |
| What next? | 162 | |
| Chapter 11: Quantifying value creation in legal departments – showing the income side of legal work | 165 | |
| Old versus new world of legal departments | 165 | |
| The new normal for legal departments | 165 | |
| Direct income-generating activities | 167 | |
| Indirect value contributions of the legal department – measure in order to prove value | 167 | |
| Necessary cultural change | 169 | |
| Chapter 12: Managing change in a legal department – introduction of a contract management system | 173 | |
| Change in general | 173 | |
| Change in legal departments | 175 | |
| Case study: Introduction of a case management system | 176 | |
| The change process | 178 | |
| Leadership | 184 | |
| Conclusion | 184 | |
| About Globe Law and Business | 187 | |
| Back Cover | 189 | |
HANS ALBERS

https://www.linkedin.com/in/hans-albers-97247912/

Hans Albers is director, legal management consulting at Deloitte Legal where he is responsible for expanding Deloitte's legal management consulting practice by developing new capabilities and skills and building on Deloitte Legal's existing technology, change, and operations teams.
Hans has extensive experience in legal process improvement, legal technology, legal operations, contract life cycle management, and outside counsel and spend management. Until October 2020, Hans was chief of staff and head of worldwide legal operations at US Technology company Juniper Networks Inc. Before that he was EMEA general counsel for Juniper as well as for Cisco EMEA and North America. He also served five years on the European Board of ACC (Association of Corporate Counsel), the last two years of which as president. Hans is also a non-executive director at Currencycloud, a fintech company that is part of the Visa group of companies.

BRUNO COVA

https://www.linkedin.com/in/bruno-cova-2441175/

Bruno Cova is a partner of Delfino Willkie Farr & Gallagher in Milan, Italy. His practice is a combination of transactional and litigation, focused on restructurings and corporate crises. He regularly acts for the boards of directors of international corporations and financial institutions in dealing with legal risks, devising internal controls or contractual mechanisms to minimize those risks, investigating legal and compliance problems, and defending clients before regulatory authorities or in the context of criminal investigations. Before returning to private practice, Bruno was general counsel of the exploration and production division of Eni, group general counsel at Fiat, chief compliance officer of the EBRD, and chief counsel to the extraordinary commissioner appointed by the Italian government to investigate Europe's largest financial fraud at Parmalat. He is member of the Advisory Board of the Anti-Corruption Committee of the International Bar Association and member of the troika of experts advising the Corporate Governance Committee of the Italian stock exchange.

E. LEIGH DANCE

https://www.linkedin.com/in/e-leigh-dance-661854/

Based in New York and Brussels, E. Leigh Dance is founder and executive director of Global Counsel Leaders, a forum of general counsel and compliance leaders. Members in greater Europe and North America include AB In-Bev, Accenture, AIG, Boston Consulting Group, Coca-Cola, DXC Technology, Jabil, Kingfisher, Koch Industries, KPMG UK, Smiths Group, Tenneco, Volvo Financial Services and others. Leigh also leads ELD International LLC, a consultancy she founded to support corporate legal teams to adapt best practices, manage change, improve team performance, service delivery, governance, crisis management, communications, professional development, and bespoke strategic projects. Recognized as a thought leader, Leigh's articles on issues facing general counsel and their teams have appeared in The Wall Street Journal, Financial Times, American Lawyer, and Legal Week. Leigh's book, Bright Ideas: Insights from Legal Luminaries Worldwide, includes 26 original essays by industry leaders. She writes regularly on international issues for Corporate Counsel.

WILLIAM L. DECKELMAN, JR

https://www.linkedin.com/in/bill-deckelman/

William L. Deckelman, Jr is executive vice president and general counsel of DXC Technology Company. DXC was formed through the merger of CSC and the Enterprise Services business of HPE in 2017 and is headquartered in Ashburn, Virginia. William joined CSC as vice president and general counsel in 2008. Prior to joining CSC, he served as executive vice president and general counsel of Affiliated Computer Services, Inc. in Dallas, Texas, from 2000 through 2007. William began his legal career with Winstead, Sechrest & Minick in 1982 and subsequently was associated as in-house counsel with EDS and ACS. He opened the Austin, Texas office of Munsch Hardt in 1996 and was a partner with the firm until returning to ACS in 2000. William received his J.D., with Honors, in 1981 from the University of Arkansas School of Law where he was a member of the Arkansas Law Review. In 2014 he received an LLM, with Distinction, in International Business and Economic Law from Georgetown University Law Center, and an executive LLM in International Law from LSE Law, the London School of Economics, in 2021.

MAJA FABULA

https://www.linkedin.com/in/maja-fabula/


Maja Fabula is vice president and deputy general counsel for Tenneco Inc., a global manufacturing company headquartered in Skokie, Illinois. Prior to joining Tenneco, Maja was a partner with the law firm Kirkland & Ellis LLP, where her practice focused on antitrust defence, corporate internal investigations, and complex commercial litigation.

KENNETH J. FREDEEN

https://www.linkedin.com/in/kenneth-j-fredeen-a239b219/

Kenneth J. Fredeen was general counsel and secretary to the board, Deloitte LLP (Canada), from 2000 to 2020. In his final year in the partnership, he was appointed general counsel emeritus and senior partner, indigenous and accessibility, leading Deloitte's reconciliation and disability initiatives. In June 2021, he retired from the partnership. A recognized leader in the legal profession, Ken was named Canada's Outstanding General Counsel in 2018 and in 2021 he received the Canadian Corporate Counsel Association R.V.A. Jones Award and the Lifetime Achievement Award by the Canadian General Counsel Awards. Ken has spent over two decades supporting a more diverse and inclusive legal profession in Canada and has received numerous awards for his DEI efforts, including the SABA Diversity Award, the David C. Onley Award for his work related to creating a more inclusive Canada for people with disabilities, Catalyst Canada Business Leader Award, and the Leading Executive Ally Award by Leaders to be Proud Of.

LEANNE GEALE

Leanne Geale was appointed executive vice president, general counsel, corporate governance and compliance, and a member of the Executive Board of Nestlé S.A. on 1 August 2019. Prior to that Leanne had been the chief ethics and compliance officer of Royal Dutch Shell plc from 2014 to 2019, having joined Shell Canada in 2003. At Shell, she held the positions of associate general counsel, oil products, group legal services coordinator, and associate general counsel, heavy oil and head of legal – Canada. Prior to joining Shell, Leanne had been in-house counsel for international, publicly listed companies in the banking (Royal Bank of Canada), mining (Rio Algom Limited), and manufacturing (Alcan Aluminium Limited) sectors. Leanne is a member of the board of directors of Holcim Ltd and the CEELI Institute o.p.s. based in Prague whose mission is advancing the rule of law. Leanne has been an active volunteer in the areas of mental illness and diversity and inclusion. Born and raised in Canada, Leanne holds a B.A. from the University of Alberta and a LL.B. from the Université de Montréal.

DR WOLF-PETER GROSS

https://www.linkedin.com/in/dr-wolf-peter-gross-38622bb1/

Dr Wolf-Peter Gross is management consultant at Law Firm Change Consultants, the leading consulting firm for law firms and legal departments in Europe. He is a lawyer, systemic organizational consultant, leadership coach, and business mediator. He was chief legal officer in the telecommunication and system integration industry and has many years of experience as managing director in international businesses. Since 2005, Wolf-Peter has been a consultant with a focus on strategy, organisation, operations, and change in professional service firms and law departments. Wolf-Peter is the author of several books and articles.

SUSAN HACKETT

https://www.linkedin.com/in/susanhackett/

Susan Hackett, CEO of Legal Executive Leadership, LLC, (LEL) is a recognized leader in building smarter legal practices, with over three decades of experience helping law departments (and those who serve them) deliver distinguishing value and improve the way they work. She formed Legal Executive Leadership after serving for 22 years as the SVP and GC of the Association of Corporate Counsel (ACC). Using her platform, Susan helps clients develop and implement change strategies for the future, improve operational processes, drive demonstrable client results, and move confidently from traditional practice toward legal executive leadership.

CHRISTIAN LAWRENCE

https://www.linkedin.com/in/christian-lawrence-ba39103/

Christian Lawrence is a partner at Brunswick Group's Munich office. Before joining Brunswick, he was head of group communications for Munich Re. Prior to working for Munich Re he has served in leading communications positions in Germany, the US, and the UK. At Munich Re, Christian helped steer the company's reputation through the financial crisis and supported its transformation from a pure supplier of reinsurance capacity to a vendor of digital insurance solutions for primary insurers. One of his core competencies is to help traditional communication departments to identify and engage with influencers on digital platforms. Prior to his work at Munich Re, Christian was responsible for internal and external communications at Allianz Global Investors, was head of global communications at General Reinsurance, a subsidiary of Berkshire Hathaway based in Stamford, Connecticut, and he spent eight years with the German automotive supplier Bosch, where he held various positions. Among them he was the head of communications of its UK subsidiary, Robert Bosch Ltd, in London. Christian holds a doctorate in law.

DR ROBERT LOEF

https://www.linkedin.com/in/dr-robert-loef-0121a918/

Dr Robert Loef is a seasoned and versatile corporate M&A lawyer with high business acumen, expansive leadership experience, and a focus on capital markets. He currently serves as group general counsel of Best Secret Group AG, a private equity owned leading European membersonly online destination for premium and luxury off-price fashion. Prior to this, he led the corporate law, M&A, and commercial legal department of ProSiebenSat.1 Media SE, Germany's leading TV broadcasting group listed in the M-Dax. Before going in-house, Robert practiced as an external corporate and M&A lawyer in an international law firm in New York and Munich. Robert was nominated a Young Leader by the American Counsel on Germany, ACG (2011), and held various positions in US-European legal associations, e.g., vice president of the American Foreign Law Association.

ÁINE LYONS

https://www.linkedin.com/in/ainelyons/

Áine Lyons is the SVP and deputy general counsel leading global legal operations, privacy, and international and commercial legal at VMware. She also serves as the chief of staff to VMware's general counsel. Working with the legal team and the business, she drives legal operational excellence through scalable innovation. Áine has over 20 years of experience managing legal and cross-functional teams in fast-moving technology companies. A founding member of the Women@VMware POD and a VMinclusion Strategy Council member for five years, Áine helped shape VMware's DEI strategy. She is an executive sponsor and member of the ESG Council and is passionate about operationalizing ESG to drive greater purpose and impact. She is on the board of the Corporate Legal Operations Consortium (CLOC), where she is a founding member, and is the CLOC Europe Lead, driving industry change and legal eco-system connection. The Financial Times named Áine the 2019 "Legal Intrapreneur of the Year" for her transformation efforts, and in 2022 named her in its list of "Champions of Legal Transformation". Her team has won multiple awards for operational excellence and driving industry change in how legal services are delivered.

DR ANNE MECKBACH

https://www.linkedin.com/in/dr-anne-meckbach-bab43765/

Dr Anne Meckbach is an experienced in-house lawyer and compliance officer. She is currently chief compliance officer of ProSiebenSat.1 Group, Germany's leading TV broadcasting group listed in the M-Dax. Before turning to compliance, she gained vast experience in M&A and corporate law, working for the legal department of ProSiebenSat.1 and earlier in the M&A department of a large international law firm for more than a decade. Besides her in-house experience in the media industry, Anne also worked in-house for one of the world's largest quick service restaurant companies in the USA. She frequently gives presentations and publishes in various legal journals.

ISABEL PARKER

https://www.linkedin.com/in/isabel-parker-723a2a74/

Isabel Parker has spent her career pushing boundaries and driving change in the legal profession. She has a particular interest in legal digital transformation and is currently the executive director of The Digital Legal Exchange, a global not-for-profit supporting leading corporations to accelerate the digital transformation of the corporate legal function. Before this, Isabel spent 24 years at leading law firm Freshfields Bruckhaus Deringer, as a finance lawyer and as chief legal innovation officer and head of knowledge, shaping the firm's digital transformation strategy. During her tenure, Freshfields was named the Most Innovative Law Firm in Europe in 2019. Isabel was herself listed as one of the top ten innovative lawyers in the FT Innovative Lawyers Report for 2018 and as a winner in the professional services category in the European Women of Legal Tech Awards 2020. Isabel's first book, Successful Digital Transformation in Law Firms: A Question of Culture, was published by Globe Law and Business in November 2021.

DANIEL REED

https://www.linkedin.com/in/dan-reed-14154b3/

As CEO of UnitedLex, Daniel Reed has a singular focus on empowering customers to achieve their own unique "art of the possible" in the field of law. As a former general counsel and CFO of public and private equity-backed companies, Dan identified the unexplored opportunity to transform legal and business data to yield business advantage. He saw the power of delivering holistic legal services through a revolutionary platform of technology and data science. Central to Dan's vision is UnitedLex's extreme customer centricity and commitment to outcomes with UnitedLex leaning in with significant "skin in the game". This vision has fueled UnitedLex's growth from a handful of employees in 2007 to a highly-skilled international workforce of over 3,000 lawyers, engineers, consultants, and technologists today. Dan earned his accounting degree from the University of Florida and his JD from Vanderbilt University. Ernst & Young named Dan its "Entrepreneur of the Year" in the Technology and Business Services category for the US Midwest Region.

CHRISTOPH H. VAAGT

https://www.linkedin.com/in/christophvaagt/

Christoph H. Vaagt is the founder and managing partner of the consulting firm for law firms and legal departments, Law Firm Change Consultants, based in Munich, Germany. He holds a degree in law and has worked as a consultant for various industries and as a lawyer in Munich, before turning to the consulting of law firms and legal departments. Prior to the foundation of his own firm in 2005, he has been a consultant with Hildebrandt International, the major US law firm consultancy. Having worked with leading consultants such as Brad Hildebrandt and Alan Hodgart for leading US and UK law firms on projects ranging from devising international strategies to arranging mergers, he has acted with his consultants for major German, Austrian, Swiss, and continental Top 100 European firms. He has specialised in change management techniques, focusing on strategy and culture of law firms. Christoph is author of the first benchmark study of the German law firm market and has edited on behalf of the IBA the book Law Firm Strategies for the 21st Century, as well as contributed to German speaking publications on law firm management and legal department management.