Book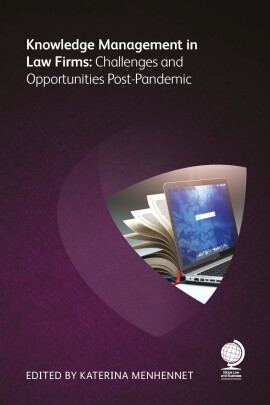 Knowledge Management in Law Firms: Challenges and Opportunities Post-Pandemic
Nick Milton, Chris Boyd, Amy Halverson, Ian Rodwell, Joe Cohen, Andrea Miskolczi, Jonna Vainikainen, Elisabeth Cappuyns, James Loft, Jon Beaumont, James G Perkins, Gordon Vala-Webb, Andrew Hedley, Mark Gediman, Kevin Miles, Tara Pichardo-Angadi, Orla Bingham, Katherine Lang, Kathy Skinner, Anthony J Rhem
Published: 2023
Pages: 139

eBook: 9781787429451
It book covers how to revisit your strategy in light of recent and future changes, the expansion of knowledge management to encompass legal tech and innovation, the rise of the importance of data, strategies for overcoming the challenges hybrid and virtual working pose to knowledge management, managing knowledge teams, and much more.
Strategies for gathering and harnessing knowledge have existed in law firms for decades. However, knowledge management suddenly found itself in the spotlight as a result of the COVID-19 pandemic. Enforced remote working reduced opportunities for knowledge sharing between colleagues and this gap was filled with knowledge databases and experienced knowledge lawyers. Now that hybrid and virtual workforces are here to stay, these new working practices have combined with technological developments, enhanced demand, and the transformation of how to access knowledge to drive the advancement of knowledge management into a new era.

Knowledge Management in Law Firms: Challenges and Opportunities Post-Pandemic is the essential guide to the evolution of law firm knowledge management. It covers how to revisit your strategy in light of recent and future changes, the expansion of knowledge management to encompass legal tech and innovation, the rise of the importance of data, strategies for overcoming the challenges hybrid and virtual working pose to knowledge management, managing knowledge teams, and much more. Chapters are written by an international group of KM experts from a range of organisations and leading law firms, including DLA Piper, Linklaters, and Dentons. Pandemic experiences and lessons learnt are shared as well as ways to approach the future.

Knowledge is at the heart of the legal profession, and this book provides guidance on how to prepare for and thrive in the knowledge management practices of the future, overcoming the obstacles and embracing the opportunities that have arisen from or been accelerated by the pandemic. Through demonstrating how effective knowledge management can help firms exceed client expectations, differentiate themselves in the competitive market, and, ultimately, improve their bottom line, this title will be of interest to knowledge management professionals including professional support lawyers, law firm leaders, partners and fee earners, and, outside of law firms, in-house lawyers and consultants.
Table of Contents
| | | |
| --- | --- | --- |
| Front Cover | Front Cover | |
| Title Page | i | |
| Copyright Page | ii | |
| Contents | iii | |
| Executive summary | ix | |
| About the authors | xvii | |
| Chapter 1: Knowledge management strategies and frameworks for the post-COVID world | 1 | |
| Introduction | 1 | |
| The four main scenarios | 1 | |
| KM strategies for a new world | 4 | |
| How KM operated during lockdown and remote working | 5 | |
| A KM framework for a hybrid organization | 8 | |
| Conclusions | 9 | |
| Chapter 2: Adapting legal knowledge management to the hybrid workplace | 11 | |
| Introduction | 11 | |
| The new legal workplace will be a hybrid one | 11 | |
| KM resources and practices will be key to making the hybrid workplace succeed | 14 | |
| Preparing KM for a hybrid future by cultivating connections | 16 | |
| Leveraging fully remote learnings to optimize KM for a hybrid world | 17 | |
| Chapter 3: Social KM in a time of COVID… and beyond | 19 | |
| The role of social KM | 19 | |
| The impact of COVID-19 on social KM | 21 | |
| "Rewilding" social KM in a COVID-emergent world | 23 | |
| Concluding thoughts | 25 | |
| Chapter 4: Knowledge management 2.0 – after the perfect storm, sailing with AI to new discoveries | 27 | |
| A perfect storm? | 27 | |
| Keeping the good | 28 | |
| Embracing the new | 29 | |
| Beyond the old | 31 | |
| Chapter 5: Data-driven knowledge-based management | 33 | |
| The evolving role of knowledge management | 33 | |
| Data quality – good enough and fit for purpose | 34 | |
| Ensuring good-quality data – metrics and evaluation | 36 | |
| The rising era of data-driven technologies and automatization | 37 | |
| Legal industry trends call for good-quality data | 40 | |
| Conclusion | 42 | |
| Chapter 6: Legal technology and knowledge management | 43 | |
| Context | 43 | |
| Developing trends | 44 | |
| Overview of legal technology tools | 45 | |
| Additional considerations | 49 | |
| Conclusion | 51 | |
| Chapter 7: Artificial intelligence and automation | 53 | |
| Artificial intelligence and automation in knowledge-driven industries | 53 | |
| Unlocking automated decisioning | 54 | |
| The combination of human potential and artificial intelligence | 55 | |
| Technology ecosystems that support business growth | 57 | |
| Chapter 8: Search | 61 | |
| Introduction | 61 | |
| Previously | 61 | |
| Location and content | 62 | |
| Basic approaches | 63 | |
| Knowledge, data, and systems | 65 | |
| Users and solutions | 67 | |
| Results | 69 | |
| The future | 71 | |
| Chapter 9: Digital transformation, knowledge management, and cybersecurity in the post-COVID era | 73 | |
| Introduction | 73 | |
| Digital mastery | 74 | |
| Knowledge management and technology innovation | 78 | |
| Cybersecurity | 79 | |
| Protecting against attacks | 80 | |
| Conclusion | 84 | |
| Chapter 10: KM and innovation in law firms and legal departments: twins separated at birth? | 87 | |
| Who is doing what? | 87 | |
| Long live KM | 88 | |
| Inter-connections between KM and innovation | 88 | |
| Similarities | 89 | |
| Gaps | 91 | |
| New order of things | 92 | |
| Chapter 11: Hybrid competitive intelligence – gathering intel remotely | 93 | |
| Transitioning to a hybrid environment – cultural shifts | 93 | |
| Strengths and opportunities | 94 | |
| Managing expectations in a hybrid environment | 95 | |
| Use of virtual tools | 98 | |
| Ethics and CI are not mutually exclusive | 100 | |
| Summing up | 102 | |
| Chapter 12: Retaining KM talent | 103 | |
| Introduction | 103 | |
| Hiring | 103 | |
| Developing | 105 | |
| Moving | 108 | |
| Conclusion | 110 | |
| Chapter 13: Inclusion and diversity in knowledge: raising awareness and embedding best practice post-COVID | 113 | |
| Inclusive training | 113 | |
| Inclusive language | 115 | |
| Inclusion of all colleagues | 117 | |
| Allyship | 117 | |
| Bringing your whole self to work | 118 | |
| Returning to the workplace | 119 | |
| What next? | 120 | |
| Chapter 14: Building and managing a truly global research team post-COVID | 123 | |
| Changes to research teams post-COVID and their impact on global team-building and alignment | 123 | |
| What are the biggest long-term challenges and what organizational support do you need to address them? | 124 | |
| What new opportunities can your team realize in this changed environment? | 129 | |
| Chapter 15: Law firm knowledge management and the metaverse | 131 | |
| Introduction | 131 | |
| Metaverse drivers for law firm knowledge management | 132 | |
| Legal research in the metaverse | 133 | |
| Law firm collaboration in the metaverse | 135 | |
| Legal and ethical issues of law firm KM in the metaverse | 136 | |
| The metaverse and knowledge continuity in law firms | 136 | |
| Conclusion and key points to consider | 137 | |
| About Globe Law and Business | 139 | |
| Back Cover | 141 | |
JON BEAUMONT

https://www.linkedin.com/in/jonbeaumont1/

Jon Beaumont is senior manager of knowledge management at Shearman & Sterling LLP. He is part of the global knowledge and research team that supports the organization's 24 offices. The team numbers approximately 40 individuals and sits under an 80-strong wider team consisting of legal project management and conflicts/new business intake (collectively known as the "client value team"). Jon oversees a global team of eight and is primarily responsible for document/matter management, search, translation services, document automation, and client collaboration. The team is involved in any knowledge-related projects, which vary hugely from analytics to data architecture to client consultancy. Previously with Shakespeares for 13 years, Jon progressed from information officer to head of knowledge management before departing for Shearman in 2014. Jon is a co-chair of the International Legal Technology Association (ILTA) knowledge management group, previous chair of the Recommind Decisiv Search Group, and a former BIALL council member.

ORLA BINGHAM

https://www.linkedin.com/in/orla-bingham-43841447/

Orla Bingham is a service owner for content development at Baker McKenzie, based in Belfast. Her role focuses on managing content development activities and services globally within knowledge and overseeing a team of paralegals and lawyers producing multijurisdictional guides and tools, client updates and alerts, trends, training materials, and development and automation of precedents. Orla joined the knowledge team at Baker McKenzie in 2018, and has previously held roles as a knowledge services manager, and knowledge lawyer for the Global Employment and Compensation group. She is a member of the Baker McKenzie Knowledge I&D Committee, supporting allyship and I&D initiatives across the function, as well as the Belfast Gender Committee, which promotes and creates group discussions around the significance of gender and broader I&D considerations in the firm. Prior to joining the Baker McKenzie knowledge function, Orla practiced as an employment solicitor in London, acting for commercial and private clients, undertaking both litigation and advisory work. Orla obtained her law degree from the University of Newcastle Upon Tyne, and her Legal Practice Certificate from the College of Law in Manchester.

CHRIS BOYD

https://www.linkedin.com/in/chrisboyd/

Chris Boyd is the chief operating officer of Wilson Sonsini Goodrich & Rosati in Palo Alto, California. Chris leads the teams that handle attorney recruiting, business development, diversity and inclusion, human resources, knowledge management, marketing, practice management, professional development, research and information services, and work allocation. These teams work with firm, department, and practice group leaders to develop, deploy, and continuously improve processes, programs, and tools that support the firm's business goals and help the firm deliver more value to clients. Chris has an undergraduate degree from Princeton University and a law degree from Stanford Law School. He previously worked as a management consultant, corporate and securities attorney, and technology company knowledge management leader. He is a member of the board of directors of the International Legal Technology Association and is a fellow of the College of Law Practice Management.

ELISABETH CAPPUYNS

https://www.linkedin.com/in/elisabeth-cappuyns-38552438/

Elisabeth Cappuyns is the director of knowledge management for DLA Piper LLP (US), a global law firm. In this role, she creates and implements knowledge management strategies and programs for attorneys and their groups to help optimize the practice and business of law, including by using technology and innovative solutions. Before shifting her focus to knowledge management in 2013, she practiced corporate law for over 15 years at law firms in New York, London, and Abu Dhabi, with a focus on M&A, private equity, and capital markets transactions. She holds a JD from Columbia Law School (New York) and a BA from Drew University (New Jersey), plus a Candidate in Law (in Dutch) from the University of Louvain (Belgium).

JOE COHEN

https://www.linkedin.com/in/joecohen13/

Joe Cohen is the head of innovation for Dentons' UK and Middle East region with a focus on legal technology pilots and implementations, as well as embedding an innovative culture across all practice areas. His initial career background is non-legal, having started in technology consulting at the Big Four in the UK and Argentina, before moving onto innovation roles at two Magic Circle firms, which allowed him a strong grounding in this relatively new field. In his current role he is heavily involved in tangential activities such as practice development, knowledge management, training, business development, and many other aspects of the improvement of legal service delivery in general. Joe read Economics and Spanish at the University of Nottingham and has been shortlisted for various awards in the legal industry, such as Innovation Trailblazer at the Legal Innovation Awards 2021. Under Joe's leadership, in conjunction with his European colleagues, Dentons has placed in the top 10 two years running at the FT Europe innovation awards.

MARK GEDIMAN

https://www.linkedin.com/in/mark-gediman-5035383/

Mark Gediman is a senior research analyst for Alston & Bird, LLP. He is past president of the Southern California Association of Law Libraries as well as co-founder and co-chair of the PLL-IP Competitive Intelligence Caucus. Mark writes and presents regularly on competitive intelligence, research, and library management issues for the American Association of Law Libraries (AALL), California Lawyers Association, Legal Marketing Association (LMA), the Special Libraries Association (SLA), SWALL, SCALL, NoCALL, ACI, and HALL. He contributed to Business Intelligence for Law Firms (Ark Group, 2012), Strategic Intelligence for Law Firms (Ark Group, 2018), Innovations in Legal KM (Ark Group, 2017) and articles in AALL Spectrum, Practicing Law Management Week, Paralegal Today and Facts & Findings – The Magazine of the National Association of Legal Assistants (NALA). Mark is a graduate of the University of California-Riverside.

AMY HALVERSON

https://www.linkedin.com/in/amyhalverson/

Amy Halverson is director of knowledge management, research and information services at Wilson Sonsini Goodrich & Rosati. Amy's team delivers the collective expertise and experience of Wilson Sonsini attorneys, along with strategically sourced legal and business research and information, to each individual attorney in the firm and to its clients. Amy is a graduate of UC Hastings College of the Law and of UCLA. An attorney and former litigator, she initially left private practice to direct the online editorial operations of a national legal news and information website. She then returned to the law firm environment, where she calls upon her legal and technical experience to facilitate the development of tools that capitalize on existing law firm information flows and business processes to advance the firm's business objectives and client service offerings.

KATHERINE LANG

https://www.linkedin.com/in/katherine-lang-549a6227/

Katherine Lang is senior knowledge lawyer for the EMEA real estate team, and London knowledge lead, at international law firm Baker McKenzie. She works with the EMEA real estate management team in aligning cross-jurisdictional thought leadership and business strategy, and advises, writes, and speaks on complex transactional points, legal developments, and their business impact for clients. She is also responsible for coordinating knowledge management across all teams in the London office of the firm. Katherine is a founding member of the Baker McKenzie Knowledge Inclusion and Diversity Committee. Katherine has contributed articles, webinars, and podcasts to various legal and trade publications, including Estates Gazette and Property Week. She is a member of the editorial board of Landlord & Tenant Review, the consulting editorial board of LexisPSL, and the Committee of Oxford Real Estate Society. Katherine has previously worked as a senior knowledge lawyer at a City firm in London, and as a transactional real estate lawyer in London, Dubai, and Abu Dhabi. Katherine began her legal career as a research assistant in the property and trusts law team at the Law Commission for England and Wales. Katherine read geography at St Peter's College, University of Oxford.

JAMES LOFT

https://www.linkedin.com/in/jamesloft83/

James Loft is the COO at Rainbird Technologies, a world-leading low/ no-code automation technology. He drives Rainbird's daily business operations and is responsible for the go-to-market focus of the business. With over a decade of experience in leadership positions across innovation, change management, and service design, James is an expert in supporting organizations through successful transformational changes and intelligent automation implementations. Prior to Rainbird, James ran a new technologies consultancy firm and was a key member of a team of senior leaders responsible for innovating and delivering a portfolio of new customer propositions across Barclays bank.

KEVIN MILES

https://www.linkedin.com/in/kevin-miles-81865688/

Kevin Miles serves as manager, research services at Norton Rose Fulbright, and co-chairs the AALL PLL-IP Competitive Intelligence Caucus with Mark Gediman. He is past president of the Dallas Association of Law Libraries. Further, he writes a CI column for the AALL Spectrum, and presents CI programs.

NICK MILTON

https://www.linkedin.com/in/nickmilton/

Nick Milton is director and co-founder of Knoco Ltd, with over 30 years' experience in knowledge management. Nick has helped develop and deliver KM strategies and services in a wide range of organizations around the globe. He has a particular interest in lesson-learning programs, and has managed major lessons capture programs, particularly in the area of mergers and acquisitions, and high technology engineering. Prior to founding Knoco, Nick spent two years at the center of the team that made BP the leading KM company in the world at the time; acting as the team knowledge manager, developing and implementing BP's knowledge of "how to manage knowledge", and coordinating the BP KM Community of Practice. Nick is the author/co-author of six KM books, including The Knowledge Manager's Handbook. He was a member of the international group that developed ISO 30401, the management systems standard for KM, and a co-author of BS 34401, the guide to the standard. He is a widely recognized coach and trainer and has given keynote speeches at most of the leading international KM conferences.

ANDREA MISKOLCZI

https://www.linkedin.com/in/andreamiskolczi/

Andrea Miskolczi leads Dentons' European innovation and knowledge management activities. Having 20+ years of experience in the legal business, Andrea is passionate about the change of the legal industry and aims to inspire people to not only embrace, but also to shape, such transformation. In her current role she manages the firm's legal service delivery transformation, LegalTech solution development, and knowledge management across Europe and Central Asia. Prior to joining Dentons, Andrea oversaw innovation and LegalTech, business development and training, as well as marketing and communications at a leading Central and Eastern European law firm. Her understanding of legal services is based on having been a transactional lawyer with one of the Magic Circle law firms in her birth town, Budapest, Hungary. Andrea is a frequent speaker at conferences and one of the best known European thought leaders on the innovation and transformation of legal services. Under Andrea's leadership, in conjunction with her UK colleagues, Dentons has placed in the top 10 two years running at the Financial Times Innovative Lawyers Awards. In 2022 she was shortlisted at these awards in the "Change Makers" category.

TIFFANY M. O'NEIL

https://www.linkedin.com/in/tiffany-oneil-a647715/

Tiffany M. O'Neil leads Procopio's knowledge management and records/ office services functions while also being responsible for the firm's internal Technology Innovation Group. With over 25 years of experience in KM and research, Tiffany oversees the firm's investigative, business, and legal research, and evaluates and implements KM tools and processes. Tiffany also trains attorneys and staff on efficient research strategies, conducts contract negotiations, budgeting and supervising, and advances the performance of various legal and administrative departments by establishing and implementing valuable workflow solutions. Tiffany is also a member of the firm's Technology Committee. In addition to working in the legal field, Tiffany was an information specialist with McKinsey & Company, a leading management consultant firm.

JAMES G. PERKINS, PhD

James G. Perkins, PhD, has for the last 20 years led Procopio's non-legal operations including finance, human resources, administration, marketing and business development, information services, and knowledge management. Jim is a member of the firm's management committee and in 2012 also became the firm's chief compliance officer (CCO) responsible for developing a firm enterprise risk management program. In his CCO capacity he also serves as co-chair, together with the firm's general counsel, of Procopio's office of risk management and compliance. Jim speaks regularly on law firm management issues and business strategy at conferences and international law firm network meetings. He also consults occasionally as part of the Procopio business advisors group.

TARA PICHARDO-ANGADI

https://www.linkedin.com/in/tarapichardoangadi/

Tara Pichardo-Angadi leads the knowledge team for the Europe, MiddleEast, and Asia region of Norton Rose Fulbright LLP. As head of knowledge for EMEA, her main responsibilities include managing and meeting local stakeholders' knowledge requirements, knowledge plans, developing and sharing best practice, feeding EMEA requirements into the global knowledge strategy, and managing local knowledge teams, including performance reviews, budgets, and projects. Tara is also the knowledge director for training, leading a multi-disciplinary team to create a holistic program of learning for the future of law. Tara regularly assists clients with training requirements, knowledge consulting, and, more generally, helps them access company knowledge.

DR ANTHONY J. RHEM, PhD

https://www.linkedin.com/in/anthonyrhem/

Dr Anthony J. Rhem, PhD, is a recognized thought leader, author, consultant, and advisor in artificial intelligence, knowledge management, Big Data, information architecture, and innovation. Since 1990, Anthony has served as CEO and principal consultant of AJ Rhem & Associates Inc., a consulting, training, and research firm specializing in KM and AI. As an advisor, Anthony's work includes being a founding editorial board member of AI and Ethics Journal by Springer; advisory board member of Halen Technologies, Advisory Board of ABAN Innovations, Inc., former chairman – board of trustees, Knowledge Systems Institute; Industry Advisory Board – International Conference on Software Engineering and Knowledge Engineering (SEKE); Technology Council of Advisors Gerson Lehrman Group (GLG) on Artificial Intelligence and Knowledge Management; former chairman – International Bar Association (IBA) Law Firm Management Committee; and former member of the National Science Foundation SBIR (Small Business Innovative Research) Review Panel in the areas of AI, Blockchain, Internet of Things (IoT), KM, and Education Solutions. As a thought leader, Anthony continues to be an active presenter at AI and KM conferences. In addition, Anthony has written several books and hundreds of articles for trade journals in technology, management, and law including writing in his blog, The Knowledge Management Depot.

IAN RODWELL

https://www.linkedin.com/in/ian-rodwell/

Ian Rodwell is head of client knowledge and learning at Linklaters LLP. He provides training and guidance to the firm's clients – global corporates, banks, governments – on an extensive range of business skills topics. These encompass knowledge exploitation, collaboration, high-performing teams, creativity, the role of trust, motivational leadership, hybrid working, influence/impact, and the business use of stories. Ian has delivered masterclasses globally and advised clients on the design of offsites, away days, and overarching learning programs. He is also an experienced coach – trained by Lane4 and Moller PSF Group – with assignments both within Linklaters and externally. Ian regularly writes for professional publications on a variety of business topics as well as hosts the Linklaters Ideas Foundry podcast (which explores the changing face of 21st century organizational life). Currently, he is conducting doctoral research on the role of liminal spaces in organizational storytelling.

KATHY SKINNER

https://www.linkedin.com/in/kathy-skinner-9590b94/

Kathy Skinner is director of research at White & Case LLP, a global law firm with 45 offices across the world. Kathy leads a 24/7 global function of legal and market researchers and library operations team members located in 23 of the firm's offices. In addition to managing research delivery to support client matters, business development, and firm strategy, the team also provides lawyer research training and manages procurement, budgeting, and vendor relations for research tools and subscriptions. Kathy has led the research function at White & Case since 2017, and her team is part of the business development, knowledge, and marketing function. The research team has been recognized with an FT Innovation Award for its 24/7 service delivery model. Kathy collaborates broadly across the firm to deliver value-added services to clients as part of the firm's client service delivery team. She also works closely with White & Case colleagues on innovation, training, and other projects. Kathy received her MLIS and AB degrees from the University of California at Berkeley.

JONNA VAINIKAINEN

https://www.linkedin.com/in/jonna-vainikainen-4b32b721/

Jonna Vainikainen is a business process manager and works in the ICT team at Castrén & Snellman Attorneys Ltd in Helsinki. She has a specialist qualification in management and a further vocational qualification in coaching. Jonna's responsibilities include, among other things, business process and master data management, as well as the development of project management. Jonna is actively involved in business development projects and strategy process development and often acts as a project manager in development projects, responsible for leading the project group, scheduling, communications, and training. In addition, she provides induction training and other training for the personnel. Jonna is fascinated by leadership, learning, mental training and development.

GORDON VALA-WEBB

https://www.linkedin.com/in/gordonvalawebb/

Gordon Vala-Webb is a thought leader, speaker/author, and innovation professional. He is a fellow of the College of Law Practice Management with a Master's of Management Science (Technology). With decades of experience leading organizations to become smarter by increasing their flows of information, innovations, and decisions, he put everything he knows into his book, Building Smarter Organizations: Leading your Zombie Organization Back to Life. As a consultant, he works with clients like Lex Mundi – a worldwide network of top independent law firms – where he helps their member firms accelerate their uptake of innovative ideas and technology.