Book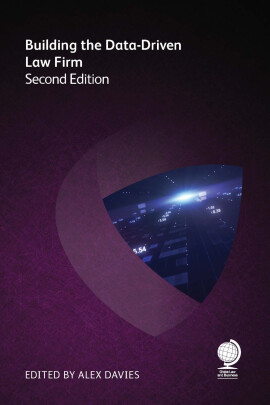 Building the Data-Driven Law Firm
Second edition
Shilpa Bhandarkar, Doug Donahue, Phil Burdon, Joanne Frears, Silvia Bauer, Yolanda Cartusciello, Jaap Bosman, Paul Brook, David Curle, Mori Kabiri, Tom Spence
Published: 2022
Pages: 104

eBook: 9781787429246
Bringing the book bang up to date, new content features how we can keep data secure in the changing world of work, how data can be used for business development and client satisfaction, the implications of data bias and data theft, and whether the way we use data is even useful anymore.
Like so many other professions, law is becoming increasingly influenced by an overwhelming amount of disparate, fragmented and complex data that can both help and hinder business. Data comes from a wealth of different sources, both internal and external, constantly changing, never still. Keeping control of all that data is one challenge; leveraging it to the greater good much harder.

Despite the huge amount of data in the average law firm, data-driven decision-making is relatively new and uncharted. With the hugely disruptive changes that have occurred in our ways of working over the last two years, the issue of data is now front and centre.

This second edition of Building the Data-Driven Law Firm looks at how the use of data has become inextricably linked with the practice of law; how it can be utilized to the good, and the safeguards that must be put in place to mitigate the bad; how Big Data will revolutionize the way lawyers work, and the cases they will work on; and how new uses for data (including blockchain and the Internet of Things) will influence the law firm of the future. Bringing the book bang up to date, new content features how we can keep data secure in the changing world of work, how data can be used for business development and client satisfaction, the implications of data bias and data theft, and whether the way we use data is even useful anymore.
Table of Contents
| | | |
| --- | --- | --- |
| Front Cover | Front Cover | |
| Title | i | |
| Copyright | ii | |
| Contents | iii | |
| Executive summary | vii | |
| About the authors | xi | |
| Chapter 1: A single source of truth for your firm | 1 | |
| Introduction | 1 | |
| Removing barriers that separate data into silos | 1 | |
| A single source of truth for strategic planning | 2 | |
| A single source of truth for marketing and business development | 3 | |
| Data in marketing strategy and communications | 4 | |
| Data in biography content management | 5 | |
| A single source of truth for winning more business – pricing and scoping | 5 | |
| A single source of truth for service delivery excellence | 6 | |
| Experience management for staffing | 6 | |
| Collaboration – identifying and addressing white space | 7 | |
| Legal project management | 8 | |
| A single source of truth as the engine for strategic growth | 9 | |
| Chapter 2: Unlocking contractual data | 11 | |
| Defining "contractual" data and appreciating its potential | 11 | |
| Accessibility of contractual data and the need for "structured" data | 12 | |
| What digital platforms and structured data enable us to do | 14 | |
| What this looks like in practice: Derivatives industry case study – ISDA Create | 16 | |
| What does this mean for law firms? | 18 | |
| Chapter 3: Law firms' approach to talent and the current lack of data collection | 21 | |
| Introduction | 21 | |
| What areas of data are currently used in the industry? | 22 | |
| Is there greater potential to use people data? | 24 | |
| Desire for change exists | 25 | |
| Challenges for change | 25 | |
| Critical factors for success | 28 | |
| Conclusion | 29 | |
| Chapter 4: Data Bites | 31 | |
| Definitions and interpretation | 31 | |
| Big Data | 32 | |
| Big Data, smart data, and value-add | 34 | |
| Data, trust, and confidence in the profession | 36 | |
| Outliers | 40 | |
| Chapter 5: Data in a remote environment | 43 | |
| Introduction | 43 | |
| General data protection requirements | 44 | |
| Regulations for technical-organizational measures for mobile working | 47 | |
| Data exchange | 50 | |
| Control rights for mobile working | 51 | |
| Conclusion | 52 | |
| Chapter 6: Building a data-driven business development strategy | 55 | |
| Learnings from data: people say one thing and do another | 55 | |
| Bringing data into content marketing | 56 | |
| Using data to inform business development | 58 | |
| Using data to inform the "go/no go process" | 60 | |
| Using data to improve proposals and interviews | 61 | |
| Using data to improve service delivery | 62 | |
| The new data frontier | 63 | |
| Chapter 7: Analyzing data to increase efficiencies – the client's perspective | 65 | |
| What are metrics, KPIs, and KRIs? | 65 | |
| What's the report on reports? | 67 | |
| Where to source the freshest data | 68 | |
| Financial reports that make cents (sense) | 69 | |
| Operations analysis and results | 71 | |
| More advanced invoice data analytics | 76 | |
| Chapter 8: Why your data might be useless | 79 | |
| Snake oil | 79 | |
| Data, an early experience | 80 | |
| 25 percent savings on external legal spend | 81 | |
| CRM frustrations | 82 | |
| Financial analysis – risks and shortcomings | 83 | |
| Much of the data is "useless" | 84 | |
| Data analysis for law firms | 85 | |
| Prediction and prevention | 86 | |
| Data are the alpha and the omega | 86 | |
| Chapter 9: Data in the 2020s | 89 | |
| Data at the top table | 90 | |
| Hot or not? | 93 | |
| Threats and opportunities | 96 | |
| Summary | 101 | |
| About Globe Law and Business | 103 | |
| Back Cover | Back Cover | |
SILVIA C. BAUER

https://www.linkedin.com/in/silvia-bauer-9a506983/

Silvia C. Bauer is a lawyer and partner at Luther Rechtsanwaltsgesellschaft mbH. She specializes in assistance pertaining to data privacy and information technology. Among other things, she conducts data privacy audits and advises national and international companies on the organization of their data protection and the safeguarding of data protection compliance worldwide. Furthermore, Silvia acts as data protection officer for various national and international companies and company groups. She is a guest lecturer at numerous events related to data protection and IT law and regularly publishes articles regarding data protection issues in various journals.

SHILPA BHANDARKAR

https://www.linkedin.com/in/shilpabhandarkar/

Shilpa Bhandarkar is the CEO of CreateiQ, Linklaters' proprietary CLM platform. CreateiQ takes a data-first approach to contracting, making the process of drafting, negotiating, and executing contracts faster, smarter, and more accurate, while simultaneously giving users real-time access to structured contractual and audit data. Over 240 institutions are using CreateiQ, including some of the world's largest banks and investment managers. Shilpa started her career as a project finance lawyer but her interest in technology and entrepreneurship led her to found, build, and sell a mobile app company as well as grow a LegalTech start-up through a Series A before re-joining Linklaters in 2018 as its global head of innovation. She sits on the firm's innovation steering group, which is responsible for the firm's strategic approach to innovation and efficiency. Shilpa was listed as a leading "Disruptor" in The Lawyer Hot 100, 2019 and an "Individual winner" of the "TechWomen100 Awards 2018".

JAAP BOSMAN

https://www.linkedin.com/in/bosmantgo/

Jaap Bosman is an award-winning strategy consultant and an investor. After having spent 15 years in legal practice, he founded TGO Consulting, a highly successful consulting boutique that works with elite law firms and premier legal departments throughout the world. His achievements have been recognized in 2013 by the Financial Times with the first ever Innovative Lawyers Award for International Strategy. He is also a winner of the Thomson Reuters Excellence in Legal Marketing Award. Jaap has published three books and he regularly contributes articles to Bloomberg, the ABA Journal, the ACC Docket, and various other leading publications around the world. Jaap is a seasoned consultant and widely considered one of the world's most influential thought leaders on the business of law.

PAUL BROOK

https://www.linkedin.com/in/paulbrook1/

Paul Brook works for Dell Technologies as pre-sales director for data-centric workloads in the Europe, Middle East, and Africa (EMEA) region. His team works with customers, business partners, and technology integrators across EMEA, describing and designing platforms that help to make money and save money for businesses and public sector organizations as part of their data-driven digital transformation. Author of two books, The Life of AI and The Shape of Data, Paul has held several roles at Dell Technologies from CTO to Cloud program manager. Prior to Dell, Paul worked in the applications development and managed services sectors. Before joining the IT industry, he worked for a consultancy that specialized in business performance improvement.

PHIL BURDON

https://www.linkedin.com/in/phil-burdon-b559669/

Phil Burdon has been an advisor to the legal services market for over 15 years and has co-founded two talent advisory firms. He enjoys advising international and domestic law firms on their key strategic priorities and placing senior in-house lawyers into financial institutions. He spends his time developing and executing projects of strategic importance to clients who have often been very long standing. A chartered management consultant and a member of the Institute of Consulting (CMI), Phil is well informed on the cross-border legal services landscape, domestic and international talent markets, as well as the changing demands clients place on their instructed law firms.

YOLANDA CARTUSCIELLO

https://www.linkedin.com/in/cartusciello/

For more than 20 years, Yolanda Cartusciello has served in senior administrative leadership roles in major law firms, including Debevoise & Plimpton and Cleary Gottlieb. She has led marketing teams, designed business development and media strategies, and implemented client development programs. She has been the chief architect of profile enhancement strategies, perception studies, branding exercises, comprehensive client interview programs, and practice and lateral partner rollouts. She has adapted the customer journey mapping technique for use by law firms and has trained and advised firms on its use. Yolanda is a self-described "data nerd" and has worked with numerous firms on establishing a protocol for collecting meaningful data and employing it to help firms develop datadriven marketing and business development strategies.

DAVID CURLE

https://www.linkedin.com/in/david-curle-6a56b/

David Curle is legal content and research lead at Litera, a legal technology provider with a platform of integrated offerings that support law firms with document workflow, collaboration, and data management. He came to Litera with its acquisition of Kira Systems, which provides a machine learning-based platform for analyzing legal documents such as contracts. Prior to Kira, he supported the Thomson Reuters Institute with content and analysis of the role of technology in the transformation of the legal industry. He has a JD from the University of Minnesota Law School.

DOUG DONAHUE

https://www.linkedin.com/in/doug-donahue-511368107/

Doug Donahue is a finance partner in Linklaters' New York office and a CreateiQ Board member. He represents some of the firm's foremost clients – ranging from banks to hedge funds – on a wide variety of financial products. Doug has a long-standing and deep interest in legal technology. He advised ISDA and IHS Markit on the creation, design, and development of ISDA Amend (a joint-venture online platform that has transformed the ISDA protocol process and has over 100,000 users). He also led Linklaters' collaboration with ISDA on the development of ISDA Create. ISDA Create is a digital negotiation platform that allows market participants to create, negotiate, and execute ISDA documentation completely online, revolutionizing the way in which market participants put in place their derivatives documentation. In his role as a board member of CreateiQ (the wider CLM platform that powers ISDA Create), Doug leads Linklaters' efforts to build, leverage, and adapt legal technology to enhance the delivery of legal services.

JOANNE FREARS

https://www.linkedin.com/in/joanne-frears-techlioness/

Joanne Frears works at Lionshead Law, a firm that has been an entirely digital practice for ten years. She works on complex contracts and advising clients on protecting their innovative technology. One of the first women solicitors in the City to specialize in advising businesses on IT law, Joanne has been through many business cycles with her clients since she qualified in the mid-1990s and seen numerous technologies lauded as the "next big thing". From this perspective she considers the future of law, statute, and the legal profession. Joanne has written numerous publications on law and technology and business development for lawyers. She is a visiting professor at Aston University and a visiting professional at Reading University and the Worshipful Company of Goldsmiths. She is a member of the IBA and holds a Masters in comparative EU, UK, and US IP law.

MORI KABIRI

https://www.linkedin.com/in/mokabiri/

Mori Kabiri, of InfiniGlobe LLC, is a thought leader and innovator in software automation solutions and professional services for corporate legal departments and law firms. Mori has worked throughout the legal industry over the last 25+ years, holding management roles in leading legal technology vendors, corporate legal departments, and management consulting firms, and is a member of Forbes council and entrepreneur with two legal technology start-ups under his belt. He has a progressive track record in forging innovative technology solutions for many Fortune 500 companies dealing with complex processes and regulations across the world. While leading InfiniGlobe, Mori has engaged the academic community and co-authored a scientific paper exploring the benefits of training machine learning on law firm invoice data, published and presented at ICDM 2021, for which he was also asked to be a conference chair. His articles in legal technology trends have been published in Forbes and Mori has a long-established relationship with the University of California, providing mentorship for technology and law students.

TOM SPENCE

https://www.linkedin.com/in/tom-spence-mcmi-chmc-4772406/

Tom Spence is the co-founder of Donoma Advisors, an advisory firm within the legal sector that works with law firm leaders on their market and talent strategies internationally. Tom is a chartered and certified management consultant and sits on the UK Institute of Consulting's National Advisory Committee as well as the Institute of Consulting's London and South East Committee. In recent years, Tom has contributed to a number of publications on how the legal industry can improve people processes and investments.