Book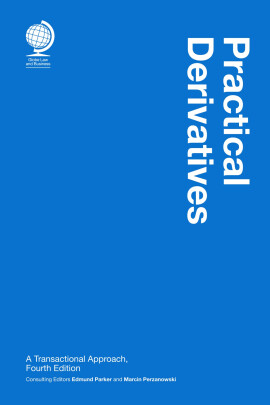 Practical Derivatives: A Transactional Approach, Fourth Edition
Edmund Parker, Marcin Perzanowski
Published: 2023
Pages: 728

eBook: 9781787428447
This fourth edition includes updated chapters explaining how derivatives are used in the practical context, how the documentation works and any pitfalls for the unwary.
Marked by the establishment of ISDA in 1985, derivatives have become an indispensable, integral and deeply embedded part of the international financial markets.

The new global regulatory framework instituted following the 2008 financial crisis was accompanied by a series of operational, commercial and documentation changes, which has made the derivatives markets stronger, safer and more resilient. However, a deeper and more robust product and regulatory understanding of the derivatives market is more important than ever.

This fourth edition of Practical Derivatives: A Transactional Approach features a number of new chapters analysing the latest trends in the following areas:

the rise of derivatives referencing cryptocurrencies and other digital assets, and the emerging regulatory framework on both sides of the Atlantic;
the slow but steady move to assets meeting the Environmental, Social and Governance (ESG) criteria in the area of derivatives and structured products;
the completion of the regulatory framework for cleared and OTC derivatives;
the development of non-English/New York law derivatives documentation; and
the emergence of new structures in the securities finance world.
It also includes updated chapters explaining how derivatives are used in the practical context, how the documentation works and any pitfalls for the unwary. It provides real-life tips for the application and negotiation of transactions referencing:

2021 ISDA Interest Rate Derivatives Definitions;
2014 ISDA Credit Derivatives Definitions;
2002 ISDA Equity Derivatives Definitions;
2005 ISDA Commodity Definitions;
Regulatory IM and VM documentation; and
The principal repo and stock lending forms of agreement.
With contributions from leading law firms, investment firms and academics, this accessible book takes a transactional approach and features coverage of product innovations. Whether you are at a bank, asset manager, pension fund, insurance company or other financial institution; from a company or organisation looking to invest or manage your risk; or involved in providing advisory services to these entities, this title will provide you with practical tools for using derivatives in your business.
Table of Contents
| | | |
| --- | --- | --- |
| Cover | Cover | |
| Title Page | 1 | |
| Copyright Page | 2 | |
| Contents | 3 | |
| Preface | 7 | |
| Part I: The regulatory environment | 9 | |
| Overview of EU/UK derivatives regulation: EMIR, MiFID and UK rules | 9 | |
| Initial margin requirements for non-centrally cleared derivatives | 29 | |
| Variation margin requirements for non-centrally cleared derivatives | 69 | |
| Part II: Documenting and designing derivatives transactions | 83 | |
| Overview of industry standard documentation | 83 | |
| Introduction to repo and stock lending documentation | 107 | |
| Documentation for cleared OTC derivatives | 129 | |
| Introduction to German derivatives documentation | 149 | |
| Designing derivatives structures | 165 | |
| Part III: Derivatives, asset classes and corresponding industry documentation | 189 | |
| a) Commodity derivatives | 189 | |
| Introduction to commodity derivatives | 189 | |
| Overview of the 2005 ISDA Commodity Definitions | 219 | |
| Emissions trading | 273 | |
| Energy derivatives and hedging strategies | 303 | |
| b) Equity derivatives | 321 | |
| Introduction to equity derivatives | 321 | |
| Overview of the 2002 ISDA Equity Derivatives Definitions | 359 | |
| c) Credit derivatives | 441 | |
| Introduction to credit derivatives | 441 | |
| Overview of the 2014 ISDA Credit Derivatives Definitions | 485 | |
| d) Interest rates and FX | 569 | |
| Interest rate derivatives and documentation | 569 | |
| FX derivatives | 599 | |
| e) Digital assets and ESG | 631 | |
| ESG derivatives | 631 | |
| Crypto derivatives in theUK and EU – regulation and documentation | 667 | |
| US regulations of digital asset derivatives – an evolving landscape | 705 | |
| About the authors | 721 | |
| About Globe Law and Business | 728 | |

Guy Antrobus
Partner, Allen & Overy
guy.antrobus@allenovery.com

Guy Antrobus was the lead English lawyer advising ISDA on the updated English law initial margin credit support documentation resulting from the WGMR initiative in 2016. He also authored all of the ISDA WGMR English law collateral opinions.
Guy continues to act for a number of major dealers and funds in the derivatives markets on the implementation of their collateral documentation resulting from WGMR.
Guy's practice has a particular focus on issues relating to the financial collateral regime and regulatory capital. He is the author of a number of industry- and client-specific legal opinions on netting, insolvency and collateral enforceability.
On the transactional side, Guy advises on all manner of OTC structured products, including TRS, financial guarantees, credit derivatives and stock lending/repos, with a particular focus on SRT transactions.

Tim Baines
Counsel, Mayer Brown
tbaines@mayerbrown.com

Tim Baines is a counsel in the environment team of Mayer Brown. Tim has a longstanding practice in climate-related matters, including providing regulatory advice in respect of EU and UK emissions trading and international market mechanisms. He has also advised on emissions trading documentation including in respect of primary and secondary market transactions. He has actively followed the international climate negotiations for many years and has lectured on climate, energy and renewables, including at SOAS.
More recently, Tim has been involved with Mayer Brown's international ESG practice, advising a number of corporates on climaterelated disclosure requirements and compliance with a broad range of ESG and environmental legislation, particularly in the real estate, chemicals and manufacturing sectors.

Cyriel de Jong
Founder and CEO, KYOS
dejong@kyos.com

Cyriel de Jong has been working as an adviser for the energy industry since 2001. Until 2006, he combined this with a position at Erasmus University Rotterdam. In 2008 he founded KYOS Energy Consulting BV, at which he is still CEO.
For major companies in Europe, Cyriel has led a great number of projects related to energy market valuation, risk management, trading strategies and investment analysis. He is particularly active in price modelling, financial methodologies to value (renewable) energy assets and contracts, and in stochastic optimisation.
Cyriel completed an MSc in econometrics at Maastricht University, and his PhD on financial derivatives at Erasmus University Rotterdam in 2003.

Erwin Faas
Head of XVA & overlay desk, ABN AMRO
XVADesk@abnamro.com

Erwin Faas is head of XVA & overlay desk at ABN AMRO and specialises in credit risk management, scarce resources optimisation and collateral management. He recently developed with his team the sustainability-linked derivatives offering. Prior to this he worked for 15 years in various interest rate, credit trading and asset management roles. Erwin holds an MSc in econometrics from Vrije Universiteit Amsterdam.

John D Finnerty
Professor of finance, Fordham University
finnerty@fordham.edu

John D Finnerty is a professor of finance at Fordham University's Gabelli School of Business and was founding director of the master of science in quantitative finance programme. He has written 16 books and over 125 articles. He is a former editor of Financial Management and FMA Online.
John is also a former investment banker specialising in valuation and hedging. He has developed innovative derivatives models for calculating a lack of marketability discount and valuing employee stock options, convertible debt and venture capital preferred stock.
John received a PhD in operations research from Naval Postgraduate School, an MA in economics from Cambridge University and a BA in mathematics from Williams College. He was inducted into the Fixed Income Analysts Society Hall of Fame in 2011.

Fausto Giacomet
Senior associate, McDermott Will & Emery
fgiacomet@mwe.com

Fausto Giacomet is a senior associate in the transactions group of McDermott Will & Emery in London. He holds a degree in corporate and financial law from the London School of Economics. Fausto has experience in structured finance and derivatives, covering synthetic securitisations, actively managed certificates, exchange-traded products, repackagings, repos, stock loans and OTC derivatives. He is interested in the role of finance in addressing climate change and in the transition to a sustainable economy.

Jonathan Haines
Partner, Ashurst LLP
jonathan.haines@ashurst.com

Jonathan Haines is a partner in the global markets practice at Ashurst, based in London and specialising in securities and derivatives. Jonathan has wide experience advising investment banks, asset managers and other financial institutions on capital markets, financing and derivatives transactions. He has particular expertise in financial collateral, repo and securities lending, all forms of OTC derivatives, prime brokerage and related regulatory matters.
Jonathan is ranked as a Leading Individual in Derivatives and Structured Products by the Legal 500 2021 and as Highly Regarded in Capital Markets (Derivatives) by the IFLR 1000 in its 2021 edition.

Tom Harkus
Managing associate, Simmons & Simmons
tom.harkus@simmons-simmons.com

Tom Harkus is a managing associate in Simmons & Simmons' financial services regulation group in London and works closely with their derivatives practice. He acts for a variety of clients, both sellside and buy-side, including banks, investment firms, brokers and asset/fund managers. He advises on a wide range of financial regulation such as EMIR, MiFID2/3, SFTR, CSDR, CRR, BRRD and FSMA.
Tom's focus is on financial market infrastructure, sales and trading, reporting, netting and collateral advice. He has experience advising on financial instruments across all derivative asset classes, in addition to physical commodities transactions. He has completed a number of secondments to dual-regulated UK credit institutions and investment firms.

Matthew Hebburn
Solicitor
matt.hebburn@gmail.com

Matthew Hebburn has advised clients in the European, US and APAC markets for nearly 25 years on a broad array of transactional, regulatory and advisory matters (including disputes) in connection with structured and derivative products across a wide range of asset classes (including credit, equity, commodity, rates and FX) and funding wrappers (including OTC, cleared and exchange-traded derivatives, bonds, loans and funds). He spent 10 years as a partner at Allen & Overy in Hong Kong and Singapore and upon his return to London became a partner at Simmons & Simmons, spearheading the development of its sell-side derivatives practice. He now undertakes consultancy work for clients. Matthew is qualified in England & Wales and Hong Kong.

David R Johnson
Head of legal – global markets & group funding, First Abu Dhabi Bank PJSC
david.johnson@bankfab.com

David R Johnson is a derivatives and structured finance lawyer and currently leads a team of lawyers responsible for supporting the global markets, group funding and custody divisions of First Abu Dhabi Bank PJSC.
David's diverse experience developed while working on a range of structured finance transactions. He specialises in derivatives, securitisation and secured lending transactions.
He is a frequent contributor to legal publications and has written on a variety of derivatives topics including repos, repackaging transactions and closing-out ISDA Master Agreements, as well as various sets of ISDA derivatives definitions.

Emma Lancelott
PSL counsel, Allen & Overy
emma.lancelott@allenovery.com

Emma Lancelott is a solicitor qualified in England and Wales with over 15 years' post-qualification experience working at Allen & Overy in the derivatives and structured finance team. She has extensive experience of both derivatives and structured finance transactions, advising some of Allen & Overy's key sell-side and buy-side clients as well as trade associations.
A key focus is advising on the regulatory developments affecting these markets such as EMIR, MiFIR, SFTR, bank recovery and resolution and the impact of Brexit. Emma has experience in the legal tech space, most recently leading on a proprietary regtech tool to assist Phase 4 and 5 counterparties to determine whether they are in scope for initial margin compliance, and she regularly speaks at A&O internal and external training sessions and conferences.

Rachael W Park
Director, AlixPartners LLP
wpark@alixpartners.com

Rachael W Park is a director in AlixPartners' risk advisory services practice based in New York. She holds an MBA in finance and information systems and an MSc in quantitative finance. She has over 15 years of business experience, including ten years of economic valuation and litigation support experience.
Rachel has been involved in a wide variety of finance and economic projects, such as business valuation, securities valuation, solvency analysis, credit analysis and quantitative analysis. She specialises in valuing securities, including equity derivatives, fixed-income derivatives, structured finance products, restricted stocks, hybrid securities and other complex derivative instruments.
She has been engaged in a number of litigation matters, such as securities valuation disputes, fair market value disputes, 10b-5 and Section 11 securities fraud litigation and tax fraud litigation.

Edmund Parker
Partner and global practice head of derivatives & structured products, Mayer Brown
eparker@mayerbrown.com

Edmund Parker is a partner and global head of the derivatives & structured products practice at Mayer Brown. Ed's work covers all aspects of derivatives at the highest levels. He has previously been nominated as Global Derivatives Lawyer of the Year, a reflection of his technical excellence in this field.
Ed advises on complex OTC and structured credit, equity, FX, crypto and commodity derivatives, as well as insurance- and pensionslinked derivative structures.
He advises on distressed derivatives alongside litigation and insolvency colleagues, as well as advising on central clearing issues and derivatives regulation. He has notable experience in global initial margin regulation projects related to EMIR and other regimes, and large projects driven by regulation; and also advises on capital relief and synthetic securitisation transactions.
A prolific author, Ed has been sole author and editor of numerous Globe books, as well as coediting a number of Globe titles with Marcin Perzanowski.

Marcin Perzanowski
Managing associate, Simmons & Simmons
marcin.perzanowski@simmons-simmons.com

Marcin Perzanowski is a managing associate in the structured finance and derivatives practice of the London office of Simmons & Simmons. Marcin focuses on derivatives and structured product transactions across all asset classes. He was described as "Next generation partner" in Legal 500 2019 and a "standout structured finance lawyer" in Legal 500 2022. Marcin has extensive experience in advising on OTC and structured derivatives for banks, corporates, funds, pension schemes and insurance companies. He also frequently assists his clients with respect to different types of collateral and segregation structures, as well as various aspects of securities finance arrangements. Marcin's expertise covers a wide range of products, including funding trades (structured as total return swaps, repurchase agreements or margin loans), equity derivatives (including index and equity linked products), credit derivatives (including credit linked notes and credit linked deposit agreements), commodities and commodity derivatives, as well as various types of FX and interest rates derivatives. He regularly advises on structured notes programmes (including repacks), and investment products referencing proprietary indices, managed accounts and similar structures.
In addition to his contribution to Globe Law and Business's Practical Derivatives, Marcin coedited Commodity Derivatives (Globe Law and Business, 2010) and contributed two chapters to Sovereign Debt and Debt Restructuring (Globe Law and Business, 2013).

Harmed Pourzadeh
Associate, Simmons & Simmons
harmed.pourzadeh@simmons-simmons.com

Harmed Pourzadeh is an associate in the derivatives and structured products group at Simmons & Simmons in Bristol. He advises financial institutions and corporates on repacks, loan hedging, hedging of structured finance transactions and structured products. Harmed has been actively involved in advising clients on IBOR remediation with respect to both OTC derivatives and loan transactions and is actively involved in assisting a major bank on Phase 6 of the initial margin regulations. He has completed a secondment at Barclays Corporate and Investment Bank during his time at Simmons & Simmons.

Rosali Pretorius
Partner, Simmons & Simmons
rosali.pretorius@simmons-simmons.com

Rosali Pretorius is a partner in Simmons & Simmons' financial services regulation group in London. She has more than 25 years' experience advising users and providers of financial market infrastructure, banks, broker-dealers, and other regulated entities. In recent years she has focused on the field of digital assets and its impact on financial markets infrastructure. Rosali is a highly recommended practitioner (IFLR 1000 2022), feedback from clients including the fact that she has "really good experience and reputation. She knows regulation really well and also does transactional work, which makes her stand out from the crowd" (Chambers & Partners). Rosali conceived of and developed Trading Venue Reviewer, a digital product recognised by FT Innovative Lawyers of the Year 2019 as a standout new legal product, giving subscribers access to easily digestible, consistent summaries of the documentation of most European trading venues. Rosali was also instrumental in creating Simmons' Crypto Reviewer product, which looks at many jurisdictions' regulatory approach to crypto assets.

Patrick Scholl
Partner, Mayer Brown
pscholl@mayerbrown.com

Patrick Scholl is a partner and head of Mayer Brown's capital markets and regulatory finance practice in Germany. Patrick is a leading lawyer in Germany advising extensively on debt capital markets transactions, OTC derivatives and structured products. He also provides advice with respect to general prudential regulation and licensing matters, own funds requirements, risk mitigation techniques, recovery and resolution considerations and sustainable finance products.

Guy Usher
Partner and co-head of financial services and financial markets and products, Fieldfisher
guy.usher@fieldfisher.com

Guy Usher advises on structured derivatives and securities financing in emerging and developed markets as well as credit, equity, fund, commodity and property derivatives, both OTC and exchange traded. He also provides advice on netting, collateral, defaults, restructurings and disputes. In addition, Guy co-heads the firm's financial services sector group.
As one of the founding partners of Fieldfisher's Condor alternative legal solutions platform, Guy continues to be actively involved in structuring and delivering ALS programmes for clients across the firm's focus sectors.

Lidewey van der Wal
XVA trader, ABN AMRO
lidewey.van.der.wal@nl.abnamro.com

Lidewey van der Wal holds a BSc in econometrics from Rijksuniversiteit Groningen and an MSc in quantitative risk management from Vrije Universiteit Amsterdam. Since September 2018, she has held several positions within the trading department and since 2020 has worked at the XVA desk with a focus on scarce resource management.
In 2021, Lidewey was part of the team that researched and developed a framework for sustainability-linked derivatives for ABN AMRO.

Oliver Ward
Senior practice development lawyer, Simmons & Simmons
oliver.ward@simmons-simmons.com

Oliver Ward is a senior practice development lawyer supporting Simmons & Simmons' structured products and derivatives group. He is responsible for developing knowhow and tracking legal developments that are important to the firm's clients. Oliver also frequently delivers training on regulatory and product issues, both to internal and external audiences.
Prior to becoming a practice development professional, Oliver was a transactional lawyer and regularly acted for financial institutions on a wide variety of complex matters, including repackagings and OTC derivatives transactions.

Oliver West
Partner, Simmons & Simmons
oliver.west@simmons-simmons.com

Oliver West is a partner in Simmons & Simmons' structured finance and derivatives group, advising on OTC derivatives. Oliver advises a number of financial institutions in this area and he has a particular focus on finance-linked hedging (including hedging of securitisations, leveraged debt facilities and project financings).
In addition to transactional mandates, Oliver advises on 'life cycle' events such as close-outs, restructurings and transfers. He has also advised various firms on LIBOR transition projects, and is engaged in developing areas including sustainability-linked derivatives.

Joyce Sophia Xu
Founding member and CEO, Joyce Xu Law LLC
info@joycexulaw.com

Joyce Sophia Xu is the founding member and chief executive officer of Joyce Xu Law LLC, a boutique law firm specialising in equity, fixed income, commodity and digital asset derivatives, equity-lined capital markets transactions, structured finance and other complex financial instruments.
Joyce graduated from Pennsylvania State University with an honours degree in chemical engineering and from Columbia Law School with a JD, where she was recognised as a Harlan Stone Scholar. Prior to founding her own firm, she practised with the law firms Davis Polk LLP, Simpson Thacher LLP and Paul Hastings LLP. Joyce founded and lead the global derivatives practices at Simpson Thacher (2007–2018) and at Paul Hastings (2019–2022). She has been recognised and ranked by Chambers Global and Chambers USA as a leading lawyer in her field every year since 2011. She was listed on Crain's New York Business's 40 Under 40 in 2011. Joyce has authored a large collection of articles and book chapters on derivatives products and regulations and is a frequent speaker at ISDA, PLI, FIA and various bar association conferences.

Igor Zyskind
Managing associate, Simmons & Simmons
igor.zyskind@simmons-simmons.com

Igor Zyskind is a managing associate in the derivatives and structured products group at Simmons & Simmons in London. Igor advises financial institutions and corporates on a wide range of products across various asset classes, including total return swaps, repurchase agreements, securities lending transactions, structured products, repacks and margin loans, with extensive experience in equity derivatives. His practice covers providing structuring advice and analysis of practical and regulatory issues associated with those transactions.
Igor has been actively involved in advising clients on IBOR remediation with respect to both OTC derivative and loan transactions. Igor also has extensive general banking expertise, advising clients on secured and unsecured financings to corporate and sovereign borrowers with a particular focus on emerging markets.