Book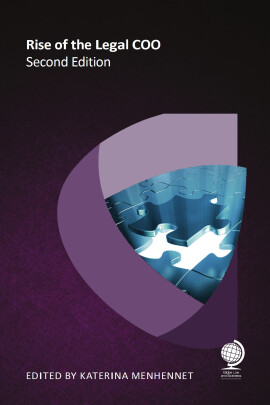 Rise of the Legal COO, Second Edition
Chris Bull, Laura McNair, Stephen Allen, Mark J Masson, Paul Bennett, Patrick J McKenna, Steve Nelson, Kate Boyd, David S Schaefer, James G Perkins, Kiran Scarr, Peter Blair, Kimberly A Gardner, Ricarda Hauke, Andrew Keith, Jennifer P Keller, Darren Mitchell, William Robins
Published: 2023
Pages: 159

eBook: 9781787429482
This second edition contains updated chapters from the first edition, and several brand new chapters. There are also all-new, exclusive interviews with legal COOs from a variety of national and international firms.
In the five years since the first edition of this book published, there has been an accelerated rise in the number and influence of COO roles in the legal sphere. No longer the preserve of the largest national and international firms, mid-tier firms and even New Law and alternative legal service providers are considering a COO as a potential – perhaps even essential – component of law firm management, to achieve increased efficiency, productivity, and meet the demands of a highly competitive market.

With contributions from a number of current law firm COOs, alongside some of the most respected and sought-after consultants working in this space, this second edition of Rise of the Legal COO examines the scope and variety of the legal COO role, and how the challenges and demands of the position have altered as law firms have evolved. It contains updated chapters from the first edition, and several brand new chapters covering topics such as:

How the COO can enable innovation and digital transformation in their firm;
The COO's role in managing profitability and client engagement;
The use of data in law firm management; and
The New Law COO.
There are also all-new, exclusive interviews with legal COOs from a variety of national and international firms, covering topics ranging from the importance of relationships and adapting to the new hybrid, post-COVID world, to encouraging innovation in firms and strategies to recruit and retain talent.

There is no doubt that a good COO is an invaluable part of a firm's management team, and the opportunities for talented individuals with broad operational management skills will continue to grow. Heavily backed up by the first-hand experience of the contributors, this title provides essential guidance to the current and future legal COO on the skills and strategies they need to succeed, and to law firms on how to recruit, integrate, and develop a COO who will be a good match for their culture and help them achieve their ambitions.
Table of Contents
| | | |
| --- | --- | --- |
| Front Cover | Front Cover | |
| Title Page | i | |
| Copyright Page | ii | |
| Contents | iii | |
| Executive summary | ix | |
| About the authors | xvii | |
| Part 1: Role of the Legal COO | 1 | |
| Chapter 1: Horses for courses – the spectrum of chief operating officer roles in law firms | 3 | |
| COO models | 5 | |
| Model 1 – "Riding shotgun" | 8 | |
| Model 2A and 2B – The chief finance and operating officer | 9 | |
| Model 3 – The internal service and procurement head | 10 | |
| Model 4 – The infrastructure head | 11 | |
| Model 5 – The shared service head | 13 | |
| Model 6 – The practice COO | 14 | |
| Model 7 – The operational transformation leader | 15 | |
| The corporate legal operations head | 16 | |
| Conclusion | 17 | |
| Chapter 2: Shaping change: the rise of the COO | 19 | |
| Defining leadership – why COOs? | 20 | |
| Makings of a modern COO | 21 | |
| Stepping-stones – the business manager role | 22 | |
| Structure and remit of the COO role | 23 | |
| What makes a great COO? | 25 | |
| Recruiting your COO | 26 | |
| Into the future | 27 | |
| Writing a COO job description | 27 | |
| Chapter 3: The three flavors of law firm COO | 29 | |
| Chief operating officers' changing roles, Role | 30 | |
| Role | 32 | |
| Role | 33 | |
| The empowered client | 35 | |
| When to make a change | 35 | |
| Where does a firm go from here? | 36 | |
| Chapter 4: The role of the chief operating officer in a law firm – post-pandemic | 39 | |
| Background | 39 | |
| Pandemic preparation | 40 | |
| The comforter, managing uncertainty, and a Black Swan event | 41 | |
| Strategy and uncertainty | 43 | |
| Concluding thoughts | 47 | |
| Chapter 5: Habits – are they your COO superpower or holding your firm back? | 51 | |
| What is a habit? | 51 | |
| Habits matter | 51 | |
| Business habits | 52 | |
| Your habits | 54 | |
| What positive habits should you adopt to discharge your COO duties? | 55 | |
| Conclusion | 58 | |
| Chapter 6: When a new firm leader takes the reins | 59 | |
| 1. Be clear on the new leader's specific goals | 61 | |
| 2. Be honest and candid in identifying those areas that the firm leader may regard as a weakness | 61 | |
| 3. Sort out the reporting relationships | 61 | |
| 4. Determine boundaries and division of responsibility | 62 | |
| 5. Identify expectations and the specific behaviorsyou want to see | 62 | |
| 6. Determ ine your preferred communications protocols | 63 | |
| 7. The COO needs to know how to best read and interact with the firm leader | 63 | |
| 8. Determine how you need to operate in order not to undermine each other | 64 | |
| The bottom line | 64 | |
| Chapter 7: Factors that impede effective firm leader-COO relationships | 65 | |
| 1. You need to have respect for one another | 66 | |
| 2. There should be role clarity | 67 | |
| 3. Have the ability to compromise | 67 | |
| 4. Provide candid feedback | 68 | |
| 5. Beware of the divide-and-conquer ploy | 68 | |
| 6. Poor performance can overwhelm any relationship | 69 | |
| Conclusion | 69 | |
| Chapter 8: The COO role in managing profitability and client engagement | 71 | |
| History | 71 | |
| Distinction between internal and external responsibilities | 73 | |
| Emphasis on profitability | 75 | |
| Management of key categories | 76 | |
| Impact of the pandemic | 77 | |
| View of the future | 78 | |
| Chapter 9: Three roles the COO must play to enable innovation and digital transformation | 81 | |
| Introduction | 81 | |
| COO as culture keeper | 81 | |
| COO as technical strategist | 83 | |
| COO as metrics maven | 85 | |
| Conclusion | 87 | |
| Chapter 10: The chief operating officer and the use of data in law firm management | 89 | |
| Maintaining competitive advantage in a digital market | 89 | |
| The power of KPIs for law firms | 91 | |
| What are the right number of KPIs? | 93 | |
| Presentation of KPIs – dashboards and scorecards | 94 | |
| Changes in KPIs | 94 | |
| The need for accurate and clean data | 95 | |
| Create a data-driven culture | 95 | |
| How can you boost data literacy to support your KPI strategy? | 96 | |
| The future of data analytics in the legal industry | 97 | |
| Annex: list of possible KPIs and metrics | 98 | |
| Chapter 11: The New Law COO | 101 | |
| The emerging dominance of New Law | 101 | |
| The business of New Law | 104 | |
| The New Law COO | 107 | |
| The leadership behaviors of a New Law COO | 107 | |
| Collaboration for growth | 111 | |
| Part 2: Interviews with Legal COOs | 113 | |
| Interview 1: Peter Blair, chief operating officer of Quadrant Chambers | 115 | |
| Interview 2: Kimberly A. Gardner, chief operating officer of Holland & Knight LLP | 121 | |
| Interview 3: Ricarda Hauke, chief operating officer of Taylor Wessing Partnerschaftsgesellschaft mbB | 131 | |
| Interview 4: Andrew Keith, chief operations officer of DAC Beachcroft LLP | 135 | |
| Interview 5: Jennifer P. Keller, president and chief operating officer of Baker Donelson | 139 | |
| Interview 6: Darren Mitchell, chief operating officer of Simmons & Simmons | 145 | |
| Interview 7: William Robins, operations and compliance director, Keystone Law | 151 | |
| About Globe Law and Business | 159 | |
| Back Cover | Back Cover | |

STEPHEN ALLEN
https://www.linkedin.com/in/stephenallenfrsa/

A highly experienced operational and transformational business leader, operating at C-suite level, Stephen Allen has been at the vanguard of delivering legal market change, and is internationally recognized as a leading market expert and innovator. Stephen has worked in legal services for over 25 years. Additionally, he spent four years at the helm of a France Telecom company. He has won numerous legal industry awards, including being named the Inaugural Legal Entrepreneur of the Year by the Financial Times Innovative Lawyers Report, and is also a Fellow of the Royal Society of Arts. Stephen is "chief scout" at Trampelpfad – a bespoke business of law change agency, and is market evangelist for Orgaimi – a revolutionary predictive data engine for professional services firms.

PAUL BENNETT
https://www.linkedin.com/in/paul-bennett-9777ab10/

Paul Bennett solves problems for law firms and professional practices. He is a solicitor, mediator, and arbitrator who advises daily on law firms and solicitors on SRA regulatory matters, on mergers and acquisitions, employment, and partnership law at the specialist law firm to other law firms, Bennett Briegal LLP. Clients have included the Law Society on the SRA's 2019 reform program and a number of the legal regulators. Outside of the professions, clients have included political parties, Westminster think tanks, private equity houses (including those funding law firms), radio stations, and TV/radio presenters. Paul tends to apply the Private Eye test to this work – how do we limit the interest of Private Eye and the tabloids? An author of four legal books and numerous articles on the legal profession, Paul aims to give solutions to legal and management problems for clients. Paul is the chair of the Law Society of England and Wales Law Management Section (LMS) and is the immediate past chair of its Regulatory Processes Committee (RPC). Paul has delivered training sessions to thousands of lawyers and law firms for more than 15 years on management and regulation issues.

PETER BLAIR
https://www.linkedin.com/in/peterblair/

Peter Blair is the chief operating officer at Quadrant Chambers and works with members and senior staff to ensure that Chambers is working as efficiently as possible. Peter joined Chambers in 2016, having worked for the previous seven years as an independent consultant, specializing in providing strategic and operational support to barristers' chambers, law firms, and other professional services organizations. Before that he was the first chief operating officer at Field Fisher Waterhouse LLP (now Fieldfisher LLP). From 2000 to 2008, he was the deputy under treasurer (deputy chief executive) and director of finance of the Honorable Society of the Middle Temple. He has an MBA from London Business School.

KATE BOYD
https://www.linkedin.com/in/kateboyd/

Kate Boyd has 25 years' experience delivering innovative client-facing solutions for legal service businesses including global law firms, Shearman & Sterling and White & Case, legal tech companies, HighQ and Kira Systems, and most recently as COO of Validity Finance, a leading US litigation finance company that she helped launch and manage from 2018-2022. In 2022, Kate joined Sente Advisors to work more closely with law firms and other legal businesses to deliver strategic innovation projects. She sits on the board of AltaClaro, a legaltech/edtech start-up looking to revolutionize the delivery of legal training. Kate volunteers as a strategy and operations consultant with New York Justice For Our Neighbors (NY-JFON), an immigration legal services non-profit dedicated to helping vulnerable community members in the New York area.

CHRIS BULL
https://www.linkedin.com/in/chrisabull/

Chris Bull is a consultant, author, and thought leader who has been focused on the transformation of professional services throughout his career. His most recent book, The Agile Law Firm, was published by Globe Law and Business in 2021. His career has included roles with all four of the Big Four accounting/consulting firms, work with multiple law firms in the UK, US, and beyond and a long and successful time as COO and part of the leadership team which built Osborne Clarke from a small regional English firm into international tech and telecoms law leaders. He is a regular conference speaker, awards judge (including British Legal Technology Awards), and chairs the Legal COO Network, Bristol+BathLegalTech, and Legal Office & Facilities Forum. As a principal of Edge International he is a member of one of the most established global legal strategy consultancies.

KIMBERLY A. GARDNER

Kimberly A. Gardner has extensive experience in the management of AmLaw 50 firms. She was appointed chief operating officer of Holland & Knight LLP in September 2021, following 22 years at Shearman & Sterling LLP, serving in chief financial officer and executive director roles. Prior to her work in law firms, Kimberly began her career as an accountant and a management consultant at Deloitte, then held a series of financial management positions at Equitable Capital Management Corporation, including controller, and then became a senior vice president of Alliance Capital Management LP with financial, marketing, and operational responsibilities. She is widely known in the legal industry as a management thought leader, due in part to her ten years of service on the planning committee of the Executive Director Roundtable (a network of Executive Directors/COOs of approximately 50 of the world's leading law firms) and her numerous panel appearances at industry conferences in New York and London.

DR RICARDA HAUKE
https://www.linkedin.com/in/ricarda-hauke-698662112/

Dr Ricarda Hauke is a lawyer and business administrator serving as chief operating officer at Taylor Wessing Partnerschaftsgesellschaft mbB in Germany. As a full-service commercial law firm focusing on tech and communications, commercial real estate, private wealth, and life sciences and energy, Taylor Wessing stands for approximately 1,000 lawyers and employees across five German offices and a wide international presence in 17 jurisdictions. With a background in management and strategy consulting as well as law, she has been with the firm for over ten years in different positions, including knowledge management and legal tech, HR, and projects and operations. She is passionate about topics of authenticity and empathy in the workplace, courageous leadership, and organizational structures.

ANDREW KEITH
https://www.linkedin.com/in/andrewkeith100/

Andrew Keith, chief operations officer at international law firm DAC Beachcroft LLP, is responsible for the provision of business services across the firm's national and international business, to support the managing partner in realizing the firm's strategy, which is focused on helping clients and colleagues succeed by creating sustainable value. As an international and commercially focused senior executive, Andrew has proven experience in delivering strategic and operational initiatives in the legal services sector across the UK, Middle East, and Asia regions. His experience includes senior business services positions at Baker & McKenzie, Allen & Overy, and Simmons & Simmons.

JENNIFER P. KELLER
https://www.linkedin.com/in/jennifer-keller-72a5a0b/

Jennifer P. Keller is president and chief operating officer of Baker Donelson, a firm with 23 offices and over 650 attorneys and public policy advisors. Jennifer's main priorities as president and chief operating officer are to oversee the firm's provision of legal services to its clients, revenue growth and new business development through the firm's departments and practice groups, to ensure client satisfaction, and to ensure the overall development, advancement, engagement, and training of the firm's attorneys and paralegals.
She oversees the implementation of multiple business operations initiatives across the firm, including information technology (IT), marketing and business development, and professional development, and works with the CEO on a daily basis to execute on a variety of strategic and tactical efforts. Prior to this role, she practiced in the area of labor and employment and led the firm's nationally recognized L&E practice. She resides in Johnson City, Tennessee.

MARK J. MASSON
https://www.linkedin.com/in/markjmasson/

For nearly 20 years, Mark J. Masson has been an advisor and partner to senior leaders of major law, accounting, and consulting firms on firm and client growth strategy, firm operations, process and leadership transformation, partner performance and compensation, and data and decision analytics. He is the managing partner of Lotis Blue Consulting, a firm focused on work at the intersection of growth and transformation and bringing together the value of data science to uncover unique insights and behavioral science to make needed change real. Mark is also a founder of Orgaimi, a market-leading data science tool predicting pathways for client growth and helping lawyers monitor the health of relationships in law and other professional services firms.

PATRICK J. MCKENNA
https://www.linkedin.com/in/patrickjmckenna/

Patrick J. McKenna is an internationally recognized author, lecturer, strategist, and seasoned advisor to the leaders of premier law firms, having had the honor of working with at least one of the largest firms in over a dozen different countries. He is the author of 12 books, most notably his international business bestseller, First Among Equals, currently in its sixth printing and translated into nine languages. His most recent work is Industry Specialization: Making Competitors Irrelevant (Legal Business World Publishing, 2022). Patrick's three decades of experience led to his being the subject of a Harvard Law School Case Study entitled Innovations In Legal Consulting (2011). One example of that innovation was his launching the first instructional program designed to specifically address the issues that new firm leaders of larger firms face in their First 100 Days – which has graduated over 80 new leaders, many from AmLaw 100 and 200-sized law firms, as well as from notable accounting and consulting firms. Patrick serves as contributing editor to Of Counsel, The Legal Practice and Management Report based in New York, is the recipient of an honorary fellowship from Leaders Excellence of Harvard Square, and was voted by the readers of Legal Business World Magazine as one of only seven international thought leaders.

LAURA MCNAIR
https://www.linkedin.com/in/lmcnair/

Laura McNair heads up Totum's specialist people and operations team, which recruits across all disciplines such as operations and business management, HR, recruitment, learning and development, and reward in law, and professional services firms based in the UK and internationally. Laura recruits senior and leadership roles and plays a key role in making placements across broader positions in general management (for example, chief operating officers, heads of operations, directors of administration, business managers, and practice managers). As part of her role, she is in constant communication with key figures across the industry, sharing industry knowledge and market insights. She contributes extensively to Totum's research activity, writing articles and supporting in-depth reports on leadership and operational roles. She has over 20 years' experience in recruitment, largely in the professional services sector, and has enjoyed helping firms source new skills and capabilities to enable them to succeed in an increasingly competitive market.

DARREN MITCHELL
https://www.linkedin.com/in/darrencmitchell/

Darren Mitchell is partner, COO at international law firm Simmons & Simmons where he leads the business services teams and supports the executive in becoming the next generation law firm. With a background in operational leadership and strategy at Hogan Lovells and Clifford Chance, he is recognized as a leader and driver of transformational change within the legal sector with a track record of enhancing efficiency through the deployment of shared services and process transformation and delivering strategically significant initiatives such as mergers, new office openings, and overseeing new business units. Darren has a deep understanding of, and appreciation for, partnership culture and ethos, and enjoys the challenge of leading and aligning teams within a matrix-based international organization to bring together the people and resources necessary to ensure that strategy becomes a day-to-day organizational reality.

STEVE NELSON
https://www.linkedin.com/in/steve-nelson-40b48b2/

Steve Nelson is executive principal at The McCormick Group, a Washington- area based executive search firm. Steve leads the law firm management team, which handles high-level administrative placements at law firms in areas such as operations, finance, and innovation and value. Steve also handles lateral partner recruiting assignments, as well consulting with law firms on their search strategy, practice area expansion, and merger planning. Before joining The McCormick Group, Steve served as managing editor and news editor at the Legal Times and as executive editor and director of the Washington office for Prentice Hall Law & Business. Steve received a Bachelor of Arts degree from George Washington University and a Juris Doctor degree from the University of Toledo. He is a fellow of the College of Law Practice Management, an honorary organization that formally recognizes individuals who have made outstanding contributions to the fields of law practice management.

JAMES G. PERKINS

James G. Perkins has for the last 20 years led Procopio's non-legal operations including finance, human resources, administration, marketing and business development, information services and knowledge management. Jim is a member of the firm's management committee and in 2012 also became the firm's chief compliance officer responsible for developing a firm enterprise risk management program. In his CCO capacity he also serves as co-chair, together with the firm's general counsel, of Procopio's office of risk management and compliance. Jim speaks regularly on law firm management issues and business strategy at conferences and international law firm network meetings. He also consults occasionally as part of the Procopio Business Advisors group.

WILLIAM ROBINS
https://www.linkedin.com/in/will-robins-ba83a711/

William Robins graduated with a first-class law degree and went on to train at Lovells (now Hogan Lovells). He spent time working at Gibson Dunne and Crutcher and then Berwin Leighton Paisner (now BCLP) practicing in mergers and acquisitions. In 2009 he joined the then nascent Keystone Law and grew that business from 40 people to over 600. He was involved in the private equity capital injection of the business and its listing on the London Stock Exchange. At Keystone he now serves as operations and compliance director, heading a team that support the business' continued growth and cementing its place as the premier challenger law firm. He also sits as the company secretary on the board of Keystone Law Group plc.

KIRAN SCARR
https://www.linkedin.com/in/kiran-scarr-a6ab4455/

Kiran Scarr's career has seen her transform from an international projects lawyer at magic circle law firms in global locations to a multi-award-winning executive leader. As chief operating officer of Support Legal Limited, an international virtual law firm, Kiran led the firm's evolution from start-up legal service provider to law firm of the future, pioneering radical change in the legal sector. This work was recognized by industry press in 2021 in the categories of legal technology innovation and championing diversity. As general counsel of Dubai Multi Commodities Centre Authority, Kiran transformed the legal and regulatory functions of DMCC, the six-time Global Free Zone of the Year, for which she was twice named General Counsel of the Year in the Middle East and awarded in the categories of compliance innovation and contribution to the in-house legal community. Since 2019, Kiran has dedicated her time as an executive coach to helping senior law firm and legal department leaders lead through transformational change in the legal sector.

DAVID S. SCHAEFER
https://www.linkedin.com/in/david-schaefer-213584a/

David S. Schaefer is the managing director of Leadership Advisory Services at Calibrate Consulting, Inc. David advises law firm leaders and chief operating officers on how best to align the practice of law and business of law to advance a firm's culture, vision, and strategy. Well-versed in law firm partnership structures and practice management frameworks, David is a strong and effective advocate for introducing and implementing proven business strategies and best practices from outside the legal industry. Before joining Calibrate, David was a trusted advisor to law firms and corporations alike and served as co-founder and chief operating officer of a specialty lender in the green finance sector for more than five years. Prior to this, David spent more than 20 years as a partner at an Am Law 100 firm, where he served as deputy chairman, managing partner, and chair of the corporate department.