Book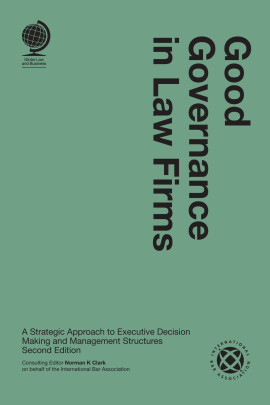 Good Governance in Law Firms, Second Edition
A Strategic Approach to Executive Decision Making and Management Structures
Published: 2023
Pages: 320

eBook: 9781787429369
With new insights and substantially updated guidance derived from the recent developments and disruptions of the past ten years, this Second Edition, published in association with the International Bar Association, concludes with an examination of emerging trends that will shape law firm governance in the future.
Good governance has become a critical condition for law firms of all sizes to meet the new, fast-moving opportunities of fast-changing markets for legal services — much more than just having a good partnership agreement.

Our multidisciplinary team of contributors demonstrate how governance has become a unifying and integrating system for a wide range of critical strategic and business issues. The inquiry starts with an overview of modern governance structures in law firms, and how the concept of governance has expanded to include features such as professional managers and partner remuneration systems.

To be effective, a law firm's governance system must facilitate, not complicate, the solution of important internal challenges, such as change management, managing partner performance and succession planning. How can good governance help law firm owners to make better decisions? How can governance incorporate management information and concepts of risk management into the decision-making process?

With new insights and substantially updated guidance derived from the recent developments and disruptions of the past ten years, this Second Edition, published in association with the International Bar Association, concludes with an examination of emerging trends that will shape law firm governance in the future. It provides visionary, but entirely realistic, insights into how law firm governance will need to continue to adapt to new regulatory regimes for the legal profession, stress testing concepts and new alternative business structures.
Table of Contents
| | | |
| --- | --- | --- |
| Cover | Cover | |
| Title | 1 | |
| Copyright | 2 | |
| Contents | 3 | |
| Introduction | 5 | |
| Part I. Building an effective structure | 9 | |
| Strategy drives governance | 9 | |
| Fundamental elements of modern governance in law firms | 19 | |
| Governance as an organising framework for managing the practice and the business | 37 | |
| Governance and structure: supporting the long-term success of a partnership | 49 | |
| Five keystones for efficient business support operations for your law firm | 69 | |
| Part II. Challenges for law firm governance | 99 | |
| Leaders' insights on law firm governance | 99 | |
| Effective decision making in law firms | 107 | |
| Good governance and partner performance | 127 | |
| Riding the compensation tiger | 167 | |
| Partner compensation and partnership structure | 179 | |
| Partner appraisals: what does the managing partner need to know about partners' performance? | 185 | |
| Governing risk | 197 | |
| Succession, retirement and beyond | 209 | |
| Part III. Governance tomorrow | 233 | |
| Governance for lawyers in a new era – 'alternative' law firms | 233 | |
| Leading change | 267 | |
| About the authors | 311 | |
| About Globe Law and Business | 315 | |
Martín Carrizosa
Lawyer
[email protected]
https://www.linkedin.com/in/martincarrizosa/

Martín Carrizosa is a lawyer from the Universidad de los Andes in Bogota, Colombia. He is a retired founding partner of Philippi, Prietocarrizosa, Ferrero DU & Uría – a leading regional law firm with offices in Bogota and Barranquilla, Colombia; Santiago de Chile, Chile; and Lima, Peru. Has served as chief of staff at the Organization of American States in Washington DC (1994–1996); foreign affairs adviser and economic secretary of the Presidency of Colombia during the Gaviria administration (1991–1994); and a member of the Colombia chapter and chairman of the Pacific Alliance Business Council (2015–2018). Martín sits on the boards of Colombian bank Scotiabank Colpatria and Larrainvial Colombia, a broker-dealer; on the advisory board of Anglogold Ashanti Colombia; and on the board of not-forprofit institutions such as the Universidad de los Andes, the Fundación Ideas para la Paz and the Fundación Crecer en Paz. From 2018 to 2019 he was an academic visitor at St Antony's College, Oxford.

Norman K Clark
Managing principal, Walker Clark LLC
[email protected]
https://www.linkedin.com/in/norman-clark-a934857/

Norman K Clark is the managing principal of the international legal management consultancy Walker Clark LLC, which he helped to found in 2002. His consulting practice specialises in issues of strategic planning and implementation, law firm profitability, governance and quality management.
His 50-year career as a lawyer includes experience as a trial lawyer, trial judge, law professor and senior manager of legal services on a global scale. He has been a full-time business adviser to the legal profession for the past 29 years, having advised clients in law firms, as well as corporate and government law departments in more than 70 countries.
Norman holds a BSc, a JD and an LLM. He is a retired member of the Pennsylvania Bar; a past chairman of the International Bar Association (IBA) Law Firm Management Committee; and a past co-chair of the American Bar Association Cross-Border Practice Management Committee. He is also a member of the Commonwealth Lawyers Association.

Leopoldo Hernández Romano
Managing partner, KermaPartners
[email protected]
https://www.linkedin.com/in/leopoldo-hern%C3%A1ndez-romano-a80444/

Leopoldo Hernández Romano is the managing partner of KermaPartners. Leopoldo advises law firms on strategic planning, organisational structure transformation, compensation schemes, corporate governance issues and Ibero-American alliances in their strategies for positioning and retaining talent. Previously, Leopoldo was the chief operating officer for the Mexico office of one of the top New York law firms. He is a qualified attorney and holds an MBA.
Leopoldo has been a professor at the Universidad Panamericana. He is an active member of the Mexican Bar Association and the IBA, and a founding member of the Association of Legal Administrators, Mexico chapter. He is the chairman of the board of Appleseed Mexico. Additionally, Leopoldo is a founding partner of UNE Mexico; a member of the Promoter Group of the National Civic Front (FCN); and coordinator of the FCN's State of Mexico chapter.

Sarah Martin
Co-founder, Martin & Levin; associate fellow, University of Oxford, Saïd Business School; faculty member, Meyler Campbell
[email protected]
https://www.linkedin.com/in/sarah-martin-23357370/

Sarah Martin is a founder of leadership development and executive coaching consultancy Martin & Levin. She is a coach to professionals and executives in international business and works with senior leaders to design and direct development programmes. Her focus is on leadership and women in leadership. Her clients include professional services firms, private equity houses and C-suites.
Sarah originally trained as a lawyer, working in M&A with Allen & Overy, as general counsel to a FTSE 250 company and as senior counsel in the chairman's office of BP PLC. She has 25 years of business, legal and governance work at board level.
Sarah holds an MSc in leadership as a Sloan fellow at London Business School. She is a graduate and member of faculty of Meyler Campbell, teaching leadership coaches; and an associate fellow at University of Oxford, Saïd Business School.

Iryna Nikitina
Strategic adviser to law firm partnerships, IOCONS LLC
[email protected]
https://www.linkedin.com/in/irynanikitina/

Iryna Nikitina is a strategic adviser for law firm partnerships at IOCONS LLC, a consultancy she founded in 2013. With over 25 years of managerial experience, she has held top roles in commercial companies, educational institutions, nongovernmental organisations and governmental bodies. Her consulting practice specialises in issues of firm strategy, partnership structure, organisational design and business processes.
As a chief operating officer, Iryna served at leading pan-CIS law firms (EPAM and Magisters) where she had firm-wide responsibility for business support operations, post-merger integration processes and the launch of new offices in the region. She has executed strategic reviews, mergers, market entries and complex change processes for top national law firms. Iryna's expertise in the legal market and law firm management has made her a trusted adviser to clients in Europe, the Caucasus and Asia. She is also a skilled and empathic leader, helping to foster and nurture legal talents in multicultural environments. A seasoned professional navigating businesses through crises, achieving operational excellence and providing strategic guidance to law firms, her ability to match strategy with the best tactics, deploy innovations for business development and identify opportunities for organisational development has made her a valuable adviser to clients in various industries.

Stephen Revell
Founder, Making Change Happen
[email protected]
https://www.linkedin.com/in/revellstephen/

Stephen Revell practised at Freshfields for over 41 years on three different continents and was a partner for 33 years. Following his retirement from Freshfields, Stephen established a law firm consultancy – Making Change Happen – through which he provides management advice to law firms and other professional service providers. He advises on a wide range of topics relevant to the management of law firms, from governance and remuneration to right-sizing business services and implementing new pricing strategies. He works for law firms all over the world and of many different sizes. As part of this work, he often speaks directly to law firm partners either in one-on-one mentoring sessions or at partner retreats.
He is the co-author of a variety of books and a regular speaker on law firm management topics. He has been very active in the IBA for many years and is presently co-chair of the Law Firm Management Committee.

Michael Roch
Managing director, MHPR Advisors
[email protected]
https://www.linkedin.com/in/michaelroch/

Michael Roch is managing director of MHPR Advisors. For more than 20 years, he has been a trusted adviser to managing and senior partners, boards and remuneration committees of professional services firms worldwide. His clients include law firms, accounting firms, consulting firms, public relations and media firms, wealth managers, real estate advisers and other advisory firms in more than 40 countries. More than a dozen are market leaders in their respective jurisdictions. He co-authored The Partner Remuneration Handbook: A Guide to Compensation in Law and Other Professional Service Firms (Globe Law and Business, 2022), with Ray D'Cruz, chief executive officer of Performance Leader.
Beyond his consulting work, Michael is a technology entrepreneur and is currently chief commercial officer of allianceboard.com, a strategic alliance management SaaS platform. He served as Europe co-CEO of the Internal Consulting Group, an Australia-based global consulting ecosystem with more than 4,000 members worldwide; and was managing partner of KermaPartners, a consulting firm he co-founded that focused on the professional services sector. His early career involved stints at two Big Four accounting firms in the United States and Eastern Europe and a Global 10 law firm in London and Frankfurt.

Aku Sorainen
Founder and senior partner, SORAINEN
[email protected]
https://www.linkedin.com/in/aku-sorainen/

Aku Sorainen is the founder and senior partner of SORAINEN, an international business law firm with offices in Estonia, Latvia, Lithuania and Belarus. Founded in 1995, the firm has grown organically to 44 partners and over 250 lawyers with integrated legal practice and sector groups, firm-wide leadership, quality management processes and business services. Aku is of Finnish origin but has worked as a lawyer in the Baltic states since 1993.
In 2015, Aku was honoured to receive the Knight's Cross, First Class, of the Order of the Lion of Finland from Finnish President Sauli Niinistö for two decades of work developing relations between Estonia and Finland; and in 2021, he was awarded the Service Cross of the Estonian Foreign Ministry for promoting Estonia's national interest.
Aku is also the honorary consul of Malta in Estonia. He is recognised as an eminent practitioner by international legal directories and is an active member of the IBA.

Rocío Vázquez Zavala
Senior associate, Modum
[email protected]

Rocío Vázquez Zavala is a senior associate at Modum, where she manages the compliance and administrative matters of the firm. She has over 20 years of experience in consulting, project management, strategic management, financial analysis and business process reengineering. Before joining Modum she was a consultant with KermaPartners based in Mexico City where she specialised in business process reengineering, performance management and implementation of policies and procedures. She has a bachelor's degree in industrial engineering from Universidad Iberoamericana, as well as a master's degree in management from the University of Bath, in the UK. Rocío also holds a PMP certification from the Project Management Institute.

Lisa M Walker Johnson
Founding principal, Walker Clark LLC
[email protected]
https://www.linkedin.com/in/lisa-walker-johnson-3a031145/

Lisa Walker Johnson's professional background is as a counselling psychologist, with more than 30 years' experience in senior levels of business management and consulting to corporations and law firms worldwide. As a psychologist with deep experience in law firm management issues, Lisa assists law firms with sensitive and frequently difficult change management issues, such as the integration and retention of lateral partners; leadership transitions between generations of partners; cultural due diligence during mergers and the implementation of strategic change in the disruptive business environments confronting the legal services industry. Lisa has published extensively in these areas and frequently speaks about them at major international conferences for legal professionals.

Tony Williams
Principal, Jomati Consultants LLP
[email protected]
https://www.linkedin.com/in/tony-williams-9a81376/

Tony Williams is the principal of Jomati Consultants LLP, a leading UK-based international management consultancy specialising in the legal profession. Jomati's services are designed to support law firms, barristers' chambers and inhouse legal departments on a range of strategic issues. Prior to establishing Jomati, Tony spent almost 20 years at Clifford Chance as a corporate lawyer; his last role was worldwide managing partner. In 2000, he become worldwide managing partner of Andersen Legal. He established Jomati Consultants in October 2002. In 2012 Jomati was awarded the Queen's Award for Enterprise in International Trade.
In 2013 Tony was named in the National Law Journal's inaugural list of 50 Business of Law Trailblazers & Pioneers as one of two non-USbased people named on the list.
Tony is a visiting professor at the University of Law.