Book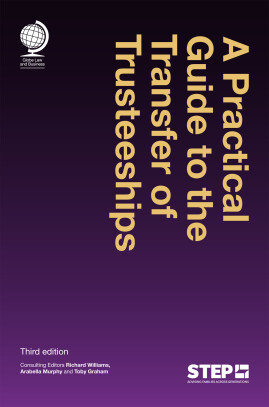 A Practical Guide to the Transfer of Trusteeships
Third edition
Richard Williams, Arabella Murphy, Toby Graham
Published: 2017
Pages: 448

eBook: 9781787421158
This text, first published by STEP in 2007 and now in its third edition, reviews the difficulties that arise on the transfer of trusteeships, particularly in respect of the negotiation of indemnities, and sets out a suggested approach.
This text, first published by STEP in 2007 and now in its third edition, reviews the difficulties that arise on the transfer of trusteeships, particularly in respect of the negotiation of indemnities, and sets out a suggested approach. It contains:
•A core section dealing with trusts governed by English law;
•Jurisdictional chapters, which explain the differences under local law for trusts governed by the laws of The Bahamas, Bermuda, the British Virgin Islands, the Cayman Islands, Guernsey, Hong Kong, the Isle of Man, Jersey, New Zealand and Singapore;
•Precedent deeds of change of trustee for each of those jurisdictions;
•A detailed drafting commentary;
•A U.S. commentary which outlines general principles involved in the transfer of trusteeships of U.S. trusts and general tendencies among states, with a particular focus on the trusteeship laws of the State of New York; and
•A table of references listing the statutes and cases, for ease of reference.

The text is an essential reference work for any legal practitioners, trust company professionals and others involved in advising on the transfer of trusteeships.

Table of Contents
| | | |
| --- | --- | --- |
| Front Cover | 1 | |
| Title | 2 | |
| Copyright | 3 | |
| Table of contents | 4 | |
| Foreword to the 1st edition | 8 | |
| Table of legislation | 10 | |
| Cases | 14 | |
| STEP | 16 | |
| 1. Introduction | 18 | |
| 2. English law trusts | 22 | |
| 2.1 Statutory and expresspowers of retirement, removaland appointment | 22 | |
| 2.2 Trustees' lien | 30 | |
| 2.3 Indemnities | 36 | |
| 2.4 Inspection and transferof trust documents | 44 | |
| 2.5 Contentious cases | 52 | |
| 2.6 Trustee indemnityinsurance | 56 | |
| 3. Bahamian law trusts | 62 | |
| 4. Bermuda law trusts | 72 | |
| 5. British Virgin Islandslaw trusts | 80 | |
| 6. Cayman Islands law trusts | 88 | |
| 7. Guernsey law trusts | 98 | |
| 8. Hong Kong law trusts | 108 | |
| 9. Isle of Man law trusts | 124 | |
| 10. Jersey law trusts | 128 | |
| 11. New Zealand law trusts | 138 | |
| 12. Singapore law trusts | 150 | |
| 13. United States trusts | 160 | |
| 14. Commentary on themodel precedents | 172 | |
| 14.1 Format of the precedents and general comment | 172 | |
| 14.2 Overall approach to indemnities | 175 | |
| 14.3 Use of the precedents | 176 | |
| 14.4 Drafting comments on the precedents | 177 | |
| 14.5 Adapting the offshore precedents to suit other cases | 196 | |
| Appendix | 198 | |
| Appendix A – English lawprecedents | 198 | |
| Appendix B – Bahamian lawprecedents | 244 | |
| Appendix C – Bermuda lawprecedents | 256 | |
| Appendix D – British VirginIslands law precedents | 282 | |
| Appendix E – Cayman Islandslaw precedents | 294 | |
| Appendix F – Guernsey lawprecedents | 320 | |
| Appendix G – Hong Konglaw precedents | 346 | |
| Appendix H – Isle of Manlaw precedents | 358 | |
| Appendix I – Jersey lawprecedents | 384 | |
| Appendix J – New Zealandlaw precedents | 404 | |
| Appendix K – Singaporelaw precedents429The | 430 | |
| About the authors | 442 | |
Each chapter is tersely written, to get to the nub of the issues and the book includes chapters devoted to practice in various non-Australian jurisdictions including England...


D W Marks QC
Queensland Law Reporter

In my view, 'A Practical Guide to the Transfer of Trusteeships' is the most relevant and, therefore, important work in the whole area of trusts and trusteeships.

Edward Buckland
LGL Trustees, Trusts & Trustees

Alec Anderson
Director, Conyers Dill & Pearman
alec.anderson@conyersdill.com

Alec Anderson is global head of private client and trust located in the Bermuda office of Conyers Dill & Pearman. He is also a director and president of Conyers Trust Services, a licensed trust company and a controlled affiliate of Conyers Dill & Pearman. Alec joined Conyers in 1985 and became partner in 1991. Alec's practice specialises in trust and estate planning for international private clients and advising professional trustees on trust law liability and trusts structuring issues. His practice includes advising on the creation of private trusts companies, cross border restructuring, modification and variation of trusts. Alec also has considerable experience in contentious trust matters. Additionally, his practice includes involvement in the protection of family wealth from divorce and other litigation. Alec is also a regular speaker at international trust and private client conferences, and a regular contributor to trade and legal publications.

Theo Burrows
Associate, Higgs & Johnson
tburrows@higgsjohnson.com

Theo Burrows is an associate in the private client & wealth management practice group of Higgs & Johnson. He specialises in wills, estate planning, foundations, private trust companies, and he also advises trust companies on the development of new services and issues arising in trust administration. In particular, he has overseen all aspects from a Bahamian law perspective of a commercially sensitive large scale multijurisdictional project in which a local trust company purchased the book of trust business from one of its foreign affiliates and successfully transferred about 200 trust structures to The Bahamas. He is also experienced in company law and international commercial contracts and advises clients on regulatory compliance. He is a member of the Bar of England and Wales, The Honourable Society of Lincoln's Inn and the Bahamas Bar. Theo also speaks Mandarin at an intermediate level having studied Chinese Language at Tsinghua University, Beijing, China.

Joanna Caen
Senior consultant, Herbert Smith Freehills
joanna.caen@hsf.com

Joanna Caen is a senior consultant in the private wealth team at Herbert Smith Freehills. She is head of private wealth – China. Joanna is admitted as a solicitor of the High Court of Hong Kong and as a barrister and solicitor of the High Court of New Zealand. Joanna has spent her entire career in private wealth law. She advises clients from across the private wealth sphere (including individuals, private banks, trustee companies and other fiduciaries and advisers) on various private wealth issues. In keeping with the team's focus, her particular specialisms are trusts, estates, family companies, charities and, increasingly, mental capacity issues. She provides both noncontentious and contentious advice.

Yee Hoong Chua
Partner, Withers KhattarWong
chuayeehoong@witherskhattarwong.com

Yee Hoong is a partner of Withers KhattarWong, Singapore. She is a Singapore-qualified lawyer in the tax and private client practice of the firm. She integrates her experience in advisory and contentious matters concerning income tax, stamp duties and goods and services tax, with her experience in wills, probate, trusts, charities and immigration, to provide bespoke advice to clients.
Yee Hoong holds an LLB (Hons) from the National University of Singapore. She is also a contributory author of Halsbury's Laws of Singapore: Revenue and Taxation, volumes 16 and 16(2) (LexisNexis, 2012) and Goods and Services – Tax Law & Practice (2nd edn) (LexisNexis, 2015), Singapore contributor to The Private Wealth & Private Client Review (2015) and Singapore contributor to Private Client Law, Global Guide 2015/2016.

Toby Graham
Partner, Farrer & Co
toby.graham@farrer.co.uk

Toby is a partner of Farrer & Co and head of its specialist contentious trusts and estates group. Toby is the editor (along with David Russell QC) of Trusts & Trustees (OUP). He is a member of the editorial board of Wills & Trusts Law Reports, is the author of the course notes for the STEP certificate in trust disputes (3rd edn), co-author (with Nicholas Eilliott QC and Evan Bell) of Money Laundering (Butterworth's Compliance Series) and editor and contributor to Butterworths International Guide to Money Laundering Law and Practice (2nd edn). Toby is a member of the Trust Law Committee, the chair of the STEP contentious trusts and estates special interest group and a member of the International Academy of Estate and Trust Law. Toby was named the private client lawyer of the year (Who's Who Legal) (March 2014) and was the winner of a STEP outstanding achievement award (2007/8).

John Hart
Barrister and Notary, Auckland
john.hart@tax-trusts.com

John commenced his career with the national law firm Kensington Swan and became a partner in 1986. He has specialised in tax and trust law since 1984.
John commenced practice as a specialist tax and trust barrister in April 2001. He provides tax and trust advice to a wide range of New Zealand and offshore corporate and private clients (including international banks and trust companies) and to not-for-profit organisations. The majority of his work is cross-border/ international in nature.
John is a frequent presenter at conferences in New Zealand and internationally, and has authored numerous publications on tax and trust law issues. He is a part-time teaching fellow at the University of Auckland for the master of taxation studies degree.
John was founding chairman of the New Zealand branch of STEP, and has served as a STEP Worldwide council member.

Nicholas Le Poidevin QC
Barrister, New Square Chambers
nicholas.lepoidevin@newsquarechambers.co.uk

Nicholas Le Poidevin is a barrister practising in London. He specialises in private client work, both contentious and non-contentious.
He has appeared in some of the leading cases in trusts and estates in recent years, such as Crociani v Crociani on jurisdiction clauses in trusts and Marley v Rawlings on switched wills and their rectification. Much of his practice is fbased offshore, especially the Channel Islands, Bermuda and the British Virgin Islands, and he has appeared in a number of overseas jurisdictions. He has a particular expertise in the conflict of laws.
He speaks and writes extensively on the law of trusts and estates and has for several editions been a senior editor of Lewin on Trusts (Sweet & Maxwell). He also has a keen interest in legal history.

Craig MacIntyre
Director, Conyers Dill & Pearman
craig.macintyre@conyersdill.com

Craig MacIntyre is a director in the private client and trust department in the Bermuda office of Conyers Dill & Pearman. Craig's practice is reflective of his clientele – challenging, vibrant and diverse. His business encompasses a broad spectrum of trust, company, estate planning and asset protection opportunities. Craig is a subject matter expert often sought after as a guest speaker and panellist for his straightforward, practical knowledge while lauded by industry peers and clients for his unwavering loyalty and actions in their best interests. He adeptly draws upon Conyers' deep bench strength to collaborate within the private client department and across the firm for fast, technical expertise exceeding clients' expectations with solution oriented answers. He values clients' time just as much as he values his – and is thus well suited to efficient and effective minded clients.

Christopher McKenzie
Partner, O'Neal Webster (UK) LLP
cmckenzie@onealwebster.com

Chris McKenzie is a partner in the London office of the leading British Virgin Islands (BVI) firm of O'Neal Webster. He was the founding chair of STEP in the BVI and served as one of the two council members for STEP's Caribbean and Latin America region from 1999 to 2010 (and then as chair of the region for a further three years). He is also a former vice-president of the BVI Bar Association.
Chris is generally regarded as the BVI's foremost trusts and estates expert, and from 1997 to 2012 chaired the committee the proposals of which led to most the BVI's most significant trust and estate reforms including both the original VISTA trust legislation and the jurisdiction's equally highly-regarded private trusts companies regulations. He is also the author of most of the BVI's leading texts on trusts and estates and is a frequent speaker at international trust conferences.

Alison MacKrill
Group partner, Appleby (Guernsey) LLP
amackrill@applebyglobal.com

Alison MacKrill is group partner and head of the private client and trusts department of Appleby in Guernsey.
Alison was admitted as an English solicitor in 1986. She has extensive experience advising clients in various offshore jurisdictions, having been called to the Bermuda bar in 2000 and having worked in Guernsey for the last 14 years. Alison's broad legal experience covers trust advisory work, employee share schemes and commercial trusts, along with advising on regulatory matters.
Alison regularly writes for legal publications and is the Guernsey contributor to the STEP directory. Alison makes presentations both in Guernsey and internationally. She is a past chairman of the Guernsey branch of STEP. She has previously been awarded the STEP Founder's Award for Outstanding Achievement and Corporate Livewire's Guernsey private client lawyer of the year. She has been honoured by Citywealth and International Who's Who Legal.

Steven Meiklejohn
Partner, Ogier
steve.mieklejohn@ogier.com

Steve is an adviser to trustees and private clients in respect of trust and fiduciary structures. In addition to acting for a range of private clients on their estate planning, Steve advises trustees on complex trust questions. He is also increasingly involved in establishing innovative charitable and philanthropic structures in anticipation of Jersey's new Charities Law coming into full effect. In addition, he advises trustees on the establishment of employee incentive and pension structures. Steve sits on the working party considering trust law reform in Jersey. He is also a regular speaker at conferences on trust and fiduciary issues and is currently on the editorial boards of the STEP Journal and Trusts and Trustees, which includes peer reviewing their renowned annual review of foundations around the world.
Steve is recognised as a leading individual in the latest editions of Legal 500 and Chambers. Private Client Practitioner has recognised him as a leading lawyer in the private client profession and in their 50 most influential 2015 list. Steve has also been listed in Who's Who Legal: Private Client 2015. This list highlights the most highly regarded private client advisers in the world, and Steve is recognised as one of their five leading offshore practitioners. He was also Citywealth's international lawyer of the year in 2011.

Judith Morris
Consultant, Bircham Dyson Bell LLP
judithmorris@bdb-law.co.uk

Judith Morris is a know-how lawyer in the private wealth department of Bircham Dyson Bell in London. She has both an MA and a BCL in law from Oxford University. She has specialised in private client and trust work throughout her career, with trust law and mental capacity issues being her particular interests. She has been a member of the Law Society's wills and equity committee, and is a member of the editorial board of Practical Law (Thomson Reuters).

Arabella Murphy
Partner, Maurice Turnor Gardner LLP
arabella.murphy@mtgllp.com

Arabella is head of private wealth and advises wealthy families, trustees and private banks on a range of wealth planning and structuring matters, and on risk management. She regularly advises on the creation of structures to hold and manage the global assets of international families, including businesses, property, financial assets, yachts, planes and art. She also works closely with trustees and beneficiaries on family governance and advises where there is disharmony or a dispute. Arabella has a wealth of experience advising buyers and sellers on the issues associated with the sale and purchase of trust businesses. She also advises private banks on the UK tax treatment of their products and services.

Richard Norridge
Partner, Herbert Smith Freehills
richard.norridge@hsf.com

Richard heads up Herbert Smith Freehills' Asia private wealth practice and also is the head of the firm's trusts and estates disputes practice. Richard divides his time between the firm's London and Hong Kong offices and has also recently spent time working out of the firm's Dubai office. He acts for high-net-worth individuals, their families, private banks and other advisers on a range of contentious and non-contentious trust and probate issues, together with charitable and family company matters. In a number of instances, this includes advising estate administrators and mental health committees. Richard also has extensive experience in acting for international banks and individuals in cases involving fraud and asset tracing. He has also advised clients on claims related to insolvency.
Richard obtained an LLB from King's College London and an LLM from Humboldt University, Berlin. He speaks English and German. Richard is admitted as a solicitor in England and Wales as well as Hong Kong. He is a member of STEP and of the Association of Contentious Trust and Estate Practitioners (ACTAPS). He cochairs the STEP Hong Kong dispute resolution subcommittee. He lectures widely on trusts and probate issues.

Charles Pitter
Senior legal counsel, Kleinwort Hambros
charlespitter@gmail.com

Charles Pitter is an in-house lawyer for Kleinwort Hambros in Jersey. He qualified as a Jersey solicitor in 2002 in the commercial department of a leading law firm.
Since qualification he has worked for various financial services organisations, advising on trust, corporate and regulatory issues. He is a member of STEP and a fluent French speaker, with a degree in English and French from Middlesex University.

Tony Pursall
Partner, Mourant Ozannes
tony.pursall@mourantozannes.com

Tony is a partner in the international trusts and private client team at Mourant Ozannes in London, advising on Cayman Islands and British Virgin Islands law.
He has over 23 years' experience advising trustees, beneficiaries, protectors, banks and highnet- worth individuals on a wide range of trust and private client matters, with particular expertise in the structuring of private trust companies and the use of STAR and VISTA trusts.
Tony qualified as a solicitor in England and Wales in 1993 (currently non-practising), as an attorney-at-law in the Cayman Islands in 2001 and as a solicitor of the Eastern Caribbean Supreme Court (British Virgin Islands) in 2005. He is the co-author of two books, Drafting Cayman Islands Trusts (Wolters Kluwer, 2006) and Drafting British Virgin Islands Trusts (Sweet & Maxwell, 2014), has contributed the Cayman Islands chapters to Private Foundations World Survey (OUP) and The World Trust Survey (OUP) and is a contributing editor of the Journal of International Tax, Trust and Corporate Planning (LexisNexis).

Helen Ratcliffe
Partner, Bircham Dyson Bell LLP
helenratcliffe@bdb-law.co.uk

Helen Ratcliffe is a partner in the private wealth department of Bircham Dyson Bell in London. She holds a first degree in history and a second research degree in English medieval history. Helen has specialised in private client tax and trust work throughout her career. In particular, she specialises in tax and estate planning for UK and non-UK domiciled clients and in trust and tax advice for onshore and international trusts on a wide range of issues, including restructuring, responding to legislation and relevant jurisdictions, and advising on more contentious situations.

John Rimmer
Director, Advocate John Rimmer
jr@advocatejr.com

John Rimmer qualified as an English solicitor in 1993, practising in London. He qualified as a Manx advocate at Dickinson Cruickshank & Co (which later became Appleby) in 2000, becoming a partner there in 2002. He left in 2014, forming specialist private client practice, Advocate John Rimmer Ltd. Well known locally and internationally, John is listed by Citywealth, Legal Who's Who, Legal 500 (where the firm was shortlisted for 2017 offshore law firm of the year) and Chambers. He is a regular contributor to Trusts and Trustees (OUP), and occasionally to Private Client Business (Sweet & Maxwell) and Trusts and Estates (Wealth Management). He wrote the Isle of Man chapters for International Succession (OUP), Private Foundations Word Survey (OUP), World Trust Survey (OUP), Tottel's International Succession, ADR and Trusts (Spiramus) and The international Protection of Adults (OUP). He speaks at conferences in the Isle of Man and London, and has recently spoken in Geneva, New York, Toronto and Shanghai.

G Warren Whitaker
Partner, Day Pitney LLP
gwwhitaker@daypitney.com

G Warren Whitaker is a partner in the individual clients department of Day Pitney LLP in New York. He attended Rutgers College and Columbia Law School and has specialised in international and domestic trust and estate planning for over 35 years. He heads the international private clients practice of Day Pitney LLP, and represents highnet- worth individuals around the world.
Warren is former chair of STEP USA and of the trusts and estate section of the New York State Bar Association. He has written widely and spoken around the world on planning for international private clients. He is the lead author of Private Client Legal and Tax Planning Answer Book (Practising Law Institute).

Richard Williams
Barrister-at-law, Queensland Bar
richard.williams@qldbar.asn.au

Richard Williams, MA (Cantab), TEP, is a barrister at the Queensland Bar, specialising in wills, estates, trusts and superannuation. He is listed in Doyle's Guide to the Australian Legal Profession as a leading wills and estate litigation barrister. He commenced his career with the Coutts & Co group, advising on trusts and estate planning, and subsequently practised in Zurich, Jersey, the Cayman Islands, London and Guernsey. In 2006, he foresaw the benefits of a common standard for the transfer of trusteeships, and brought together leading advisers within STEP Worldwide to collaborate on A Practical Guide to the Transfer of Trusteeships. Richard is co-author of Statutory Will Applications: A Practical Guide (LexisNexis Australia), a regular presenter at professional conferences, and an adjunct lecturer for The College of Law in Australia. He is chair of the STEP Queensland branch, a past chair of STEP Australia, and served from 2002 to 2007 as a council member of STEP Worldwide.