Book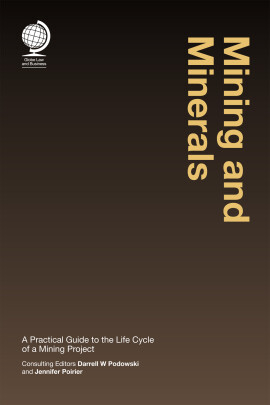 Mining and Minerals
A Practical Guide to the Life Cycle of a Mining Project
Darrell W Podowski, Jennifer Poirier
Published: 2018
Pages: 259

eBook: 9781787421301
This practical title outlines in a single volume the essential principles involved in the life of a mining project, from preliminary agreements, to the sale and purchase of minerals, and the decommissioning of mining assets.
Minerals and mining are key to the world economy. The mining and processing of minerals are major sources of income and employment in many countries and minerals are used to make many essential goods that people and economies require worldwide.

This practical title outlines in a single volume the essential principles involved in the life of a mining project, from preliminary agreements, to the sale and purchase of minerals, and the decommissioning of mining assets. It is intended as a practical guide for anyone seeking a better understanding of key commercial and legal principles and documentation involved in finding and developing a mining project. co-edited by Canadian law firm Cassels Brock & Blackwell's Darrell Podowski, a highly-ranked expert in mining law, and Jennifer Poirier, organiser of Canadian-based mining association, the Young Mining Professionals, this practical title features contributions from leading practitioners around the world.

Whether you are a lawyer in private practice or in industry, a commercial negotiator or from a financial institution or mineral resource or mining-sector advisory practice, this title will provide a comprehensive insight into minerals and mining transactions.

Table of Contents
| | | |
| --- | --- | --- |
| Title Page | 1 | |
| Copyright Page | 2 | |
| Table of Contents | 3 | |
| Introduction | 5 | |
| Confidentiality and standstill agreements in the mining industry | 7 | |
| Preliminary agreements | 51 | |
| Option agreements in the mining industry | 63 | |
| Joint ventures | 75 | |
| Aboriginal law | 91 | |
| The life of a mining project: effective diagnosis of a social licence to operate | 115 | |
| The emerging international framework for mineral development | 135 | |
| Mining capital finance – traditional and alternative mechanisms | 167 | |
| Project finance in the mining industry | 187 | |
| Sale and purchase of mining projects | 207 | |
| Mine decommissioning and reclamation | 227 | |
| About the authors | 251 | |
| About Globe Law and Business | 259 | |
Felipe Allende
Senior associate, Bofill Mir & Álvarez Jana Abogados
fallende@bmaj.cl

Felipe Allende focuses his practice on natural resources, mining and energy law. He received his JD from Universidad Diego Portales, Santiago, Chile (2009) and was admitted to practise in Chile in 2010. During his studies, he participated in the Griffith University study abroad programme in Australia (2006). Mr Allende also holds an LLM in environmental and natural resources law and policy, specialising in mining and energy, from the University of Denver in Colorado, United States (2014), having been awarded the university's Natural Resources Scholarship. Mr Allende has worked in Canada as an international associate in mining and securities at Cassels Brock & Blackwell (2014–15), and in Chile as counsel at Sonda SA (2010) and JACOBS Engineering (2010–11). He was highlighted as a leading lawyer in mining by the Legal 500 in 2018.

Scot Anderson
Partner, Hogan Lovells
scot.anderson@hoganlovells.com

Scot Anderson's practice revolves around commercial transactions, regulatory advice and project development. Mr Anderson oversees complex transactions for natural resources clients, including the formation of new joint ventures, the divestiture of natural resources projects, and the acquisition of leases and reserves. He represents clients in administrative proceedings as well as federal and state courts. He regularly addresses issues related to mineral development of federal public lands and Indian lands, and also advises clients on international project development and transactions. He has worked on matters throughout North and South America, as well as Europe, Australia, Africa and Asia. Mr Anderson is the global head of the firm's energy and natural resources industry sector group.

David Budd
Partner, Cassels Brock & Blackwell LLP
dbudd@casselsbrock.com

David Budd is a partner at Cassels Brock & Blackwell LLP in both the Toronto and Vancouver offices. He is a member of the financial services group and the mining, equipment and asset financing and sports industry groups. As a member of the mining group, He has worked extensively with both lenders and resource companies in the mining sector on a variety of unsecured and senior secured debt facilities on both domestic and multi-jurisdictional transactions with an emphasis on project finance, acquisition and corporate credit facilities.
Mr Budd has extensive experience leading project financings in the mining sector across a number of jurisdictions, including Canada, the United States, Mexico and Colombia. In addition to his leadership in mining project finance, he is currently the deputy managing partner of Cassels Brock & Blackwell LLP and has achieved rankings in the Canadian Legal Lexpert Director (Asset Equipment Finance/ Leasing; Asset-Based Lending); Who's Who Legal: Canada (Sports & Entertainment) and IFLR1000 (Notable Practitioner).

Luke Danielson
President, Sustainable Development Strategies Group
danielson@sdsg.org

Luke Danielson is an attorney, professor, researcher and consultant on minerals policy, national development strategies, and environmental and social performance in the mining and oil and gas industries. He is the president of a non-profit research institute, Sustainable Development Strategies Group. Mr Danielson was executive director of the Mining Minerals and Sustainable Development Project at the International Institute for Environment and Development; the founding director of the Mining Policy Research Initiative, a project of the International Development Research Centre in Montevideo; and a professor at the University of Chile faculty of law. He is known for his work on minerals policies at both international and national levels, and has worked with over a dozen governments, including those of Mozambique, Chile, Peru, Mongolia, Cuba and China. He was a 2015 inductee into the International Mining Technology Hall of Fame for his contributions to environmental management and stewardship.

Brian P Dominique
Partner, Cassels Brock & Blackwell LLP
bdominique@casselsbrock.com

Brian Dominique is a partner practising commercial law with an internationally recognised focus on the natural resources sector. He has acted on transactions involving mining projects across Canada (including the far north) and throughout the Americas, Africa, Australia, Europe and Asia, including advising clients that explore for, build and operate all manner of precious and base metal and other mineral projects. Mr Dominique has significant experience in mining exploration and mine development, production and metals/minerals sales, including alternative financing arrangements (farm-in agreements, joint ventures, royalty agreements, off-take agreements, streaming agreements), as well as all manner of operating agreements, easements, power purchase agreements, structuring joint ventures, partnerships and limited partnerships and acquisitions of related government rights. Mr Dominique also has extensive experience in Aboriginal law and negotiating with Indigenous peoples. He was called to the Ontario Bar in 1989.

Arend Hoekstra
Associate, Cassels Brock & Blackwell LLP
ahoekstra@casselsbrock.com

Arend Hoekstra is a practising lawyer and a chartered professional accountant. He has advised on mining projects, resource legislation and Aboriginal law issues, including the use of reserve lands and traditional lands, project-related environmental and regulatory matters, and Section 35 treaty negotiations. He acted as senior adviser to one of Canada's largest diamond mines and has served on the council of the Institute of Chartered Accountants of the Northwest Territories and Nunavut. Mr Hoekstra has a JD from the University of British Columbia and is a member of the law societies of British Columbia and the Northwest Territories (NWT).

Thomas Isaac
Partner, Cassels Brock & Blackwell LLP
tisaac@casselsbrock.com

Thomas Isaac has extensive national experience advising energy, oil, gas, pipeline, mining and forestry companies, lenders and investors, and federal, provincial, territorial and municipal governments on Aboriginal law. His published works on Aboriginal law have been cited with approval by Canadian courts, including the Supreme Court of Canada. Mr Isaac is a former chief treaty negotiator for the government of British Columbia and former assistant deputy minister responsible for establishing Nunavut for the government of the Northwest Territories (NWT). Mr Isaac was appointed special representative to the minister of Indigenous and northern affairs regarding a Section 35 Métis rights and reconciliation framework; served as the minister's special representative regarding claims negotiations in the Southeast NWT; and served as the minister's special representative to conduct exploratory discussions regarding the Gottfriedson class action lawsuit. Mr Isaac is a member of the law societies of British Columbia, Alberta, NWT, Nunavut and Yukon. He was named in 2018 by Canadian Lawyer as one of Canada's most influential lawyers.

Stuart MacGregor
Partner, Clayton Utz
smacgregor@claytonutz.com

Stuart MacGregor is a partner of Clayton Utz and the national industry group leader of the corporate energy and resources group. He is recognised as one of the world's leading energy and resources lawyers by International Who's Who Legal, Chambers Guide, Best Lawyers, Doyle's Guide, Legal 500 Asia Pacific and IFLR1000. He is known for his "profound technical ability" and "in-depth experience" in the energy and resources industry (Who's Who Legal). Mr MacGregor also lectures in mining and petroleum law at the University of Queensland. He has expertise in the full lifecycle of mining projects, from initial exploration to mine closure and rehabilitation. He advises on issues related to cross-border joint ventures, negotiation and drafting of commercial agreements, tender processes, long-term commodity agreements, commodity handling agreements and shipping agreements associated with major infrastructure projects, as well as local and cross-border acquisitions and disposals of projects and infrastructure.

Dawn G Meidinger
Director and shareholder, Fennemore Craig, PC
dmeidinger@fclaw.com

Dawn Meidinger been practising law for over 20 years, representing mining companies and land developers. She is chair of Fennemore Craig's natural resources, energy and environmental practice group, based in the Phoenix office. Previously, she worked as inhouse counsel for Phelps Dodge Corporation (today Freeport-McMoRan Inc), where she specialised in mineral exploration, development and state and federal permitting on private and public lands. Her work continues in that specialty in addition to cultural resources and endangered species matters. Her expertise is bolstered by time spent in the private sector as the operational lead on the entitlement and development of residential and commercial real estate projects in Arizona.
Ms Meidinger is a graduate of the Arizona State University (1990) and the Sandra Day O'Connor College of Law (1996). She is a member of the Arizona State Bar.

Marie-Christine Moon
Lawyer, Clayton Utz
mmoon@claytonutz.com

Marie-Christine Moon graduated from Queensland University of Technology with a bachelor of laws (hons) and is currently a lawyer in the corporate energy and resource team at Clayton Utz. She has experience advising resources clients on corporate, commercial and regulatory issues associated with major resources projects, including joint ventures, native title, mine rehabilitation, local and cross-border acquisitions and disposals of projects. Ms Moon started her career as a judge's associate to a district court judge (also commissioned in the planning and environment court in Queensland) before commencing practice at Clayton Utz.

Patrick Petzall
Legal counsel, Trapeze Group
patrick.petzall@trapezegroup.com

Patrick Petzall is legal counsel for the Trapeze Group, an affiliate of Constellation Software, a Toronto Stock Exchange listed company. Previously, he was an associate with the construction group at Cassels Brock in Toronto and a consultant to Cassels Brock's business law/mining group; before that, he was a junior partner at one of Venezuela's leading law firms. He holds degrees in law, business and international affairs, and has been called to the bar in both Ontario and Venezuela. He has extensive experience in negotiating, drafting, interpreting and managing risks of multimillion-dollar contracts in the areas of construction, oil and gas, mining, power generation and international project finance. Mr Petzall's experience includes drafting, negotiating and monitoring performance of large-scale engineering, procurement and construction contracts, public procurement, international project and public sector financing, as well as negotiating and drafting public-private partnership-related agreements.

Fred R Pletcher
Partner, Borden Ladner Gervais LLP
FPletcher@blg.com

Fred R Pletcher is a lawyer who works in the Vancouver office of the Canadian law firm Borden Ladner Gervais LLP. He is the chair of the firm's national mining group. He advises public companies, boards of directors and underwriters in connection with a broad range of transactions and issues, including mergers and acquisitions, corporate finance, corporate governance, shareholder activism, continuous disclosure and general commercial matters. Although Mr Pletcher acts for clients across a diverse range of industries, he has a particular focus on mining and has worked in this area for over 25 years. He regularly acts for Canadian and international mining companies in connection with acquisitions and dispositions of mines, development projects and exploration properties; option agreements; joint venture agreements; project finance; royalty, streaming, off-take and ore sales agreements; confidentiality agreements; tenure issues; permitting; expropriations; and National Instrument 43-101 reporting obligations. Mr Pletcher frequently speaks and writes on mining law topics.

Darrell W Podowski
Partner, Cassels Brock & Blackwell LLP
dpodowski@casselsbrock.com

Darrell Podowski is a partner in the securities and mining groups of Cassels Brock & Blackwell LLP in Vancouver, Canada. He practises business and securities law, advising mining, industrial, entertainment, technology, and biotechnology companies on going public transactions, corporate finance, merger and acquisition transactions and general corporate commercial matters in Canada and internationally. Previously, he was corporate counsel with Teck Resources Limited, a major diversified mining company based in Vancouver, and prior to his law career he was an oil and gas exploration geophysicist with Dome Petroleum and Amoco Canada based in Alberta, Canada. As a result of his diversified experience, Mr Podowski possesses a particularly strong understanding of the practical commercial needs of his clients. In addition, he has particular expertise with Latin America-related transactions and has extensive offshore experience as a result of his two-anda- half years working in Bermuda with a large offshore law firm. He holds a bachelor of science in geophysics and a bachelor of law, both from the University of British Columbia, Canada.

Jennifer Poirier
Lawyer, Cassels Brock & Blackwell LLP
jpoirier@casselsbrock.com

Jennifer Poirier is a lawyer in the securities group of Cassels Brock & Blackwell LLP in Vancouver, Canada. She has experience acting for issuers and dealers in connection with public offerings, private placements and mergers and acquisitions in Canada and globally in a variety of industries, including mining, renewable energy and technology. She also has experience advising on corporate commercial agreements, such as option agreements, joint venture agreements, memorandums of understanding, consulting agreements and partnership agreements. Ms Poirier's recent transactions involve advising on various financings, mergers and acquisitions and other commercial transactions involving mining and renewable energy issuers. She is also an organiser of international not-for-profit mining association, the Young Mining Professionals, established to advance the global profile and leadership of the mining and exploration industry. Ms Poirier holds a bachelor of arts degree and a juris doctorate from the University of British Columbia, Canada.

Carla Potter
Lawyer, Cassels Brock & Blackwell LLP
cpotter@casselsbrock.com

Carla Potter is a lawyer in Cassels Brock & Blackwell LLP's financial services group. Her practice focuses on project financing, corporate financing and equipment finance matters, representing both lenders and borrowers involved in domestic and crossborder lending and leasing transactions and corporate reorganisations. Ms Potter has been involved in several project finance transactions in the mining sector including as it relates to mining projects in Canada, Guyana, Mexico and Colombia, as well as several secured and unsecured corporate credit facilities for mining issuers. She is also a contributing author to texts regarding project finance in Canada. Ms Potter is also a chartered professional accountant and chartered accountant with experience working at national accounting firms in both an assurance and business advisory capacity. She completed her JD degree from Queen's University and previously obtained an honours bachelor of commerce degree from Lakehead University.

Shea Small
Partner, McCarthy Tétrault
ssmall@mccarthy.ca

Shea Small is a corporate partner and co-leader of McCarthy Tétrault's global metals and mining group. Based in Toronto, Canada and London, United Kingdom, Mr Small has an international practice focused on M&A, capital markets, private equity and joint venture transactions. He has extensive experience in the metals and mining sector in Canada and around the globe, including acting for the major diversified mining companies, as well as private equity groups across a wide range of bulk, base metal, precious metal and speciality commodities.

Sarah A Strunk
Chair, director and shareholder, Fennemore Craig, PC
sstrunk@fclaw.com

Sarah Strunk has spent more than 25 years representing mining and mineral related companies, as well as lenders to the mining industry. She began her association with the mining industry in 1992, when she joined the legal team at Cyprus Amax, as counsel to the copper/molybdenum division of the company. Her principal focus is on mergers and acquisitions, lending and sales transactions, with transaction experience all over the world. She is based in the Phoenix, Arizona office of Fennemore Craig.
Ms Strunk has a master's in law from New York University (Corporations) and is a graduate of the University of Kansas School of Law (1985). She is a member of the Bars of the states of Arizona, California, New York, Connecticut and Kansas.

Roger Taplin
Partner, McCarthy Tétrault
rtaplin@mccarthy.ca

Roger Taplin is a partner in McCarthy Tétrault's business law group and is co-leader of the global mining group. His practice is primarily focused on the areas of mergers and acquisitions and securities, particularly in the mining sector. Mr Taplin's experience includes advising on significant mining M&A transactions, business combinations, share and asset sales and joint ventures. He acts for issuers and underwriters on public and private securities offerings, as well as providing general securities regulatory and corporate advice to public companies. He has acted for mining clients and banks in relation to sizeable mining projects in numerous international jurisdictions.

Jordi G Ventura
President, Ventura & Associates LLC
jordigventura@gmail.com

Jordi Ventura is an international mining attorney and Latin American specialist with vast experience advising junior and major US and Canadian mining companies throughout the Americas on social sustainability, sustainable development, corporate social responsibility and environmental matters. Mr Ventura has provided clients with his expertise in diverse settings – as an independent consultant, at US and Canadian law firms, and as local general counsel for large multinational corporations in various countries in Latin America. In the mining industry, Mr Ventura has served as local general counsel for mining companies in Peru, Colombia, Mexico, Guatemala and Honduras. He has lived or worked in most countries in Latin America.
Mr Ventura is completely bilingual in Spanish and English on a professional level, fluent in Catalán and French, and conversational in Portuguese and Italian. He is also cross-cultural, possessing citizenship in both the United States and the European Union (a national of Spain).

Adam D Wanke
Counsel, McCarthy Tétrault
awanke@mccarthy.ca

Adam D Wanke is counsel in McCarthy Tétrault's business law group in the London, England office. His practice is primarily focused on corporate and commercial law, including mergers and acquisitions, particularly in the mining sector. Mr Wanke has experience advising clients in numerous international jurisdictions with respect to mining projects, mineral streaming transactions, joint ventures, mining royalties and asset and share sales.