Book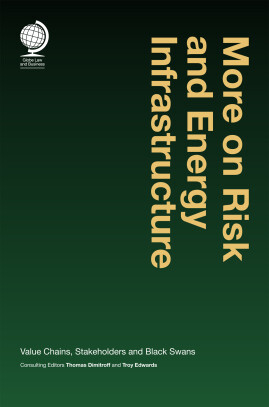 More on Risk and Energy Infrastructure
Value Chains, Stakeholders and Black Swans
Thomas Dimitroff, Troy Edwards
Published: 2017
Pages: 180

eBook: 9781787420694
Risk and Energy Infrastructure Vol I provided an inter-disciplinary analysis of the project-specific risk factors facing cross-border oil and gas pipelines, together with risk allocation and mitigation methodologies. The updated Vol II looks beyond oil and gas pipelines and considers energy infrastructure more broadly in several important respects
First published in 2011, 'Risk and Energy Infrastructure' (Vol I) provided an inter-disciplinary analysis of the project-specific risk factors facing cross-border oil and gas pipelines, together with risk allocation and mitigation methodologies. Our fully updated and comprehensive Vol II looks beyond oil and gas pipelines and considers energy infrastructure more broadly in several important respects:
•risk is examined in relation to gas and LNG infrastructure, oil transportation and refining, and low-carbon power production (eg, nuclear and renewable energy);
•risk analysis is expanded beyond project-specific risk factors and covers systematic risks (including economic sustainability, master planning, corruption, lack of public sector capacity and cyber-security) and other risk factors that arise in the development of any project which is part of a more complex value chain and/or interdependent with the success or failure of other matters or events;
•traditional assumptions underpinning project finance that focus on areas that are reflective of past events and experiences are challenged.

As political, social and technological landscapes become ever more complex, there is an increasing need to assess risk from a broader perspective and, in particular, against potentially disruptive events and developments (eg, climate change) which could act to undermine (or promote) entire energy or infrastructure sectors.

The book will provide a practical guide to energy infrastructure developers, legal and financing professionals, policy makers and academics.

Table of Contents
| | | |
| --- | --- | --- |
| Cover | 1 | |
| Title | 2 | |
| Copyright | 3 | |
| Table of contents | 4 | |
| Part A | 6 | |
| Setting the scene Thomas Dimitroff Infrastructure Development Partnership; Roland Berger GmbH Troy Edwards Allen & Overy LLP | 6 | |
| Delivering sustainable energy infrastructure solutions: TheMiddle East and sub-Saharan Africa Thomas Dimitroff Infrastructure Development Partnership; Roland Berger GmbH | 10 | |
| New risks, new opportunities: The growing role of indigenous peoples in project development Mark Podlasly Nlaka'pamux Legacy Trust | 26 | |
| Part B | 38 | |
| Macro risks a decade after the global financial crisis Kevin Gardiner Senior investment strategist | 38 | |
| Part C | 52 | |
| Master planning energy infrastructure Drew Slaton Senior project manager | 52 | |
| Part D\r | 66 | |
| Risks in the oil industry throughout the value chain* Douglas Nordlinger | 66 | |
| Risk in the gas value chain David Baker White & Case Paul Griffin White & Case, University of Dundee | 78 | |
| Risks in the development and ownership of wind andsolar projects Antony Skinner Ashurst LLP | 98 | |
| Risk in nuclear projects David Wadham Ashurst LLP | 116 | |
| Part E | 128 | |
| Financing the energy transition Deyber Cano Consultant, Project Financial Modelling Brian Scott-Quinn ICMA Centre for Financial Markets, Henley Business School | 128 | |
| Part F | 148 | |
| Security risk Gabriel Carter ALARYX | 148 | |
| Part G | 170 | |
| Black swans and disruptive change Sir Mark Allen Troy Edwards Allen & Overy LLP | 170 | |
| About the authors | 178 | |
Review for 'Risk and Energy Infrastructure':
Overall this book is an excellent exposition of the risks surrounding major energy infrastructure projects, and would be a useful addition to the reading list of anyone who is involved in the design, construction, operation or financing of these projects.
Craig Jones
Global Energy Review

Sir Mark Allen
[email protected]

Sir Mark Allen has been a special adviser to BP plc since 2004. He studied Arabic and Turkish at Oxford and joined the Foreign Service in 1973. With postings in Abu Dhabi, Cairo, Belgrade and Amman, his career was divided between Middle Eastern, African and East European affairs and with global issues such as counter-proliferation and counter-terrorism.
He has written four books and his latest, Arabs, was published in June 2006. He is a director of St John and St Elizabeth's Hospital in London and sits on a number of advisory boards and councils. Mark is an honorary fellow of St Antony's College, Oxford. He was appointed CMG in 2002 and knighted in 2005. He received a papal knighthood in 2009. He is married with a grown-up son and daughter.

David Baker
Partner, White & Case
[email protected]

David Baker is a partner in the Energy, Infrastructure, Project and Asset Finance Group at White & Case based in London. He has advised governments, national oil companies, oil companies, trading houses and lenders on oil and gas projects for over 20 years. He has particularly extensive experience in the UK upstream and energy business and the international gas market, including LNG project financing in various jurisdictions covering Europe, the Middle East, Africa and Asia. David is recognised for the depth of his experience for energy, oil, gas and electricity. He is ranked regularly in the Chambers UK as well as in the Legal 500 UK directories for projects, energy and natural resources.

Deyber Cano
Consultant, Project Financial Modelling
[email protected]

Deyber Cano is an economist specialising in infrastructure finance and financial modelling. He graduated from University College London with a distinction in his MSc Infrastructure Investment and Finance. He was the co-author with Brian Scott-Quinn of the AFME Guide to Infrastructure Financing.

Gabriel Carter
Chief executive officer, ALARYX
[email protected]

Gabriel Carter is the chief executive officer of ALARYX, a security company working chiefly in the Middle East and North Africa region (MENA) and South Asia. Since 2008 he has worked extensively in the security industry both on operational deployments and providing strategic consultancy support across a wide range of fields. He has delivered numerous security projects for the oil and gas and infrastructure sectors, including global and regional audits, strategic route selection, security strategy and policy development, and crisis management capacity building programmes. He has also been heavily involved in technical/physical security design for several major pharmaceutical companies, defence manufacturers and development-focused NGOs. A graduate of Cambridge University and a member of the Special Forces Club, he has written articles for numerous industry publications and has spoken on television and radio about the challenges facing the security industry and other sectors operating in high-risk environments.

Thomas Dimitroff
Partner, Infrastructure Development Partnership; Senior adviser, Roland Berger GmbH
[email protected]

Thomas Dimitroff has over 20 years' experience in the energy sector. He has functioned as a core member of multiple negotiating teams that have delivered globally significant energy projects, including the one million bbl/day Baku-Tbilisi- Ceyhan oil pipeline, the 10 billion cm/year South Caucasus gas pipeline, the 6.8 bcma gas sales agreement between Turkey and Azerbaijan and the 10 bcma Trans-Adriatic Pipeline Company. He has advised governments including the Azerbaijan Republic during its multilateral Energy Charter Transit Protocol negotiations, and he has led cross-functional teams in delivering multiple feasibility studies and strategy advice to governments and developers for conventional and renewable projects in the former Soviet Union (FSU), Africa, the Middle East, Asia and North America. Tom has also developed and negotiated arrangements for the acquisition and sale of upstream oil and gas assets in the FSU and the Middle East on behalf of oil and gas companies and private equity funds. Prior to joining the Infrastructure Development Partnership, he was regional advisor to BP plc for Africa, the Middle East, Russia, the Caspian and Turkey, advising on non-technical risks posed to new ventures and existing operations across the region. Tom was consulting editor for Risk and Energy Infrastructure: Cross-border Dimensions published by Globe Law and Business in 2011.

Troy Edwards
Partner, Allen & Overy LLP
[email protected]

Troy Edwards is a partner in Allen & Overy's Projects, Energy and Infrastructure Group based in London. He has extensive experience acting for sponsors, governments, lenders and contractors on a large number of privately and publicly financed energy and infrastructure projects with a particular focus on first-of-a-kind transactions. Troy has worked in a variety of sectors with his recent focus including the power sector (thermal, nuclear and renewable), oil & gas (upstream, pipelines and petrochemical facilities) and the transport and water infrastructure sectors. He acts across a broad range of jurisdictions, including throughout Europe, Africa, the Middle East and Central Asia and on all types of commercial arrangements, including revenue and offtake agreements, governmental agreements, joint ventures, concessions and EPC contracts. Troy is additionally a contributor to the 4th edition of the leading text Project Finance, A Legal Guide and the construction textbook EPC Contracts and Major Projects.
Kevin Gardiner
Senior investment strategist

Kevin Gardiner is a City-based senior investment strategist at a private bank. Previously he was chief investment officer (Europe) at Barclays Wealth Management, and worked at several investment banks and the Bank of England in a financial market career spanning more than 30 years. In 1994, while at Morgan Stanley, he wrote the 'Celtic Tiger' report on the Irish economy. He was educated at Atlantic College, the London School of Economics and Cambridge, and is a governor at Atlantic College and a member of the Welsh Government's Financial and Professional Services Advisory Panel. His book, Making Sense of Markets, was published in July 2015 by Palgrave Macmillan.

Paul Griffin
Lawyer, arbitrator and mediator
Special adviser – oil and gas, White & Case; University of Dundee
[email protected]

Professor Paul Griffin is an English lawyer and has more than 35 years' experience of practising in the international oil and gas business. Paul was a partner in leading international law firms for some 25 years until his retirement from Allen & Overy in 2016. During that time, he led the oil and gas teams at those firms and worked on many of the significant deals and disputes of the global oil and gas business, as well as being involved in related matters of public law and competition law. He has been recognised as the 'World's Leading Energy Lawyer' in the Expert Guides: Best of the Best, and as the 'World's Leading Oil and Gas Lawyer' in Who's Who Legal.
In addition to his role at the University of Dundee, Paul is special adviser to the global oil and gas group at White & Case. He is also now active in the resolution of disputes in the international oil and gas sector, where he works as an arbitrator, an expert and a mediator. Paul writes and speaks regularly on issues and developments in the law in the context of the global oil and gas industry.
Paul is vice-chair of the Oil and Gas Law Committee of the International Bar Association and a member of the Association of International Petroleum Negotiators and the Institute of Energy Law. He is also a member of the Chartered Institute of Arbitrators and a CEDR accredited mediator.

Mark Podlasly
Trustee, Nlaka'pamux Legacy Trust
[email protected]

Mark Podlasly is a member of the Nlaka'pamux First Nation, an indigenous community located in British Columbia, Canada. A graduate of Harvard University, he holds degrees in business and public administration. He has over 20 years of international experience in the planning, permitting and construction of large capital projects related to energy, resource development and community infrastructure.
Mark advises the Canadian Assembly of First Nations and the First Nations Energy and Mining Council on energy and mining issues and their impact on indigenous lands and communities. In addition, Mark counsels indigenous governments across Canada on the establishment of sovereign wealth funds to capture and invest revenues from resource development.
He is a founding Trustee of the Nlaka'pamux Legacy Trust, managing and operating a sevenfigure sovereign wealth fund shared by eight indigenous communities in British Columbia.

Brian Scott-Quinn
Chairman, ICMA Centre for Financial Markets Henley Business School, University of Reading
[email protected]

Brian Scott-Quinn originally worked as an investment banker in the Eurobond market before setting up the ICMA Centre at the University of Reading with the help of £8 million in gifts from the International Capital Market Association (ICMA), the trade association and market regulator for the international capital market. He has published extensively and is the author of Commercial and Investment Banking published by Palgrave Macmillan. He has also coauthored (with Deyber Cano) the Association of Financial Markets in Europe (AFME) Guide to Infrastructure Financing.

He is a non-executive director of Civilised Bank Plc and chairman of its Audit and Assurance Committee. He is also a director of Madiston Plc, a peer-to-peer software company. He is currently examining how private project finance could enable the deployment of high temperature small modular reactors (HTSMRs). He is on the advisory board of Penultimate Power UK Ltd.

Antony Skinner
Partner, Ashurst LLP
[email protected]

Antony Skinner is a partner in the energy and infrastructure team at Ashurst. Antony has worked in the power and renewables sector for 20 years. He specialises in renewable and thermal power with respect to development, financing and M&A in the UK, Europe and Africa. He has advised sponsors and lenders, purchasers and vendors in a range of transactions in relation to renewables and power generation developments and in connection with a number of renewable portfolio acquisitions and financings.

Drew Slaton
Senior project manager
[email protected]

Drew Slaton has over 30 years' experience in the engineering and construction industry involving power generation, infrastructure and petrochemical-related projects in the commercial and government sectors. He completed two business management degrees in the United States, a master's degree in technology management in Australia, and is currently pursuing a doctoral programme.
Drew has worked in 30 countries spanning five continents supporting high risk, hardship, multi-billion-dollar mega-projects and has extensive experience working on joint venture projects with multi-national companies. An active member of the Project Management Institute (PMI) since 1995, Drew earned internationally recognised Project Management Professional and Risk Management Professional certifications, as well as a Construction Risk and Insurance Specialist certification through the International Risk Management Institute. He has chaired the 40K+ member PMI Project Risk Management Community of Practice and served as the co-chair on a joint Risk Management Working Group formed between the International Council on Systems Engineering, the Massachusetts Institute of Technology and PMI.

David Wadham
Partner, Ashurst LLP
[email protected]

David Wadham is a partner in the utilities and resources group of Ashurst LLP, based in London. He is global head of the firm's utilities practice and has previously worked in the Middle East and Paris. David specialises in the acquisition, development and financing of large-scale energy and infrastructure projects.
In particular, David advises sponsors, funders and governments on the acquisition, development and financing of independent power projects (IPPs). He advises on commercial agreements, such as power purchase and fuel supply contracts, construction and operating subcontracts, as well as on conventional and Islamic financing.
David has advised on power and renewables projects across Europe, the Middle East and Africa and has become increasingly involved in nuclear projects, advising China General Nuclear on the Hinkley Point C project and acting as counsel to the project company on the NuGen (Moorside) project (both in the UK), as well as on nuclear new-build projects in Romania, Turkey and the UAE.