Book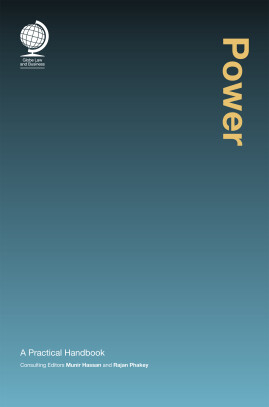 Power
A Practical Handbook
Published: 2017
Pages: 251

eBook: 9781787420229
Power: A Practical Handbook is aimed at anyone looking for a single source to understand the key issues relevant to the power sector, with an emphasis on the practical application of those issues in the real world. It offers a guide to understanding the commercial, economic and legal principles that underpin the sector.
With world electricity demand expected to double by 2030, the power sector is under increasing pressure to modernise and rise to the challenge of meeting global needs. While some countries are pressing ahead with conventional fossil-fuel based generation as a means of quickly meeting the needs of their rapidly expanding economies, in other countries the push for decarbonisation and diversification of the energy supply mix is beginning to take place at a rapid pace. The pace of expansion, technological challenges and political and social objectives are transforming the power sector.

Power: A Practical Handbook is aimed at readers looking for a single source which focuses on the key issues, with an emphasis on the practical approach to those issues in the real world. It is a comprehensive guide to understanding the commercial, economic and legal principles that underpin the power sector.

Topics covered include significant energy policies in recent years; an explanation of industry structures and legal frameworks; economic perspectives on market liberalisation and the regulation of monopoly power networks; a look at conventional and renewables generation technologies and the issues arising from those; and smart meters and smart grids.

The book also covers subjects connected to the development of power projects including financing issues, construction, operation and maintenance arrangements, fuel supply agreements, approaches to power offtake, electricity trading and environmental issues.

Edited by Munir Hassan, Partner and Head of Clean Energy at CMS, and Rajan Phakey, a Partner at Dentons, the book includes contributions by leading experts from energy utilities, project developers, lawyers, economists, academics and financiers.
Table of Contents
| | | |
| --- | --- | --- |
| Front Cover | 1 | |
| Title | 2 | |
| Copyright | 3 | |
| Table of contents | 4 | |
| Foreword Dame Fiona Woolf, DBE | 6 | |
| Part I: Introduction | 8 | |
| Introduction Munir Hassan CMS London | 8 | |
| Part II: Industry structures and regulation | 10 | |
| Power industries: structures and legal frameworks Marianne Anton Munir Hassan CMS LondonDalia Majumder-Russell Linklaters | 10 | |
| Market liberalisation and organisation: an economic perspective Nick Elms Frontier Economics | 28 | |
| Part III: Technologies and issues arising from them | 50 | |
| Introduction to nuclear power Rupert Cowen Jonathan Leech Prospect Law | 50 | |
| Conventional power plants: technical and commercial issues Milagros Miranda Rojas Former policy director at the World Coal Association | 68 | |
| Renewable energy: from energy hunter-gatherers to energy farmers Thomas Leonard DNV GL Energy | 86 | |
| New renewable technologies Nicholas Kelly Kelly Legal Dalia Majumder-Russell Linklaters | 96 | |
| Part IV: Developing power projects | 122 | |
| Power financing Hugo Coetzee CMS London | 122 | |
| Construction Ian Dalley Dentons | 134 | |
| O&M contracts and long-term service arrangements Nicholas Hilder Ashurst LLP | 148 | |
| Environmental and planning issues Angus Evers Shoosmiths | 164 | |
| Part V: Fuel supply, offtake and trading arrangements | 180 | |
| Independent power projects and offtake arrangements Rajan Phakey Dentons | 180 | |
| Trading electricity Rajan Phakey Dentons Neil Schofield Financial Markets Training Ltd | 200 | |
| Part VI: Electricity networks: a broader perspective | 218 | |
| Regulating monopoly infrastructure: an economic perspective Phil Burns Frontier Economics | 218 | |
| Power to the people: the Smart Grid and the democratisation of energy Thomas Leonard Frits Verheij DNV GL Energy John Scott Chiltern Power | 236 | |
| About the authors | 248 | |
Marianne Anton
Associate, CMS London
[email protected]

Marianne Anton is an associate in the energy, projects and construction team at CMS in London, advising on electricity regulation, projects and transactions. She holds a law degree from Oxford University.
After training and qualifying as a solicitor at CMS, Ms Anton spent some time at Ofgem, the energy regulator, gaining deep industry knowledge and expertise in regulation of the electricity industry with a particular focus on offshore transmission and competitive networks before returning to CMS. She advises on a wide variety of domestic and international matters, ranging from corporate and commercial to regulatory matters in the electricity, gas and renewables sectors. She also has experience of advising on wholesale electricity market reforms, liberalisations, regulatory frameworks and compliance and EU law.

Phil Burns
Director, Frontier Economics
[email protected]

Phil Burns is a director at Frontier Economics specialising in regulatory and competition analysis in the energy sector. His work on monopoly regulation, both for clients and in published papers, extends across price cap and sliding scale regulation, finance issues, comparative efficiency measurement and incentive design. In the energy sector he has worked on regulatory reviews across Europe – including advising on the pioneering yardstick competition regime in the Netherlands – and virtually all the energy price control reviews in the UK since the sector was privatised. Recently, he has worked on Ofgem's RPI-X@20 review, and Northern Powergrid at the commencement of RIIO-ED1, and Phoenix Natural Gas Ltd, NIE and NPg before the Competition Commission.
Phil has also worked extensively in postal markets over the past 10 years on a variety of issues including price control design, the cost of the universal service obligation, and competition issues raised by the liberalisation of postal markets. He has also worked on many wholesale and retail market analyses, both to support specific competition investigations and to inform the scope of regulatory frameworks and business strategies.

Hugo Coetzee
Energy finance partner, CMS London
[email protected]

Hugo Coetzee is a project and energy finance partner in the infrastructure and project finance team at the international law firm CMS based in London. He advises private and public sector clients on strategy as well as the acquisition, development, restructuring and financing of projects in the infrastructure, energy and natural resources sectors.
Hugo works on a wide range of energy and infrastructure (greenfield as well as operational) projects where he represents infrastructure and renewable energy funds, senior debt funds, developers, contractors, utilities, banking institutions and the public sector. He has advised a number of utilities on the disposal of their wind farm portfolios and the project financing aspects of their energy efficient asset bases.
Hugo has led a number of CMS teams on energy finance transactions in the renewable and conventional energy industries including in the following sectors: wind, solar, waste/energy from waste and gas and electricity meter financings.

Rupert Cowen
Commercial and nuclear energy lawyer, Prospect Law
[email protected]

Rupert joined Prospect Law from Dentons where he specialised in energy projects, construction and infrastructure. He has a master's degree in construction law and specialises in power generation, transmission and nuclear projects. For the last 12 years Rupert has concentrated on the renewable and nuclear generation and decommissioning industries. He has developed procurement strategies, encouraged outsourcing, and explained nuclear law, insurance transport regulations and licensing regimes to Tier 1 contractors and their suppliers responsible for delivering the UK's civil decommissioning effort. Rupert is currently assisting participants in renewable energy to navigate the electricity market reforms and in nuclear decommissioning to reduce the nuclear inventory. Rupert is married with eight children and lives in Hertfordshire with his wife, some of his children and various animals.

Ian Dalley
Partner, Dentons
[email protected]

Ian Dalley is a partner of Dentons in Abu Dhabi, where he has been based for a decade. He is dually qualified as a lawyer (English solicitor) and a professional engineer. He holds a master's degree in engineering and is a professional chartered engineer, a fellow of the Institution of Engineering and Technology and a fellow of the Energy Institute. He specialises in major international engineering projects and related matters such as public procurement, long-term supply agreements, concessions and operations and maintenance. This has included drafting and negotiating an engineering contract with a contract sum in excess of US$4 billion. Ian plays a leading role on the drafting panel of the MF/1 standard form contract for electrical/mechanical plant, which was first used for a power station in 1916. He has a strong grasp of local laws and has been commissioned by Middle East government entities to prepare drafts of a number of laws and regulations.

Nick Elms
Associate director, Frontier Economics
[email protected]

Nick Elms is an associate director at Frontier Economics. Nick holds degrees in management science and engineering, and has specialised in the economics of electricity, gas and the environment for over 20 years while based in London, Madrid and Wellington.
He has advised on the design of wholesale markets and rules for transmission access and pricing for both electricity and gas in many countries. He has also worked on many power station, electricity interconnector and underground gas storage projects and transactions. In addition, he has advised on the design of network regulation, assisted clients to gain regulatory approval for the access regime to several LNG import terminals and advised on the competitive effects of mergers and possible remedies. Most recently he has developed expert reports for a number of disputes related to power purchase agreements, gas supply agreements and network regulation. Nick's clients include governments, regulators, competition authorities, investment funds, utilities and traders.

Angus Evers
Partner, Shoosmiths
[email protected]

Angus Evers is the head of Shoosmiths' national environmental law practice, based in London. His experience also covers related areas such as planning and health and safety law. His work is a mix of transactional work on energy and infrastructure projects and corporate and real estate transactions, as well as regulatory and compliance work. His clients include operators and developers of infrastructure projects, property investors, property developers, private equity funds, and public sector and government organisations.
He has an LLM degree in environmental law and has been rated for his expertise in energy and infrastructure in Chambers UK, which stated that: "He is utterly dependable, unflappable and you can guarantee he will always take care of anything that comes up."

Munir Hassan
Head of clean energy, CMS London
[email protected]

Munir Hassan has been advising the power sector for 19 years and heads up the active clean energy practice at CMS in London. He is a regular speaker, commentator and recognised international legal expert in the field. He is the consulting editor of Wind: Projects & Transactions by Globe Law and Business, and has published over 100 articles on specialist energy matters.
Munir advises across the range of electricity generation technologies, from wind and solar through to biomass, wave, tidal, gas, carbon capture and storage and nuclear. He also has significant experience in the electricity sector of advising on or writing the rules for subsidy arrangements, wholesale market reforms, regulatory frameworks, privatisations, regulated electricity networks, independent power producer procurement programmes, emissions trading, EU law, grid codes, and offshore transmission and connection arrangements.

Nicholas Hilder
Counsel, Ashurst LLP
[email protected]

Nick Hilder is of counsel in the Corporate Projects group of Ashurst in London. He has extensive experience advising lenders, sponsors and the supply chain on the construction and operational aspects of international project finance infrastructure and power transactions.

Nicholas Kelly
Principal, Kelly Legal
[email protected]

Kelly Legal provides legal advice for oil and gas, utilities, power, renewables and commodity trading companies. Nick has over 17 years' experience in the energy sector, having advised Shell, E.On E&P, RWE npower, EDF Energy, ONGC, CNPC, Fortum, Ofreg and the Commission for Energy Regulation on energy-related matters. As well as advising clients across the energy spectrum, Nick acts as General Counsel to Sindicatum Sustainable Resources, a Singapore-based fund investing in clean energy projects in Southeast Asia.

Jonathan Leech
Commercial and nuclear energy lawyer, Prospect Law
[email protected]

Jonathan is a commercial, regulatory and projects lawyer, with particular emphasis on the energy and nuclear sectors. He was admitted as a solicitor in 1998 and began his legal career resolving construction disputes. His work includes advising on legal and contracting strategies and regulatory issues associated with major nuclear development, decommissioning, waste and reprocessing projects, energy infrastructure and other utility and infrastructure related projects. Jonathan also works extensively on procurement strategies for development and renewal of UK electricity and gas network infrastructure, including development of multi-party alliance structures and innovative incentive models. Jonathan joined Prospect Law from Dentons, where he was a partner in the energy team. He is married with two children and lives in Leicestershire. He plays the violin when in need of a diversion from nuclear law.

Thomas Leonard
Senior consultant, DNV GL Energy
[email protected]

Thomas Leonard is a senior consultant within the DNV GL Energy Smart Energy Advisory (SEA) team in London, specialising in energy development projects, including conventional and renewable generation, transmission and distribution, storage and retail. He has more than eight years' experience working directly in the energy industry and a further three years' experience of managing process consultancy projects. Prior to this he was a marine engineer in the British Royal Navy for five years. He specialises in helping institutions with an interest in project development to understand the value of energy investments. He has worked for government and non-government organisations, fuel suppliers, developers, network operators, retailers and investors.

Dalia Majumder-Russell
Managing associate, Linklaters
[email protected]

Dalia is a managing associate in Linklaters' Energy and Utilities Global Project Finance group in London.
Dalia's specialism is the electricity sector where for several years she has advised a wide range of stakeholders in the UK and overseas on conventional as well as renewable power projects. In particular, she advises governments and industry on all aspects of the regulatory frameworks supporting electricity markets, interconnectors and contractual matters. Dalia has been deeply involved in the commercial and legal issues for novel technologies, such as the first commercial-scale carbon capture and storage project in the UK, smart metering and developments in the UK offshore wind sector.

Rajan Phakey
Partner, Dentons
[email protected]

Rajan Phakey leads the Middle East Energy and Projects practice at Dentons, the world's largest law firm. He has advised on transactional and regulatory projects in over 20 countries since 2000, while based in London and Abu Dhabi. These projects span all areas of the energy industry, for both the public and private sector, and many have been the first of their kind. Mr Phakey is a solicitor (England and Wales) and obtained his law degree from the University of Oxford.

Milagros Miranda Rojas
Former policy director at the World Coal Association
[email protected]

Milagros is a professional diplomat with over 16 years' experience in international trade and sustainable development issues. She has substantial involvement in the negotiations of the United Nations 2030 Sustainable Development Agenda, the Sustainable Development Goals and Financing for Development issues. Before her last diplomatic position in the Permanent Mission of Peru to the United Nations, Milagros was a WTO representative and negotiator. She also negotiated numerous freetrade agreements.
Milagros holds a Juris Doctor, a master's degree in International Law and Economics and a master's degree in International Relations. Milagros wrote the chapter on Conventional Power while working as policy director at the World Coal Association. She has now left that organisation to move into legal private practice in London as an international trade expert.

Neil Schofield
Managing director, Financial Markets Training Ltd
[email protected]

Neil is the managing director of Financial Markets Training Ltd and offers training services in the areas of treasury, derivatives, capital markets and risk management to financial institutions, central banks and corporations worldwide.
Neil was global head of Financial Markets training at Barclays Capital from 2001 to 2008. Before joining Barclays Capital, he was a director at Chisholm-Roth Training for four years, where he was responsible for the provision of training services for a number of blue chip global investment banks. He has also held positions with JP Morgan Chase Security Pacific Hoare Govett (now trading as Bank of America) and Lloyds TSB. Neil holds a BSc in Economics from Loughborough University and an MBA from Manchester Business School. He was elected as a fellow of the IFS School of Finance (formerly the Chartered Institute of Bankers) in 1999. He is also a visiting fellow at the University of Reading ICMA centre having been appointed in April 2007.

John Scott
Director, Chiltern Power
[email protected]

John Scott is an independent consultant with 40 years of experience in electricity distribution, transmission and regulation. His previous roles include director of engineering for National Grid, technical director for Ofgem, and director, network innovation for KEMA (now part of DNV GL Energy).
He takes a particular interest in innovation and sustainable energy systems, and factors critical to successful deployment of innovation on power systems. He is a founder member of the government's Smart Grid Forum and undertakes a number of roles including non-executive director at Smarter Grid Solutions and adviser to Pearlstone Energy. He is an active Fellow of the Institution of Engineering and Technology and has served as a member of the board of trustees.

Frits Verheij
Director Smart Green Cities, DNV GL Energy
[email protected]

Frits Verheij has been working in the renewable energy business, and related areas like smart grids and energy storage, since the start of his career in 1987. Prior to joining DNV GL (then KEMA), he held various positions at the research organisation TNO and was programme manager at the Dutch energy agency, Novem. Currently, Frits is director Smart Green Cities for DNV GL Energy. He is vicechairman of the board of Top Consortium on Knowledge and Innovation (TKI) Urban Energy, and member of the executive board of USEF (Universal Smart Energy Framework).
Frits is an expert in working at the crossroads of innovation, energy policy and strategy. He works for governments, utilities, industries and other organisations in the energy sector.