Book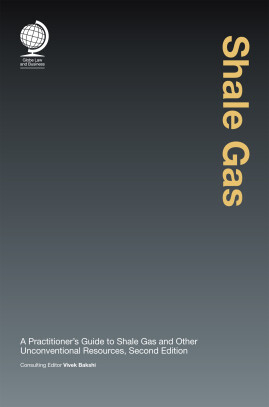 Shale Gas
A Practitioner's Guide to Shale Gas and Unconventional Resources, Second Edition 
Published: 2017
Pages: 204

eBook: 9781787420656
Chapters cover key issues such as: the regulation of hydraulic fracturing in the US, the UK and Canada; worldwide natural gas pricing trends; joint ventures; gas sale agreements; unconventional gas in Australia; and the causes of action and potential outcomes in shale gas disputes.
With shale gas continuing to have a dominant impact on North American natural gas markets, unconventional natural gas now appears to be causing change in the global supply mix. The extent of this change requires the examination of a unique set of challenges that extend far beyond North America. Complex environmental, social and technical issues must be navigated for the development of safe and sustainable hydraulic fracturing practices to unlock the full potential of this unconventional resource, and the second edition of this guide examines the issues around hydraulic fracturing in a practical and user-friendly manner.

This fully revised edition features contributions from leading authorities in the field. Chapters cover key issues such as: the regulation of hydraulic fracturing in the US, and the UK; worldwide natural gas pricing trends; joint ventures; gas sale agreements; unconventional gas in Australia; and the causes of action and potential outcomes in shale gas disputes. Together, the contributions give a crucial insight into one of the fastest-moving areas of the natural gas industry.

'Shale Gas' is an essential reference tool for natural gas producers, lawyers (both in private practice and in-house), energy industry advisers and end users worldwide, providing a practical and timely overview of the shale gas industry.

Table of Contents
| | | |
| --- | --- | --- |
| Front cover | 1 | |
| Title | 2 | |
| Copyright | 3 | |
| Table of contents | 4 | |
| Introduction Vivek Bakshi Dentons Canada LLP | 6 | |
| The impact of the US shale boom on worldwide natural gas price trends Nicholas Fulford Ryan Pereira Gaffney, Cline & Associates | 10 | |
| Gas sales agreements and natural gas trading Jessica Davies Clifford Chance Steve Delic BP Exploration and Production | 28 | |
| Regulatory issues related to shale gas production in the United States Jennifer Morrissey Dentons US LLP | 44 | |
| Shale and oil disputes Scot Anderson Hogan Lovells Michael Darowski Gowling WLG Andrew Lillie Elizabeth Titus Hogan Lovells | 60 | |
| Shale gas regulation in the United Kingdom Yanal Abul Failat LXL LLP | 92 | |
| Oil shale exploitationin the United States Robert A Bassett Holland & Hart LLP | 116 | |
| Unconventional gas in Australia Sharon Eacott (Wilson) Alinta Energy Belinda Fan Herbert Smith Freehills | 132 | |
| Shale gas in the United Kingdom and Europe Joseph Dutton Energy Policy Group, University of Exeter | 156 | |
| Shale gas for LNG Vivek Bakshi Dentons Canada LLP | 174 | |
| About the authors | 190 | |
| Index | 196 | |
'Shale Gas: A Practitioner's Guide to Shale Gas and Other Unconventional Resources' offers an outstanding overview of the regulatory standards, legal disputes and challenges facing the shale gas industry. It is a thoughtful primer on today's global gas markets and the legal and political determinants, which likely will drive them tomorrow. Lastly, it convincingly champions this clean-burning and abundant fuel source, which – like it or not – is positioned to be the primary fuel source until at least the midpoint of the 21st Century.

Dr Fenner Stewart
University of Calgary, Canada, 'Journal of Energy & Natural Resources Law' (IBA)

Yanal Abul Failat
Associate, LXL LLP
[email protected]

Yanal is an international lawyer (qualified as a solicitor in England and Wales) specialising in energy law at LXL LLP, advising state-owned companies, utilities and other major energy corporations on general corporate and commercial operations, M&A, regulatory matters and dispute resolution.
He principally acts on matters in the oil and gas sector, and has experience in oil and gas regulation and contracting across the entire supply chain (upstream, midstream and downstream). Yanal has advised exploration and production companies operating in the UK Continental Shelf and elsewhere in Africa, Asia, Europe and the Middle East.

Scot Anderson
Partner, Hogan Lovells
[email protected]

Scot Anderson is the global head of the energy and natural resources group for Hogan Lovells, and counsels and supports clients on nearly every legal issue affecting the extractive industries, both domestically and internationally. He oversees complex transactions for natural resources clients and represents clients in administrative proceedings, as well as in federal and state courts.
He regularly addresses issues related to mineral development of federal public lands and Indian lands. Scot also advises clients on international project development and transactions. Scot began his legal career with the Denver office of an Am Law 100 firm and then served 10 years as in-house counsel for Atlantic Richfield Company (ARCO) in Denver and England. Scot received his PhD from the University of Colorado in 1989. He earned his JD in 1987 and his MA in 1982 from the University of Iowa. He received his BA from Augustana College in 1980.

Vivek Bakshi
Partner, Dentons Canada LLP
[email protected]

Vivek Bakshi is a partner in the energy group at Dentons Canada LLP, one of Canada's leading natural law firms, and is based in its Toronto office. Mr Bakshi focuses on M&A and project development in the energy, natural resources and infrastructure sector. He has particular expertise in the liquefied natural gas (LNG) sector working with LNG traders and sponsors in connection with the trade of LNG and development of LNG liquefaction plants and regasification terminals worldwide. Mr Bakshi has worked in London, Singapore and Tokyo prior to practice in Canada, and speaks regularly around the world on matters of energy law and practice. Mr Bakshi is qualified to practise Ontario law and is also a member of the Law Society of England and Wales.

Robert A Bassett
Mining team leader, Holland & Hart LLP
[email protected]

Robert A Bassett is the mining team leader at Holland & Hart LLP in Denver, Colorado, a fullservice law firm with 16 offices in the western United States and in Washington, DC, and one of the largest practice groups focused on mining law in the nation. He practices natural resources and international law with an emphasis on the mining industry. In recent years he has handled projects as diverse as the financing of coal, molybdenum, uranium and copper mines and companies, in litigation involving coal mines and pipelines, and in mergers and acquisitions of Canadian and US mining companies.
Mr Bassett has published numerous articles for the Rocky Mountain Mineral Law Foundation, of which he is the International Committee chairman, and for the International Bar Association Section on Energy and Natural Resources Law, of which he is coordinator of the Model Mine Development Agreement Project and former chair of the Mining Committee.

Michael Darowski
Partner, Gowling WLG
[email protected]

Michael Darowski is a partner in Gowling WLG's disputes practice in London. Michael's practice focuses on energy and natural resources disputes, handling a broad range of complex, high-value international commercial arbitrations and litigation. Michael acts for national and international oil companies in resolving disputes involving English and many other governing laws, and has acted in arbitrations under the rules of all of the main arbitral institutions and in ad hoc disputes. He has been involved in national court proceedings in various jurisdictions in relation to all aspects of the arbitration process. Michael has written articles and spoken about energy disputes at industry conferences, including on the development of shale gas in Europe and the disputes that are likely to arise.

Jessica Davies
Counsel, Clifford Chance
[email protected]

Jessica Davies is an international oil and gas lawyer in Clifford Chance's Perth office. Jessica has extensive experience advising multinational organisations on all aspects of the oil and gas supply chain, including project development, joint operating agreements, LNG sale and purchase agreements, gas transportation, processing and marketing agreements, M&A, and operational and strategic issues.
Jessica has practised in Australia, New York and London. She has previously received AMPLA's inaugural Australian energy and resources lawyer award, based on her demonstrated commitment, achievement and international expertise, and spoke at the Rocky Mountain Mineral Law Foundation's International Law Conference in the United States.

Steve Delic
Counsel, BP Exploration and Production – Australia
[email protected]

Steve Delic is an oil and gas lawyer for BP in Perth. He advises BP on all aspects of its upstream projects in Australia, from exploration through to developments, operations and marketing. Prior to joining BP, Steve was a senior associate with a major Australian law firm and then worked as inhouse counsel for Shell.
Steve has expertise on large-scale integrated gas projects and gas value chains. In particular, he has extensive experience advising on procurement, joint ventures, M&A and LNG/domestic gas matters, including disputes, regulatory issues, tolling transactions, equity lifting arrangements, and sale and purchase agreements.

Joseph Dutton
Associate research fellow, Energy Policy Group, University of Exeter
[email protected]

Joseph Dutton is an associate research fellow at the Energy Policy Group (University of Exeter). His research focuses on the politics of European energy policy, electricity market integration and interconnection, and the evolution of European energy governance. He has also researched the globalisation of UK gas supply, the development of shale gas in the United Kingdom and Europe, and the changing dynamics of global gas markets. Previously he worked as a commodities price reporter covering the UK and northwest European natural gas markets, and as an analyst in upstream oil and gas consultancy. Joseph holds an MA in international relations and European studies from the University of Kent.

Sharon Eacott (Wilson)
Alinta Energy
[email protected]

Sharon is the general counsel and company secretary of Alinta Energy. Prior to joining Alinta, she was a partner with Herbert Smith Freehills specialising in the energy sector. Sharon has over 15 years' experience advising on Australia's largest energy project, as well as energy and resources M&A, project development and operations across the Middle East, South East Asia and Latin America.

Belinda Fan
Partner, Herbert Smith Freehills
[email protected]

Belinda Fan is a partner in the corporate group of Herbert Smith Freehills, based in Melbourne. Belinda's practice focuses on the infrastructure, energy and resources industries.
She advises on project structuring, acquisitions and divestments, upstream and midstream developments, and downstream operational and commodity supply arrangements. She also specialises in advising foreign investors on Australia's foreign investment regulations. Belinda's experiences include acting on gas supply arrangements and M&A transactions relating to Queensland's LNG projects. She also recently advised on the development of the Northern Gas Pipeline connecting the Northern Territory to the East Coast of Australia. Belinda is a fluent Mandarin speaker. She holds degrees in law and commerce, and is a member of the Association of International Petroleum Negotiators and the Australian Institute of Company Directors.

Nicholas Fulford
Global head of gas and LNG, Gaffney, Cline & Associates
[email protected]

Nicholas Fulford leads the gas and LNG practice at Gaffney, Cline & Associates (GCA). He coordinates global gas activity across the company's main offices situated in London, Houston and Singapore. He is a chartered engineer, with a Master's degree from the Royal Military College of Science.
Nick has over 35 years' experience in the gas value chain, having held senior roles in the past at British Gas/Centrica covering gas production, gas contract negotiation and LNG shipping, and having established a North American business for Centrica, with a focus on gas and power wholesale and retail markets, and unconventional gas resource development.
Since joining GCA in 2013, Nick has assisted a range of clients in gas monetisation, pricing and risk management, and gas master planning, as well as due diligence and technical assessment of gas projects globally.

Andrew Lillie
Partner, Hogan Lovells
[email protected]

Andrew Lillie heads the Litigation Practice of Hogan Lovells in the Denver office. He is a commercial litigator and regulatory attorney who focuses on energy and natural resources businesses and related commercial and environmental litigation, regulation, and compliance. He has also served as a Special Assistant Attorney General for Colorado agencies, and was a law clerk for Chief Judge Lewis T Babcock of the United States District Court for the District of Colorado.
In 2002, Andrew received both his JD, Order of St. Ives, from the University of Denver Sturm College of Law and his MA from the University of Colorado. He earned his BGS from the University of Michigan College of Literature, Science, and the Arts and his BS, with distinction, from the University of Michigan School of Natural Resources and Environment in 1994.

Jennifer Morrissey
Counsel, Dentons US LLP
[email protected]

Jennifer Morrissey is counsel in the global energy practice group in the Washington, DC office of Dentons US LLP. She holds a JD from Georgetown University and a Master's degree from Johns Hopkins University. She advises a variety of clients in the natural gas and electricity sectors, including project developers, producers, end users, regulators and financial institutions. Her practice includes administrative and appellate litigation, as well as regulatory and transactional matters. She has broad litigation experience in traditional gas and electric rate proceedings before the Federal Energy Regulatory Commission, enforcement
actions, and water rights, among other matters.
Her transactional experience ranges from negotiating simple agreements to advising on substantial investments in energy sector assets. She frequently speaks before industry associations and graduate students, and has authored dozens of articles in the energy press on energy policy and regulation, many of which focus on the natural gas industry.

Ryan Pereira
Principal commercial manager – global gas & LNG, Gaffney Cline & Associates
[email protected]

Ryan Pereira is principal commercial manager in the global gas & LNG group at Gaffney Cline & Associates (GCA). Based in London, Ryan has extensive international experience and cultural awareness having completed assignments across Europe, the Middle East, Africa, Asia Pacific, North America and the Caribbean across the downstream, chemicals, midstream and LNG, and upstream sectors. He holds a degree in economics and qualifications in management accounting, corporate finance and treasury, and project management.
Ryan has over 14 years of experience in the energy sector, from industry and advisory roles with majors (ExxonMobil) and operators (Centrica Energy), as well as working with joint venture parties and national oil and gas companies. Since joining GCA in 2014, Ryan has led projects covering LNG import and exports, gas to power, M&A, gas disputes and arbitrations, gas market studies, energy market reform, and delivery of LNG training, and has written several articles for external publications covering global gas markets.

Elizabeth Titus
Counsel, Hogan Lovells
[email protected]

Elizabeth (Liz) Titus represents clients in the energy and natural resource industries. Liz's practice focuses on the extractive industries, particularly oil and gas (upstream and midstream), and mining. Liz supports clients with projects and operations on both private and public lands. She negotiates commercial agreements with purchasers, landowners, royalty holders and other business partners. Liz is also a trained litigator and has trial court, appellate and administrative hearing experience. Her disputes work has covered the processing, sale, and transportation of oil, natural gas and related products; rights to surface use; and payment of royalties. Liz's clients are subject to extensive federal, state and local regulation; she helps them comply at all levels of government. Liz earned her JD, Order of St Ives, from the University of Denver Sturm College of Law in 2006. She received her BA, cum laude, from Smith College in 1999.