Book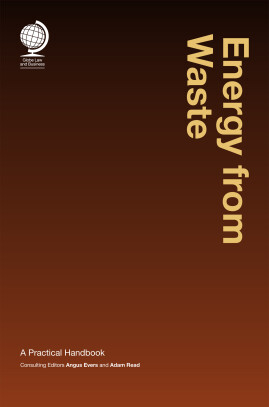 Energy from Waste
A Practical Handbook
Published: 2015
Pages: 237

eBook: 9781787428256
Understand this increasingly important and diverse sector with this authoritative new title, which features contributions from operators of energy-from-waste plants, engineering firms that have built energy-from-waste plants, consultancies and law firms.
Generating energy from waste is an attractive solution, as governments around the world grapple with the challenges of providing energy security, mitigating carbon emissions and disposing of increasing waste volume. It offers the possibility of recovering energy from resources that would otherwise be landfilled and contributing to renewable energy generation capacity. A number of different technologies are available, but developing waste-to-energy projects can be complex and can sometimes meet with public opposition. Successful delivery of a waste-to-energy project requires careful structuring and a good understanding of how both the power generation sector and the waste management industry operate and are regulated.

Understand this increasingly important and diverse sector with this authoritative title, which features contributions from operators of energy-from-waste plants, engineering firms that have built energy-from-waste plants, consultancies and law firms. Chapters are written by practitioners with many years of experience of working on energy-from-waste projects. The book covers the policy framework within which the sector operates in the United Kingdom, the main technologies currently available, the main issues that need to be addressed when developing a project (eg, structuring, site selection and planning), construction issues and issues for funders and investors, as well as key commercial issues such as securing feedstocks and exit routes for outputs. The focus is on the practical elements of energy-from-waste projects, to help you advise your clients on their actual concerns.

The book provides a thorough insight into the practicalities and complexities of developing and operating an energy-from-waste project and forms a useful source of reference for anyone involved in the sector, including lawyers, financiers, developers, engineers, consultants and accountants.

Table of Contents
| | | |
| --- | --- | --- |
| Cover | Cover | |
| Title | 1 | |
| Copyright | 2 | |
| Contents | 3 | |
| Foreword | 5 | |
| Part I – Introduction | 9 | |
| Why energy from waste? | 9 | |
| Part II – Regulation and policy | 19 | |
| Policy drivers, incentives and complexities of the energy from waste market | 19 | |
| Issues for funders and investors | 35 | |
| Part III – Energy-from-waste technologies and issues arising from them | 47 | |
| Conventional incineration | 47 | |
| Advanced thermal treatments: pyrolysis and gasification | 65 | |
| Anaerobic digestion | 83 | |
| Part IV – Project development issues | 95 | |
| Project structuring | 95 | |
| Site selection and planning | 109 | |
| Environmental regulation of energy-from-waste facilities | 129 | |
| Construction issues | 143 | |
| Operation and maintenance issues | 161 | |
| Part V – Commercial issues | 171 | |
| The wider context of energy from waste: the economics of the waste to resource transition, 1990-2015 | 171 | |
| To 2025 and beoynd | 195 | |
| Conclusion | 203 | |
| Appendix: Case studies | 211 | |
| Glossary | 229 | |
| About the authors | 233 | |
Angus Evers
Partner, King & Wood Mallesons
[email protected]

Angus Evers is a partner in King & Wood Mallesons' planning and environment department in London. He is a key member of the firm's energy and infrastructure practice. His work is a mix of transactional work on energy and infrastructure projects and corporate and real estate transactions, as well as regulatory and compliance work. His clients include operators and developers of infrastructure projects, waste management companies, property investors, property developers, private equity funds and public sector and government organisations. Mr Evers has been one of the convenors of the UK Environmental Law Association's Waste Working Party since 2006. He has an LLM degree in environmental law and has been rated for his expertise in energy and infrastructure in Chambers UK, which stated that he "is extraordinarily thorough". He was listed as a super lawyer in the 2014 Thomson Reuters London survey.

Martin Hopkins
Waste sector director, Costain
[email protected]

Martin Hopkins is waste and renewables sector director for Costain, managing all aspects of the company's business, including the construction of the Manchester Waste Project Finance Initiative. Mr Hopkins has considerable experience in developing and shaping waste and renewables strategy within the industry.
He holds a degree in chemical and process engineering and an MBA, and is a chartered engineer. He specialises in managing companies in the waste, power and process industries and has worked in many countries, including Germany, Italy, Malaysia, India and the United States.
Mr Hopkins has managed all aspects of energy from waste, including the development of technologies, construction and operation of facilities, and development and funding of projects.

Peter Jones
Director, Ecolateral Limited
[email protected]

Peter Jones operates in the UK waste-to-resource transition with innovative technology start-ups within the waste, recycling and renewable energy nexus. He maintains involvement on government consultative panels, the Natural Environment Research Council and all-party liaison groups.
Mr Jones qualified from Nottingham University as an industrial economist. While he has worked with the waste sector for the past 25 years, this followed 20 years of innovating process and marketing thinking with blue-chip companies in the welding, logistics and industrial gases sectors. These innovations were applied on materials handling, supply chain upheavals and data capture, driving market share and profitability.
In the waste industry he masterminded 67 material flow studies between 1997 and 2007 for UK supply chains, commodities and regions in conjunction with universities and trade bodies. He is involved with community-owned, not-forprofit energy organisations seeking to drive attitudinal change at grass-root level.

Paul Levett
Director, Waste Transition Limited
[email protected]

Paul Levett has a number of non-executive roles across the waste industry, including as nonexecutive chair of PlasRecycle Limited and as a strategic adviser to Eternity Capital, Powerday and Closed Loop Recycling.
Previously, Mr Levett's executive roles included deputy chief executive officer of Veolia Environmental Services and director for recycling, disposal and municipal services for Cleanaway. From 1999 to 2004 he was based in the United States, latterly as president of CHEP's businesses in Asia Pacific, Africa, Latin America and Canada. Previous non-executive board roles include LRS Consultancy and PyroPure.
Mr Levett joined the waste industry in the late 1970s. He has been a director of the Environmental Services Association and a member of the Confederation of British Industry's London Regional Council and of the post-close project review board for the Department for Environment's Waste Infrastructure Delivery Programme.

Nigel Mattravers
Director, Mattravers Associates Limited
[email protected]

Nigel Mattravers is an independent waste consultant and over the past 25 years he has advised both the public and private sector on procurement, investment and market opportunities within the waste sector. He is a chartered civil engineer and waste manager, and has specialised in planning and feasibility studies, investment, design, procurement, management and direction of waste management projects.
In Hong Kong, where he lived for over 20 years, he became an expert adviser on the development of the local waste management infrastructure. In the United Kingdom, he has advised on various aspects of recycling and recovery of waste, specifically the delivery of over 30 integrated waste management projects using Project Finance Initiative/Public Private Partnership.
Mr Mattravers is the chair of the Institution of Civil Engineers Waste and Resources Management Board and is non-executive director of London Remade. He frequently speaks on the topic of waste management.

Steve Molnar
Technical director, Terence O'Rourke Ltd
[email protected]

Steve Molnar is a technical director of planning, design and environment consultancy Terence O'Rourke. He is a member of the Royal Town Planning Institute and holds degrees in geography, urban and regional studies, and town planning. With 26 years' experience in local authority and private sector planning, he first joined Terence O'Rourke in 1996, and has been involved in a number of large waste infrastructure projects during this time. He has also worked extensively in other sectors, such as higher education development and housing.
In particular, he has worked on planning applications for energy-from-waste facilities in London, Cornwall and Sussex, as well as advising clients on a variety of other waste management facilities, including bid support, site search and feasibility studies, and planning application submissions.

Dan Poulson
Director, BasePower
[email protected]

Dan Poulson is a director of BasePower, the developer of commercial scale cogeneration projects. Previously, he was a founder of Tamar Energy and was instrumental in its initial fundraising, establishment and development of its first wave of plants. Before this, Mr Poulson was chief executive officer of BiogenGreenfinch, an anaerobic digestion technology provider and operator where he led the acquisition of Greenfinch and the development of the largest food waste anaerobic digestion plant in the United Kingdom. Subsequently, he advised a leading utility on the first commercial development of codigestion facilities in the United Kingdom. A chartered engineer, having led development and regeneration projects at Ove Arup, he holds an MBA from London Business School and an MA in engineering from Cambridge University.

Faisal Qayium
Senior technical consultant, Ricardo-AEA
[email protected]

Faisal Qayium is a senior consultant within Ricardo-AEA's resource efficiency and waste management team. He qualified with an MSc in environmental systems engineering and has over 12 years' experience in the energy efficiency and waste management sector. Mr Qayium has been managing and delivering energy and carbon reduction projects for various public and private sector clients. He specialises in waste treatment technologies, including energy generation from municipal solid waste, biomass, and process flow assessment of various mechanical and biological treatment, incineration, gasification and anaerobic digestion technologies.
Mr Qayium has extensive experience in working with local authorities, framing solid waste management strategies and evaluating procurement bids for residual waste treatment contract. He has delivered solid waste management strategies for large cities globally. He was heavily involved in the Environment Agency Waste and Resources Assessment Tool for the Environment upgrade project and Life Cycle Assessments supporting local authorities' Project Finance Initiative bids.

Mark Ramsay
Principal consultant, Ricardo-AEA
[email protected]

Mark Ramsay is a technical adviser and chartered mechanical engineer with almost 20 years' experience. For the past six years he has specialised in waste-to-energy infrastructure development. He is an experienced independent certifier and owner's engineer for waste-to-energy projects. He has a very broad range of knowledge in the procurement, assessment and delivery of waste infrastructure and treatment technology in the United Kingdom. Specific areas of waste infrastructure expertise include energy from waste (EfW), anaerobic digestion (AD) and material recovery facilities. Mr Ramsay has delivered both EfW and AD plants from the inception stage through development, procurement and construction. On these projects, he engaged extensively with the local authority, waste management companies, construction companies and technology suppliers. He has also used his broad technical background and methodical approach to review project proposals, assess their technical and commercial feasibility and highlight project risks and opportunities.

Adam Read
Practice director, Ricardo-AEA
[email protected]

Dr Adam Read is director for Ricardo-AEA's resource efficiency and waste management practice. He holds a geography degree and has a PhD in waste management policy and implementation. He is a fellow of the Chartered Institution of Wastes Management.
Mr Read has spent 20 years in the waste sector, initially as a local authority recycling officer, then as a research consultant at Kingston University and, for the past 14 years, as a consultant.
Mr Read specialises in technology evaluation, procurement and consultation. He supported the Department for Environment, Food and Rural Affairs with the development of the New Technology Demonstrator Programme training materials, has written policy guidance on energy from waste for Zero Waste South Australia, and has led the procurement of mechanical and biological treatment, anaerobic digestion and advanced thermal treatment solutions for a number of UK authorities. He has also authored guidance on community consultation for waste infrastructure in Wales.

Keith Riley
Proprietor, Vismundi Limited
[email protected]

Keith Riley studied nuclear engineering at Queen Mary University, London, which led to a successful career in the design and construction of major power projects around the world. Mr Riley has been involved in the waste management industry at a senior level since 1993, and was responsible for the formation of Hampshire Waste Services. Hampshire County Council's success in recycling and recovering value from waste through an integrated network of facilities is now world famous, and formed the model in the United Kingdom on which modern waste management is based.
Mr Riley is currently owner of Vismundi Limited, chair of Energy Gap Ltd and a partner in BH EnergyGap LLP, having previously been group managing director, technology for Veolia Environmental Services UK. He also holds nonexecutive directorships with the Institute for Sustainability, Waste 2 Tricity and Distributed Renewable Energy Networks Ltd, and is a visiting professor at Southampton University.

Anastasia Sousanoglou
Consultant, Ricardo-AEA
[email protected]

Anastasia Sousanoglou is a consultant in the resource efficiency and waste management team of Ricardo-AEA. Ms Sousanoglou has previously worked for the Chartered Institution of Wastes Management, where she was supporting the institution's research and policy work. She was also responsible for running the institution's Thermal Treatment Special Interest Group. Ms Sousanoglou holds an MSc in environmental engineering and business management and an MEng in chemical engineering.
Ms Sousanoglou has worked on a number of studies to determine the state of the waste management sector in the United Kingdom and internationally. She is responsible for maintaining Ricardo-AEA's waste knowledge database and geographic information system mapping tool, FALCON, which includes current and proposed waste management infrastructure, capacity and waste management contracts. Environmental legislation, policy and stakeholder engagement are also key elements of her work.

Jarno Stet
Waste services manager, Westminster City Council
[email protected]

Jarno Stet is Westminster City Council's waste services manager, looking after the local authority's waste management and commercial waste service contracts. He holds a double degree in facilities management in both the United Kingdom and the Netherlands.
Mr Stet oversees the City Council's waste and recycling collection, street cleansing and ancillary services contract with Veolia UK, providing environmental services to 250,000 residents, 1 million daily visitors, commuters and tourists, as well as 34,000 businesses. In 2010 Mr Stet worked on successfully re-letting this contract, which is the largest and most complex of its kind in the United Kingdom. A substantial part of this contract supplies commercial waste services to businesses generating a sizeable income stream for the City Council.
In addition, Mr Stet manages the City Council's two waste disposal contracts, which between them handle in excess of 185,000 tonnes of waste per annum through recycling and energyfrom- waste treatment.

Kathryn Warren
Senior consultant, Ricardo-AEA
[email protected]

Kathryn Warren is a senior technical consultant within Ricardo-AEA's resource efficiency and waste management practice. She is a chartered waste manager with 10 years' experience in the waste industry in the United Kingdom. Ms Warren holds a first class degree in manufacturing engineering and an MSc in sustainable waste management. Ms Warren specialises in commercial and industrial wastes and waste-derived fuels, and has delivered and project managed a range of energyfrom- waste (EfW)-related projects for clients, including Carbon Trust Wales, the Welsh government, Sustainable Futures and the Waste and Resources Action Programme. Ms Warren led on Ricardo-AEA's work to develop the Waste to Energy Strategy Paper for Zero Waste South Australia. She is assistant task manager for the delivery of the International Energy Agency- Bioenergy Task 36: Integrating Energy Recovery into Solid Waste Management Systems, where her role involves coordinating and disseminating EfW research in member countries.