Book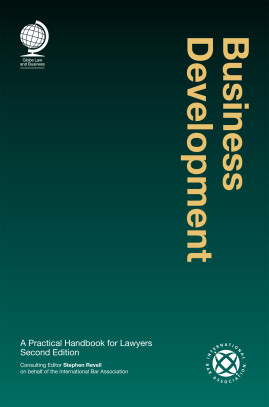 Business Development
A Practical Handbook for Lawyers, Second Edition
Published: 2020
Pages: 339

eBook: 9781787423367
In an increasingly competitive landscape and with challenges from disrupters, the Big 4 and technology, business development has a pivotal role in a law firms' strategic success and their ability to stand out from the crowd.
In an increasingly competitive landscape and with challenges from disrupters, the Big 4 and technology, business development has a pivotal role in a law firms' strategic success and their ability to stand out from the crowd.

The second edition of Business Development: A Practical Handbook for Lawyers, edited by Stephen Revell from Freshfields, revisits the theory, tools and skills needed to implement effective business development in law firms today. Content covers the practical elements – such as what the perfect pitch looks like – as well as the strategic elements, including the variety of structures and approaches to business development at law firms of all sizes.

New chapters focus on technology and digital presence, as well as key client relationship management and the importance of emotional intelligence in successful business development and client retention. Listening to clients is also a key factor in business development, but how often do we really do so? In this edition, client interviews remain an important feature, and we also hear from 10 new General Counsels on what successful business development looks like to them.

Business Development: A Practical Handbook for Lawyers is a one stop-shop on business development for law firms, marketing teams and lawyers in private practice. It will also be of interest to in-house lawyers, academics and other professional services providers.

Table of Contents
| | | |
| --- | --- | --- |
| Cover | Cover | |
| Title Page | 1 | |
| Copyright Page | 2 | |
| Table of Contents | 3 | |
| Introduction | 5 | |
| Part I. Overview of business development in a law firm | 9 | |
| How marketing professionals can impact the bottom line | 9 | |
| Business development – the nuts and bolts | 25 | |
| The variety of structures and approaches to business development in a law firm | 57 | |
| Divide and conquer: putting structure around key client care | 79 | |
| Part II. 'The eye of the beholder'– the client perspective | 91 | |
| Interviews with general counsel | 91 | |
| Part III. Lawyer versus professional | 141 | |
| The lawyer's role in business development – can lawyers sell? | 141 | |
| How do you teach lawyers to "do" business development? | 153 | |
| Making the sale, clinching the deal – the case for a business development team | 175 | |
| A day in the life of a head of business development | 191 | |
| Marketing through good HR | 207 | |
| What to do when your clients involve legal procurement | 217 | |
| Part IV. Communications and PR | 225 | |
| The regulation of marketing and advertising of legal services | 225 | |
| Social media and business development in law firms | 257 | |
| Part V. The future of business development and legal practice | 275 | |
| Marketing or business development? Critical decisions for law firms of the future | 275 | |
| Emotional competence in a changing legal services industry: skills for business development and client retention | 293 | |
| Using analytics to uncover market opportunities | 313 | |
| Part VI. How to do it guide | 325 | |
| The 10 fundamental elements of business development | 325 | |
| About the authors | 329 | |
| About Globe Law and Business | 339 | |
A splendid and insightful read from Stephen to showcase the modern day legal industry! By bringing various experts together, he is able to dive deeper into the new and innovative parts of legal business development that we, as lawyers, should seriously consider. This book is a game changer. The chapter on analytics and the L.A.W. framework to uncover business development opportunities is interesting and refreshing.
Jerry K. C. Koh, Joint Managing Partner
Allen & Gledhill LLP

A recommended practical guide to Business Development for lawyers - in the legal industry's fast-changing business environment, this comprehensive guide sets out useful insights and perspectives from all stakeholders such as senior lawyers, marketing professionals, business consultants, general counsel, and academicians. It is packed with advice and inspiration for the young associate lawyer to the managing partner. Revell shares his decades of effective strategy, tactics and implementation for every lawyer's must do and must know to win and retain clients business.
Hanim Hamzah
Regional Managing Partner of ZICOlaw Network

The subject of business development has never been more important for law firms everywhere, and this book draws on insights from within the profession and beyond, from lawyers, clients, marketers and a range of other experts to provide insights and tools covering every aspect of this critical law firm activity. Covering the subject from all angles, this is quite simply the whole story on business development for lawyers.
Stephen W. Bowman
Vice Chair & Managing Partner, People & Talent, Bennett Jones LLP

André Andersson
Partner, Mannheimer Swartling
andre.andersson@msa.se

André Andersson has been a partner at Mannheimer Swartling for 25 years. He is also the firm's global relationship partner. He chaired the firm's banking and finance group for 20 years and has previously been on the firm's management board. For several years he was responsible for legal recruitment and employer branding. Currently he is responsible for the firm's alumni programme.
Mr Andersson is the chairman of the board of the Stockholm Centre for Commercial Law. He has degrees in law and business administration from the universities of Lund and Oxford. In 2017 he was awarded an honorary doctorate in law from Stockholm University.
Mr Andersson works in particular with the structuring of different types of financial transaction, but his work also includes insolvencyrelated advice and debt restructuring. In recent years, he has actively participated in the development of the Nordic debt capital market. In 2011 he received the Chambers European Award for Outstanding Contribution to the Legal Profession – the first lawyer in the Nordic region to do so.
Mannheimer Swartling has been the most popular law firm among Swedish law graduates for the past 17 years, and in 2018 and 2019 the firm was overall the most popular employer.

Tom Bird
Author, speaker, trainer
tom@tombird.co.uk

Tom Bird has been developing business development, influencing and pitching skills with professional service firms since 2001. He works extensively with a number of major international law firms and accounting practices all over the world to deliver high-impact and pragmatic training and development grounded in sound research. Mr Bird is also a conference speaker and co-author of the best-selling Brilliant Selling (published by Pearson) and The Financial Times Guide to Business Training. His most recent book, The Leader's Guide to Presenting, was published in 2016 and won its category in the 2018 Business Book Awards.

Henrik Brekke
Client development manager, Wiersholm
hbre@wiersholm.no

Henrik Brekke works with client development in one of Norway's leading business law firms, where he manages the firm's CRM system. Other responsibilities include pitch management, pursuits, pricing, business planning, market research and general communication. Having previously worked as a financial journalist covering the Norwegian and international stock markets, he has developed business acumen and a sound understanding of industry and market conditions. Mr Brekke holds a bachelor's degree in business administration from the Norwegian University of Life Sciences and a Master of Science in business from BI Norwegian Business School,
including a major in strategy and a minor in
global politics.

Sriram Chakravarthi
Senior director and chief legal counsel, Singapore Academy of Law
sriram@sal.org.sg

Sriram Chakravarthi is a senior director in charge of legal industry development and the chief legal counsel at the Singapore Academy of Law (SAL). Mr Chakravarthi's responsibilities include spearheading SAL's efforts in promoting the international profile of Singapore law and Singapore as a legal solutions hub; capability development within the legal profession; and providing recognition of professional excellence through the specialist accreditation scheme. Prior to joining SAL, Mr Chakravarthi was an equity partner in the corporate finance practice of a leading Singapore law firm and was instrumental in growing the firm's regional practice.
Mr Chakravarthi holds bachelor's degrees in commerce and law and obtained a Master of Laws degree from Tulane University, USA. He completed the General Management Programme at Harvard Business School in 2017.

Norman K Clark
Founding principal, Walker Clark LLC
norman.clark@walkerclark.com

Norman K Clark is the managing principal of the international legal management consultancy Walker Clark LLC, which he helped to found in 2002. His consulting practice specialises in issues of strategic planning and implementation, law firm profitability, governance and quality assurance.
His 45-year career as a lawyer includes experience as a trial lawyer, trial judge, law professor and senior manager of the delivery of legal services on a global scale. He has been a fulltime business adviser to the legal profession for the past 23 years, having advised clients in law firms and corporate and government law departments in more than 60 countries on five continents.
Mr Clark holds a BSc, a JD and an LLM. He is a retired member of the Pennsylvania Bar, a past chair of the International Bar Association Law Firm Management Committee, and a co-chair of the American Bar Association Cross-Border Practice Management Committee.

Murray M Coffey
Chief marketing officer, Haynes and Boone LLP
murray.coffey@haynesboone.com

Murray Coffey began practising law nearly 30 years ago. For the last 19 years he has focused solely on business development at AmLaw 100 firms.
Eight years ago, Mr Coffey joined Haynes and Boone LLP as the firm's chief marketing officer. He works directly with firm management in developing go-to market strategies and business development goals for the firm and manages a department of professionals globally. Prior to joining Haynes and Boone, Mr Coffey was the second full-time marketing professional hired at Jenner & Block LLP in Chicago. While at Jenner & Block, he had roles of progressively greater responsibility, starting as a manager and culminating in being named chief marketing officer in 2009.

Katie Cramond
Associate director, business development, McDermott Will & Emery LLP
katiecramond@live.co.uk

Katie Cramond has over 10 years of experience in professional services marketing and business development. She offers an international and cross-industry perspective having worked in roles in London, Singapore and New York. Ms Cramond started her business development career in accountancy at EY and then moved into law, with seven years at Freshfields, and in September 2019 she moved to her current role. Her practice area and industry focuses have included transactions, disputes, tax, private equity, healthcare, energy and private client. She has a strong network of relationships in law firms all over the world. Her approach to business development is to develop a deep understanding of the target clients and a cultural understanding of relevant working practices in-market. This allows her to build international relationships and offer detailed insights as a trusted adviser to the lawyers she supports.
Ms Cramond is associate director of business development for leading US law firm McDermott Will & Emery. She is based in London with a pan- European remit, where she is tasked with developing a strategy to help the firm deliver its ambition of becoming one of the largest US law firms in London.

Shelley Dunstone
Principal, Legal Circles
shelley.dunstone@legalcircles.com

Shelley Dunstone is the principal of Legal Circles, an Australian-based consultancy practice that helps lawyers to achieve their business and career aspirations. Ms Dunstone assists lawyers to build their profile and attract clients by positioning themselves as experts in their field. She was admitted to legal practice in 1981 and is a former law firm partner. She also holds qualifications in marketing. She provides professional development for lawyers throughout Australia and internationally.

Mia Eklundh
Chief operating officer, Roschier
mia.eklundh@roschier.com

Mia Eklundh is the chief operating officer of Roschier and a member of the firm's cross-border management team. As part of the firm's management she plans the operational development of the firm and its execution together with the managing partner. She is also the secretary of the board and thus coordinates the board work and strategic roadmap preparations together with the chair of the board.
Ms Eklundh joined Roschier in 1997 as personnel and practice development manager. In such capacity, she was responsible for developing the firm's personnel and practice support as well as infrastructure, including recruitment, HR operations, competence development, knowledge management, IT solutions, finance and premises. The firm expanded from approximately 40 to 110 lawyers during this time. Currently the firm employs 550 people.
Ms Eklundh was appointed chief operating officer in 2005. Prior to joining Roschier she worked for McKinsey & Company from 1989 until 1997.

Nassim Ghobrial
Head of marketing, PR and business development, FSM Rechtsanwälte
ghobrial@fsm.law

Nassim Ghobrial studied business at the University of Vienna. As a senior account manager at a number of well-known advertising agencies, she managed national and international clients in the development and implementation of their marketing and advertising strategies. Ten years ago, she switched to the corporate side and, most recently, she was in charge of all strategic marketing, PR and business development agendas at PHH Rechtsanwälte.
At FSM, Ms Ghobrial is responsible for developing an integrated PR and marketing strategy as well as for the further development of the business segments. A central aspect of her work is analysing new clients, new markets and trends for the development and marketing of innovative legal services.

Brian Gribben
Director, business development, marketing and communications, Arendt & Medernach
brian.gribben@arendt.com

Brian Gribben is a director at Arendt & Medernach and has over 25 years' experience of working within professional services firms. He made the move from accountancy to legal after six years as the head of business development for EY's regional business in the United Kingdom and Ireland. After successfully holding the position of business development director at two top 25 law firms, Mr Gribben now splits his time between London and Luxembourg with Luxembourg's largest law firm.
Managing an international team, he leads the deployment of the firm's growth strategy, digital marketing and PR. Brian specialises in pricing and negotiation, both at a stategic level and on individual matters and frameworks. He is a regular speaker at international legal pricing events in the US and Europe.

Rainer Hilli
Partner, Roschier
rainer.hilli@roschier.com

Rainer Hilli is a partner at Roschier and head of the firm's intellectual property practice. He has been with Roschier since 1986 and was appointed partner in 1996. He was the managing partner from 2011 until 2016, a board member from 2006 until 2011, and from 2016 until 2019 served as chair of the board.
Mr Hilli is an adviser in intellectual property disputes, including civil and administrative court proceedings, as well as arbitration. He has commendably established and developed the firm's intellectual property practice, which later evolved into the intellectual property and technology practice.
During Mr Hilli's leadership Roschier consolidated its strong position in the Nordic market as a leading law firm. The firm expanded from approximately 160 lawyers to 325 lawyers and the turnover has grown from €52 million to €120 million between 2011 and 2019. Mr Hilli is a member of several bar and lawyer associations, including the Finnish Bar Association (board member of Helsinki Bar Association 1998–2002), the International Bar Association, the International Trademark Association, the European Patent Lawyers Association (board member 2013–2019, advisory board member 2020–) and the AIPPI (President of AIPPI Finland 2004–2011).

Silvia Hodges Silverstein
CEO, Buying Legal Council Adjunct professor, Columbia Law School
silvia@buyinglegal.com

Silvia Hodges Silverstein is the CEO of the Buying Legal Council, the international trade organisation for legal procurement, and adjunct professor at Columbia Law School.
She co-authored the Harvard Business School case studies "GlaxoSmithKline: Sourcing Complex Professional Services" on the company's legal procurement initiative and "Riverview Law: Applying Business Sense to the Legal Market" on the new model law firm (prior to the sale to E&Y). Dr Hodges Silverstein has authored many articles on law firm management, including "I didn't go to law school to become a salesperson" (The Georgetown Journal of Legal Ethics) and "What we know and need to know about Legal procurement" (the South Carolina Law Review). She is also the author/editor of several books, including the Legal Procurement Handbook and Buying Legal: Procurement Insights and Practice. She is the publisher of Winning Proposals – The Essential Guide for Law Firms and Legal Services Providers.
Dr Hodges Silverstein earned her PhD at Nottingham Law School (United Kingdom), holds a master's degree in business from Universität Bayreuth (Germany) and Warwick Business School (United Kingdom), and an undergraduate degree (economics) from Universität Bayreuth.

Rainer Kaspar
Managing partner, PHH Rechtsanwälte
kaspar@phh.at

Rainer Kaspar is a partner in the corporate/mergers and acquisitions (M&A) department of PHH Rechtsanwälte. He advises private and corporate clients, private equity firms and financial institutions on a wide range of matters, with a particular focus on cross-border M&As, financing and capital markets transactions. Mr Kaspar is a frequent speaker at seminars and conferences, including those sponsored by the International Bar Association and the International Association of Young Lawyers (AIJA). He speaks German, English and French. Since 2019 Mr Kaspar also acts as managing partner of the firm.

Martin E Kovnats
Partner, Aird & Berlis LLP
mkovnats@airdberlis.com

Martin Kovnats is chair of the Aird & Berlis mergers and acquisitions/private equity group, co-chair of the firm's international group and a member of the firm's capital markets, corporate/commercial, mining and telecommunications groups. Mr Kovnats practises primarily in the areas of merger and acquisition activities, capital markets matters such as takeover bids, public and private debt and equity financings, and other corporate commercial matters. He has extensive experience in cross-border and multinational matters abroad (principally in the United States and the United Kingdom), advising clients (buyers, sellers, financiers and advisers) on various mergers and acquisitions, corporate finance and corporate governance matters. Mr Kovnats frequently advises international clients on doing business in Canada. He is an active member of the International Bar Association, currently serving on the Professional Ethics Committee Advisory Board after stepping down as Committee Chair.

Christine Liæker Lindberg
Director of marketing and communication, Wiersholm
cli@wiersholm.no

Christine Liæker Lindberg is director of marketing and communication at Wiersholm and has been with the firm for over 10 years. She heads the marketing, communications and client development teams at Wiersholm, and coordinates the firm's international activity. She is an adviser and discussion partner for the firm's managing partner, partners and lawyers, and works closely with the chief financial officer/chief operating officer on strategic matters. Her role also includes participation in the firm's innovation activities. She holds a master of business economics and a master of commerce in business from Macquarie University in Sydney. In June 2019 she attended a strategic marketing management course at Harvard Business School.

Rachel T McGuckian
Partner, Miles & Stockbridge PC
rmcguckian@milesstockbridge.com

Rachel McGuckian holds a BA from The Johns Hopkins University, 1990, and a JD, magna cum laude, from the University of Baltimore School of Law, 1993. After serving as a law clerk to the Hon Deborah K Chasanow, former chief judge of the US District Court for the District of Maryland, she entered private practice where she has handled complex civil and private matters. She is a partner and member for the board of directors of Miles & Stockbridge PC, a mid-Atlantic firm based in Baltimore, Maryland, and is managing partner of her branch office in Rockville, Maryland. She serves in leadership positions on the board of directors for several private companies and foundations, provides pro bono legal services through the Maryland Public Defender, is an adjunct professor of advocacy at the University of Baltimore School of Law and is a regular speaker and contributor to continuing legal education courses.

Matthew Prinn
Principal, RFP Advisory Group
mattprinn@RFPag.com

Matthew Prinn is a principal of RFP Advisory Group, a consulting firm that focuses on request for proposals (RFPs) in the legal industry. He works with general counsel and legal operations teams who are looking to issue an RFP to better manage legal spend. He also works with law firms who are looking to install or enhance their RFP response process. Prior to founding RFP Advisory, Mr Prinn spent nearly 20 years in legal marketing working for some of the world's largest law firms. His experience and expertise in the legal industry is focused in the areas of marketing, business development, pricing and proposal management.

Julia Randell-Khan
Consulting fellow, Stanford University, Center on Longevity CEO, Encore Fellows UK
juliark@stanford.edu

Julia Randell-Khan spent over 25 years in the legal field, as a practising lawyer in international banking at Norton Rose Fulbright, then moving to a pioneering knowledge management role for the international law firm Freshfields Bruckhaus Deringer. She also led the firm's global markets marketing and business development team to develop the business strategy and client relationships in countries around the world. This included developing the firm's relationship programme with leading law firms in different countries and client relationship programmes and practices.
Ms Randell-Khan is currently a research fellow on the inter-disciplinary New Map of Life™ project at the Stanford University Center on Longevity. She also works with Encore.org, the leading non-profit in the encore career movement, where she is a senior fellow helping to build global and cross-cultural connections. She is a graduate of McGill University, Montreal.

Stephen Revell
Partner, Freshfields Bruckhaus Deringer
stephen.revell@freshfields.com

Stephen Revell is a long-time partner of Freshfields and is currently the senior corporate partner in Asia. Having held many different management positions at the firm he currently leads the firm's StrongerTogether initiative, a network of relationship firms around the world that supports Freshfields' global approach to advising clients. Mr Revell was educated at Christ's College, Cambridge. He joined Freshfields from university and became a partner in 1987; he was the firm's US managing partner from 1998 to 2002. Mr Revell works on all types of corporate transaction – from mergers and acquisitions and joint ventures to initial public offerings, equity offerings and debt offerings, many with a crossborder element and often involving emerging markets. He has broad sector experience and as a hands-on partner gets fully involved in all drafting and negotiations.
He also has extensive hands-on experience of business development, as well as of giving talks about the subject, and of creating and embedding business development systems. Having practised in the United States, the United Kingdom, across Europe and the Commonwealth of Independent States and, more recently, throughout Asia, he has interacted with an extraordinary range of clients, which makes him extremely well qualified to edit a book on business development for lawyers. Mr Revell is very active in the International Bar Association and is involved in a wide array of projects, activities and committees. He is presently the secretary treasurer of the Law Firm Management Committee.

Rochelle Rubin
Director of client development, Haynes and Boone LLP
rochelle.rubin@haynesboone.com

Rochelle Rubin is the director of client development at Haynes and Boone LLP. She has over 20 years of legal and professional services industry experience. She is an operations specialist possessing a unique combination of strategic, legal, operations and technical experience. She has extensive project management capabilities that include managing multimillion-dollar engagements and successfully delivering largescale global projects involving international, cross-functional teams and third-party service providers.
Ms Rubin's experience encompasses business process re-engineering and improvement, organisational structure redesign, design and implementation of technology systems, compliance programmes, quality assurance programmes, vendor management and cost reduction initiatives. She has a bachelor of business administration and a JD, is a licensed lawyer and has her white and yellow belt certifications in Legal Lean Sigma and Legal Project Management.

Will Taylor
Client development manager, Wiersholm
wita@wiersholm.no

Will Taylor is a client development manager at Wiersholm, one of Norway's leading law firms based in Oslo. He has broad international experience, having worked at market-leading law firms in London and Auckland, as well as within legal roles in Australia, India and China. His experience includes pitch management, pursuits, client relationship management, pricing, business planning, market research, training and events. He has worked in roles in both the engineering and legal sector. His background covers a wide range of practice areas, including corporate, finance and projects, and sectors such as energy, infrastructure, government and healthcare. He has a degree and master's in law.

Carlos Valls Martinez
Partner, Augusta Abogados
c.valls@augustaabogados.com

Carlos Valls is an intellectual property and arbitration lawyer at Augusta Abogados, which he joined in 2013 after founding his own law firm, Iuris Valls Abogados in 2003. Prior to this, Mr Valls was head of the Barcelona office and equity partner at Clifford Chance, which he joined in 1989. He is particularly known in patent litigation, but also increasingly in trademarks and design rights, as well as trade secrets, unfair competition and audiovisual rights and entertainment, as well as rights of honour, intimacy and image. Recently he has been increasingly involved in blockchain software disputes and is particularly interested in the protection of non-personal data (machine data). Mr Valls is also a member of the Chartered Institute of Arbitrators and has acted as counsel and arbitrator for the last 10 years. Combined with the above activities, he also advises on corporate, M&A and shareholder disputes, generally for non-Spanish clients investing in Spain, particularly non-EU investors. He obtained his law degree from the University of Barcelona and an LLM in international business law from the London School of Economics. He is currently president of the Barcelona-based Asociación para el Fomento del Arbitraje (Association for the Promotion of Arbitration) and immediate past chair of the IBA Professional Ethics Committee.

Alejandra Vázquez Medinilla
Business development director, Creel, García- Cuéllar, Aiza y Enríquez
alejandra.vazquez@creel.mx

Alejandra Vázquez Medinilla is an experienced marketing and business development expert, with a demonstrated history of working in the legal services industry.
Ms Vázquez has a law degree from Universidad Intercontinental, an LLM degree from Northwestern University and holds a certificate in marketing for legal services from Escuela Libre de Derecho. Before working in the marketing and business development industry, she worked as an attorney in very prestigious law firms in Mexico City. Her legal experience and time working as a legal service provider increased her visibility and perspective on how law firms are managed, how client-attorney relationships work and primarily on how to add value to both without neglecting the law firms' own purposes.
As a business developer, Ms Vázquez has put her efforts into the development and implementation of technological systems to better organise the firms' information, aiming for transparency and focalised strategies.

Lisa M Walker Johnson
Founding principal, Walker Clark LLC
lisa.walkerjohnson@walkerclark.com

Lisa Walker Johnson's professional background is as a counselling psychologist, with more than 30 years' experience in senior levels of business management and consulting to corporations and law firms worldwide. As a psychologist with deep experience in law firm management issues, Ms Walker Johnson helps law firms to manage sensitive and frequently difficult change management issues, such as the integration and retention of lateral partners, leadership transitions between generations of partners, cultural due diligence during mergers, and the implementation of strategic change in the disruptive business environments confronting the legal services industry. Ms Walker Johnson has published extensively in these areas and frequently speaks about them at major international conferences for legal professionals.

Thorsten Zulauf
Finance director, Boston Consulting Group
zulauf.thorsten@bcg.com

Thorsten Zulauf is a finance director at Boston Consulting Group and has worked as a law firm consultant specialising in the economic operations of law firms. Coming from an education in business administration, he has worked in leading professional services firms such as Accenture and Linklaters, where he latterly held the positions of business manager for the commercial practice groups and head of finance and controlling. His strengths lie in supporting the partnership in all business development-related matters, providing financial/business analysis, as well as expertise in the implementation of professional financial management and business support functions within large law firms.
Mr Zulauf was a speaker and moderator at a seminar on successful pitching and for the AIJA (the International Association of Young Lawyers) German Speaking Regional Meeting on the theme "Where the money is (and the associated risk)".