Book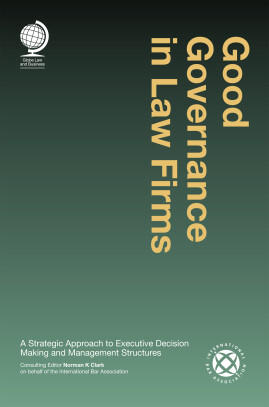 Good Governance in Law Firms
A Strategic Approach to Executive Decision Making and Management Structures
Published: 2014
Pages: 234

eBook: 9781787428270
How can governance incorporate management information and concepts of risk management into the decision-making process? The fourth in this popular series on the business of law, published in association with the International Bar Association, the book concludes with an examination of emerging trends that will shape law firm governance in the future
Governance today is more than just writing a good partnership agreement. Our multidisciplinary team of contributors demonstrate how governance has become a unifying and integrating system for a wide range of critical strategic and business issues. The inquiry starts with an overview of modern governance structures in law firms, and how the concept of governance has expanded to include features such as professional managers and partner remuneration systems.

To be effective, a law firm's governance system must facilitate, not complicate, the solution of important internal challenges, such as change management, managing partner performance and succession planning. How can good governance help law firm owners to make better decisions? How can governance incorporate management information and concepts of risk management into the decision-making process?

The fourth in this popular series on the business of law, published in association with the International Bar Association, the book concludes with an examination of emerging trends that will shape law firm governance in the future. It provides visionary, but entirely realistic, insights into how law firm governance will need to continue to adapt to new regulatory regimes for the legal profession, stress testing concepts and new alternative business structures.
Table of Contents
| | | |
| --- | --- | --- |
| Cover | Cover | |
| Title | 1 | |
| Copyright | 2 | |
| Contents | 3 | |
| Introduction | 5 | |
| Part I: Building an effective structure | 9 | |
| Strategy drives governance | 9 | |
| The evolution of modern governance in law firms | 17 | |
| Governance as an organising framework for managing the practice and the business | 31 | |
| Governance and structure: supporting the long-term success of a partnership | 41 | |
| The role of professional management in law firms | 57 | |
| Part II: Challenges for law firm governance | 79 | |
| Effective decision making in law firms | 79 | |
| Good governance and partner performance | 97 | |
| Riding the compensation tiger | 121 | |
| Partner compensation and partnership structure | 131 | |
| Management information – what does the managing partner need to know? | 137 | |
| Governing risk | 147 | |
| Succession, retirement and beyond | 157 | |
| Part III: Governance tomorrow | 173 | |
| Governance for lawyers in a new era – 'alternative' law firms | 173 | |
| Managing change | 203 | |
| About the authors | 231 | |
If you as a practitioner are involved in any way in your firm's business development - especially if your practice is going global - you'll find this book a useful and valuable addition to your professional library.
Phillip Taylor MBE
Richmond Green Chambers

Martín Carrizosa
Founding partner, prietocarrizosa
[email protected]

Martín Carrizosa is a founding partner of prietocarrizosa. He has experience in antitrust and competition law, intellectual property and crossborder M&A.
He has been appointed to the board of directors of the World Law Group and elected to the Investment Advisory Council for Proexport, and he sits on the board of Universidad de los Andes. He has served as economic and foreign affairs adviser to the president of Colombia, and as senior adviser and chief of staff to the secretary general of the Organisation of American States. Since 2001 he has been an arbitrator of the Bogota Chamber of Commerce and is one of the Colombian arbitrators appointed to the International Centre for Settlement of Investment Disputes.
He has served as a professor of civil law and contracts at several universities in Colombia. He has been a member of the Young Presidents Organisation and sits in the board of directors of several institutions, including non-profit organisations.

Norman K Clark
Managing principal, Walker Clark LLC
[email protected]

Norman K Clark is the managing principal of international legal management consultancy Walker Clark LLC, which he helped to found in 2002. His consulting practice specialises in issues of strategic planning and implementation, law firm profitability, governance and risk management.
His 40-year career as a lawyer includes experience as a trial lawyer, trial judge, law professor and senior manager of legal services on a global scale. He has been a full-time business adviser to the legal profession for the past 19 years, having advised clients in law firms, as well as corporate and government law departments, in more than 60 countries on five continents. Mr Clark holds a BSc, a JD and an LLM. He is a retired member of the Pennsylvania Bar and a past chairman of the International Bar Association Law Firm Management Committee.

Rupprecht Graf von Pfeil
Partner, KermaPartners
[email protected]

Rupprecht Graf von Pfeil is a subject-matter expert on strategy, partner remuneration/ performance and business development. As a trained organisational psychologist, he looks at consulting assignments from a process perspective: how to design a consulting process integrating a client organisation's knowledge, taking advantage of KermaPartners' know-how and subject-matter expertise, and engaging with the partners to make the result accepted by all. His change management competence regularly helps to raise the quality, sustainability and impact of the assignments on which he works. With 20 years of professional experience, Mr Graf von Pfeil is an experienced management and strategy consultant. He founded his own consultancy firm 10 years ago, focusing on professional service firms in Continental Europe. Given the international scope of his work, he merged his firm with KermaPartners in 2011.
Mr Graf von Pfeil has a degree in organisational psychology and has taken several of the leading organisational development and change management courses.

Leopoldo Hernández Romano
Partner, KermaPartners
[email protected]

Leopoldo Hernández Romano serves as KermaPartners' head of markets – Americas. Based in Mexico City, he primarily advises law firms on the areas of strategy design and implementation, organisational structure transformation projects, partner and associates compensation schemes and governance. He has advised Iberoamerican and Latin America alliances on strategic positioning. Before joining KermaPartners, Mr Hernández Romano was the founder and managing partner of HernándezRomano Consultores in Mexico City. He was also the chief operating officer for the Mexican office of a top-10 New York law firm. Mr Hernández Romano earned his law degree from Panamericana University in Mexico City and holds an MBA from Instituto Tecnológico Autónomo de México. He has lectured at Panamericana University Law School on International Trade, Arbitration and Law Firm Management. He has been the coordinator of the Mexican Bar Association Law Firm Management Commission and a member of the board.

Sarah Martin
Partner, Coombs Martin
[email protected]

Sarah Martin is a founding partner in Coombs Martin, an executive coaching consultancy in London.
Ms Martin originally trained as a lawyer. She worked in M&A with Allen & Overy and was senior counsel in the chairman's office of BP PLC. She has over 20 years of business, legal and corporate governance practice at board level, combined with advanced training and experience as a business coach.
Ms Martin has been coaching professionals and executives since 2007. Her focus is on leadership in professional services firms. She holds an LLB from Manchester University and an MSc in management as a Sloan fellow at London Business School. She is an accredited business coach and a special adviser to the International Bar Association Law Firm Mentoring programme.

Iryna Nikitina
Independent consultant
[email protected]

Iryna Nikitina is a strategy consultant for professional service firms in the Commonwealth of Independent States (CIS), focused on partnership development and strategic transformations and helping partners to raise firms' effectiveness and efficiency. Entering the legal market as executive director of the Ukrainian Bar Association in 2004, she served as chief operating officer for leading pan- CIS law firms Magisters and Egorov, Pusinsky and Afanasiev and Partners. Ms Nikitina successfully applied her project management experience and leadership to complete four mergers in three years, crowning her in-house career with the Magisters and EPA&P merger in 2011, and headed a business support team for a firm of more than 500 employees with offices in Moscow, St Petersburg, Kiev, Minsk, Astana, London and Washington, DC.
She is a certified technical cooperation programme manager and has strengthened her expertise with organisational development study in the United Kingdom. She is a sought-after conference speaker and author for legal and business media.

Stephen Revell
Partner, Freshfields Bruckhaus Deringer
[email protected]

Stephen Revell is a partner in Freshfields Bruckhaus Deringer's corporate practice based in its Singapore, and Hong Kong offices. He is cohead of Freshfields global capital markets practice.
Mr Revell has a well-earned reputation for driving deals to a successful conclusion through a combination of innovative thinking and carefully planned execution. He works on all types of corporate transaction, such as M&A, joint ventures, initial public offerings and debt offerings of all kinds. He joined Freshfields from university and became a partner in 1987; he was based in the New York office as US managing partner from 1998-2002 and moved to Asia in June 2011.
Mr Revell was educated at Christ's College, Cambridge. He is qualified in England and Wales and Hong Kong. Mr Revell is active in the International Bar Association (IBA) and is a member of the IBA Management Board, chair of the IBA Regulation of Lawyers Compliance Committee and an advisory board member of the IBA Law Firm Management Committee.

Michael Roch
Principal, KermaPartners
[email protected]

Michael Roch is a principal and the chief executive officer of KermaPartners, a management consulting firm advising partnership organisations worldwide. Mr Roch helps partnership organisations to transform their long-term performance by designing international strategy, simplifying complex ownership structures and partner remuneration systems and helping manage the contributions and performance of their partners. Mr Roch has advised legal and professional services, financial services, energy and technology firms in more than 40 countries for over 20 years. Many of the client relationships he looks after are professional services firms that are market leaders in their respective countries. Based in London, Mr Roch is a certified public accountant and a New York attorney; he holds a JD and a master's of accountancy from the University of Denver, United States. He started his career as an auditor and management consultant with two of the Big Four (then Six) accounting firms, followed by 10 years as an international corporate and capital markets lawyer in the United States and as part of a London-based global law firm before returning to the management consulting profession.

Aku Sorainen
Senior partner, SORAINEN
[email protected]

Aku Sorainen is the senior partner of leading regional law firm SORAINEN, which he founded in 1995 and which was later expanded to Latvia, Lithuania and Belarus. Mr Sorainen leads 25 partners and 140 lawyers in total, and has spent several years developing the firm's organisation and quality management system, as well as the partnership and methods of partner development appraisal. In 2008 Mr Sorainen was the first lawyer from the Baltic states to participate in the Harvard Law Firm Management course and he is senior vice chairman of the International Bar Association's Law Firm Management Committee. Mr Sorainen is a recommended practitioner in various legal directories, including Chambers Global ("he frequently counsels domestic and foreign clients on high-profile transactions"), Legal 500, Chambers Europe and Best Lawyers.

Rocío Vázquez Zavala
Consultant, KermaPartners
[email protected]

Rocío Vázquez Zavala is a consultant with KermaPartners based in Mexico City. She has more than 10 years' consulting experience in the services sector. She specialises in business process re-engineering, performance management and implementation of policies and procedures.
Before joining KermaPartners, Ms Vázquez Zavala worked at a construction company as a strategic planning consultant, where she implemented new policies and procedures as a major step towards the growth of the business. She was also responsible for the design, development and implementation of the Balanced Scorecard. Ms Vázquez Zavala also worked for Accenture as a change management analyst, where she collaborated in different strategic projects.
Ms Vázquez Zavala holds a bachelor's degree in industrial engineering from Universidad Iberoamericana, Mexico City and an MSc in management from the University of Bath, United Kingdom. She is also certified as a project management professional by the Project Management Institute.

Lisa M Walker Johnson
Founding principal, Walker Clark LLC
[email protected]

Lisa M Walker Johnson is a founding principal of Walker Clark LLC, an international legal management firm. Her professional background is as a counselling psychologist, with more than 25 years' experience in senior levels of business management and consulting with major corporations and law firms worldwide.
As a psychologist with deep experience in law firm management issues, Ms Walker Johnson helps law firms to manage sensitive and frequently difficult change management issues, such as the integration and retention of lateral partners, leadership transitions between generations of partners and cultural due diligence during mergers. She specialises in partner performance, leadership development, executive counselling and assessment, and organisational change in the legal profession. In recent years much of her practice has focused on private coaching and counselling to senior law firm leaders.
Ms Walker Johnson has published extensively in these areas and frequently speaks at major international conferences for legal professionals.

Tony Williams
Principal, Jomati Consultants LLP
[email protected]

Tony Williams is the principal of Jomati Consultants LLP, a leading UK-based international management consultancy. Jomati's services are designed to support law firms, barristers chambers and in-house legal departments on a range of strategic issues. Before establishing Jomati Consultants, Mr Williams had almost 20 years' experience at Clifford Chance as a corporate lawyer, with his last role being worldwide managing partner. He left in 2000 to become worldwide managing partner of Andersen Legal before the collapse of the Andersen organisation in 2002 in the wake of Enron. He established Jomati Consultants in October 2002. Jomati acts for many leading firms around the world, and in the last few years has had a preeminent role in major cross-border law firm mergers and international expansion. In 2012 Jomati was awarded the Queen's Award for Enterprise in International Trade on the recommendation of the prime minister.