Book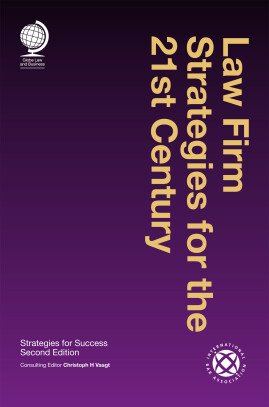 Law Firm Strategies for the 21st Century
Strategies for Success, Second Edition
Published: 2020
Pages: 271

eBook: 9781787423046
It aims to help partners understand what they can – and what they should not – do to chart the course of their firm most effectively, and covers current topics such as digitalisation and the emergence of new competitors from outside the market.
As the legal landscape becomes increasingly competitive, it is clear that law firms do not always do enough to remain at the top of their game. Firms that have embraced the challenges presented by increased competition are undeniably in a better position than those that have not.

This title aims to help partners understand what they can – and what they should not – do to chart the course of their firm most effectively, and covers current topics such as digitalisation and the emergence of new competitors from outside the market. Keeping abreast of market developments is an essential part of law firm management and this edition focuses on helping partners, and their teams, to develop the right strategy.

The second edition of this practical title in Globe Law and Business's series on the business of law offers up new ways to think about strategy and how to explore it in the context of a partnership. It includes contributions from leading academics, consultants and law firm partners who share their insights and experience in strategy development and management.

Whether you are a managing partner of a small, medium or large law firm, this book offers a variety of viewpoints in a comprehensive single volume. As well as partners and their teams, it will also prove useful for consultants and academics in developing research in this important area.

Table of Contents
| | | |
| --- | --- | --- |
| Cover | Cover 1 | |
| Title page | 1 | |
| Copyright information | 2 | |
| Table of contents | 3 | |
| Introduction | 5 | |
| Part I. General aspects of law firm strategies | 7 | |
| Strategies of small, midsize and larger law firms: does one size fit all? | 7 | |
| 1. Important frame to the strategy development in law firms: P2 archetype and business model | 7 | |
| 2. The resource side | 11 | |
| 3. Market side | 22 | |
| 4. Conclusion | 29 | |
| Strategy in law firms: what it is and why we should care | 31 | |
| 1. Introduction | 31 | |
| 2. Value creation in PSFs | 33 | |
| 3. What is strategy? | 36 | |
| 4. Strategy in PSFs – an oxymoron? | 39 | |
| 5. Why strategy is so difficult in PSFs | 42 | |
| 6. Conclusions | 43 | |
| Drivers of change – driving strategy in law firms | 45 | |
| 1. Introduction | 45 | |
| 2. The cases | 47 | |
| 3. Driving a strategy | 48 | |
| 4. Leadership | 50 | |
| 5. Financials | 53 | |
| 6. Conclusion | 56 | |
| How to drive change in a partnership setting | 59 | |
| 1. Change in general | 59 | |
| 2. Change in professional service firms | 61 | |
| 3. Case study | 62 | |
| 4. The change process | 64 | |
| 5. Leadership | 72 | |
| 6. Conclusion | 73 | |
| Part II. Resource-side strategies | 75 | |
| Resource-based approach to strategy: what makes your law firm unique today and tomorrow? | 75 | |
| 1. Introduction | 75 | |
| 2. Available resources | 75 | |
| 3. Identifying resources | 76 | |
| The role of professional ethics in shaping law firms' strategy | 83 | |
| Preface to the second edition | 83 | |
| 1. Introduction | 85 | |
| 2. The significance of trust in the legal profession | 85 | |
| 3. The genesis of the law firm as an enterprise and the danger posed by this phenomenon | 86 | |
| 4. Risks associated with commercialisation | 87 | |
| 5. Influence of commercialisation on law firms' strategies | 89 | |
| 6. Conclusions | 91 | |
| Implementing a smart collaboration strategy | 95 | |
| 1. Introduction | 95 | |
| 2. The case for change: understanding barriers and quantifying upside | 96 | |
| 3. Goals and accountability: using technology to turn service gaps into delivered targets | 102 | |
| 4. Upgrading partners' collaborative business development capabilities | 105 | |
| 5. Optimising individuals' and leaders' collaborative behaviours | 109 | |
| 6. Conclusion | 113 | |
| Business model transformation as a tool for driving strategic innovation and growth | 115 | |
| 1. Introduction | 115 | |
| 2. How a firm's business model is different to its strategy | 117 | |
| 3. The essential elements of a modern law firm business model | 119 | |
| 4. Options available to law firm leaders to transform their business models | 132 | |
| 5. Generic business models likely to become more prominent in the future | 139 | |
| 6. Conclusion | 148 | |
| Matter management in law firms – the emergence and impact of legal project management | 149 | |
| 1. Introduction | 149 | |
| 2. Efficiency and value creation in the context of contemporary law firms' strategies | 149 | |
| 3. Managing matters by legal project management principles and practices | 153 | |
| 4. The application of legal project management | 164 | |
| 5. Conclusion and outlook | 177 | |
| Legal tech as a factor in strategic law firm development | 179 | |
| 1. Introduction | 179 | |
| 2. What is legal tech? | 180 | |
| 3. Step 1: Needs analysis and market overview | 182 | |
| 4. Step 2: Make it or buy it, alone or in cooperation with others? | 182 | |
| 5. Potential benefits | 183 | |
| 6. Cost, risks and challenges | 185 | |
| 7. Conclusion | 186 | |
| Part III. Market- side strategies | 189 | |
| Winning and keeping clients | 189 | |
| 1. Introduction | 189 | |
| 2. Re-examine how you win and keep clients | 190 | |
| 3. Adapt your actions and your offers to the client's current problems | 192 | |
| 4. Renovate your client development practices and set priorities | 196 | |
| 5. Winning and keeping clients | 197 | |
| Reputation management in professional service firms | 199 | |
| 1. Introduction | 199 | |
| 2. Theoretical perspectives of reputation | 199 | |
| 3. Definitions and dimensions of reputation | 200 | |
| 3. Reputation in professional service firms | 204 | |
| 4. The relationship between reputation and quality in PSFs | 207 | |
| 5. Choosing a professional service provider: the interplay of networks, trust and knowledge | 209 | |
| 6. Findings | 212 | |
| 7. The lessons | 215 | |
| How to merge: lessons from 20 years of law firm mergers | 217 | |
| 1. Introduction | 217 | |
| 2. Why merge? | 218 | |
| 3. Building a business case for merger | 221 | |
| 4. Effective management of the merger process | 222 | |
| 5. Merger structure and impact on business case and process | 225 | |
| 6. Keys to effective merger execution | 226 | |
| 7. Conclusion | 229 | |
| How to screw up your international expansion: a 15-step guide | 231 | |
| Preface to the second edition | 231 | |
| 1. The vision thing | 233 | |
| 2. Geography is overrated | 234 | |
| 3. J'aime Paris! | 234 | |
| 4. Seeing is believing | 235 | |
| 5. Reinvent yourself | 236 | |
| 6. Goals versus own goals | 238 | |
| 7. I've got a secret | 239 | |
| 8. Alert the media! | 239 | |
| 9. Democracy is wonderful | 240 | |
| 10. Strangers in a strange land | 241 | |
| 11. It's my way or the highway | 242 | |
| 12. This land is my land | 243 | |
| 13. It's good to be the king | 243 | |
| 14. Best of breed | 244 | |
| 15. My silo is bigger | 245 | |
| 16. Conclusion | 245 | |
| Professionalising the pricing and procurement processes | 247 | |
| 1. Aligning interests | 247 | |
| 2. Introducing business professionals: pricing directors, legal operations and procurement | 248 | |
| 3. Pricing | 249 | |
| 4. Setting up an AFA | 258 | |
| 5. Legal procurement | 259 | |
| 6. Multi-sourcing | 260 | |
| 7. Data and management information | 261 | |
| 8. Pricing technology | 262 | |
| 8. Conclusion | 262 | |
| About the authors | 263 | |
| About Globe Law and Business | 271 | |
Inspiring combination of varying perspectives on relevant strategic issues and practical deep-dive on some topics. In particular, excellent highlighting of the importance of collaboration.
Nora Teuwsen
Partner Bär & Karrer Ltd

Today's transformation of the legal market is accelerating and more complex than ever. Applying a strategic approach does not only decrease uncertainty but improves the management of the inevitable change. This book provides practical and useful insights and offers an excellent source for further inspiration to anybody willing to proactively steer their own law firm's development and future.
Bruno Mascello
Attorney at law and Professor of Legal Management, University of St.Gallen

There are books that are helpful and books that are insightful. This is one that is not only both, but deserves a place close by on the office bookshelf of anyone grappling with today's array of law firm management challenges. The contributing authors provide valuable insights and tools that span the range from broad strategy and law firm mergers, to the foundational importance of legal ethics and reputation management, to internal configuration and alignment, change management, legal technology, client management and pricing.
Stephen W. Bowman
Vice Chair & Managing Partner, People & Talent, Bennett Jones LLP

LFS is a must for your law firm library. By combining a renowned group of experts, LFS offers practical ideas and approaches on how best to create a legal strategy based on the values, ethics, cost concerns, size and future goals of any law firm. By accessing the latest research on professional services firms, LFS succeeds in being an extremely useful book for both academics and practising partners alike. LFS will remain a continued source of reference for a law firm and allow those who read this book to stay ahead of the curve when it comes to competition and change.
Meg Strickler
Business Law International

Mats Anderson
Justice, Supreme Administrative Court (Sweden)
[email protected]

Mats Anderson was previously head of the Linklaters Nordic tax team. He also ran the consultancy Clear Blue Water AB, focusing on strategic development of larger law firms in the Nordic region, continental Europe and the United Kingdom.
Mr Anderson had his initial management- to- change experiences in the mid- 1990s in his then Swedish law firm. Since then, he has been involved as a partner in relevant firms or as a consultant in a number of projects, such as mergers, the opening up of greenfield offices in new markets, and general strategy projects.
Mr Anderson started with Swedish law firm Lagerlöf & Leman in 1991. This firm merged with the international firm Linklaters in 2001, in which Mr Anderson was a partner until 2007 when he left to start his consultancy. He was appointed Justice in 2018.

Robert C Bata
Principal, WarwickPlace Legal LLC
[email protected]

Robert C Bata is the principal of WarwickPlace Legal, LLC, a consultancy exclusively focused on advising law firms on the formulation, development and execution of international strategy.
His clientele ranges from some of the world's largest multinational law firms to regional and national firms, including midsize and small independent firms around the world seeking to enhance their international capabilities. Prior to founding WarwickPlace Legal in 2010, Mr Bata spent more than 30 years practising cross- border M&A and dispute resolution with Sullivan & Cromwell, Mayer Brown and a predecessor firm of Dentons. A seasoned law firm leader, he established and successfully led offices for his firms in New York, London, Central and Eastern Europe and China. He is a frequent speaker at law firm retreats and various bar association events, and conducts workshops on international strategy for law firm management committees and practice groups. Mr Bata currently serves as co- chair of the International Bar Association's Senior Lawyers Committee.
Mr Bata earned his BA in Russian and East European Studies from Yale University and his JD from the University of Texas School of Law.

Richard Burcher
Managing director, Validatum
Chairman, Virtual Pricing Director
[email protected]

Richard Burcher is a former New Zealand practising lawyer and managing partner with nearly 40 years' experience, including post- graduate study in professional services pricing. Mr Burcher is a regular speaker at national and international conferences, including International Bar Association global conferences (Dublin, Ireland and Seoul, South Korea), the Commonwealth Law Conference (Hyderabad, India), the VQ Virtual Intelligence Knowledge and Strategy Forum (Stockholm, Sweden) and the Canadian Bar Association Managing Partners Forum (Calgary, Canada). In 2018 Mr Burcher was appointed a teaching fellow (pricing) on the faculty of the Australian College of Law, master of legal business (MLB) qualification, and in 2019 was inducted as a fellow of the US College of Law Management. His legal services pricing research and commentary have been widely published and he has worked with a broad crosssection of law firms with turnovers of between £10 million ($15 million) and £900 million ($1.5 billion) on pricing governance and process, partner training and pricing software.

E Leigh Dance
Founder and managing partner, ELD International LLC Founder and executive director, Global Counsel Leaders
[email protected]

E Leigh Dance and her consultancy ELD International help global law firms and corporate legal/ compliance functions to perform better and achieve goals faster. Through projects in over 30 countries on all continents, Ms Dance is known in legal and business circles as a skilled strategist, thought leader, change manager, connector and speaker. Law firms and legal networks retain ELD International to realitycheck their marketing and business development strategies and actions with international clients, for market research, and to implement successful programmes with the world's largest legal service buyers. Ms Dance lives and works from bases in New York and Brussels and speaks English, French and Italian. Her articles can be found in publications including The Wall Street Journal, Financial Times, Legal Week and American Lawyer. Ms Dance's Global In- House column is published in American Lawyer Media's Corporate Counsel. In 2010 she founded the highly regarded Global Counsel Leaders Circle elite group of in- house leaders, www.GlobalCounselLeaders.com.

Felix Dette
Partner, METIS Rechtsanwälte PartGmbB
[email protected]

Felix Dette is a partner (corporate/ M&A) in the boutique law firm METIS in Frankfurt, Germany. Dr Dette specialises in private M&A and general corporate law, with a focus on stock corporations and corporate groups. He also advises on corporate restructurings and joint ventures. He has broad experience in advising national and international corporate clients and family-owned businesses in Germany.
Dr Dette studied law at the universities of Heidelberg and Lund/ Sweden and was scholar of the German Economy Foundation. During legal training he spent three months with the law firm Clayton Utz in Perth, Australia. Prior to joining METIS, Dr Dette spent close to five years working in the Frankfurt office of the international law firm Freshfields Bruckhaus Deringer LLP.
Dr Dette holds a doctoral degree from the Mannheim University. Besides his role at METIS, he is a lecturer in corporate law at the Mannheim Business School.

Ignaz Fuesgen
Managing director, smartvokat
[email protected]

Ignaz Fuesgen is a managing director at smartvokat, a legal innovation company based in Germany. Prior to joining smartvokat, Mr Fuesgen held executive and senior roles at leading international law firms and management consultancies in Germany and South Africa, including KPMG Consulting, BearingPoint, Clifford Chance, Allen & Overy, Webber Wentzel and Deloitte Legal. His advisory clients include law firms, alternative legal services providers, in- house departments and legal tech providers. An author, public speaker, mentor and entrepreneur, he is passionate about legal innovation and digital transformation, as well as any new ideas nurturing access to justice for all people.
Mr Fuesgen is a certified legal project practitioner (LPP) and accredited trainer of the International Institute of Legal Project Management (IILPM) and certified Scrum Master (ScrumAlliance). He completed an Executive MBA from Carlson School of Management (Minneapolis, USA) with distinction and a master's degree in Social and Economic Sciences from the Vienna University of Business and Economics (Vienna, Austria).

Heidi K Gardner
Distinguished fellow, Harvard Law School
[email protected]

Heidi K Gardner, PhD, is a distinguished fellow at Harvard Law School and faculty chair in the school's executive programmes. Previously she was a professor at Harvard Business School. Dr Gardner's book Smart Collaboration: How Professionals and Their Firms Succeed by Breaking Down Silos became a Washington Post bestseller. Named by Thinkers50 as a 'Next Generation Business Guru', Dr Gardner co- founded the research and advisory firm Gardner & Co.
Dr Gardner has authored more than 70 books, chapters, case studies and articles. Her books include Smart Collaboration for In- house Legal Teams (2020), Leadership for Lawyers (2nd edition, 2019) and Smart Collaboration for Lateral Hiring (2018). Dr Gardner has lived and worked on four continents, including as a Fulbright fellow and for McKinsey & Co and Procter & Gamble. She earned her BA in Japanese from the University of Pennsylvania, a master's degree from the London School of Economics and PhD from London Business School.

Dina Gracheva
Independent strategy consultant
[email protected]

Dina Gracheva is an expert in strategic management and innovation, with experience in working as a marketing director of a law firm, as well as a consultant on strategy and business development for law firms and governmental institutions. Working in international environments outside of the legal industry, she also promotes the view that law firms can learn from other businesses and adapt various instruments to achieve success in a professional services world.

Wolf-Peter Gross
Management consultant, Law Firm Change Consultants
[email protected]

Wolf-Peter Gross is management consultant at Law Firm Change Consultants, the leading consulting firm for law firms and legal departments in Europe. He is lawyer, systemic organisational consultant, leadership coach and business mediator. He was general counsel in the telecommunication and system integration industry and has many years of experience as managing director in international businesses. Since 2005 Dr Gross has worked as a consultant with a focus on the development of professional service firms and law departments in the fields of strategy, organisation, culture, leadership and change processes. He is the author of several articles and books.

William S Harvey
Professor of management and associate dean of research, University of Exeter Business School
[email protected]

William Harvey is professor of management and associate dean of research at the University of Exeter Business School. He researches on reputation, talent management and leadership within organisations. Professor Harvey received a first class degree from the University of Durham, an MPhil with distinction and a PhD from the University of Cambridge. He has worked at the University of Oxford, the University of British Columbia, the University of Sydney and the University of Exeter. He has held visiting posts in Australia, France, Germany, Norway, India and the United States. Professor Harvey has researched and worked with leaders across the world in a variety of sectors, including consulting, defence, education, energy, finance, government, healthcare, insurance, manufacturing and retail.

Silvia Hodges Silverstein
CEO, Buying Legal Council
Adjunct professor, Columbia Law School
[email protected]

Dr Silvia Hodges Silverstein is the CEO of the Buying Legal Council, the international trade organisation for legal procurement, and adjunct professor at Columbia Law School. She co- authored the Harvard Business School case studies GlaxoSmithKline: Sourcing Complex Professional Services on the company's legal procurement initiative and Riverview Law: Applying Business Sense to the Legal Market on the new model law firm.
Dr Hodges Silverstein has authored many articles on law firm management, including The Georgetown Journal of Legal Ethics' "I didn't go to law school to become a salesperson" and the South Carolina Law Review's "What we know and need to know about Legal procurement". She is also the author/ editor of several books, including the Legal Procurement Handbook and Buying Legal: Procurement Insights and Practice. She is the publisher of Winning Proposals – The Essential Guide for Law Firms and Legal Services Providers. She earned her PhD at Nottingham Law School (United Kingdom), holds a master's degree in business from Universität Bayreuth (Germany) and Warwick Business School (United Kingdom), and an undergraduate degree (economics) from Universität Bayreuth.

Bente R Løwendahl
Former professor, BI Norwegian Business School

Bente R Løwendahl was professor of strategic management at BI Norwegian Business School, Department of Strategy and Logistics. Her research interests were the strategic management of knowledge-intensive firms, with a particular focus on professional service firms (PSFs). Her book Strategic Management of Professional Service Firms (1997, third edition, CBS Press, 2005) is widely cited by researchers as well as practitioners in this field. Her research has also appeared in academic journals such as Strategic Management Journal, Human Relations, Organisation Studies, Scandinavian Journal of Management, and California Management Review. She contributed to a number of books, including, but not limited to, a Norwegian textbook on strategy for Bachelor- level students (third edition, Cappelen Damm, 2010) and the Handbook of Research on Entrepreneurship in Professional Services, edited by Markus Reihlen and Andreas Werr (E Elgar, 2012). Ms Løwendahl held degrees in economics and business administration (MSc), as well as strategy/ applied economics (PhD – The Wharton School, University of Pennsylvania).

Ivan Matviak
Co- founder, Gardner & Co
[email protected]

Ivan Matviak is a co- founder of Gardner & Co, a research and advisory firm, and an investor/ adviser to venture- backed technology companies. Mr Matviak has co- authored several publications on collaboration and professional service firm strategy.
Previously he was an executive vice president at State Street Bank, where he led the bank's insurance sector and served as president/ chairman of three of the bank's FinTech subsidiaries. Prior to State Street Mr Matviak led the Bank of Scotland's small business commercial banking operations for the United Kingdom. Earlier in his career Mr Matviak was a consultant with Bain & Co's strategy and private equity groups in London and Johannesburg, and led strategy, product, marketing and sales functions at the Walt Disney Company (London and Paris) and Proctor & Gamble.
He holds an MBA and MA in international studies from the Wharton School of Business/ Lauder Institute and a BA in international relations from the University of Pennsylvania.

Robert Millard
Director, Cambridge Strategy Group
[email protected]

Robert Millard advises law firms on evolving their strategies and business models in response to the challenges posed by digitalisation. His clients include forward- thinking firms of all types and sizes, ranging from some of the world's leading premium global law firms to some quite modest- sized businesses, across many countries.
Mr Millard is a former co- chair of the International Bar Association (IBA) Law Firm Management Committee. He is currently engaged with a doctoral research project into value creation in large US and UK law firm mergers. He is also an active member of the American Bar Association, the Academy of Management and the Strategic Planning Society. In 2017– 2018 he served on the steering committee of the IBA President's Task Force on the Future of Legal Services. He has coauthored nine books over the past eight years on topics related to law firm strategy, partner compensation, digital transformation and developing highperformance business models.

Timothy Morris
Professor of management studies, Saïd Business School, University of Oxford
[email protected]

Timothy Morris is professor of management studies at Saïd Business School, University of Oxford. His research on professional firms focuses on reputation, innovation and change as well as the processes by which these firms can build and sustain competitive advantage. His other area of research work concerns the changing nature of the role and capabilities of CEOs. His scholarly research has been published in the leading American and European journals and has been featured in The Economist and the Financial Times. He studied at the University of Cambridge and has a master's and doctorate from the London School of Economics.

Michael Smets
Professor of management, Saïd Business School, and fellow of Green Templeton College, University of Oxford
[email protected]

Michael Smets is professor of management at the Saïd Business School and a fellow of Green Templeton College, University of Oxford. Professor Smets studies and advises professional service firms, especially in law, accounting, consulting and engineering. His research focuses on their leadership, innovation, internationalisation and career structures. Thinkers50 have included him as the "up and coming voice on leadership" on their 2019 'Radar' of management scholars to watch and his research is regularly featured in the Financial Times, Forbes, Bloomberg, CNN, CNBC, the Guardian and other international media outlets. Professor Smets has studied at Cologne University in Germany and holds a master's and doctorate from the University of Oxford.

Lisa R Smith
Principal, Fairfax Associates
[email protected]

Lisa Smith is a founding principal of Fairfax Associates and heads the Washington, DC office. She is a leading consultant to law firms and advises firms in the United States and globally on strategy development and execution, growth strategy and mergers, management and governance, partner compensation and structure, leadership development and firm financial performance. She is a thought leader in the industry and has written a number of books and articles, including the monthly Fairfax Insights, is a frequent speaker at legal industry conferences and law firm retreats, co- chairs the annual Fairfax Partner Compensation Workshop and has taught in executive education programmes at both Georgetown University Law Center and George Washington University. She earned her MBA from the Tuck School at Dartmouth College.

Christoph H Vaagt
Managing partner, Law Firm Change Consultants
[email protected]

Christoph Vaagt is the founder and managing partner of the consulting firm for law firms and legal departments, Law Firm Change Consultants, based in Munich. He holds a degree in law, and worked as a consultant across various industries and as a lawyer in Munich before turning to consulting for law firms and legal departments.
Prior to the foundation of his own firm in 2005, Mr Vaagt was a consultant with major US law firm consultancy, Hildebrandt International. Having worked with consultants such as Brad Hildebrandt and Alan Hodgart for leading US and UK law firms on projects ranging from devising international strategies to arranging mergers, he has acted for major German, Austrian, Swiss and other top European firms. He specialises in change management techniques, focusing on the strategy and culture of law firms.
Mr Vaagt is author of the first benchmark study of the German law firm market and has edited the first editions of Law Firm Strategies for the 21st Century and General Counsel in the 21st Century, both published by Globe Law and Business on behalf of the International Bar Association. He has also contributed to German- speaking publications on law firm management and legal department management.

Tomasz Wardyński
Founding partner, Wardyński & Partners
[email protected]

Tomasz Wardyński, CBE, is an advocate and founding partner of Wardyński & Partners, one of the largest and most recognised legal firms in Poland. He has been closely involved with its management and development for 30 years.
Mr Wardyński handles arbitration proceedings involving foreign and domestic entities, while also practising civil, commercial and competition law. He is a member of the ICC Commission on Arbitration and ADR and served as a member of the ICC International Court of Arbitration in Paris. In 2001 Her Majesty Queen Elizabeth II appointed him an Honorary Commander of the British Empire.
The International Bar Association (IBA) has been an important part of his activity for many years. He has served as the Polish Bar's representative there and at present is also a member of the advisory board of the IBA Senior Lawyers Committee. He is also a member of the American Bar Association.