Book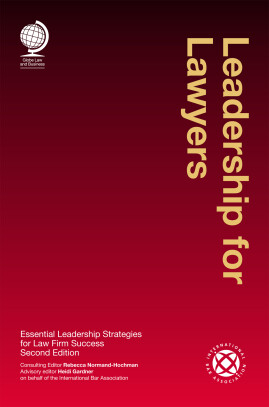 Leadership for Lawyers
Essential Leadership Strategies for Law Firm Success, Second Edition
Rebecca Normand-Hochman, Heidi K Gardner, Mariano Batalla, Alexis Caught, Kevin Doolan, Susan Saltonstall Duncan, Jenni Emery, Laura Empson, Deborah B Farone, Jaime Fernández Madero, Herminia Ibarra, Mark Mortensen, Larry Richard, Scott A Westfahl, Peter Zeughauser, Kent Zimmermann
Published: 2019
Pages: 197

eBook: 9781787422889
This second edition, coordinated by Rebecca Normand-Hochman and Dr Heidi K Gardner on behalf of the International Bar Association, explores the crucial elements of law firm leadership. New and updated chapters by prominent experts in the field include leading partners to collaborate; leading the M&A process and leadership succession.
Law firm leaders must do more than react to change: they must anticipate market dynamics and create a culture that allows their lawyers and their firm to proactively shape the environment. Law firms face unprecedented complexity, increased competition and demands for transformation; yet, lawyers' taste for autonomy and their need for intellectual challenge makes leading them especially demanding. As a result, leaders must ensure they have the right skills including the ability to listen, coach, innovate and support change.

This second edition, coordinated by Rebecca Normand-Hochman and Dr Heidi K Gardner on behalf of the International Bar Association, explores the crucial elements of law firm leadership. New and updated chapters by prominent experts in the field include:

Leading partners to collaborate: featuring case studies and research to support behavioural change efforts, this new chapter highlights how lawyers' unique personality profile can inhibit change – and how leaders can productively manage this obstacle.

Leading the M&A process: having helped both smaller domestic and massive global law firms to successfully complete combinations, the authors reveal the critical steps leaders need to follow to gain partners' commitment to the hard work ahead.

Leadership succession: based on work with 150 law firms, this new chapter contains checklists and tools to help handle typical 'pain points', such as incentivising partners to cede control.

Further chapters address how to lead productive business development efforts, global and virtual teams, the Millennial generation, and much more.

Providing insights and practical guidance, this edition demonstrates how law firm leaders can enhance their leadership capabilities, whether their firms are small or large, domestic or global. Additionally, it is a vital resource for developing talent in legal professionals and consultants. Further, by highlighting the benefits of developing leadership skills early on, the book will be of interest to junior lawyers seeking to develop their careers.

Table of Contents
| | | |
| --- | --- | --- |
| Cover | Cover | |
| Title Page | 1 | |
| Copyright Page | 2 | |
| Table of Contents | 3 | |
| Introduction | 5 | |
| Leading lawyers in a VUCA world | 7 | |
| Leading law firms in the digital age | 21 | |
| Succession planning | 31 | |
| Leading and creating a rainforest: how leaders build a business development culture | 49 | |
| Building consensus for a merger | 61 | |
| Authentic gravitas in law firm leadership | 71 | |
| Leadership and decision-making in emerging legal markets: how structures and dynamics shape success | 85 | |
| Leadership, power and politics in law firms | 99 | |
| Generations in the workplace | 115 | |
| Leading teams of lawyers in an increasingly global and virtual world | 127 | |
| Leading merger integration | 143 | |
| Learning to lead: perspective on bridging the lawyer leadership gap | 163 | |
| How to hire leaders who thrive in their roles – both partners and business professionals | 175 | |
| About the authors | 189 | |
| About Globe Law and Business | 197 | |
Review for last edition: This book offers deep insights and practical recommendations on a range of crucial leadership topics. It's a must-read for any law firm leader facing tough challenges.
Roger Meltzer
Global Co-Chairman, DLA Piper

From digitalisation and managing millennials to the latest neuroscience on how we learn and change, this comprehensive handbook should be on every modern law firm leader's reading list.
David Morley
Principal, David H Morley LLP, former Senior Partner Allen & Overy

Lawyers wishing to lead — especially those of the 'rainmaker' variety — will want to get hold of this book.
Elizabeth Robson Taylor and Phillip Taylor MBE
Richmond Green Chambers

Leadership for Lawyers offers a great overview of many of the dynamic issues facing law firm partners and aspiring law firm leaders in today's changing legal market.
Aaron Street
CEO of Lawyerist & Author of The Small Firm Roadmap

Mariano Batalla
Partner, Batalla
[email protected]

Mariano Batalla is a partner in the corporate/M&A practice of Batalla in Costa Rica. He has been responsible for leading overall firm strategy, talent management and business development. He received his law degree summa cum laude from the University of Costa Rica and undertook his graduate studies in business administration and professional service firms at Harvard University and Tufts Fletcher School.
Mr Batalla has specialised in corporate and compliance matters, cross-border Central American M&A transactions and financing and development of large-scale real estate projects. Drawing on his business acumen and expertise, Mariano has advised professional services firms in strategy, positioning, talent management and pricing matters.
He is an officer of the Law Firm Management Committee of the International Bar Association, a visiting professor of service design and entrepreneurship at INCAE Business School and an adjunct professor of entrepreneurship at University of Costa Rica Business School. Mariano is also a founding member of the World Economic Forum's Global Shapers chapter in Costa Rica and a former instructor of innovation and entrepreneurship at Harvard University.

Alexis Caught
Partner, Strategy Four
[email protected]

Alexis Caught is the co-author of the Harvard Law School Case Study on Business Development Skills for Partners (Chasing Growth at Sasker Devereaux, HLS 15-12) and of the book Natural Networking.
After qualifying in media law and communications, Mr Caught joined a leading strategy consulting firm to focus on consumer insight and corporate strategy. Here, his interest in qualitative research was born and honed – leading to working across Europe, Russia and Asia to study and understand peoples' behaviours, motivations and habits.
On his return to the UK he joined the Møller Professional Service Firms Group based at Churchill College, University of Cambridge, before moving in-house with a client to concentrate on their European marketing activities.
Upon returning to Strategy Four and Møller, Mr Caught has concentrated largely on research and consulting on generational leadership in professional service firms.

Kevin Doolan
Partner, Møller Institute
[email protected]

Kevin Doolan spent more than 25 years as a law firm partner, the last ten of these as part of the management team with a focus on business development. In 2013 he left to join academia and created the Harvard Law School Case Study on Pricing Professional Services with Professor George Triantis at Stanford Law School (HLS 13-17). Mr Doolan divides his time between teaching and consulting and is guest faculty for both IE Law School in Madrid and Harvard Law School where he teaches pricing and business development on their Accelerated Leadership Program.
Mr Doolan is a partner at The Møller Institute, based at Churchill College, University of Cambridge and is the author of The Financial Times Guide to Mastering Services Pricing, published by Pearson.
In his consulting work Mr Doolan advises professional services firms in North America and Europe on leadership, pricing, business development and that tricky task of working successfully across different generations in the workplace.

Susan Saltonstall Duncan
President, RainMaking Oasis LLC
[email protected]

Susan Duncan began working with law firms in 1980 and has provided management consulting services to more than 150 law firms, other professional service organisations, associations and nearly 1,000 individual professionals. Her consulting firm works with firms, practice groups and individual professionals on firm and practice/sector strategy, business and client development, succession planning, feedback and needs assessment interviews, lateral integration strategies, firm values, visions and culture and innovation.
Ms Duncan is a thought leader on law firm management, innovation, business development and succession planning. She regularly publishes a bi-weekly blog called "InFocus – Insights on Legal Practice, Leadership and Talent" and has published numerous chapters in books and articles in legal publications.
Ms Duncan also served in in-house roles including director of professional development, director of business development and as chief strategy officer for a Global 25 law firm. She was inducted as a Fellow in the College of Law Practice Management (COLPM) and into the Legal Marketing Association's Hall of Fame. She has been widely published in legal publications, is regularly quoted in the press and speaks for national and international associations.

Jenni Emery
Global people and culture leader, Arup
[email protected]

Jenni Emery is a world leading expert in people, culture and change. She is the global people and culture leader at Arup, the leading design and engineering consultancy, and author of Leading for Organisational Change: Building Purpose, Motivation and Belonging (Wiley, 2019).
A lawyer and executive coach by background, Ms Emery has spent 20 years designing and delivering strategy, managing change and unlocking potential across the world's largest law firms and other professional service firms. She particularly loves to work in the context of transformational change and unites fierce intellect, big heart, and sleevesup pragmatism to deliver lasting results. She led the three-way merger of CMS, Nabarro and Olswang in 2017.
Ms Emery is passionate about the power of purpose, storytelling and wholehearted leadership to transform business, communities and society.
Ms Emery is a trustee of Spurgeons Children's Charity and a non-executive adviser to start-ups in the legal sector.

Laura Empson
Professor in the management of professional service firms, Cass Business School
[email protected]

Professor Laura Empson is director of Cass Business School's Centre for Professional Service Firms, and senior research fellow at Harvard Law School's Center on the Legal Profession. She has dedicated the past 25 years to researching professionals and the professions. Her research into professional service firms, funded by a series of prestigious government grants, encompasses themes as diverse as: leadership and governance; organisational, cultural and identity change; professionalisation of management; mergers and acquisitions; knowledge management; professional careers and social mobility and partner evaluation and reward systems.
Professor Empson is committed to translating her academic research for a practitioner audience. Her latest book is Leading Professionals: Power, Politics, and Prima Donnas (Oxford University Press, 2017) and her most recent Harvard Business Review magazine article is "How to lead fellow rainmakers" (March 2019). Her BBC documentary "Insecure Overachievers" was broadcast in September 2018.
From 2013 to 2016 she was an independent non-executive of KPMG LLP (becoming INE chair in 2015). She acts as an adviser to many of the world's leading law, accounting, investment banking, actuarial and management consulting firms, and is a regular speaker at partner conferences.
Professor Empson was previously associate professor at the University of Oxford. Before becoming an academic, she worked as an investment banker and strategy consultant.
She has a PhD and MBA from London Business School. Visit www.lauraempson.com.

Deborah B Farone
CEO, strategic marketing adviser, Farone Advisors LLC
[email protected]

Deborah Farone is an adviser to law and other professional service firms on business strategy and targeted marketing and is a speaker at professional forums and retreats. She has served as chief marketing officer at two of the world's most successful law firms, Cravath, Swaine & Moore LLP and Debevoise & Plimpton LLP. At both firms, she built and led their marketing communications and business development departments. She has also held positions as a marketing specialist at two global advisory firms, Willis Towers Watson and Ketchum.
Ms Farone is the author of Best Practices in Law Firm Business Development and Marketing (PLI, 2019), a book based on more than 60 interviews with leading law firm leaders and marketers, general counsel, and innovators in the profession. The book has been called a unique resource for law firm leaders, practising attorneys, legal marketers, consultants and educators who want to uncover the best marketing practices in the legal profession.
Ms Farone is also past president of the Legal Marketing Association's New York Chapter and was recently honoured with LMA New York's Legacy Award, in recognition of making "a distinguishable mark on the chapter and the profession".

Jaime Fernández Madero
Founder, Fernández Madero Consulting
[email protected]

Jaime Fernández Madero is a consultant in strategy and management law firms in Latin America. He is the founder of Fernández Madero Consulting (FMC), associated with Hildebrandt Consulting. Mr Fernández Madero was one of the founders of Bruchou, Fernández Madero & Lombardi, one of the leading law firms in Argentina.
Mr Fernández Madero provides advice to law firms on a variety of matters including strategy, management, leadership and governance and talent. He is the author of Organizando Firmas de Servicios Profesionales. El caso de los Abogados, published in 2012 by Thomson Reuters La Ley.
Mr Fernández Madero is a visiting professor at Management de Firmas Legales en Latinoamérica, organised by the IE Law Executive Education programme, and director of Universidad Di Tella, Argentina, for the Management de Estudios Jurídicos programme.

Heidi K Gardner
Distinguished fellow, Harvard Law School
[email protected]

Heidi K Gardner, PhD, is a distinguished fellow at Harvard Law School's Center on the Legal Profession and faculty chair of the school's Accelerated Leadership Program. Previously she was a professor at Harvard Business School. Dr Gardner's book Smart Collaboration: How Professionals and Their Firms Succeed by Breaking Down Silos was published in 2017 by Harvard Business Press, and became a Washington Post bestseller.
Named by Thinkers 50 as a Next Generation Business Guru, Dr Gardner recently co-founded the research and advisory firm Gardner & Co (www.GardnerandCo.co). Dr Gardner has authored more than 70 books, chapters, case studies and articles. She is a regular contributor to Harvard Business Review. Her research received the Academy of Management's prize for Outstanding Practical Implications for Management.
Dr Gardner has lived and worked on four continents, including as a Fulbright Fellow, and for McKinsey & Co and Procter & Gamble. She earned her BA in Japanese from the University of Pennsylvania, a master's degree from the London School of Economics and a second master's and PhD from London Business School.

Herminia Ibarra
Professor of organisational behaviour, London Business School
[email protected]

Herminia Ibarra is the Charles Handy professor of organisational behaviour at London Business School. Prior to joining LBS, she served on the INSEAD and Harvard Business School faculties.
An authority on leadership and career development, Thinkers 50 ranks Ms Ibarra among the top management thinkers in the world. She is a member of the World Economic Forum's Expert Network, a judge for the Financial Times/McKinsey Business Book of the Year Award, and one of Apolitica's 100 most influential people in gender policy. She was the 2018 recipient of the Academy of Management's Scholar-Practitioner Award for the contributions of her scholarly research to management practice.
Ms Ibarra is the author of best-selling books including Act Like a Leader, Think Like a Leader and Working Identity: Unconventional Strategies for Reinventing Your Career. She writes regularly in the Harvard Business Review and leading academic journals as well as business publications including the Financial Times, Wall Street Journal, and New York Times. Ms Ibarra speaks internationally on leadership and organisational transformation.
A native of Cuba, Ms Ibarra received her MA and PhD from Yale University, where she was a national science fellow.

Mark Mortensen
Associate professor, Area Chair INSEAD
[email protected]

Mark Mortensen is an associate professor of organisational behaviour, based in Fontainebleau France. He holds both a PhD and MS from Stanford University, as well as a BA from Colby College. His research focuses on the changing nature of collaboration, with a particular emphasis on global/virtual work and dynamic and overlapping teams. He publishes his work in a range of academic, professional, and popular press outlets and his contributions have been recognised through academic awards as well as leadership and editorial board positions. He teaches in many custom and open-enrolment executive programmes, the MBA core, and the doctoral programme. He also consults widely on team dynamics, global work, power and networks, and related topics. Prior to joining INSEAD, Professor Mortensen was on the faculty at the MIT-Sloan School of Management and McGill University School of Management.

Rebecca Newton
Organisational psychologist, London School of Economics and Political Science;
CoachAdviser
[email protected]

Rebecca Newton is an organisational psychologist and senior visiting fellow at the London School of Economics and Political Science in the department of management. Dr Newton has spent 20 years advising clients and teaching on leadership, change and management practice. Her doctoral research was in the psychology of change leadership in law firms. She was a visiting fellow in the psychology department at Harvard University, and has taught executive education for LSE, University of Cambridge and on the Accelerated Leadership Program at Harvard Law School. Dr Newton serves on the editorial board of the Journal of Change Management, is a regular keynote speaker, contributor to the Harvard Business Review, and is the author of Authentic Gravitas: Who Stands Out and Why. Dr Newton is the CEO of CoachAdviser, a coaching and consulting practice based in London, working with clients globally on leadership, professional and team development, collaboration, organisational culture and change.

Rebecca Normand-Hochman
Leadership consultant and coach, Institute of Legal Talent & Leadership
r.normand-hochman@
legaltalentandleadership.org

Rebecca Normand-Hochman is a leadership consultant and coach who brings researchbased people management strategies to the legal sector. Since 2010, she has been working with leaders and partners of international law firms across Europe to help them build and implement refined talent and leadership approaches and develop effective personal leadership styles.
Through her consulting and coaching work, Ms Normand-Hochman has done hundreds of psychometric assessments to measure the competencies, motivations and needs that lawyers have in the various stages of their development in over 40 areas (client relationships, ability to manage stress and pressure, to influence others, to lead teams, etc).
In parallel, Ms Normand-Hochman is the founder and a director of the Institute of Legal Talent & Leadership which helps legal organisations and individual lawyers implement talent and leadership best practices for themselves and their teams. Through the institute, she researches, consults and writes with a number of other experts in the field of leadership in the law. She is an officer of the International Bar Association's Law Firm Management Committee and is the editor of four books published by Globe Law and Business in partnership with the International Bar Association.

Larry Richard
Founder and principal consultant, LawyerBrain LLC
[email protected]

Dr Larry Richard is the founder and CEO of LawyerBrain LLC (www.lawyerbrain.com), a consulting firm that serves premier law firms and corporate legal departments in the areas of leadership, change management, talent selection and development, feedback, motivation and lawyer resilience and wellbeing. Dr Richard is recognised as the leading expert on the psychology of lawyer behaviour. A graduate of the University of Pennsylvania Law School, he was a litigator for 10 years before earning his PhD in psychology from Temple University. Since then, he has gathered and analysed personality data on thousands of lawyers, and consulted with hundreds of legal providers on a wide range of complex issues. Known for his ability to distil cutting edge scientific principles into actionable recommendations for improving lawyer performance, Dr Richard is a frequent presenter at professional conferences, and a sought-after keynote speaker.

Scott A Westfahl
Professor of practice, director of Harvard Law School Executive Education
[email protected]

Scott Westfahl is a professor of practice and the director of Harvard Law School Executive Education. Within the law school's JD curriculum, he teaches courses on leadership and innovation. In his executive education role, he oversees the law school's global leadership programmes for law firm leaders, general counsel and other lawyer-leaders. He also collaborates with HLS colleagues and other Harvard faculties to design and teach custom programmes for law firms, law departments and other legal-related organisations. He focuses his executive education teaching and writing on leadership and teams, innovation, the motivation and development of professionals and organisational alignment from an innovation, talent development and diversity and inclusion perspective. Prior to joining the HLS faculty in 2013, Professor Westfahl practised law and led talent development within large law firms and also led professional development for McKinsey's Washington DC office. He graduated from Harvard Law School in 1988.

Peter Zeughauser
Chair, Zeughauser Group
[email protected]

Peter Zeughauser is chair of Zeughauser Group, a legal consultancy. He has served as lead adviser on over 25 mergers and acquisitions for market leading international, national, regional and boutique law firms, including the largest ever transatlantic law firm industry merger, two of the three 2018 transatlantic combinations, the first alliance combination between an Am Law 100 firm and a PRC law firm (2005) and most of the strategic PRC–US law firm alliance combinations that followed, including alliances under the Shanghai Free Trade Zone regulations, which were modelled on the pioneering 2005 alliance combination.
In his role as a trusted merger adviser to law firm leaders, clients have noted Mr Zeughauser's skills at partnership consensus building, identification, assessment and building value propositions for merger opportunities, facilitating bilateral discussions and analysis of data exchanges and negotiations, and integration of partnership structures, capital requirements and accounts, compensation and systems and other key terms.

Kent Zimmermann
Principal, Zeughauser Group
[email protected]

Kent Zimmermann is a principal with Zeughauser Group. He is one of the leading strategy advisers to law firms in the US. Last year, he advised on each of the three largest law firm mergers to close worldwide. He is currently advising multiple firms on active merger discussions, and he is also advising three Am Law 25 firms on firm-wide strategy.
A former general counsel and chief executive officer, Mr Zimmermann counsels and provides insights to industry leaders on the challenges and opportunities they face as a result of the segmentation, specialisation, consolidation, and globalisation of the legal services market. As part of this work, he routinely conducts one-on-one interviews with chief legal officers, managing directors and business unit heads at market leading Fortune 500 and global companies.
Mr Zimmermann is valued for his sophisticated understanding of the evolving legal market and inside knowledge of the strategies and best practices of high-performing law firms.