Book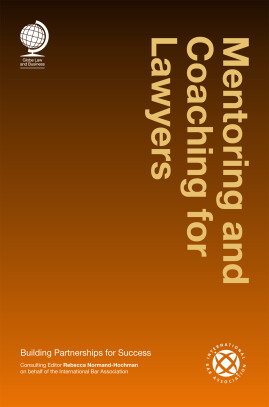 Mentoring and Coaching for Lawyers
Building Partnerships for Success
Published: 2014
Pages: 214

eBook: 9781787428294
Featuring chapters by well-respected experts in the field of mentoring and coaching, chapters cover topics including leadership coaching for law firm leaders; mentoring and coaching for lawyers at various stages of their careers; and mentoring and coaching for successful onboarding of lawyers, among other topics.
Traditional forms of mentoring and coaching have always been at the heart of the legal profession. It is not so long ago that in order to become a lawyer, one did not attend law school, but instead had to be mentored by a senior member of the profession for a fixed number of years. The requirement to attend law school is now universal, but the need for mentoring and coaching in the legal profession has not disappeared; it is developing at a high speed and for good reasons.

Misconceptions about mentoring and coaching in law firms often prevent productive relationships from forming. These misconceptions include beliefs that mentoring is beneficial to mentees but does not add value to the mentors; an assumption that it is human resources' responsibility to develop people; and queries about why today's lawyers need coaching, given that they receive more formal training than previous generations.

This practical new handbook, coordinated by Rebecca Normand-Hochman on behalf of the International Bar Association, explores and challenges some of these assumptions. Featuring chapters by well-respected experts in the field of mentoring and coaching, chapters cover topics including leadership coaching for law firm leaders; mentoring and coaching for lawyers at various stages of their careers; and mentoring and coaching for successful onboarding of lawyers, among other topics.

The various chapters provide guidance and insight to law firm leaders and talent management managers for them to discover how they can turn mentoring and coaching into a source of competitive advantage by improving client service, attracting and retaining the best talent, and enhancing the utilisation of human capital.

The book will also be of interest to lawyers seeking to discover how they can generate productive relationships to acquire the intangible skills and knowledge required to excel in today's practice of law.

Table of Contents
| | | |
| --- | --- | --- |
| Cover | Cover | |
| Title | 1 | |
| Copyright | 2 | |
| Contents | 3 | |
| Mentoring, coaching and the practice of law | 5 | |
| Mentoring senior lawyers | 19 | |
| The chartered psychologist as coach | 37 | |
| The role of bars in promoting mentoring best practices | 49 | |
| External coaching and mentoring | 59 | |
| Coaching needs of lawyers at various stages of their careers | 83 | |
| Coaching and mentoring as a key leadership development tool across legal generations | 103 | |
| Mentoring and coaching to leverage the learning from formal training | 117 | |
| Planning and mentoring for successful onboarding of lateral hires | 133 | |
| Mentoring and coaching across cultures | 143 | |
| Specific coaching challenges for lawyers | 159 | |
| How mentoring and coaching can help with life balance issues | 173 | |
| Coaching for retirement | 183 | |
| Where next in coaching and mentoring? | 197 | |
| About the authors | 209 | |
No matter how successful, the often perplexed lawyer, at whatever stage of his or her career, requires some encouragement and guidance along the way, hence the increasingly urgent need for mentoring and coaching examined in this book.
Phillip Taylor MBE
Richmond Green Chambers

'Mentoring and Coaching for Lawyers' not only answers the many questions I had, but does so in a structured, substantial and yet an imaginative and creative way. Its structure means that it is easy to access and would make a helpful reference book, for all those involved in law firm management.
Pippa Blakemore
The PEP Partnership LLP

Review for 'Managing Talent for Success': This is a concentrated burst of thoughtful analysis and practical pointers. Self-contained chapters draw on the insights and experience of a credible cross-section of specialists in talent development.
Stephanie Abbott
Mayer Brown

Marc Bartel
France managing partner, Heidrick & Struggles
mbartel@heidrick.com

Marc Bartel is France managing partner at Heidrick & Struggles and heads the functional practices in Europe and the Middle East. In addition, he leads the global legal, risk and compliance practice in Europe.
Mr Bartel focuses on the legal sector in both industry and private practice. He specialises in classic legal in-house positions and partner searches. Before joining Heidrick & Struggles, he held various senior management positions (including chief operating officer, Asia regional managing partner and deputy chief executive officer) within leading international law firms such as Lovells, Linklaters and Jeantet.
Mr Bartel obtained a business law degree and a master's in comparative law from Lyon University and a master's in comparative jurisprudence from New York University, and is a member of the New York Bar. He also obtained an MBA from the MIT Sloan School of Management. Mr Bartel is fluent in French and English and has a working knowledge of German.

Philip Beddows
Founding partner, The Silk Road Partnership
philip@silkroadpartnership.com

Philip Beddows is a founding partner of The Silk Road Partnership, operating in Europe, the Gulf, India, Southeast Asia and Greater China. He has been working in the coaching and mentoring arena for 23 years, is a leading exponent in his field and was trained by one of the preeminent Inner Game coaches. He has particular expertise working in the international financial and professional services fields, especially the law.
Mr Beddows has helped to create and build and been co-owner of a number of coaching, board mentoring and training businesses. He has richly varied life experience, including leadership roles in military, political, educational and charitable spheres.
He is a founding fellow of the Institute of Coaching Professional Association (a Harvard Medical School affiliate), a non-executive director of the Institute of Mentoring, and a member of the European Mentoring and Coaching Council and the International Association of Coaching, serving on its Professional Development and Research Committee.

Christopher Bockmann
Executive coaching and organisational consulting
cbockmann@icloud.com

Christopher Bockmann has an international career in organisational and personal development. He advises professional service firms on leadership development and coaches partners and executives along the whole leadership life cycle. Mr Bockmann also supports his clients during periods of strategic or organisational change through group coaching.
He started his career working for the European Commission in Central Europe. In 2000 he joined Clifford Chance to participate in building its corporate university. His last role before creating his own practice was European director of learning and knowledge at Linklaters.
Mr Bockmann is currently running a leadership programme for lawyers at Sciences-Po Business School, Paris. He runs a regular study on partners' careers within professional service firms. He is a French and Norwegian national and graduated from INSEAD Business School in organisational psychology and Cambridge University in political sciences.

Rachel Brushfield
Director, EnergiseLegal
rachel@energiselegal.com

Rachel Brushfield is a career, talent, learning and development strategist and coach and the founder of EnergiseLegal, Energise LLClub and Energise – The Talent Liberation Company. She has more than 27 years' experience in helping the legal profession embrace change. Ms Brushfield is a published author on talent management, professional development and gender balance, and has written more than 18 articles for legal magazines including Managing Partner on topics such as emotional intelligence, talent drain and female career success.
Helping women to 'blow their own trumpet' for career success is a specialism and she has written more than 10 articles for The Association of Women Solicitors. Her events include 'Portfolio careers' for The Law Society and 'Personal branding' and 'Liberating your talent' for the Association of Women Solicitors. Ms Brushfield writes practice notes and templates for LexisNexis, career guides for The Telegraph and content for cost-effective professional development for law firms. She was a panellist on Generation Y at the 2014 International Bar Association Women Lawyers' Conference in Paris.

David Clutterbuck
Special ambassador, European Mentoring and Coaching Council
david@davidclutterbuckpartnership.com

David Clutterbuck is one of the pioneers of coaching and mentoring. He brought the concept of structured mentoring to Europe more than 30 years ago. Visiting professor at Sheffield Hallam, Oxford Brookes and York St John Universities, he is regularly listed among the United Kingdom's most influential HR professionals. Author or coauthor of around 60 books, he is a co-founder of the European Mentoring and Coaching Council and practice lead for Coaching and Mentoring International, a global network of specialist trainers and consultants.
Professor Clutterbuck's current research interests include team coaching, international mentoring programmes, ethical mentoring and systemic talent management.

Heidi K Gardner
Distinguished fellow, Harvard Law School Programme on the Legal Profession
hgardner@law.harvard.edu

Heidi K Gardner (PhD) is a distinguished fellow at Harvard Law School's Programme on the Legal Profession and a Harvard Law lecturer. Her research focuses on leadership, collaboration and management in knowledge-based organisations, particularly professional service firms. She is currently writing a book on the topic. Previously, she served on the Organisational Behavior Faculty of Harvard Business School, and her research was awarded the Academy of Management's Prize for Outstanding Practical Implications for Management. She has published articles in the Academy of Management Journal, Administrative Science Quarterly, the Journal of Organizational Behavior and Harvard Business Review, as well as numerous book chapters and practitioner-focused articles. She has lived and worked on four continents, including as a management consultant for McKinsey & Co and a Fulbright fellow. She earned a BA in Japanese studies from the University of Pennsylvania, a master's from the London School of Economics and a doctorate from the London Business School.

Bill Knight
williamjlknight@btinternet.com

Bill Knight was senior partner of Simmons & Simmons until his retirement in 2001. Since leaving the firm he has served deputy chairman of council at Lloyd's of London, a gambling commissioner, chairman of the Financial Reporting Review Panel and a director of the Financial Reporting Council. He was a specialist adviser to the Treasury Select Committee in relation to the Financial Services Authority's report into the failure of Royal Bank of Scotland. In 2012 he was awarded the OBE for services to financial regulation.
Mr Knight is one of the founders of BCKR, a company which exists to encourage lawyers to obtain board appointments. He is a qualified coach and a professional photographer (www.knightsight.co.uk).

Sarah Martin
Programme director and leadership coach, Saïd Business School; Coombs Martin
sarah@coombsmartin.com

Sarah Martin is a programme director and leadership coach at Saïd Business School. Ms Martin originally trained as a lawyer. She worked in mergers and acquisitions at Allen & Overy, and was senior counsel in the chairman's office of BP PLC. She has more than 20 years' business, legal and corporate governance practice at board level, combined with advanced training and experience as a business coach.
Ms Martin is also a founding partner in Coombs Martin, an executive coaching consultancy in London. She has been coaching professionals and executives since 2007. Her focus is on leadership in professional services firms. She is author of Creating Effective Relationships in Law Firms and Effective Decision-Making in Law Firms.
She holds an LLB from Manchester University and an MSc in management as a Sloan fellow at London Business School. She is an accredited business coach and special adviser to the International Bar Association Law Firm Mentoring Programme. She sits on the advisory boards of the Institute of Mentoring and of Human Rights Watch's Children's Division.

Lis Merrick
Managing director, Coach Mentoring Ltd
lismerrick@coachmentoring.co.uk

Lis Merrick is managing director of Coach Mentoring Ltd., a director of the Professional Mentor Academy Ltd, on the board and an accredited assessor for the International Standards for Mentoring Programmes in Employment and a visiting fellow of the Coaching and Mentoring Research Unit at Sheffield Business School.
Ms Merrick works as an executive coach and consultant in coaching and mentoring on a global basis, and has more than 25 years' experience of working in cross-cultural environments, including senior HR experience with the Thomas Cook Group and Merrill Lynch. Her experience in mentoring programme design and development is now nationally acclaimed in the United Kingdom, with over 60 mentoring programmes to her name. Her expertise and research is predominantly in the field of mentoring and coaching with regard to talent management, mentoring senior women and supervision in mentoring.

John E Montgomery
Executive director, National Legal Mentoring Consortium
jemontgo@law.sc.edu

John E Montgomery is executive director of the National Legal Mentoring Consortium, a national organisation with representation from all parts of the legal profession in the United States. The consortium promotes mentoring best practices. He also is dean emeritus of the University of South Carolina School of Law. He has participated in the design and evaluation of several bar mentoring programmes, and speaks and writes on mentoring in the legal profession.

Rebecca Normand-Hochman
Founder and director, Mentoring Collegium Limited, Institute of Mentoring
rebecca.normandhochman@instituteofmentoring.org

Rebecca Normand-Hochman is the founder and director of the Institute of Mentoring, which provides insight, research and advice to advance mentoring best practices in the legal profession. As a French-British former lawyer, Ms Normand-Hochman practised international finance law in London and in Paris. Her experiences as a lawyer with Allen & Overy in Paris laid the foundation for her present work in talent management.
She has carried out extensive research on law firm talent management, and her work draws on best practices and collaboration with leading experts in leadership, change management, coaching and mentoring.
Through her current work with the Institute of Mentoring and the involvement of a number of law firm partners, talent management experts, coaches and professors, Ms Normand-Hochman focuses on the subject of mentoring. She is pursuing research and providing advice to adapt best practices to the specificities and challenges that relate to the practice of law.
Since 2012, she has been leading the main talent management initiatives of the International Bar Association Law Firm Management Committee. These include the coordination of this book and Managing Talent For Success (2013), and leading the International Bar Association Law Firm Mentoring Programme. She is an officer and advisory board member of the Law Firm Management Committee.

Sally Sanderson
Director, Profex Consulting
sallysanderson@profexconsulting.com

Sally Sanderson is a multi-award winning consultant to law firms and has been working in the professional services sector for more than 25 years. She provides bespoke leadership development programmes for a range of law firms from magic circle to niche practices, and works in the United Kingdom and internationally. Her awards include two from the UK Legal Education and Training Group: Best Training Provider 2011 for a programme which could demonstrate quantifiable improvements, and Trainer of the Year 2003 for her "professionalism, enthusiasm and credibility, understanding of the legal market and ability to ensure programmes are relevant and tailored".
Ms Sanderson has a degree in English from Oxford, and managed learning and development departments at Arthur Andersen and Theodore Goddard before setting up Profex Consulting in 2001. She is a fellow of the Chartered Institute of Personnel and Development.

Robert Sharpe
Psychologist
rs@robertsharpe.com

Robert Sharpe is a chartered psychologist with a clinical and mentoring consultancy in London W1. He holds a PhD in psychology and specialises in relationship development, resilience building and mentoring of law firm partners and partnertrack associates. He is director of mentoring psychology at the Institute of Mentoring.
Dr Sharpe is an accomplished seminar leader and workshop facilitator who regularly advises senior management of law firms, ranging in size from major internationals to single-office, local firms. He has extensive experience in cross-cultural cooperation in the workplace, having consulted within more than 20 law firm offices in Europe, Asia, Australia and the United States.
The author of three popular applied psychology books, Dr Sharpe also carries out legal reporting, advises on strategy and facilitates the on-boarding of lateral hires. Responsive, available and collegial, he is equally at home advising on high-level strategy or practical specifics. His passions are one-on-one mentoring and development of individual excellence.

Nigel Spencer
Global director of learning and development, Reed Smith LLP
nspencer@reedsmith.com

Nigel Spencer is currently at international law firm Reed Smith LLP, where he is responsible for designing and implementing the firm's talent development strategy globally. An accredited executive coach (Meyler Campbell Business Coach), Dr Spencer has embedded coaching in experiential leadership development programmes for staff and clients and also created internal coaching faculties.
Dr Spencer co-chairs the national body of legal education professionals (the Legal Education Training Group), working with international business schools to conduct research into coaching, leadership development and strategy. He is also a member of the Saïd Business School Coaching Community in Oxford and coaches for its executive programmes.
Previously, Dr Spencer created the first graduate full-time MBA in the legal sector, worked at PricewaterhouseCoopers, and before that in academia, directing international interdisciplinary research projects, latterly as a senior research fellow at Worcester College, Oxford. His research and publications have focused on group dynamics, hierarchy, power, agency and cultural change.

Jon Stokes
Director, Stokes & Jolly Ltd; Saïd Business School, Oxford University
js@stokesjolly.com

Jon Stokes is a director of leadership and management development firm Stokes & Jolly Ltd (www.stokesjolly.com). He is a business psychologist and leadership coach who consults and advises at board and senior levels on senior leadership development, leadership transitions and the indepth assessment and selection of senior executives. Mr Stokes trained and worked as a psychologist and psychotherapist at the Tavistock Clinic and Institute in London, where he became director of the Adult Psychotherapy Department and then the founder-director of the Tavistock's Organisational Consultancy Service. Mr Stokes is an associate fellow of Oxford University's Said Business School, where he teaches on leadership, an associate faculty member of Henley Business School, where he works on the Advanced Personal Leadership Programme, and an associate at the Institute for Government.

Sally Woodward
Founding principal, Sherwood PSF Consulting
sally.woodward@sherwoodpsfconsulting.com

Sally Woodward has 30 years' experience working as a leadership coach and consultant specialising in supporting clients through organisational and personal change. She also teaches coaching skills to leaders as an associate faculty member at Meyler Campbell, the leading trainer of business coaches. Her existing client base includes senior lawyers and other professionals in both international law firms and in-house departments.
Ms Woodward began her career as a law academic at Cambridge University, then practised as a solicitor before doing an MBA at London Business School and holding a senior management role in the leading firm of Freshfields during that firm's rapid growth from 1985 to 1997. Ms Woodward is co-director of the Law Management Programme at Instituto Empresa in Madrid, having previously, with Stephen Mayson, developed and taught for 10 years on the groundbreaking MBA in legal practice management at Nottingham Law School.