Book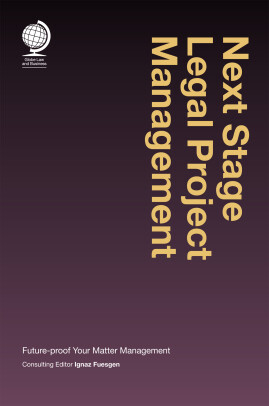 Next Stage Legal Project Management
Future-proof your Matter Management
Published: 2021
Pages: 272

eBook: 9781787424203
Written by practitioners for practitioners, this title will benefit General Counsel, legal COOs, managing partners, practice leaders and other executives running legal services delivery teams who have initiated legal project management programmes and seek new ideas and inspiration for more value creation.
Corporate legal teams and law firms have made significant investments in their legal project management programmes over the past few years. It is time to take stock and, more importantly, envision future interventions. What are the decisive strategies and actions to expedite the value creation of those programmes?

In this book, an international group of 27 experts comprising private practitioners, in-house counsel, technologists, legal operations managers and legal management consultants offer unique perspectives and insights to help you take your legal project management programmes to the next stage. Topics covered include:

+ Methodology;
+ People management;
+ Communication and interaction;
+ Data and performance; and
+ Implementation of legal project management programmes.

Written by practitioners for practitioners, this title will benefit General Counsel, legal COOs, managing partners, practice leaders and other executives running legal services delivery teams who have initiated legal project management programmes and seek new ideas and inspiration for more value creation. Practical and illustrative examples, case studies and many shared experiences direct the reader towards the next level of proficiency in legal project management – future-proofing your matter management.
Table of Contents
| | | |
| --- | --- | --- |
| Cover | Cover | |
| Title Page | 1 | |
| Copyright Page | 2 | |
| Table of Contents | 3 | |
| Introduction | 5 | |
| Part 1. Methodology | 9 | |
| A competency framework: propelling the value paradigm | 9 | |
| Start with your processes: building a foundation for legal project management | 23 | |
| Waterfall, Agile or hybrid? | 37 | |
| Evolving legal project management through legal design | 53 | |
| Part 2. Talent and team | 65 | |
| Team diversity and intercultural competence | 65 | |
| Professional skills required in legal project management | 79 | |
| Legal project management: a space for multiple intelligences | 93 | |
| Effective leadership for high-performing legal teams | 109 | |
| Part 3. Communication and interaction | 119 | |
| Communication as a success factor in legal project management | 119 | |
| The art of listening | 131 | |
| Legal project management collaboration platforms | 145 | |
| The power of workflows in legal project management | 155 | |
| Part 4. Data and performance | 175 | |
| Task codes and key performance indicators | 175 | |
| Costing and fee models | 193 | |
| Risk management | 203 | |
| Artificial intelligence and legal project management | 215 | |
| Part 5. Implementation | 221 | |
| Legal project management procurement and delivery: law firm vs in-house | 221 | |
| Change management in legal project management | 231 | |
| Teams with purpose: defining purpose, OKRs and motivators | 241 | |
| Collaboration: the congruency between legal project management and business development | 251 | |
| About the authors | 261 | |
| About Globe Law and Business | 271 | |
LPM helps the modern lawyer become equipped for the changing world of legal practice. This book offers a wealth of practical guidance and inspiration.
Todd Hutchison
Chair, International Institute of Legal Project Management

As a professor of law and trainer in legal project management (LPM), I can affirm there is no text dealing with LPM on par with Next Stage Legal Project Management: Future-proof Your Matter Management. It is the required text in my law school courses at Vanderbilt Law School and provided to each person I train in the skills and techniques of this vital legal service. In over ten years of working to deploy LPM in law firms, legal departments and law schools, the time for LPM has come and this book will show how it will be done to benefit clients and the lawyers who serve them.
Larry Bridgesmith
Vanderbilt University Law School, Accelerate Insite LLC, Legal Alignment LLC

The book reflects the immense progress of LPM in recent years, with a clear structure and a focus on both ageless topics of methodology and implementation as well as important issues of the day – new professional skills, communication, digitization. The consulting editor and the publishing house have succeeded in creating a consistent piece of art, a milestone in the development of legal project management.
Harald Evers
Lawyer (MOOG Partnerschaftsgesellschaft, Germany), LPM-Trainer

The importance of project management in legal organizations can't be overstated. When it's done right, it helps every part of the business run more smoothly and efficiently. This is a fantastic resource that will help you and your team to focus on the work that matters.
Olga V Mack
CEO, Parley Pro, former General Counsel, ClearSlide

Next Stage Legal Project Management (LPM) is a very detailed and thought-out book on LPM. It is a great read for anyone who is not just in the business of LPM but is associated with the legal industry in any way. As someone who has always loved the business of law, this book has everything and more that I have learnt over the years and as a process nerd, I love the detail around Agile and Waterfall methods and legal design.
Rachita Maker
Legal Operations Leader

Jasmin Bejaoui
Innovation manager, Reinvent Law
jasmin.bejaoui@reinvent.law

Jasmin Bejaoui works as an innovation manager at Reinvent Law, the first legal innovation hub in continental Europe. She works with legal teams on projects and initiatives on the digitisation of law practice. A primary focus is building a bridge between economy, technology, communication and creativity in collaboration with stakeholders on innovation projects.
Jasmin's expertise lies in managing the development of innovation ideas – identifying the client needs of global law firms, streamlining processes on both the client and firm sides and designing and developing usercentric solutions using the latest technologies. She conceptualises, organises and hosts (virtual) design thinking and innovation workshops. Jasmin studied economics and developed her skills working for leading international law firms for more than eight years in the fields of project management, business development and marketing, and client relationship management. In addition, Jasmin is a legal project associate (LPA) accredited by the International Institute of Legal Project Management (IILPM).

Kevin Bielawski
Director of legal operations, Husch Blackwell LLP
kevin.bielawski@huschblackwell.com

As Husch Blackwell's director of legal operations, Kevin Bielawski is on the front line of providing transparency and value to clients. Kevin has more than 20 years of experience in the legal industry in various financial roles. He consults directly with the firm's partners and clients to identify business objectives, value perspective and process inefficiencies and assists in developing and implementing solutions. He regularly leads the development, proposal and execution of appropriate fee arrangements that meet clients' budget demands.
Kevin is an accredited legal pricing professional (ALPP), certified project management professional (PMP) and certified Legal Lean Sigma White Belt.

Larry Bridgesmith
President, Accelerate Insite LLC CEO, LegalAlignment LLC
larry@legalalignment.com

Larry Bridgesmith, JD, is president of Accelerate Insite LLC, CEO of LegalAlignment LLC and a practising lawyer in Nashville, Tennessee. Larry is a member of the International Academy of Mediators. He chairs the Tennessee Supreme Court Alternative Dispute Resolution Commission.
He founded Lipscomb University's Institute for Conflict Management. He teaches at Vanderbilt University School of Law (where he co-founded the programme on law and innovation), Belmont University Massey Graduate School of Business, The Nashville School of Law and the Albany Medical School Alden March Institute for Biomedical Ethics. In 2013, Larry was awarded the Grayfred Gray Public Service in Mediation Award by the Coalition for Mediation Awareness in Tennessee. In 2017, he received the Justice Janice Holder Award and the Tennessee Bar Association President's Award for technology innovation in the legal system. The American Bar Association chose his article "Collaboration is the Future" for its 2019 publication reprint.

Helga Butcher
Director, legal project management, LawAdvisor
helga.butcher@lawadvisor.com

Helga Butcher leads LawAdvisor's LPM services division. She is an LPM strategist and implementation specialist, helping law firms and in-house legal teams maximise the power of LPM.
Helga holds a degree in business studies, is PRINCE2 qualified and has a background in professional services and legal sector marketing and business development. She was one of the founding members of the Allen & Overy LPM team.
Until recently Helga led the Barclays LPM and pricing team, which manages a portfolio of the bank's largest, most complex legal matters. Under Helga's leadership the team achieved significant cost savings. Helga chaired the Barclays LPM Consortium and regularly delivers LPM training for lawyers and legal project managers. She is collaborating with LPM peers at leading law firms on a competency framework for legal project managers, aiming to standardise and professionalise the role of legal project manager. She regularly presents on LPM best practice at law firm and industry events, including webcasts and articles for CLOC.

Dries Cronje
CEO and founder, Deep Learning Café
dries@deeplearning-cafe.com

Dries Cronje has been working in tech for over 15 years. He is particularly passionate about artificial intelligence, and has played a pivotal role in helping major South African companies improve their product offerings through the use of AI. Dries believes that for businesses to achieve real results with AI, they have to closely align how they use it with their business objectives. This means that he always takes a hands-on, realistic approach to the work that he does, which has set him up to be a recognised thought leader in the AI and machine learning industry.
Dries has held multiple leadership roles during the course of his career. He is the founder and current CEO of Deep Learning Café, an AI solutions provider based in Johannesburg. He is committed to lifelong learning, and stays engaged with the tech community by attending and speaking at conferences, organising meetups and writing blog posts.

Karen Dunn Skinner
Co-founder, Gimbal – Lean practice management advisers LeanLegal® Academy
karen@gimbalcanada.com

Karen Dunn Skinner believes that every lawyer deserves a practice that gives them financial success and the freedom to enjoy it. Karen is the co-founder of Gimbal and the LeanLegal® Academy. She is a Lean Six Sigma Black Belt and an experienced lawyer practising in Canada and Europe. She combines her deep understanding of the legal industry with her training in Lean Six Sigma to provide practical solutions to the competitive and budgetary pressures on practitioners and clients alike.
Karen is an expert in Lean and process optimisation and a global leader in legal practice innovation. She has taught thousands of legal professionals how to build more profitable and productive practices, and led legal process improvement projects across North America.
Karen was a member of the Quebec Bar for over 20 years. She lives in Montreal and spends weekends skiing at Mont Tremblant in the winter and paddling in the St Lawrence River and the Outer Banks of North Carolina in the summer.

Ignaz Fuesgen
Managing director, smartvokat GmbH
ignaz.fuesgen@smartvokat.com

Ignaz Fuesgen is a managing director at smartvokat, a legal tech and engineering firm. He is based in Düsseldorf, Germany. Prior to smartvokat, he held executive and senior roles at leading international law firms and management consultancies in Germany and South Africa. He advises clients in the legal sector (law firms, ALSPs, in-house departments, legal tech providers), such as KPMG Consulting, BearingPoint, Clifford Chance, Allen & Overy, Webber Wentzel and Deloitte Legal. An author, public speaker, mentor and entrepreneur, he is passionate about legal innovation and digital transformation, and any new ideas nurturing access to justice for all people.
Ignaz is a certified legal project practitioner (LPP), accredited trainer of the International Institute of Legal Project Management (IILPM) and certified Scrum Master (ScrumAlliance). He completed an executive MBA at Carlson School of Management in Minneapolis with distinction and a master's in business administration at the Vienna University of Business and Economics.

Nina Gramcko
Lawyer and legal engineer, Noerr LLP
nina.gramcko@noerr.com

Nina Gramcko is a lawyer and legal engineer at Noerr LLP, where her work focuses mainly on LPM and legal process management. She graduated from Berlin's Humboldt University in 2013 and also studied law at the University of Málaga. In Berlin, she passed the second bar exam in 2016 and was admitted to the bar in 2017.
In 2010, while still in law school, she started to shape a new legal and digital world as head of operations of Flightright GmbH, a first mover of legal tech and alternative legal services in Germany.
Before joining Noerr LLP in 2019 Nina worked as a lawyer and consultant in legal technology and LPM, focusing on class and mass actions. She lives in Berlin and London.

Jim Hannigan
Director of LPM, Coblentz Patch Duffy & Bass LLP
jhannigan@coblentzlaw.com

Jim Hannigan leads initiatives in business operations improvement and practice innovation. Jim has worked in the legal industry in a variety of contexts including product development, tools and data project implementation, and information services. Prior to joining Coblentz, Jim spent nearly nine years working for leading Bay Area law firms driving business and practice improvement initiatives in areas such as LPM, workflow and productivity enhancement, and experience management tools. Previously, Jim was New York-based product manager for Bloomberg Law's dockets and court data product, responsible for market strategy, product roadmap and communications with customers, management, sales and technical staff.
Jim received his MBA from New York University in 2001, MILS from the University of Michigan in 1994, and BA from Indiana University in 1992. He is a member of the board of directors of the Legal Electronic Data Exchange Standard (LEDES) Oversight Committee and is director of standards development for Standards Advancement for the Legal Industry (SALI), a non-profit organisation dedicated to promotion and adoption of standards in legal services.

Oliver Hofmann
Lawyer and legal engineer, Noerr LLP
oliver.hofmann@noerr.com

Dr Oliver Hofmann is a legal engineer and lawyer at Noerr LLP. He studied law at the Ludwig Maximilian University of Munich and Stellenbosch University. He worked at an international law firm as a lawyer (2014–16) after completing his legal apprenticeship at the Higher Regional Court, Munich (2011–13). He was a member of the DFG Graduate School in Law and Economics at the University of Hamburg between 2016 and 2019 and visiting researcher at Yale Law School in 2017. He completed his doctoral thesis in law in 2020 on contractual design of remedies. He is a doctoral candidate in economics at the University of Hamburg, focusing on bargaining under asymmetric information.

Anna-Katharina Horn
Lawyer, head of legal services and e-discovery, reThinkLegal GmbH
anna.horn@rethinklegal.com

Anna-Katharina Horn started work with reThinkLegal in 2014, where she built up and now heads the department of legal services and e-discovery.
With her teams, she supports legal departments and law firms in international projects with all leading e-discovery platforms. Her expertise lies in coordinating and executing internal investigations, international managed document reviews and technologyassisted reviews.
She also trains legal project managers and passes on her experience with remote legal work.
Building bridges between legal services and technologies, while focusing on efficient communication, is her personal interest.

Todd Hutchison
Adjunct associate professor, Curtin University and Edith Cowan University Chair, International Institute of Legal Project Management Executive, Balfour Meagher
todd@iilpm.com

Todd Hutchison is an international bestselling author, recognised in the prestigious Who's Who in Business in Australia, and an awardwinning project manager.
He is an executive of law firm Balfour Meagher and the founder and chair of the International Institute of Legal Project Management (IILPM) that has certified legal practitioners in over 45 countries, with training providers in over 13 countries, and university partners in over five countries. He also works with Forensics Australia. Todd was the first to complete an undergraduate degree in legal project management worldwide and is now progressing his doctorate in forensics and legal project management. He holds adjunct positions in Curtin University and Edith Cowan University.

Aileen Leventon
https://lawstrategycoach.thinkific.com
https://aileenleventon.com
aileen@qlexconsulting.com
Aileen Leventon draws on her many years as a practising lawyer and as an experienced consultant to inspire excellence and innovation in law practice management. She facilitates change through advisory services, coaching and experiential learning programmes for lawyers and allied professionals, serving most law practices, organisations and industries.
Aileen is co-chair of the CLOC Legal Project Management Committee, a Fellow of the College of Law Practice Management, and an accredited training provider for the International Institute of Legal Project Management (IILPM). She has written extensively on a wide range of law practice management topics.
After a legal career at an AMLaw 50 firm and large law department, Aileen was a partner at PricewaterhouseCoopers LLP and launched several entrepreneurial ventures. She received her MBA from Columbia University and her JD from Cornell Law School. A transplant from Manhattan, Aileen lives in a rural historic village in upstate New York.

Anna Marra
Councillor, Global Advisory Council, International Institute of Legal Project Management
annapmarra@gmail.com

Anna Marra is a councillor at the LPM Global Advisory Council of the International Institute of Legal Project Management (IILPM). She is an Italian lawyer, with a law degree from the University of Milan and a master's degree in international affairs from the Institute for International Political Studies in Milan. In 2006 she moved to Spain as project management trainer and consultant for private and public organisations, and has been pioneering in proposing the discipline of LPM to improve performance in law firms and inhouse legal departments. At present she is director of the LPM programme at IE Law School and director of the legal management programme at Pontificia Universidad Católica of Valparaíso, Chile, in collaboration with Thomson Reuters. Since 2017 she has been an accredited training provider (ATP) at IILPM. Anna is the author of various publications on LPM, corporate social responsibility and strategy for law firms.

Julie Mathys
Legal manager, corporate transactions, Exigent Group Limited
jmathys@exigent-group.com

Julie Mathys is a legal professional with extensive ALSP legal and operational experience. She joined Exigent in 2014 and has since managed several large-scale M&A due diligence support projects as project manager and, later, as legal manager of the service offering. She recently moved to Exigent's technology and optimisation department as quality assurance manager for its proprietary contract management products and optimisation services. Julie plays an important role in the operational efficiency and development of the business by supporting internal innovation initiatives.
As quality assurance manager, she focuses on imparting LPM best practice for Exigent's services and products, managing quality standards to ensure compliance with agreed terms and to mitigate risk generally.
In 2013, Julie obtained her LLB from the University of the Western Cape, South Africa.
In 2017 and 2018 her involvement in project management earned Exigent innovation awards at the African Legal Awards hosted by the Corporate Counsel Association of South Africa (CCASA).

CJ Nicastro
Project manager, legal and contract operations, S&P Global Inc
cnicas1@gmail.com

CJ Nicastro is an accomplished project/product manager with more than six years of experience within the financial services, procurement, legal and pharmaceutical industries. CJ has successfully managed firmwide, large-scale project implementations and strategic product/service roadmaps. He has a strong competency in managing end-to-end process improvement including: stakeholder relationships, risk management, resource budgets, communication structures and change management. He holds a BBA from Hofstra University, Zarb School of Business and is a certified Scrum product owner (CSPO). He has launched a project management office (PMO) structure in an enterprise-level legal department. This includes spearheading the framework and methodology to align key project deliverables to strategic objectives. Projects span a number of functions including technology, privacy, data management and contracts, with a common objective of streamlining and proactively improving operational workflows.

Anshoo Patel
Director of practice innovation, Blank Rome LLP
patel-as@blankrome.com

Anshoo Patel leads the LPM function at Blank Rome LLP. She collaborates with lawyers in all practice areas on strategic pricing and matter planning designed to enhance profitability. Anshoo is also responsible for advancing matter analytics efforts aimed at providing matter budget predictability and efficiency for clients.
As a key member of the innovation team, she is responsible for implementing practiceoriented initiatives related to innovative legal service delivery. Anshoo develops collaborative and innovative systems, processes and procedures designed to enhance client service.
Anshoo earned her executive MBA and certificate in innovation strategy from Temple University's Fox School of Business. She holds a BA in philosophy and political science from McMaster University in Ontario.

Jeanne-Mari Retief
Director, CALIBRICS
retiefj@calibrics.com

Dr Jeanne-Mari Retief is the director of CALIBRICS, a consultancy that focuses on project and management solutions for the legal profession. She is an admitted lawyer and also specialises in the development of international human rights and the advancement of non-profit organisations. She has a particular passion for the gender agenda and co-created various women leadership initiatives, both for youth and professionals. She has completed legal projects for various key stakeholders in the global legal arena and is known for her creative and passionate approach to the evolution of the modern legal profession.
She has assisted law firms with team restructuring and is called upon to evaluate the strengths members could bring to the team, before appointment. She founded CALIBRICS in 2012 and has since published in various accredited journals, written books and presented papers, both at home and abroad. She serves on various committees and hosts her own YouTube channel. She recently expanded CALIBRICS to Europe and now also operates from Lisbon.

Sebastian Schaub
Senior product development manager,
Baker McKenzie
sebastian.schaub@bakermckenzie.com

Sebastian Schaub works as a senior product development manager at Baker McKenzie, focusing on the digitalisation of the law practice, including the development and design of innovative products in co-creation with clients. His activities cover all areas of Agile product development, while supporting legal teams with respect to identifying client needs, streamlining processes and designing and developing user-centric solutions with the necessary technologies.
He studied international business as well as strategic marketing and has developed his skill set over the past four years working for one of the leading international law firms. He also spent eight years working in the renewable energies and specialty chemicals area. Further, Sebastian conceptualises and hosts (virtual) design thinking and data visualisation workshops.
Sebastian guest lectures at various universities at a regional and global level and lectures regularly at the Baker McKenzie inhouse university.

Christian Schuhmann
Chief product officer, smartvokat GmbH
christian.schuhmann@smartvokat.com

Christian Schuhmann is co-founder and CPO of smartvokat, a startup focused on legal engineering and legal tech with innovation hubs throughout Germany. He is a serial entrepreneur and an expert in design thinking, service design and digital transformation. As a product manager, Christian talks daily with clients from law firms, corporate legal departments and alternative legal service providers about how to improve legal service delivery, with a focus on client value. His background in software engineering and user experience design allows him to push forward the digital transformations for legal professionals.

David Skinner
Co-founder, Gimbal – Lean practice management advisers LeanLegal® Academy
david@gimbalcanada.com

David Skinner teaches lawyers step-by-step strategies to generate more revenue with less effort and less cost, so they can build thriving law practices they can grow and scale for years to come. David is the co-founder of Gimbal – Lean practice management advisers and the LeanLegal® Academy. He is a Lean Six Sigma expert and a lawyer with decades of experience in private practice and in-house in Canada, Europe and the United Kingdom. David combines his profound knowledge of legal practice with the perspective he gained as a client, helping lawyers improve their practice, performance and profitability.
David is a global leader in the application of Lean to the legal profession. He has facilitated legal process improvement projects across North America and taught Gimbal's proven LeanLegal approach to thousands of legal professionals.
David was a member of the Quebec Bar for 25 years, and remains a member of the bars of Massachusetts and New York. He lives in Montreal and spends winter weekends volunteering on the ski patrol at Tremblant and summer holidays kiting in the Outer Banks of North Carolina.

Mitchell Sterling
Senior director of business development, Blank Rome LLP
msterling@blankrome.com

As senior director of business development at Blank Rome, Mitch Sterling works closely with the firm's leadership and lawyers across practices and geographies to identify and pursue opportunities for revenue generation and exceptional client service.
Mitch develops and executes on business, client and industry strategies. He leads and manages a broad range of interdisciplinary industry teams, working groups and client campaigns. Mitch also manages the firm's competitive intelligence team and drives profile-, brand- and relationship-building efforts for the firm's Philadelphia office. Mitch has more than 15 years' experience in the legal industry. Prior to joining Blank Rome, he served as both a director of marketing and business development and a practising real estate lawyer for a global Am Law 20 law firm.
He earned his JD from Villanova University School of Law and his BBA in marketing from Emory University.

Naomi Thompson
VP, legal solutions, Exigent Group Limited
tnaomi@exigent-group.com

Naomi Thompson is a lawyer with legal and business experience. After working as an inhouse legal counsel, she transitioned into a business role as chief of staff for the group COO of an investment company with subsidiaries in Africa and the United Kingdom. She led multiple large strategic projects and supported the COO, and created an operating model for South Africa and Africa by executing the strategic objectives.
In her role as vice president, legal solutions, she focuses on legal innovation, transforming the way legal services are delivered by combining technology and data to deliver answers that impact every aspect of business performance. In short, she assists her clients to implement innovative approaches by incorporating technology into their legal delivery.
Naomi graduated from Hult International Business School's (Boston) MBA with distinction, and gained an LLB from the University of KwaZulu-Natal, South Africa. She was selected in the Mail and Guardian 2019 Women Changing South Africa, in the Law and Justice category.

Karol Valencia
Consultant in innovation, legal tech and legal service design, WOW Legal Experience Legal designer and business innovation strategist, Lawcus
Legal project leader, eID
karol@karolvalencia.com

Karol Valencia works as a legal services designer and business innovation strategist at Lawcus and as a legal project leader at eID. She is a consultant for legal innovation projects from a holistic perspective at WOW Legal Experience, to legal tech, businesses and services. She is a UCSP graduate, accredited by the European University of Madrid, with a master's from the Pontificia Universidad Católica del Peru. She has training in design, innovation and digital transformation by Iron Hack, IDF, IDEO and others. She believes in redesigning the legal system to achieve better access to justice for all.

Lann Wasson
Associate director of LPM, Husch Blackwell LLP
lann.wasson@huschblackwell.com

Lann Wasson works directly with Husch Blackwell's partners and clients to deliver value through project management, process improvement and technology solutions. Lann has almost 20 years of professional services experience. As the firm's associate director of LPM, he incorporates the techniques of design thinking into his project work to better understand the business problem from the client's point of view, evaluate multiple avenues to address the client's need, and test prototypes to discover the best fit for client teams. At the forefront of legal innovation, he spearheaded the firm's AI initiative to bring machine learning for contract review to the firm's transactional services.
Lann is a certified project management professional (PMP), Lean Six Sigma Green Belt and service design professional. He conducts workshops on LPM and service design for the firm and its clients.

Julien Weiler
Managing director, smartvokat GmbH
julien.weiler@smartvokat.com

Julien Weiler is co-founder and CEO of smartvokat, a startup focused on legal engineering and legal tech with innovation hubs in Berlin and Düsseldorf/Hilden. With more than 12 years of experience in Agile software engineering and two successful startups, Julien advises legal departments, law firms and alternative legal service providers in digital transformation.
As a project manager in charge of the biggest international legal transformation project in legal departments in Europe on the basis of ServiceNow, Julien offers deep insights and experience in implementing legal innovation and digital transformation. He is a software engineer with a degree in communications and multimedia design from the University of Applied Sciences, Aachen.