Book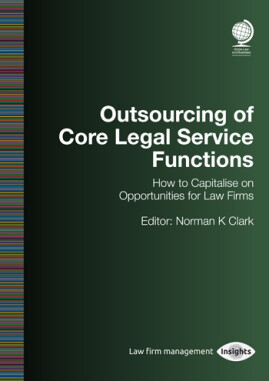 Outsourcing of Core Legal Service Functions
How to Capitalise on Opportunities for Law Firms
Published: 2021
Pages: 128

eBook: 9781787424128
Is outsourcing right for your law firm?

Law firms of all sizes are discovering opportunities from outsourcing some of their core operating functions that have traditionally been performed in-house. This Special Report outlines a highly firm-specific approach to identify and prioritise the components of a business case for outsourcing, as well as in-depth examinations of three representative types of outsourced services that are available to law firms:

+ Patent research;
+ Cybersecurity; and
+ Large-volume document review.

It will examine their potential impacts on a law firm's bottom line, and the frequently encountered management challenges in a law firm's relationship with its external service provider. It concludes with a look at the future of outsourcing in the legal services industry.

Edited by Norman K Clark, this report is a step-by-step guide to a well-informed outsourcing decision as well as a roadmap for implementing it in a way that produces the best return on the law firm's investment of management attention and resources. It will be of interest to anyone considering the option of outsourcing their core legal service functions, including small and mid-sized law firms, both those in general practice and specialised boutiques.

Table of Contents
| | | |
| --- | --- | --- |
| Cover | Cover | |
| Title Page | 1 | |
| Copyright Page | 2 | |
| Table of Contents | 3 | |
| I. The business case for the outsourcing of core legal service functions | 5 | |
| II. Patent drafting, research and analysis | 17 | |
| III. Outsourcing cybersecurity: the logical solution for legal practices | 43 | |
| IV. Case studies in the evolution, issues and opportunities of document review | 69 | |
| V. The future of outsourcing in the legal services industry | 117 | |
| About the authors | 125 | |
| About Globe Law and Business | 128 | |
As so many firms are focused on current business stresses, this Special Report offers a clear and challenging analysis which will force law firm leaders to look to the future, to balance current issues with long term realities. Given the predictive nature of the analysis, to not read this report is a lost opportunity.
Abe J Schear
Real Estate Partner, Arnall Golden Gregory (Atlanta, GA)

An extremely comprehensive, in-depth, and experience-based guide that provides a high level of comparative analysis utilizing outstanding case studies. Its self-interview format is an excellent opportunity for a quick and efficient assessment of your firm from the outsourcing perspective. I strongly recommend the report to those who are seeking to increase their firm's productivity and adaptability to change.
Vladislav Zabrodin
Managing Partner, CLS

Norman K Clark has edited a must-read report for anyone considering the merits of outsourcing core legal service functions.
Oscar N. Johnson
Higgs & Johnson Co-Managing Partner – The Bahamas

Outsourcing of Core Legal Service Functions is a must read as it provides an answer regarding how to maintain profitable practices illuminating options for legal managers facing current challenges which have disrupted law firm business models.
Carlos Taboada
Partner at Consortium Legal, Academic Director of INIDEM Business & Law School

Norman has once again excelled in the delivery of an easy to follow roadmap to increased productivity. The self-evaluation of competencies, risks, costs and opportunities to ensure that a firm can outsource inefficient functions while increasing quality and profitability thereof are key. By doing so, firms can capitalize on the allocation of freed up resources to areas of greater profitability. By illustrating three areas for competence outsourcing, each of us can identify the opportunities available within our firms to maximize returns in our own realities. If you are responsible for management, you need to pay attention to this issue as pressure to deliver in a post-COVID world will be significant and knowing where and how to optimize is critical.
Ricardo León Santacruz
Managing Partner, Sánchez Devanny

Norman K Clark
Principal, Walker Clark LLC
norman.clark@walkerclark.com

Norman Clark is principal at Walker Clark LLC. His professional background is as a lawyer. Since 1996, he has worked exclusively as a consultant to law firms, corporate and government legal departments. His consulting practice focuses on issues of international business and legal practice strategy, mergers, quality assurance and risk management, internal productivity, partnership governance and remuneration, and lawyer performance, and profitability. He is also one of the world's leading authorities on business and marketing strategy for law firms in emerging markets, working with progressive law firms in Africa, Asia, the Caribbean, central and eastern Europe, Latin America and the Middle East.

Sitima Fowler
Co-founder and partner, Iconic IT
sfowler@iconicit.com

Sitima Fowler is co-founder and partner of Iconic IT, an award-winning managed IT service provider providing small and medium-sized organisations with local and responsive IT support services including fully managed or co-managed IT support, cybersecurity and cloud solutions. She has more than 20 years of industry experience in the field of technology, cybersecurity and business consulting.
Prior to her current role, Sitima was the co-CEO of Capstone IT, one of four companies that merged in 2019 to form Iconic IT. Her passion has been securing and improving small and medium-sized organisations with proper technology solutions, with an emphasis on customer service. She is an author and a professional speaker on a wide variety of topics including cybersecurity, sales and marketing and business strategies. The recipient of the Rochester, New York, USA's 2015 Small Businessperson of the Year and inventor of six patents, Sitima is also the founder of the #GetCyberChic initiative, whose goal is to inform female business leaders about online safety.

Tushar Gupta
Co-founder, Intricate Research
tushar.gupta@intricateresearch.com

Tushar Gupta is co-founder of Intricate Research, a Patent Research and Analytics firm which provides end-to-end patent solutions. He has more than 10 years of enriched experience in the field of telecom, patent research & analytics, and business research.
Prior to starting his own venture, he held leadership positions with a couple of multinational companies. Over the years, he has managed numerous clients spread across geographies and provided tailored business and patent solutions. He has developed business/operation processes and has played significant roles in building teams. He started his career with a global leader in telecom technologies. With an objective to bring IP awareness and foster IP culture, he has delivered a number of IP workshops relating to the importance of IP protection to academic institutes and start-ups.

Gaurav Khandelwal
Co-founder, Intricate Research
gaurav.k@intricateresearch.com

Gaurav Khandelwal is co-founder of Intricate Research, a Patent Research and Analytics firm which provides end-to-end patent solutions. He has more than 10 years of enriched experience in the field of patent research and analytics.
He has acquired hands-on industry experience in diverse patentrelated services. In addition to a strong technical background, Gaurav has in-depth knowledge in US, EU and Indian patent prosecution laws. He has a client-centric approach which has helped him deliver solutions to his clients' delight.

Fernando Moreno
Principal, Walker Clark LLC
fernando.moreno@walkerclark.com

Fernando Moreno is a principal at Walker Clark LLC, with more than 20 years' experience in management and marketing consultancy for professional services firms and corporate legal departments worldwide. His practice concentrates on strategic planning, the development and implementation of marketing plans, feasibility studies for mergers and new products and ventures, law firm valuations, law firm economics, and general management coaching.

Karl Schieneman
Owner, Baia do Joao Eco Pousada
karlshin60501@gmail.com

Karl Schieneman is an entrepreneur lawyer who has worked in and owned several e-discovery companies, all of which have been successfully sold. He worked on the first computer-assisted review project in the United States (Global Aerospace case), was the first court-appointed Special Master in the US Bankruptcy Court overseeing a software driven review (Garlock Asbestos bankruptcy case), created the first online recruiting and review testing software (ReviewRight), co-developed with Norman Clark an economic model turned into software calculating law firm profitability by using interim staffing (StaffRite), and most recently sold his last e-discovery business and started the first certified sustainable Pousada in Buzios, Brazil called Baia do Joao Eco Pousada. A past winner of the Ernst & Young Entrepreneur of the Year Award in 2004, he has owned businesses involving legal services which have been on the Inc 500 List 12 times as one of the fastest growing companies in the United States. He earned an MBA from Carnegie Mellon University and a JD from the University of Pittsburgh, School of Law in 1992.