Book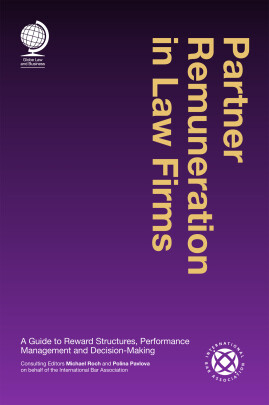 Partner Remuneration in Law Firms
A Guide to Reward Structures, Performance Management and Decision-Making
Published: 2016
Pages: 179

eBook: 9781787420342
This practical book, published on behalf of the International Bar Association, is full of real-life examples and addresses a variety of issues to be considered when designing, managing or administering partner remuneration / compensation systems.
Law firms are constantly looking to improve the effectiveness of their partner remuneration systems and to make the administration of their partner review processes more efficient.

This comprehensive volume, edited by Michael Roch and Polina Pavlova and published on behalf of the International Bar Association, looks at partner remuneration in the context of strategy implementation, the firm's organisational design, governance and culture. The chapters cover all topical issues on partner remuneration systems from locksteps to "eat-what-you-kill" meritocracies, performance management and remuneration-related decision making. This volume also covers some special issues and provides a perspective of how the law firm of the future will view partner compensation.

This practical book, full of real-life examples, addresses a variety of issues to be considered when designing, managing or administering partner remuneration / compensation systems. While the book does not advocate a single "best" approach to remuneration, it explores various alternatives that are suitable for law firms of different sizes and in different markets. It will be of interest to managing and senior partners, board members, HR directors and remuneration committee members of local, national and regional law firms alike.

Table of Contents
| | | |
| --- | --- | --- |
| Front Cover | 1 | |
| Title | 2 | |
| Copyright | 3 | |
| Table of contents | 4 | |
| Preface Polina Pavlova Willis Towers Watson Michael Roch Internal Consulting Group | 6 | |
| Part 1: Partner remuneration in context | 9 | |
| Aligning partner remuneration with strategy Robert Millard Møller PSF Group | 11 | |
| The impact of organisational design and governance on a partner remuneration system Leopoldo Hernández Romano KermaPartners | 26 | |
| Do you share profits or do you receive compensation? Patterns in law firm culture Christoph H Vaagt Law Firm Change Consultants | 35 | |
| Part 2: Partner remuneration systems operated in practice | 51 | |
| Lockstep systems and their variations Aster Crawshaw Addleshaw Goddard LLP | 53 | |
| Table manners: rewarding performance without 'eat what you kill' Norman Clark Walker Clark LLC | 71 | |
| Hybrid systems and contribution-based meritocracies: the golden mean? Polina Pavlova Willis Towers Watson | 85 | |
| Systems typically operated in small firms: cost sharing, formulas and fixed-share systems Patricia Gannon Karanović & Nikolić | 93 | |
| Regional differences in partner remuneration: Latin America Jaime Carey Carey Daniel Del Río Basham, Ringe y Correa | 101 | |
| Part 3: Reward determination: performance management and decision-making | 104 | |
| Still trying to motivate by money? How remuneration impacts upon the motivation of lawyers Rupprecht Graf von Pfeil KermaPartners | 105 | |
| The role of the remuneration committee Marc Bartel Heidrick & Struggles | 112 | |
| Addressing currency, tax and cost of living factors in the internationalising firm Michael Roch Internal Consulting Group | 119 | |
| 'Open' or 'closed' systems? Máximo Luis Bomchil M & M Bomchil | 127 | |
| Part 4: Special issues in partner remuneration | 129 | |
| Salaried partners and fixed-share partners Andrew Wansell Boodle Hatfield LLP | 130 | |
| Lateral partner hires: investing in new markets? Jörg K Menzer Noerr | 140 | |
| Law firm founders, goodwill and partner remuneration Jaime Fernández Madero Fernández Madero Consulting | 145 | |
| Part 5: The way ahead A partner remuneration system for the 21st-century law firm Michael Roch Internal Consulting Group | 159 | |
| About the authors | 167 | |
The only thing which the book is missing is a health warning on the cover. As the first global guide for partners questioning the approach of their law firm during the ups and downs in legal markets, it is unequalled.
Moray Mclaren
Lexington Consultants

This book is like opening a deep trunk entitled "Partner Remuneration", which is full of wrapped presents. Opening a parcel of thoughts; looking deep into a bag of perceptions; struggling with a packet of ideas; assimilating the implications of some thought-provoking concepts, all generate a feeling of anticipation and the promise of enlightenment. This excellent book meets these expectations.
Pippa Blakemore
The PEP Partnership LLP

Marc Bartel
Managing partner, Heidrick & Struggles
mbartel@heidrick.com

Marc Bartel is France managing partner at Heidrick & Struggles and a partner in the London office. He is the managing partner of Functional Practices in EMEA, managing partner of the Law Firm Practice and EMEA leader of the Global Legal, Risk & Compliance Practice.
He focuses on the legal sector in both industry and private practice. He specialises in classic legal in-house positions and partner searches for law firms (national and international clients within various industries, covering corporate & regulatory affairs (lobbying), risk, tax, audit and compliance).
Prior to joining Heidrick & Struggles, he held various senior management positions (ranging from chief operating officer and Asia regional managing partner to deputy CEO) within leading international law firms such as Lovells, Linklaters and Jeantet. He was closely involved in the building of Lovells' international network of offices, spending much time in Asia and Europe, where he also contributed to the development of the client base within the banking market. He began his earlier career as a practising attorney, initially in Boston and then Paris. He headed up the first integrated European alliance of leading European law firms before working as a management consultant with Hildebrandt in the USA.

Máximo Bomchil
Chairman emeritus, M & M Bomchil
maximo.bomchil@bomchil.com

Máximo Bomchil is Chairman emeritus of M & M Bomchil in Buenos Aires, Argentina. He was for more than 30 years managing partner and a member of the Executive Committee of the firm and head of its tax department. He is currently active in the firm's corporate and M&A departments.
He is member of the International Court of Arbitration of the International Chamber of Commerce, an active arbitrator, president of the Alliance française of Buenos Aires, a trustee of the Fondation Alliance française of Paris and a board member of several leading industrial and commercial companies in Argentina. In 2015 he was decorated by France as officer of the Legion d'honneur. He is a former co-chair of the Law Firm Management Committee of the International Bar Association.

Jaime Carey
Managing partner, Carey
jacarey@carey.cl

Jaime Carey is a managing partner and co-head of the firm's tax group. He holds degrees in law and specialises in the areas of tax law, corporate law, mergers and acquisitions, and financing. He has led Carey team transactions in a variety of sectors, most recently as representative for Qatar Airways, Air Products and Chemical, Inc., Crystal Lagoons, MetLife Chile, Pepsico/Frito Lay Chile and various other Fortune 500 international and Chilean clients.
He frequently lectures in legal seminars, meetings and conferences, both in Chile and abroad. He is a member of several company boards of directors. He is also a member of the International Bar Association (IBA). He has previously held positions with the IBA as chair of the Latin American Forum and co-chair of the Corporate and M&A Law Committee. He is currently a member of the management board of the IBA and is vice-chair of the Legal Practice Division. Also, he is president of the Society of Trust and Estate Practitioners (STEP) in Chile.

Norman Clark
Managing principal, Walker Clark LLC
norman.clark@walkerclark.com

Norman Clark is a co-founder and managing principal of Walker Clark LLC, a global legal management consultancy based in the United States. He is a past chair (2009–2010) of the Law Firm Management Committee of the International Bar Association, and teaches law firm management in the LLM programme of the International Institute of Law and Business in Panama City, Panama, and Miami, Florida. For the past 20 years he has led international project teams advising law firms on business development strategy and tactics, governance, partner remuneration, and mergers and acquisitions, with particular experience in emerging and recently-emerged legal markets. His recent publications include chapters in The Business of Law: Strategies for Success (Globe Law and Business, 2012), Good Governance in Law Firms: A Strategic Approach to Executive Decision Making and Management Structures (Globe Law and Business, 2014), and Business Development: A Practical Handbook for Lawyers (Globe Law and Business, 2016).

Aster Crawshaw
Partner, Addleshaw Goddard LLP
aster.crawshaw@addleshawgoddard.com

Aster Crawshaw is a partner in Addleshaw Goddard's Professional Practices Group. He advises professional services firms on transactions, advisory matters and partner disputes.
His transactional work includes mergers, acquisitions, disposals, joint ventures and LLP conversions (both from general partnerships and limited companies). His advisory practice encompasses risk management, governance and structuring issues. He has a particular interest in international structuring, including the establishment and operation of network structures (such as the Swiss Verein). On the contentious side, he assists firms and individuals with partner disputes, including team moves.
As well as professional services firms, he works with businesses in the financial services sector, including hedge funds and private equity houses, on the use of LLPs and partnerships.

Daniel Del Río
Senior partner and head of Corporate and M&A Areas, Basham, Ringe y Correa
daniel.delrio@basham.com.mx

Daniel Del Río's practice focuses on inbound foreign investment in Mexico and outbound Mexican investment overseas. His work includes corporate, environmental, M&A, foreign investment, international transactions, real estate, associations, banking and cross-border investments. He also is a former managing partner of Basham and has worked very actively as a member of the Law Firm Management Committee of the International Bar Association.
He is president of the Mexican Bar Foundation, president of the Mexican Chapter of Los Amigos de Juan Pablo, a member of the IBA Trust Foundation Board and general director of the Basham, Ringe y Correa Foundation.
He has been recognised by Chambers Global, Chambers Latin America, The Legal 500 and the International Who's Who of M&A Lawyers as one of the leading M&A lawyers in Mexico.

Jaime Fernández Madero
Founder, Fernández Madero Consulting
jfm@fmaderoconsulting.com

Jaime Fernández Madero is founder of Fernández Madero Consulting, a strategy and management consultancy for law firms in Latin America, associated with Hildebrandt Consulting. He specialises in leadership and cultural change and assists firms across the region in their institutionalisation processes.
He is also a founder of Bruchou, Fernández Madero & Lombardi Abogados, a leading law firm in Argentina, and was its managing partner for 10 years until he left the firm to start his consultancy practice. He practised corporate law and M&A in Argentina for 30 years.
He has written a book about managing law firms in Latin America (Organizando Firmas de Servicios Profesionales. El caso de los Abogados, Ed La Ley, 2012) and has collaborated on other books coordinated by the Law Firm Management Committee of the IBA.

Patricia Gannon
Senior partner, Karanović & Nikolić
patricia.gannon@karanovic-nikolic.com

Patricia Gannon is a founder and currently senior partner of the firm. She has a primary focus on management, business development, strategy and expansion of the firm, which today is a leading legal practice covering markets in the former Yugoslavia. She qualified as a solicitor in Ireland and the UK and, after working for the European Commission in Brussels and the German law firm Haarman & Hemmelrath, she moved to Serbia in 1993 and established the firm in 1995.
She is a member of the International Bar Association, is the senior vice-chair of the European Forum, which has a membership of more than 9,000 lawyers throughout Europe, and is active in the Law Firm Management Committee of the IBA. She is a former board member of the American Chamber of Commerce and legal advisor to the Foreign Investors Council, a leading network of foreign investors in Serbia. In 2010 she founded the Serbian Philanthropic Forum, an umbrella forum of leading foundations in the country. In 2011 she founded the Serbian Private Equity Association and sits on its board of directors.
She has authored numerous publications on Serbian law and is a regular speaker at international gatherings focused on south east European business and law. She works closely with a number of start-up companies as a mentor.

Rupprecht Graf von Pfeil
Partner, KermaPartners
rupprecht.grafvonpfeil@kermapartners.com

Rupprecht Graf von Pfeil is a partner with KermaPartners and head of Europe. He has worked as a consultant throughout his career and has been working in the legal field for nearly 15 years. Rupprecht works mainly on the positioning, strategy, contribution management and remuneration of law firms.

Leopoldo Hernández Romano
Partner, KermaPartners
leopoldo.hernandez@kermapartners.com

Leopoldo Hernández Romano serves as KermaPartners' head of markets – Spain and Latin America. Based in Mexico City, he primarily advises law firms on the areas of strategy design and implementation, organisational structure transformation projects, partners' and associates' compensation schemes and governance. He has advised Ibero-American and Latin American alliances on strategic positioning. Before joining KermaPartners, he was the founder and managing partner of Hernández Romano Consultores in Mexico City. He was also the chief operating officer for the Mexican office of a top-10 New York law firm.
He has lectured at Panamericana University Law School on International Trade, Arbitration and Law Firm Management. He has been coordinator of the Mexican Bar Association Law Firm Management Commission and is a member of the Association's board.

Jörg K Menzer
Partner, Noerr
jorg.menzer@noerr.com

Prof Dr Jörg K Menzer is partner at Noerr, with which he started his career in 2001. He is now responsible for the coordination of the central and eastern Europe (CEE) practice for international clients. He specialises in M&A transactions and concentrates on structuring major foreign investments in CEE. He is experienced in acquisitions, privatisations and greenfield investments. In addition, he has worked on many restructurings, private equity investments and capital measures, as well as for public listed companies.
He teaches at the Politehnica University in Bucharest and holds an officer position with the International Bar Association. He is a member of the Bucharest, Budapest, Bratislava, Prague, Warsaw and Düsseldorf bar associations and is also a member of the German-British Jurists Association.
Chambers Global 2015 recommends him as one of the leading individuals in CEE and Romania.

Robert Millard
Partner, Møller PSF Group
robert.millard@mollerpsfg.com

Rob is head of the Strategy Practice at the Møller PSF Group, a management consultancy focused exclusively on professional services firms (PSFs), which is based at Churchill College within the University of Cambridge. He is currently co-chair of the IBA Law Firm Management Committee and is a past chair of the American Bar Association International Law Practice Management Forum. Rob's practice over nearly twenty years has focused largely on advising medium-sized and large law firms on their business challenges in Europe, the Unites States and in emerging markets. He has also advised other kinds of PSF on strategy including firms in financial services, engineering and accounting. As part of his own pro bono work, Rob plays a leading role in IBA initiatives to enhance business management practices among smaller law firms in least-developed sub-Saharan African jurisdictions.

Polina Pavlova
Consultant, Willis Towers Watson
polina.pavlova@willistowerswatson.com

Polina Pavlova has recently joined Willis Towers Watson's Talent & Reward line of business in London, where she continues to focus on the professional services sector. Prior to taking up this role, she was a consultant with KermaPartners, where she advised professional partnerships on all aspects of their organisation, in particular partner remuneration and profit sharing, governance and succession planning.
As a qualified economist, she also advised on domestic (UK) and international strategy and led macro-economic and financial analysis work streams of projects for clients across the globe. She was involved in a number of partnership structure and remuneration projects in the UK and continental Europe. Prior to this, she served as managing director of an in-house consulting unit at one of Russia's largest exhibition companies. She has authored a number of articles in relation to the African and Russian legal markets. The opinions expressed in this book are her own.

Michael Roch
Global practice head, Internal Consulting Group
michael.roch@internalconsulting.com

Michael has been a partnership expert for over 20 years. He has designed and implemented healthy partnership structures and remuneration systems in dozens of law and other professional firms across the globe. Michael also advises senior management across industry sectors on the entire life cycle of strategic alliances, international joint ventures and other business partnerships for sustained value and profitability.
Throughout his career, Michael has helped firms compete in over 40 countries, primarily in Europe, North America, sub-Saharan Africa and Asia. Until early 2016, Michael was a partner and CEO at KermaPartners, an international consulting boutique he co-founded in 2006; prior stations included Norton Rose and KPMG. Michael is co-chair of the IBA's Law Firm Management Committee's Working Group on Structure & Partnerships.

Christoph H Vaagt
Managing partner, Law Firm Change Consultants
chv@lawfirmchange.com

Chris Vaagt is the founder and managing partner of Law Firm Change Consultants, a consulting firm for law firms and legal departments, based in Munich, Germany. He worked as a consultant for a variety of industries and as a lawyer in Munich, before turning to the consulting for law firms and legal departments. He specialises in change management techniques, focusing on the strategy and culture of law firms, law firm networks and auditing firms.
He has edited two books for the IBA: Law Firm Strategies in the 21st Ccentury (2013), and General Counsel in the 21st Century (2015). He is also the author of the first benchmark study of the German law firm market.

Andrew Wansell
Chief operating officer, Boodle Hatfield LLP
awansell@boodlehatfield.com

Andy Wansell is chief operating officer with Boodle Hatfield, a London-based independent law firm that providing English law advice focused on meeting the needs of wealthy individuals, their families and their businesses.
He has worked in a leadership role in a number of successful law firms over a 20-year period. Prior to taking on his current role at Boodle Hatfield, he spent 10 years with DLA Piper. He has worked extensively outside the UK, including a five-year spell as business manager for DLA Piper's Madrid office.