Book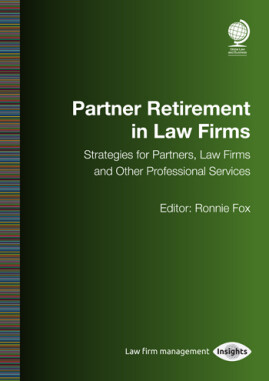 Partner Retirement in Law Firms
Strategies for Partners, Law firms and Other Professional Services
Published: 2020
Pages: 136

eBook: 9781787423442
Partner Retirement in Law Firms is designed to help reduce procrastination and encourage proactive retirement planning. In this new book, expert contributors provide tips and guidance for navigating the difficult aspects of retirement in the broad context of career planning.
Many professionals, especially those who own all or part of their firm, find it difficult to think about retirement. In particular, those who practise their chosen profession into their sixties and seventies often worry that when they retire they will miss the challenge, excitement, companionship, mental stimulation and sense of fulfilment that their work provides. After all, to a great extent we are what we do, and winding down raises questions about self-esteem and one's value to society. Moreover, professional life increasingly conditions us to place the interests of clients, customers and colleagues so far in front of our own interests that personal and family issues are sometimes neglected, creating additional challenges.

With these challenges in mind, the notion of "never doing today what can be done tomorrow" can be seductive. However, Partner Retirement in Law Firms is designed to help reduce procrastination and encourage proactive retirement planning. In this new book, expert contributors provide tips and guidance for navigating the difficult aspects of retirement in the broad context of career planning, including:
•the financial consequences of retirement;
•legal matters;
•day-to-practicalities;
•accounting and tax;
•psychological considerations; and
•succession planning.

Partner Retirement in Law Firms provides a practical guide to finding the right path to retirement and is aimed at individual partners seeking to transition from professional to retired life seamlessly and with minimal stress. In addition, it makes an invaluable resource for law firm HR and career development teams.

Table of Contents
| | | |
| --- | --- | --- |
| Cover | Cover | |
| Halftitle Page | 1 | |
| Copyright Page | 2 | |
| Table of Contents | 3 | |
| Preface | 7 | |
| I. Partner retirement – a firm's perspective | 9 | |
| 1. Background | 9 | |
| 2. Be prepared | 9 | |
| 3. Voluntary retirement | 16 | |
| 4. Involuntary retirement | 21 | |
| 5. The exit | 23 | |
| II. Legal issues from the individual partner's point of view | 29 | |
| 1. Objectives | 29 | |
| 2. Considerations for retiring partners negotiating their exit | 30 | |
| 3. The default regime – the Partnership Act 1890 and Limited Liability Partnership Act 2000 | 33 | |
| 4. The exit routes | 33 | |
| 5. Challenging expulsion/compulsory retirement and tactical considerations for partners | 37 | |
| 6. Business protection by the firm – risks for the partner | 47 | |
| 7. The deal and beyond | 50 | |
| III. Accounting and practical considerations | 53 | |
| 1. Introduction | 53 | |
| 2. Retirement date | 55 | |
| 3. Impact of partnership structure and profit-sharing arrangements | 55 | |
| 4. Accounts at the date of retirement | 56 | |
| 5. Goodwill and anti-embarrassment arrangements | 64 | |
| 6. Non-partnership assets | 66 | |
| 7. Financial settlement/payments | 67 | |
| 8. Post-retirement issues | 69 | |
| IV. Tax considerations | 71 | |
| 1. Introduction | 71 | |
| 2. Lead-up to retirement | 71 | |
| 3. Equity changes | 71 | |
| 4. Profit share | 72 | |
| 5. Capital invested in the firm | 72 | |
| 6. Salaried member/partner | 73 | |
| 7. Retiring as a partner | 74 | |
| 8. Retirement date | 77 | |
| 9. Tax reserves | 78 | |
| 10. Self-assessment tax return | 80 | |
| 11. Post retirement | 86 | |
| V. The emotional impact of partner retirement | 91 | |
| 1. Introduction | 91 | |
| 2. Plan in advance | 92 | |
| 3. Alternative strategies | 93 | |
| 4. Defining your post-retirement role | 96 | |
| 5. Concluding thoughts | 99 | |
| VI. Financial aspects of retirement planning: a 10-point retirement plan | 101 | |
| 1. Make your plan | 101 | |
| 2. Where will it come from? | 104 | |
| 3. Investment risk | 112 | |
| 4. There's no point in planning if disaster strikes | 113 | |
| 5. Legacy planning | 114 | |
| 6. Summary: your 10-point retirement plan | 117 | |
| VII. Another career? | 119 | |
| 1. Introduction | 119 | |
| 2. "When should I do it?" | 121 | |
| 3. "How should I think about it?" | 123 | |
| 4. "What should I do about it?" | 126 | |
| 5. Author's messages | 129 | |
| 6. Summary | 129 | |
| About the authors | 131 | |
| About Globe Law and Business | 136 | |
The authors are all senior practitioners in their areas, and this wealth of experience and expertise is evident in the breadth of coverage in the book, and the careful and authoritative suggestions made for dealing with the various potential difficulties identified. One of the unique features of the book is that it brings together professional advice on many different aspects of retirement – not just legal and financial but also emotional, and not just viewing it as the end of something but as the start of something else, whether that is a new career or a well-funded and rewarding retirement.
Elspeth Berry

Ivor Adair
Partner, Fox & Partners
[email protected]

Ivor Adair is a partner at Fox & Partners. He frequently acts in contentious partnership and high-value senior executive disputes. He regularly advises professional partners in the legal, accountancy and financial services sector. He has a particular interest in incentive arrangement disputes in the financial services sector and in business protection from employee/partner competition. He has considerable experience advising on sensitive and complex discrimination and whistleblowing claims.

Paul Beber
Consultant – professional practices, Cecil Associates
[email protected]

Paul Beber is a highly experienced chartered accountant. He qualified in 1978 with Arthur Young McClelland Moores (now EY) in Newcastle, then moved to its London office to develop wider experience. In 1980 he joined HW Fisher, a leading London-based, medium-sized practice, becoming a partner in 1982. After nearly 40 years with HW Fisher, he is retiring from the partnership in April 2020 and has established his own independent consultancy, Cecil Associates.
Paul's clients appreciate his strong commercial and financial acumen, and his invaluable help in problem solving, finding focused solutions and assisting with implementation. He specialises in advising entrepreneurial and family companies, as well as partnerships, on business development, structuring issues, succession management, acquisitions and disposals. He also advises and mentors individual professional partners on their development and issues they face. He is based in central London.

Roderick Chamberlain
Founding director, Career Guidance Services Limited
[email protected]

A career guidance consultant since 2000, Rod Chamberlain has engaged with several hundred executives and professionals from a wide range of industries, sectors and countries as they worked their way through significant career change.
Rod was a banker in his earlier career. He has held executive committee and local board roles in investment, corporate and retail banks and securities firms owned by organisations of 11 different nationalities. His board experience spans three decades and five countries, with advisory and non-executive roles in the commercial, not-for-profit and voluntary sectors.
Mr Chamberlain holds an MBA from INSEAD and an MA in economics from Cambridge University. He has also acquired a certificate in occupational testing from the British Psychological Society and the Islamic Finance Qualification. He has lived, to work or study, in Germany, France, Australia and both coasts of the United States. He is fluent in German and French, with smatterings of other languages.

Caroline Field
Partner, Fox & Partners
[email protected]

Caroline Field is a partner and head of Fox & Partners' litigation practice. She frequently acts on high-value and sensitive senior executive and partner moves. She advises professional partners and firms, typically in the legal, consultancy and financial services sectors, on a wide range of issues. Caroline frequently acts for professional firms in connection with the expulsion, compulsory retirement or deequitisation of members or partners and for individuals responding to such processes. She regularly advises on the strategic handling of partner conduct, performance issues, discrimination and whistleblowing complaints. Ms Field has a particular interest in advising on business protection from employee/partner competition. She has successfully obtained and defended injunction applications and brought complex disputes to a successful conclusion following trial and alternative dispute resolution.

Ronnie Fox
Partner, Fox & Partners
[email protected]

Ronnie Fox helped to achieve recognition for employment law and partnership law as discrete areas of specialisation. Following the Industrial Relations Act 1971, he developed a reputation for advising on golden handshakes: his Payments on Termination of Employment was first published in 1981. The formation of the Employment Lawyers Association in 1992 encouraged growth in the number of employment lawyers, prompting him to focus on partnership law; in 1998 he founded and became the first chairman of the Association of Partnership Practitioners.
Ronnie founded and led two highly regarded law firms which bear his name. His contributions to the development of the law and the profession include working on many Law Society and International Bar Association (IBA) committees; chairing the IBA Senior Lawyers' Committee; receiving a Distinguished Service Award from and becoming Master of the City of London Solicitors' Company; and writing chapters of five law books and over 200 published articles.

Micheline Hogan
Psychodynamic psychotherapist
[email protected]

Micheline Hogan is an experienced psychodynamic psychotherapist who trained at the Tavistock Clinic in London and worked for NHS Camden and Islington Trusts in both psychological and psychotherapy services. She has many years of experience in private clinical practice based in Golders Green, offering both brief and long-term psychotherapy. In addition to a clinical practice, she co-facilitated experiential medical groups focusing on the awareness of the emotional impact on the doctor-patient relationship. She designs resilience workshops, centred on the same principle but for clientlawyer relationships at law firms that specialise in family law or dispute resolution. Micheline is a French speaker and has citizenship in both the United Kingdom and France. She is a member of the Tavistock Society of Psychotherapists & Allied Professionals and the British Psychoanalytic Council.

Veronica Mann
Chartered financial planner, Talis Financial Advisers
[email protected]

Veronica Mann BSc, CFPTM Chartered MSCI is a chartered and certified financial planner. She specialises in independent financial advice which includes lifestyle planning, inheritance tax mitigation, retirement planning – with and without pensions – family protection and equity release.
Using her 30 years of experience in all aspects of wealth creation and protection, Veronica focuses on helping her clients protect their estates from tax and care fees. The goal is for them to achieve and maintain a comfortable, stress-free and financially secure position, particularly in their later years (she is an accredited member of the Society of Later Life Advisers).
Veronica's primary role is working with clients to understand what they want from life and creating a structured action plan to help them answer the question: "Will I run out of money?" She works mainly with people going through milestone life-changing events such as retirement, bereavement or divorce.

Nicky Owen
Partner, Crowe U.K. LLP
[email protected]

Nicky Owen is a tax partner specialising in professional practices at Crowe U.K.. She has worked with professional firms and partners her entire career, covering the spectrum of professional firms, from small husband and wife practices to magic circle law firms.
Nicky enjoys building rapport with her clients and helping them to understand their tax position throughout their journey as a partner, appreciating that their financial and tax position will evolve along the way. She advises partners on income tax, capital gains tax, inheritance tax, residence and non-domicile issues, principal private residence planning and pension planning.
Nicky runs roundtable discussions and seminars on tax and financial planning for retired partners and those planning their retirement.

Corinne Staves
Partner, Maurice Turnor Gardner LLP
[email protected]

Corinne Staves specialises in advising on partnerships, limited partnerships, LLPs and their uses for professional firms, financial services businesses and wealth planning vehicles. This includes partner and team moves, governance, regulation and the full range of transactions, such as launching new businesses, restructurings, mergers/demergers and LLP conversions. She advises both firms and individual partners.
Corinne is chair of the Association of Partnership Practitioners and regularly writes and speaks on partnership and LLP issues. She is ranked as a top-tier practitioner, with directories highlighting she is "a compassionate yet authoritative adviser ... always brilliantly prepared, but can think on her feet and delivers the results clients look for".