Book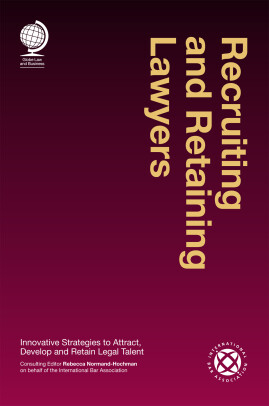 Recruiting and Retaining Lawyers
Innovative Strategies to Attract, Develop and Retain Legal Talent 
Published: 2017
Pages: 177

eBook: 9781787420373
Featuring chapters by leading experts in the field, the topics covered include the new employer proposition, equipping partners with the skills and abilities to retain talent, working with legal search consultants, and ways to approach the recruitment and retention of talented people in first-generation law firms.
The competition for talent that leading experts started to describe in the 1990s has now become a reality in the legal profession. Like most industries across the globe, the legal industry is facing a shortage of exceptional people. Although in some jurisdictions there are more lawyers than the market can absorb, the reality is that the number of lawyers with the right skills is limited and that organisations are fighting to attract and retain the best professionals in a legal market that has become globalised and where mobility is now the norm. The ability of law firms to adopt innovative and tailored recruitment and retention strategies for their size, culture and market has become a strategic priority and one of the biggest determinants for a firm's competitive success.

This practical handbook, coordinated by Rebecca Normand-Hochman on behalf of the International Bar Association, explores the opportunities and challenges for adopting effective recruitment, development and retention strategies. Featuring chapters by leading experts in the field, the topics covered include the new employer proposition, equipping partners with the skills and abilities to retain talent, working with legal search consultants, and ways to approach the recruitment and retention of talented people in first-generation law firms.

The publication provides innovative insights and practical guidance for law firm leaders, business professionals and partners. It aims to enable them to introduce, develop or reshape their people strategy, making their firm capable of getting the best recruits on board – and then developing, retaining and promoting accomplished professionals in order to provide a first-class service to clients.

Table of Contents
| | | |
| --- | --- | --- |
| Front Cover | 1 | |
| Title | 2 | |
| Copyright | 3 | |
| Table of contents | 4 | |
| Law firm strategy for recruiting and retaining legal talent Rebecca Normand-Hochman Venturis Consulting Group | 6 | |
| Collaboration among partners: increasing the odds of productive lateral hiring Heidi K Gardner Harvard Law School | 18 | |
| The new employer proposition: getting the balance right between the firm's strategy and the expectations of its workforce Jean-Baptiste Lebelle Allen & Overy, Paris | 32 | |
| Legal education and training: supporting the recruitment and development of legal talent Tony King AGK PSF Training Ltd | 46 | |
| Equipping partners with the skills and abilities to retain talent Alison Nolan Open Consulting | 64 | |
| Coaching lawyers through change Antonin Besse Besse Executive Coaching and Training | 80 | |
| Retaining women lawyers: the need for new perspectives Ida Abbott Ida Abbott Consulting | 100 | |
| In-house careers Cecilia Poullain Natixis Asset Management | 116 | |
| Recruiting and retaining talent in first-generation law firms Anna Grishchenkova KIAP Attorneys at Law | 126 | |
| Managing underperformance Patrick J McKenna McKenna Associates Inc | 138 | |
| Working with legal search consultants Guillaume Pican Page Executive | 148 | |
| Case study: designing and implementing a new people strategy Alessandro Portolano Chiomenti Gerard J Tanja Venturis Consulting Group | 156 | |
| Alumni and the value of creating strong networks Mahmood Lone Allen & Overy LLP Boyan Wells Retired Allen & Overy partner | 162 | |
| About the authors | 174 | |
Ida Abbott
President, Ida Abbott Consulting
[email protected]

Ida helps employers manage, develop and retain legal talent, and serves as mentor and coach to high-achieving individuals seeking professional success. A former trial lawyer, she was also an early leader in efforts to promote talent management in the legal profession, for which she was elected a Fellow of the College of Law Practice Management.
Ida has particular expertise in mentoring, sponsorship and advancing women in business and the professions. She is on the Executive Committee of the National Legal Mentoring Consortium, vice-chair of the California State Bar Mentoring Task Force, and co-founder of the Hastings Leadership Academy for Women at Hastings Law School, where she is a Faculty Fellow. She is also a mentor in Law Without Walls, a unique worldwide programme focusing on law, business and innovation.
Ida is a prominent speaker and author whose most recent book is Sponsoring Women: What Men Need to Know.

Antonin Besse
Founder, Besse Executive Coaching and Training
[email protected]

Antonin combines a strong career history – over three decades as an international lawyer with Freshfields Bruckhaus Deringer LLP – with what clients describe as a natural ability to build empathy and trust, as well as respect. Others describe him variously as reflective, compassionate, mischievous, charming, creative, warm, caring, astute, focused and having huge natural curiosity. His coaching clients include leading law firms and financial institutions.
In addition to coaching, Antonin is a cofounder of Interview Advantage Ltd, which prepares undergraduates for the world of work. He also trains lawyers in leadership and how to manage complex international deals. His other activities include cabinet-making, and understanding as much about cosmology and quantum physics as it is possible for a recovering lawyer to do. Antonin is French, is qualified as a lawyer in both the UK and France, and lives in Oxford.

Heidi K Gardner
Harvard Law School
[email protected]

Heidi K Gardner is a Distinguished Fellow in Harvard Law School's Center on the Legal Profession and author of the book Smart Collaboration: How Professionals and Their Firms Succeed by Breaking Down Silos (Harvard Business Press, 2017). She was previously on the faculty at Harvard Business School.
Heidi's research focuses on leadership and collaboration in professional service firms, and she received the Academy of Management's prize for Outstanding Practical Implications for Management. She has authored or co-authored more than 50 book chapters, case studies, and articles in scholarly and practitioner journals. Her first book, Leadership for Lawyers: Essential Strategies for Law Firm Success, co-edited with Rebecca Normand-Hochman, was published in 2015.
Heidi has lived and worked on four continents, including positions with McKinsey & Co and Procter & Gamble, and as a Fulbright Fellow. She earned a master's degree from the London School of Economics and a PhD from London Business School.

Anna Grishchenkova
Partner, KIAP Attorneys at Law
[email protected]

Anna leads the litigation and international arbitration practice at KIAP. Her core areas of specialisation include support for debtrecovery disputes, corporate conflicts, disputes with public authorities, and bankruptcy proceedings. She has been involved in over 300 legal proceedings, and has represented clients before Russian and international arbitration authorities.
Anna is recommended by Chambers Europe, Chambers Global, Legal 500 EMEA and Best Lawyers. In 2016 she was elected as the new regional representative of Russia in the IBA Litigation Committee (2016 to 2017).
She is on the list of arbitrators in Austria (VIAC) and Russia (RAA). She is a frequent speaker at major Russian and international law conferences.

Tony King
Training consultant and director, AGK PSF Training Ltd
[email protected]

After qualifying as a solicitor, Tony taught at the College of Law, London (now the University of Law) for several years and then joined one of the firms which merged to create Clifford Chance as a tax lawyer.
Tony was involved in education, training and professional development at Clifford Chance from 1988 until he retired as the director, Clifford Chance Academy, Clifford Chance LLP in July 2014. Over that time, he was involved in all aspects of learning and development for the firm's global workforce.
He has been involved in a range of national and international representative bodies, including the Legal Education and Training Group, the City of London Law Society, the Law Society of England and Wales, and the International Bar Association.
In addition to advising firms on learning and development issues, Tony's current roles include membership of the Queen's Counsel Selection Panel and a trusteeship of a charity.

Jean-Baptiste Lebelle
Head of HR, Allen & Overy, Paris
[email protected]

Jean-Baptiste is head of HR for the Paris office of Allen & Overy.
He has more than 15 years' experience on HR matters in the legal business sector and worked for major law firms in Paris as a headhunter, before starting a career as an HR professional. Before joining Allen & Overy, Jean-Baptiste was the head of HR of PwC tax and legal services in Paris.
Jean-Baptiste has been particularly involved in recruitment and retention issues for many years, and on several occasions has worked on the implementation of a new employer proposition. He graduated from Sciences Po Paris and holds a master's degree in law from Panthéon University. He is also visiting lecturer on HR issues for different institutions, including Sorbonne University and HEC.

Mahmood Lone
Partner, Allen & Overy
[email protected]

Mahmood is a partner in the litigation team in London. He advises on domestic and cross-border disputes and regulatory investigations and is particularly known for his expertise in disputes arising from complex derivatives and structured products. His contentious regulatory practice includes advising leading financial institutions on high-profile market abuse/manipulation issues including allegations of benchmark rate manipulation.
Mahmood was appointed co-chairman of the Alumni Network in April 2016.

Patrick J McKenna
Principal, McKenna Associates Inc
[email protected]

Patrick is an internationally recognised strategist, lecturer and seasoned adviser to the leaders of premier law firms and author of eight books, most notably his international business bestseller First Among Equals, currently in its sixth printing and translated into nine languages.
His three decades of experience led to being the subject of a Harvard Law Case Study entitled: Innovations In Legal Consulting. One example of that innovation was his launching the first instructional programme designed specifically to address the issues that new firm leaders of larger firms face in their first 100 days.
Patrick serves as contributing editor to Of Counsel based in New York City; he writes a regular thought leadership column for Legal Executive Institute; he is the first expert in professional services admitted to the Association of Corporate Executive Coaches, the #1 group for senior-level CEO coaches; and he is the recipient of an honorary fellowship from Leaders Excellence at Harvard Square.

Alison Nolan
Founder, Open Consulting
[email protected]

Alison is an independent consultant and coach. She founded Open Consulting to help leaders in organisations work more effectively through people development, leadership and transformational change.
Formerly global head of partner development at Hogan Lovells, she set up the firm's people development team from scratch and led it for more than 10 years. During that time she advised the firm on all aspects of people development, focusing on leadership, cultural change, postmerger integration, career transitions, creating effective teams and personal development. She was responsible for a suite of award-winning programmes for senior associates and partners, including winning the Financial Times Innovative Lawyers 2016 award for innovation in human resources.
Alison has a wealth of experience designing and delivering successful change initiatives, development programmes, workshops and development centres for lawyers and partners, as well as individual coaching and group facilitation. She has an MSc in People and Organisational Development, and is an accredited coach and Time to Think facilitator.

Rebecca Normand-Hochman
Partner, Venturis Consulting Group
Founder and director, Institute of Mentoring
[email protected]

Rebecca Normand-Hochman is a partner in Venturis Consulting Group, a strategy and management consultancy based in several European countries – she heads the Paris office. She is also the founder and a director of the Institute of Mentoring which provides insight, research and advice to advance mentoring best practices in the legal profession.
Ms Normand-Hochman practised international finance law in London and Paris for a number of years. Her experience with Allen & Overy in Paris laid the foundation for her present work on talent and leadership for lawyers. She has carried out extensive research on law firm talent management, which draws on best practices and collaboration with leading experts in leadership, change management, coaching and mentoring. Through her work with Venturis Consulting Group and the Institute of Mentoring, Ms Normand-Hochman researches, speaks, writes and consults on talent and leadership challenges and strategies that relate to the practice of law.
Since 2012 she has been leading the main talent management initiatives of the International Bar Association Law Firm Management Committee, including coordinating the books Managing Talent for Success and Mentoring and Coaching for Lawyers and leading the IBA Law Firm Mentoring Programme between 2012 and 2014. Ms Normand-Hochman is an officer and advisory board member of the Law Firm Management Committee, where she chairs the Talent and Leadership Working Group. She is also the consulting editor of related books in the series on the business of law: Mentoring and Coaching for Lawyers; Managing Talent for Success and coconsulting editor of Leadership for Lawyers.

Guillaume Pican
Associate director, Page Executive
[email protected]

Guillaume specialises in selecting executive profiles with a flexible approach to talent attraction. Thanks to his long years of experience in screening highly qualified profiles, he has an in-depth knowledge of the needs and demands of companies in many sectors (eg, industry, consulting, legal departments).
Over the last 10 years he has worked for several businesses for the PageGroup across a number of different disciplines and two countries (France and the United States). Between 2011 and 2015, he was director of the tax and legal department in Michael Page France. There he ran a team dedicated to all legal sectors (ie, in-house – temporary or permanent contracts – and private practice). His current role focuses on the development of Page Executive in Paris. Prior to his experience in PageGroup, Guillaume was an engineer in an international group in the food industry.

Alessandro Portolano
Partner, Chiomenti
[email protected]

Alessandro is a partner at Chiomenti and, since 2015, he has been a co-managing partner in charge of the firm's associates. He assists banks, asset managers, insurers and other regulated entities in all areas of banking and financial services regulation. Between 1995 and 2003 he worked within the banking and finance supervision department of the Bank of Italy. Alessandro holds a law degree from LUISS Guido Carli of Rome and a master of laws from the University of Chicago Law School.

Cecilia Poullain
Structurer, Natixis Asset Management
[email protected]

Cecilia has 26 years' experience as a lawyer and structurer in major law firms and financial institutions in Australia, England and France. As a member of Natixis Asset Management's fixed income department, she currently specialises in structuring loan funds on various asset classes (corporate, aircraft, infrastructure, real estate), but has previously focused on structured finance products and derivatives. She is an active member of the ICMA Steering Committee on private placements and the French Euro private placement group. She is a fluent speaker of English and French. Outside working hours, she is a soprano and a writer.

Gerard J Tanja
Partner, Venturis Consulting Group
[email protected]

Gerard Tanja is a partner at Venturis. He holds LLM and PhD degrees in law, and has an MBA from the University of California. Before establishing Venturis, Gerard worked at the University of Leyden, was legal adviser to the minister of foreign affairs and was, before moving to Clifford Chance (World Firm Management Committee), general director of the TMC ASSER Institute for International Law.
At Clifford Chance, Gerard was responsible for HR development and know-how (KH) management. At Venturis Consulting Group, Gerard specialises in strategy formulation, merger consulting and KH management projects. He has been involved in a number of international law firm mergers, has assisted several Anglo-American firms with the establishment of their European offices and has undertaken a series of strategic reviews of European offices. In addition, he has been heavily involved in a number of law firm restructuring and governance initiatives and KH implementation initiatives in Benelux and Germany.

Boyan Wells
Retired Allen & Overy partner, London
[email protected]

Boyan Wells joined A&O in 1979 and from 1981 he worked in the International Capital Markets (ICM) group. He became a partner in 1987 and was head of ICM from 1998 to 2006. He was on the firm's board from 2006 until his retirement in 2014.
Boyan was appointed co-chairman of the Alumni Network in April 2016.