Book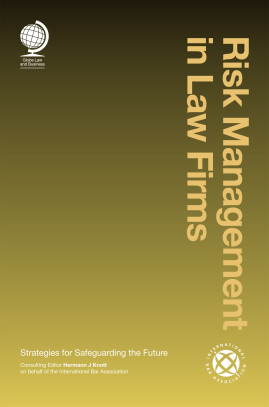 Risk Management in Law Firms: Strategies for Safeguarding the Future
Published: 2014
Pages: 303

eBook: 9781787428317
This book has been prepared by a number of authoritative authors, the majority of whom are from Anglo-Saxon jurisdictions, but with experience in civil law jurisdictions as well. Chapters address financial risks, risks brought by clients as well as risks associated with quality, conflict, hiring and practice integration procedures.
Effective risk management is critical to the successful operation of law firms. Market acceptance and professional reputation established over many years can be destroyed overnight by a major incident. Often such events could have been prevented if appropriate risk management systems had been in place.

This new book has been prepared by a number of well-known and authoritative authors, the majority of whom are from Anglo-Saxon jurisdictions, but with experience in civil law jurisdictions as well. The working method applied throughout the book is based on risk categories, rather than geographic. This approach allows authors to focus their contributions on workable solutions, rather than country-specific legal analyses. Chapters address financial risks (which have been an important factor in recent collapses of law firms), risks brought by clients as well as risks associated with quality, conflict, hiring and practice integration procedures.

This book aims to help law firm leaders and managers to understand the scope and utility of risk management generally, and to guide them in implementing and maintaining adequate risk management policies, procedures and systems. The book also gives in-house counsel and risk officers a better understanding of the needs of their outside attorneys, thereby improving the partnering between lawyers and their clients.

Table of Contents
| | | |
| --- | --- | --- |
| Cover | Cover | |
| Title | 1 | |
| Copyright | 2 | |
| Contents | 3 | |
| Part I. Structure and management of law firms | 7 | |
| Optimal legal forms | 7 | |
| Governance structures | 19 | |
| Professional indemnity insurance: practical considerations in an increasingly international market | 33 | |
| Part II. Client work | 51 | |
| Conflicts of interest | 51 | |
| Confidentiality and disclosure | 71 | |
| Engagement letters | 85 | |
| Client risk | 97 | |
| Precedent databases and knowledge management | 117 | |
| Review processes and client satisfaction: handling high-risk cases | 129 | |
| Managing the client engagement | 143 | |
| Part III. Data protection | 157 | |
| Data protection and privacy in the United States | 157 | |
| Data protection and privacy in Europe | 167 | |
| Part IV. Money laundering | 175 | |
| Money laundering | 175 | |
| Part V. HR issues | 189 | |
| Hiring – identifying the key risks | 189 | |
| Lateral hiring of partners – the hiring process | 197 | |
| Integration of lateral hires | 205 | |
| Personal development policies | 209 | |
| Part VI. Financial risk | 213 | |
| Financial risk management in law firms | 213 | |
| Non-lawyer ownership of law firms and outsourcing of legal services | 227 | |
| Part VII. Cyber risk | 239 | |
| Mitigating law firms' cyber risk | 239 | |
| Part VIII. Globalisation | 255 | |
| The globalisation of legal services | 255 | |
| Part IX. Brand and reputation | 271 | |
| The effects of risk management on brand and reputation management | 271 | |
| About the authors | 295 | |
This book, one of the latest titles from Globe Law and Business is a veritable treasure trove of sage advice on risk management, succinctly and clearly expressed.
Phillip Taylor
Richmond Chambers

This book is a must read because it gives such a comprehensive, structured and helpful analysis of sources; identification and suggestions for mitigation and solution.
Pippa Blakemore
The PEP Parternship LLP

This book contains in-depth commentary and insight from well-known and authoritative authors on the wide-ranging categories of risk that challenge law firms today.
PLC

Silvia C Bauer
Partner, Luther Rechtsanwaltsgesellschaft mbH
silvia.c.bauer@luther-lawfirm.com

Silvia C Bauer is a lawyer and partner in the IP/IT service line of Luther Rechtsanwaltsgesellschaft mbH in Cologne, and has worked for Luther since 2000. After vocational training as a business administration manager, she spent three years at Hoechst AG in Frankfurt as a country consultant. In addition, she studied economic sciences at the University of Applied Sciences in Mainz. She received her law degree at the University of Frankfurt.
Ms Bauer specialises in providing legal assistance in the data privacy field. She conducts data privacy audits and advises companies on the organisation of their data protection. She also provides assistance in evaluating the reliability of planned data processing, the introduction of whistleblowing hotlines or customer relationship management systems, the creation of contracts for processing personal data, data privacy policies and other relevant documents. Ms Bauer is the data protection officer at Luther and for several other companies. She is a guest lecturer at numerous events related to data protection and IT law.

Georg-Christof Bertsch
Principal and founder, Bertsch.Brand Consultants
georg-christof@bertsch-bertsch.de

Georg-Christof Bertsch is founder and owner of Bertsch.Brand Consultants (since 1995), one of the most renowned German brand consultancies for service industries. Since the early 1990s he has published books and essays on design, art, architecture and branding (both online and offline).
As a honorary professor at the University of Art and Design Offenbach (Frankfurt, Germany) Mr Bertsch teaches on and researches intercultural design projects, with a focus on intercultural teams. He is a member of the board of governors of the Bezalel Academy of Art and Design, Jerusalem and member of the board of the Museum of World Cultures, Frankfurt.
Mr Bertsch has delivered consultancy to commercial clients in Europe, Asia, Latin America for industries reaching from law, energy and information technology to logistics, banking and insurance.

Friedrich R Blase
Chief international officer, Holland & Knight
friedrich.blase@hklaw.com

Friedrich R Blase is chief international officer of Holland & Knight. He is responsible for the firm's relationships with major clients and law firms outside the United States, as well as the growth and operations of its foreign office network. Mr Blase is part of the firm's executive team.
Before taking on this role Mr Blase served as the firm's director of strategic initiatives, handling a variety of key projects to improve its competitiveness for clients and talent. He joined Holland & Knight in 2009 after consulting to major law firms on strategic business issues in Europe and the United States for a decade. Mr Blase started his career in international commercial arbitration before focusing on law firm management.

Ruth Bonino
Professional support lawyer, Clyde & Co LLP
ruth.bonino@clydeco.com

Ruth Bonino is a solicitor with extensive experience in employment law. She holds a master's in employment law and has specialised in employment law for more than 15 years.
Ms Bonino writes regular legal articles for external publication and is a contributor to a number of legal textbooks. She keeps the lawyers at Clyde & Co, and the firm's clients, up to date on employment law developments by writing client alerts, organising and preparing client training seminars and managing the team's internal training programme. As a fee earner, Ms Bonino was a senior associate at an international law firm based in the City of London where she handled a full case load of both contentious and non-contentious employment cases.
Ms Bonino is a member of the Employment Lawyers Association and PEN, the network of professional support employment lawyers.

Tracey Calvert
Director, Oakalls Consultancy Limited
tcalvert@oakallsconsultancy.co.uk

Tracey Calvert is a lawyer with many years' experience of working for the Law Society and the Solicitors Regulation Authority (SRA). She was a senior ethics adviser and, in her last role with the SRA, part of the ethics policy team which drafted the SRA Handbook.
Ms Calvert is now the director/owner of Oakalls Consultancy Limited and provides regulatory consultancy services. She has a varied portfolio of clients and interests and also writes regularly on regulatory topics. She has written six books (including Ethics in Law Firms: A Practical Guide and Conflicts and Confidentiality in Law Firms), is a contributor to Cordery on Legal Services and sits on the editorial board of the Law Society's Legal Compliance Bulletin.

Simon Chester
Former partner, Heenan Blaikie LLP
rsgchester@outlook.com

Simon Chester is a law firm general counsel who has spent most of 2014 helping to manage the largest law firm dissolution in Canadian history. His earlier career included law teaching, government service, senior positions in bar associations and organisational consulting. For 20 years he has helped law firms to navigate the complex and shifting landscape of professional regulation and to solve an array of professional crises that threaten regulatory compliance, liability risk and reputational harm.
He is one of Canada's leading experts on conflicts of interest. With roots in three continents, he is a global lawyer, qualified in both Europe and North America.
Mr Chester is a frequent commentator, writer and master presenter, delivering high-energy, provocative presentations to legal conferences around the world about change in the law and the pressures that firms face.
A technological innovator throughout his career, he has earned an international reputation for his insights into the future of legal practice.

Anthony E Davis
Partner, Hinshaw & Culbertson LLP
adavis@hinshawlaw.com

Anthony Davis advises lawyers and law firms on legal profession and legal ethics issues, as well as on law firm risk management. He is a lecturer at Columbia University School of Law, teaching professional responsibility issues in business practice. He is the co-author of Risk Management: Survival Tools for Law Firms, published by the American Bar Association. In addition to his books, Mr Davis has written numerous scholarly articles and writes the bi-monthly "Professional Responsibility" column in the New York Law Journal. He is a past president of the Association of Professional Responsibility Lawyers. He received his law degree from Cambridge University and an LLM from New York University School of Law. He is admitted in New York and Colorado, and as a barrister and a solicitor (both non-practising) in England.

Jaime Fernández Madero
Founder, Fernández Madero Consulting
jfm@fmaderoconsulting.com

Jaime Fernández Madero is founder of Fernández Madero Consulting, a strategy and management consultancy firm for law firms in Latin America. He is associated with Hildebrandt Consulting. He practised law for 30 years and founded Bruchou, Fernández Madero & Lombardi, a leading law firm in Argentina, where he acted as managing partner for 10 years until he left the firm to start his consultancy practice.
Mr Fernández Madero has a master's in organisational studies from the Universidad de San Andrés in Buenos Aires (2011), for which his thesis was on organisational identification in professional service firms. He is the author of a book about managing law firms in Latin America (Organizando Firmas de Servicios Profesionales. El caso de los Abogados, ed La Ley, 2012). He writes articles in specialised magazines and for other publications sponsored by the Law Firm Management Committee of the International Bar Association.

Silke Gottschalk
Senior associate, Luther Rechtsanwaltsgesellschaft mbH
silke.gottschalk@luther-lawfirm.com

After finishing her law degree at the Philipps University in Marburg, Silke Gottschalk received an LLM in European law at the London School of Economics and Political Science, and worked under Georgious Gounalakis as a research assistant for the Faculty of Comparative Law. Following her legal clerkship at the Higher Regional Court in Cologne, she joined Luther and began working as an attorney in the IP/IT area. She has worked in compliance and quality risk since 2008.

Julia Graham
Director of risk management and insurance, DLA Piper
julia.graham@dlapiper.com

Julia Graham is a director in the international business of DLA Piper, based in London. She holds a BSc and is a fellow of the Chartered Insurance Institute and the Business Continuity Institute.
She is currently president of the Federation of European Risk Management Associations and a member of the Technical Committee and Working Group for ISO 31000, the global risk management standard.
She is responsible for designing, implementing and managing an enterprise-wide risk management system at DLA Piper, and the design and procurement of International insurance programmes for all classes of insurance. She is a board director of the firm's captive insurance company.
Before her time at DLA Piper, Ms Graham worked in a variety of underwriting, management and risk management roles in the insurance sector.

Richard Harrison
Partner, Clyde & Co LLP
richard.harrison@clydeco.com

Richard Harrison leads the Lawyers' Professional Liability Group at Clyde & Co LLP and has 25 years' experience of English civil litigation in the High Court and appeal courts, as well as arbitration and mediation. He specialises in commercial dispute resolution relating to professional liability matters, disciplinary proceedings and investigations and insurance policy disputes.
Mr Harrison has extensive experience of handling complex claims involving law firms, with a particular focus on cases involving complex transactions, dishonesty and fraud. He has been involved in the defence of Solicitors Regulation Authority (SRA) investigations, advised law firms in relation to disciplinary matters and acted for UK law firms on significant civil claims and related SRA investigations. He regularly speaks on issues relating to law firm liability and risk management.
Mr Harrison is described in Chambers as "a leading light of the professional indemnity world" with "a reputation as a tough negotiator".

Markus Hartung
Director, Bucerius Center on the Legal Profession
markus.hartung@law-school.de

Markus Hartung is a lawyer and mediator. He is director of the Bucerius Center on the Legal Profession (CLP) at Bucerius Law School, Hamburg. He has a broad experience in managing law firms. From 1999 to 2008 he served as managing partner of Linklaters in Germany (and its predecessor firm) and as a member of the Linklaters global executive committee.
At the CLP, he focuses on legal market research and is responsible for the conception of executive education programmes (management and leadership) for legal professionals. His expertise lies in market development and trends, management and strategic leadership as well as corporate governance of law firms.
Since 2007 he is member of the Committee on Professional Regulation of the German Bar Association, chairing this committee since January 2011.
He is a regular conference-speaker on leadership, management and professional ethics and has written numerous articles and book chapters on these topics. He is co-editor and author of Wegerich/Hartung: Der Rechtsmarkt in Deutschland, a standard reference for the German legal market.

Janet M Henderson
Divisional director, Brit Syndicate 2987
janet.henderson@britinsurance.com

Janet Henderson is the divisional director of the global professional lines division of Brit Syndicates Limited in London. She has underwritten professional liability in the Lloyd's market for more than 25 years, during which time she underwrote for RA Edwards Syndicate 219 and St Paul Syndicate 1411, before joining Brit in 2003. She is an actuarial graduate, an associate of the Chartered Insurance Institute and a member of the Professional Liability Underwriting Society.
She has specialised in professional liability for law firms across the world for most of her career, covering a full spectrum of firm sizes.
She oversees four underwriting teams: three which split the global professional liability book for lawyers, accountants, architects and engineers, insurance brokers and miscellaneous classes on a geographical basis, and a fourth which is responsible for cyber, privacy and technology insurance worldwide.

Heather Hibberd
Chief risk manager, Legal Practitioners' Liability Committee
heather.hibberd@lplc.com.au

Heather Hibberd is the chief risk manager at the Legal Practitioners' Liability Committee (LPLC) in Melbourne, Australia. She holds degrees in law and science, and while in private practice specialised in professional indemnity insurance litigation for lawyers.
She joined the LPLC on secondment as a risk manager in 1999 and became a permanent member of staff in 2001.
As a risk manager, Ms Hibberd has written many articles and bulletins on a wide range of risk management topics for lawyers, she writes the LPLC's quarterly newsletter, In Check, and has spoken at many forums to lawyers, giving practitioners insights into what goes wrong as well as practical tips on how to avoid falling into the same traps.

Chris Holme
Partner, Clyde & Co LLP
chris.holme@clydeco.com

Chris Holme is an employment partner at Clyde & Co and works with companies and firms on the full range of employment issues that they face, from managing grievances and change programmes to resolving high-value employment claims. He has extensive experience of employment litigation, as well as advising on all employment issues and providing employment support in projects and transactions.
In particular, Mr Holme works with clients on partnership disputes; particularly in relation to dealing with alleged discrimination issues, partner hires and partner departures (whether individuals or teams).
Mr Holme's clients come from a variety of sectors, including a number of law firms and accountancy firms, as well as other professional services practices.
Mr Holme is a member of the Employment Lawyers Association, the Association of Partnership Practitioners and the City of London Solicitors Company.

Jane Hunter
Executive director, Aon Risk Solutions
jane.hunter@aon.co.uk

Jane Hunter is an executive director of Aon Risk Solutions, based in London. Admitted as an English solicitor in 1993, she practised as a defendant professional indemnity and insurance policy wording lawyer before moving into law firm management in 2001. Her managerial roles at Bird & Bird LLP and in the London office of US firm Squire, Sanders & Dempsey LLP comprised responsibility for insurance strategy and purchase, internal claims handling, regulatory and compliance and risk management issues.
Ms Hunter joined Aon in March 2011. Aon Risk Solutions' professional services practice provides specialised insurance brokerage and risk advisory services to lawyers, accountants, consultants, notaries, engineers, architects and other design professionals. Ms Hunter provides regulatory, compliance and risk management advice to Aon's professional services clients, in particular UK and US law firms.
Ms Hunter is also a qualified business coach.

James W Jones
Senior fellow, Center for the Study of the Legal Profession, Georgetown University Law Center
jim.w.jones2011@gmail.com

James W Jones is a senior fellow at the Center for the Study of the Legal Profession at the Georgetown University Law Center. He is also principal of Legal Management Resources LLC. Mr Jones is widely recognised as an expert on the US and global legal markets, having spent more than 40 years as a practising lawyer, law firm leader, corporate general counsel and management consultant.
Before his current positions, Mr Jones served as the managing partner of Arnold & Porter (1986- 1995); vice chairman and general counsel of APCO Worldwide (1995-2000); and senior vice president and managing director of Hildebrandt International (2001-2011). He received his bachelor's degree from Trinity University and his JD from New York University School of Law.

Abhijit Joshi
Senior partner and chief executive officer, AZB & Partners
abhijit.joshi@azbpartners.com

Abhijit Joshi, senior partner and chief executive officer, is one of India's leading corporate/mergers and acquisitions lawyers. He has advised Indian and multinational companies, and has been involved in many major and noteworthy transactions over the past 20 years. Mr Joshi is a qualified solicitor in India and England. He is the recipient of many accolades, including being named a leading lawyer for mergers and acquisitions in India in International Who's Who Legal for 2013 and 2014 and being named as M&A lawyer of the year in India for 2013 by Finance Monthly.

Hermann J Knott
Partner, Luther Rechtsanwaltsgesellschaft mbH
hermann.j.knott@luther-lawfirm.com

Hermann J Knott is a partner of Luther in Cologne, specialising in corporate transactions with a focus on cross-border deals, and has more than 20 years' experience. He is also the firm's risk managing partner.
He attended law school in Cologne, Geneva, Philadelphia (where he obtained his LLM) and Stanford, and wrote a doctorate thesis on international business law. He gained professional experience abroad working with firms in New York and Paris.

Frank Maher
Partner, Legal Risk LLP
frank.maher@legalrisk.co.uk

Frank Maher is a solicitor and partner in Legal Risk LLP, a law firm specialising in advice on professional regulation and professional indemnity insurance. Mr Maher is a committee member of the Association of Partnership Practitioners, a multi-disciplinary organisation of advisers to professional practices, and a member of the Association of Professional Responsibility Lawyers and of the Association of Regulatory and Disciplinary Lawyers.
He has more than 30 years' experience and his clients include many of the largest law firms in the United Kingdom, the United States and Europe, along with professional indemnity insurers of law firms and regulators of law firms. Mr Maher is a frequent speaker at law firm risk management, compliance and insurance events and has spoken at events in Europe, the United States, Asia and Australia. He has written many books and articles on law firm risk management, professional indemnity and antimoney laundering.

Sue Mawdsley
Partner, Legal Risk LLP
sue.mawdsley@legalrisk.co.uk

Sue Mawdsley is a partner in Legal Risk LLP. She is a solicitor with more than 29 years' experience and advises law firms – from multinationals to high street practices – on risk management, claims prevention and regulatory compliance. She has particular expertise in anti-money laundering and in advising firms on anti-money laundering problems and compliance strategies, as well as extensive experience of developing bespoke procedures and systems for law firms.
Ms Mawdsley is noted in Chambers UK as a Key Individual in the firm and is recognised for her "encyclopaedic knowledge" of anti-money laundering regulations and "excellent support and advice". She is also noted in the Legal 500 2013 as having "cutting-edge knowledge of anti-money laundering".
Ms Mawdsley has a diploma in anti-money laundering from the International Compliance Association and a practitioner's certificate in data protection. She is co-author of The Money Laundering Reporting Officer's Handbook: A Guide for Solicitors.

Ernst Millaard
Executive account director, Aon Global Risk Consultants
ernst.millaard@aon.nl

For more than 30 years Ernst Millaard has worked for Aon and its predecessors. At present, he works for Aon Global Risk Consultants as executive account director. In this role he is currently being deployed as risk and insurance manager in several Dutch and international companies.
From 2009 to 2013 Mr Millaard was responsible for the development and sales of insurance products for law firms and other professional services clients in the Europe, Middle East and Africa region. He assisted the local Aon offices in their client contact and developed insurance products that could be used in many European countries and even worldwide. Previously, Mr Millaard had management responsibility for several departments of Aon Netherlands, such as professional services, commodity trades and global business manager.

Luis Felipe Mohando
Regional knowledge manager, SORAINEN
felipe.mohando@sorainen.com

Luis Felipe Mohando is associate and regional knowledge manager in SORAINEN. As part of the knowledge management team he designs, implements and manages systems and procedures enabling SORAINEN legal teams to organise, share and use know-how and experience.
Mr Mohando joined SORAINEN's M&A and private equity team bringing his international experience from the tax department of Ernst & Young in Buenos Aires, and from building up and heading the corporate and M&A practice in Leverone & Mihura Estrada.
He read law at Torcuato Di Tella University in Buenos Aires, and also holds LLMs from New York University, the National University of Singapore and Torcuato Di Tella University. He was called to the Buenos Aires Bar in 2002 and the Madrid Bar in 2010.
Since 2012 he is chairman of the Knowledge Management and IT Subcommittee of the International Bar Association Law Firm Management Committee.

Suzie Ogilvie
Head of anti-money laundering, Freshfields Bruckhaus Deringer LLP
suzie.ogilvie@freshfields.com

Suzie Ogilvie is the head of anti-money laundering at Freshfields Bruckhaus Deringer LLP. She advises both the firm and its clients on anti-money laundering issues and also has responsibility for managing reputational risk and ensuring that the firm has appropriate procedures in place in order to comply with anti-bribery laws and economic sanctions.
Ms Ogilvie is currently the chair of the Money Laundering Task Force of the Law Society of England and Wales and the UK delegate on the Money Laundering Committee of the Council of Bars and Law Societies of Europe. She assists in the coordination of the legal profession's policy positions on financial crime in the United Kingdom, and represents members of the legal profession at government committees in this area. She has also been involved in the lobbying efforts on the Fourth EU Money Laundering Directive.

Angeline Poon
Director, knowledge and risk management, Rajah & Tann LLP
angeline.poon@rajahtann.com

Angeline Poon is the director of knowledge and risk management in Rajah & Tann LLP, the largest full-service law firm in Southeast Asia. She has more than 20 years' experience in the legal profession, having practised corporate finance law as a partner before her current specialisation in knowledge and risk management. Before joining Rajah & Tann, she was the director of legal and compliance and knowledge management in another of Singapore's top law firms. Her current role at Rajah & Tann involves managing the firm's know-how and training, as well as advising on regulatory risk and compliance matters of the firm and its regional network.

Steven M Puiszis
Partner, Hinshaw & Culbertson LLP
spuiszis@hinshawlaw.com

Steven Puiszis is a partner in Hinshaw & Culbertson LLP's lawyers for the profession practice group, representing lawyers and law firms in professional liability claims. He is the firm's deputy general counsel and its privacy and security officer. He has developed policies and training materials for e-discovery, social media and data privacy and security. Hinshaw was recently named US News & World Reports' Best Firm in Ethics and Professional Responsibility.
Mr Puiszis has taken numerous civil and criminal trials to verdict. He is the author of a book on governmental liability and constitutional law, now in its third edition. He has also written book chapters and law review articles on jury selection, e-discovery, the Class Action Fairness Act 2005 and the role of general counsel in law firm risk management.
Mr Puiszis is the secretary treasurer of the Defence Research Institute and serves on the Board of Directors. He is a past president of the Illinois Association of Defence Trial Counsel and a fellow of the American Bar Foundation.

Martin Schulz
German Graduate School of Management and Law, Heilbronn, Germany
martin.schulz@ggs.de

Martin Schulz is a professor of German and international private and corporate law at the German Graduate School of Management and Law (GGS) in Heilbronn. He studied law at the Goethe University, Frankfurt and the Yale Law School, New Haven, holding a PHd in law from Frankfurt and an LLM from Yale. His publications and main areas of work include German and international corporate law, compliance and compliance management as well as knowledge management for lawyers. In addition to his academic activities, Dr Schulz works as an attorney at law and knowledge management lawyer in the Frankfurt office of Freshfields Bruckhaus Deringer LLP.
The GGS is an internationally oriented university of applied sciences specialising in management and legal education. GGS programmes and research focus on future global market trends and international developments in business and legal practice.

Andrew Scott
Partner and general counsel, Clyde & Co LLP
andrew.scott@clydeco.com

Andrew Scott is a partner and general counsel at Clyde & Co LLP. He qualified as a solicitor in England in 1985 and has long experience of professional liability and disciplinary defence work, and of advising on professional regulatory and risk matters, principally for lawyers and accountants.
In his general counsel role at Clyde & Co, Mr Scott is a member of the firm's risk committee and has involvement in all aspects of the firm's risk and compliance functions.
Mr Scott edited Risk Management for Accountants by Clyde & Co's predecessor firm, Barlow Lyde & Gilbert, and has contributed to other publications and periodicals on risk management.

Richard Turnor
Partner, Maurice Turnor Gardner LLP
richard.turnor@mtgllp.com

Richard Turnor leads the professional practices group of Maurice Turnor Gardner LLP in London. He advises professional practices and their partners on constitutional documents, international structure, team moves, limitation of liability issues, internal disputes, governance, Solicitors Regulation Authority regulation, mergers, demergers and other similar transactions.
His clients have included some of the largest global professional firms, onshore and offshore firms, boutique firms and financial services firms established as limited liability partnerships. He is a former chairman of the Association of Partnership Practitioners and is a regular participant in government consultations and speaker and contributor to publications on related topics. He is also a non-executive director of the Royal Marsden NHS Foundation Trust.

Wolfgang Weiss
Professor, HUK-Coburg endowed professorship, University of Applied Sciences and Arts, Coburg
wolfgang.weiss@hs-coburg.de

Wolfgang Weiss holds the HUK-Coburg endowed professorship at the Business Administration Department of the University of Applied Sciences and Arts, Coburg. Before joining the university, he was head of management Germany at Linklaters LLP. In 2011 he received the Professional Management Network Award as Managing Partner/Chief Operating Officer for his work at Linklaters LLP. He holds degrees in law and business administration. His research focuses on knowledge-based service industries, especially in the field of financial and risk management. He has regularly published on this subject. Professor Weiss conducts research projects and consults on successful management and leadership of law firms. He is a member of the Advisory Board of the Centre on the Legal Profession of the Bucerius Law School in Hamburg, Germany.