Book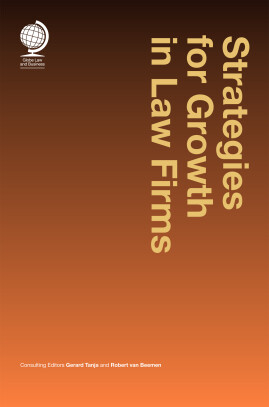 Strategies for Growth in Law Firms
Gerard Tanja, Robert van Beemen
Published: 2021
Pages: 249

eBook: 9781787423688
This book, coordinated by Gerard Tanja and Robert van Beemen of Venturis Consulting, explores some of the crucial elements relating to international growth strategies in the legal sector: law firm mergers, market entries, the onboarding of teams, and the development of international referral strategies.
As a result of Brexit, and the subsequent move by companies and organisations from London to continental European capital cities (eg. Amsterdam, Frankfurt, Paris), as well as further globalisation and analysis of referral work, international law firms have made it a strategic priority to expand their capabilities and to enter new markets. They can do so by merging with or taking over a national independent law firm, via lateral hires and/or by the onboarding of teams. Each of these strategies requires a thorough approach and methodology.

Strategies for Growth in Law Firms, coordinated by Gerard Tanja and Robert van Beemen of Venturis Consulting, explores some of the crucial elements relating to international growth strategies in the legal sector: law firm mergers, market entries, the onboarding of teams, and the development of international referral strategies. It includes coverage of:

+ Which strategies international firms pursue with a market entry;
+ How they identify and assess the (potential) candidate firms;
+ How they ensure they hire the right teams; and
+ What national independent boutiques (as popular candidates) take into consideration when merging with an international firm.

It provides in-depth insights, practical tools and case studies regarding the methodologies, execution and implementation of growth strategies for law firms, as well as an overview of the developments in the various international legal markets (Europe, Asia, Latin-America) and of the different international growth strategies pursued by international law firms, the Big 4 and alternative legal service providers, including the implementation of these strategies (post-merger integration).

This title will be of use to both international law firms and national boutique firms in the US, UK, EU and Asia. It provides valuable guidance for managing directors, business development directors, partners and managers responsible for the development of the international network of law firms, and general counsel will also find it beneficial.

Table of Contents
| | | |
| --- | --- | --- |
| Cover | Cover 1 | |
| Title page | 1 | |
| Copyright information | 2 | |
| Table of contents | 3 | |
| Introduction | 5 | |
| 1. Growth as an ambition | 5 | |
| 2. Competitive forces determining growth strategies of law firms | 6 | |
| 3. Growth as a strategy | 10 | |
| 4. This book | 12 | |
| 1. Introduction | 15 | |
| 2. International growth trends | 16 | |
| 4. The rise of Chinese firms | 27 | |
| 5. Latin America perspective | 30 | |
| 6. Conclusion | 39 | |
| Market entry strategies in Europe: objectives, challenges, process | 41 | |
| 1. Introduction | 41 | |
| 2. Market entry objectives | 42 | |
| 3. Approach and issues | 46 | |
| 4. Market entry due diligence process | 51 | |
| 5. Summary | 54 | |
| International referral strategies | 57 | |
| 1. Introduction | 57 | |
| 2. International strategies | 60 | |
| 3. Clients, sectors and industries | 61 | |
| 4. Capabilities and competences | 65 | |
| 5. International legal networks: to become a member or not to become a member | 68 | |
| 6. Conclusion | 73 | |
| Boosting your growth strategy through effective marketing and business development | 75 | |
| 1. Becoming a strategic business function | 75 | |
| 2. Bringing in the experts | 76 | |
| 3. Investing in a strategic marketing and business development function to support organic growth | 77 | |
| 4. Ensuring strategic alignment of marketing and business development | 81 | |
| 5. Understanding how to compete: defining your value proposition | 82 | |
| 6. Winning firms don't try to be the best at everything | 83 | |
| 7. Growing your reputation and network: personal and institutional dynamics | 84 | |
| 8. Institutional relationship management: CRM | 85 | |
| 9. Rankings and directories | 87 | |
| 10. Thought leadership: "I write, therefore I exist" | 88 | |
| 11. Changing client journeys and paths-to-purchase | 90 | |
| 12. Digital strategies for growth | 91 | |
| 13. New platforms to connect, engage and collaborate | 92 | |
| 14. Having a growth mindset in times of crisis | 94 | |
| Prerequisites for profitable revenue growth | 97 | |
| 1. Setting the scene | 97 | |
| 2. What does the often-cited change from product- to demand-led market really mean? | 98 | |
| 3. The prerequisites for a clear-cut revenue growth strategy | 100 | |
| 4. Marketing, business development (BD) and client relationship management (CRM) as means to operationalise the strategy | 101 | |
| 5. Taking a holistic approach to embedding a revenue growth strategy | 102 | |
| 6. Wrap up | 110 | |
| Strategic communication: a major contributor to growth | 111 | |
| 1. Introduction | 111 | |
| 2. Making the case for communication in a broader sense | 112 | |
| 3. A systematic approach to strategic communication | 115 | |
| 4. Conclusion | 128 | |
| Purpose, sustainability, culture and leadership: the foundation for growth | 129 | |
| 1. Growth as an opportunity to rethink the firm | 130 | |
| 2. The foundation: purpose as a central orientation brand | 134 | |
| 3. The operational dimensions | 137 | |
| 4. Change management in the implementation of growth strategies | 145 | |
| Case study 1: CSR as part of the firm's DNA | 150 | |
| Case study 2: People and culture | 154 | |
| Structure, governance and profit distribution: how to align them with a growth strategy | 157 | |
| 1. Organisational design: structure and governance in context | 157 | |
| 2. Governance | 170 | |
| 3. Profit distribution systems | 180 | |
| 4. Conclusion | 185 | |
| Integration planning in law firms: successes and pitfalls | 187 | |
| 1. Introduction | 187 | |
| 2. Value creation – identifying synergies | 189 | |
| 3. Importance of management involvement | 191 | |
| 4. Recruitment, onboarding and integration pitfalls | 192 | |
| 5. Young academics – the next generation | 196 | |
| 6. Conclusions | 197 | |
| Towards growth and operational excellency with legal project management | 199 | |
| 1. What do clients want? | 199 | |
| 2. What are the benefits of LPM? | 201 | |
| 3. Why has LPM become such a hot topic in recent years? | 201 | |
| 4. What exactly is LPM and how is it different from other project management methods? | 203 | |
| 5. Implementing LPM initiatives in law firms is hard | 216 | |
| Know-how and technology strategies for law firms to defend and grow the business | 221 | |
| 1. The drivers of change | 221 | |
| 2. The demand side changes – corporate legal departments reinvent themselves | 222 | |
| 3. The supply side changes – new legal service providers enter the market | 222 | |
| 4. The supply side changes – law firms | 223 | |
| 5. Summary | 241 | |
| 6. Effects on the digitalisation strategies of law firms and legal departments in the wake of the coronavirus pandemic | 242 | |
| About the Authors | 243 | |
| About Globe Law and Business | 249 | |
Simon Ahammer
Lawyer, software developer and consultant, legalCube UG, KPMG Law Germany
[email protected]

Simon Ahammer has been a member of the Munich Bar since 1998. During his studies he developed software for the legal market. During his professional career, Simon has been in charge of the internal software development in a German law firm for mediumsized companies, has worked as head of LegalTech at the legal publishing house CH Beck and as product manager at Wolters Kluwer, and has worked for startups with solutions for the legal market. He currently advises law firms and legal departments on digitisation strategies and is also active for KPMG Law Germany in the area of legal process and technology.
Simon first came into contact with the subject of 'digitisation of legal advice' at conferences in the United States in 2010 and has since then followed the developments in this area with articles on Twitter and LinkedIn, as well as articles in professional journals and with presentations at conferences, internal events and workshops.

Robert C Bata
Principal, WarwickPlace Legal LLC
[email protected]

Robert C Bata is the Principal of WarwickPlace Legal LLC, a consultancy exclusively focused on advising law firms on the formulation, development and execution of international strategy. His clientele ranges from some of the world's largest multinational law firms, to regional and national firms, including mid- size and small independent firms around the world seeking to enhance their international capabilities. Prior to founding WarwickPlace Legal, Robert spent more than 30 years practising cross- border M&A and dispute resolution with Sullivan & Cromwell, Mayer Brown and a predecessor firm of Salans (now Dentons). A seasoned law firm leader, he established and successfully led offices for his firms in New York, London, Central and Eastern Europe and China. He is a frequent speaker at law firm retreats and various bar association events and conducts workshops on international strategy for law firm management committees and practice groups. Robert currently serves as co- chair of the IBA's Senior Lawyers Committee.

Sabijn Dullaart
Head of people and organisation design, Venturis Consulting Group
[email protected]

Sabijn Dullaart has supported senior leaders, management teams and organisations in their transformation efforts for 15 years, focusing on aligning people and strategy and collaboration and team development. She has carried out advisory work in law firms and other professional services firms active in the publishing, consulting and digital business world. She has coached C-suite executives, partners and teams to ensure alignment and improve people performance, has introduced talent management frameworks and has designed several recruitment and retention strategies.
Sabijn has developed a deep understanding of relational and motivational mechanisms which empowers her to discuss 'soft' themes clearly and distinctly. She addresses the really important issues that happen 'below the surface' and is able to translate insights into the day-to-day reality.

Marion Ehmann
Partner, Venturis Consulting Group
[email protected]

Marion Ehmann is a partner at Venturis Consulting Group and has been a member of the German bar for more than 20 years. For the past seven years, she has consulted law firms and legal departments on improving service levels, work processes, efficiency and client focus through, among other things, legal project management and legal design. She is certified as a legal project practitioner by the International Institute of Legal Project Management and as a professional coach by the International Coach Federation. Marion's solid background as a practising lawyer (six years with Clifford Chance in Germany and nine years with leading Swedish law firm Vinge) and as a consultant for lawyers has provided her with a large repertoire of experiences and best practices. She combines thorough market knowledge with a deep understanding of the way lawyers think, work, learn and change.

Peter Gerdemann
Partner, Venturis Consulting Group
[email protected]

Peter Gerdemann joined Venturis Consulting Group as a partner in 2020. For the past 30 years he has been developing and implementing strategic communication and supporting fundamental transformation programmes for professional services firms and B2B clients. He is a specialist in communication, brand and marketing, operating at the intersection of business, science, policy making and society.
Peter consults professional services firms, technology companies and public institutions on technologydriven change, international and integrated communication and brand management. Peter's previous roles include leading marketing and communications at PwC Germany and PwC Europe for five years, and before that, brand and communications at IBM in the German- speaking region for 10 years. Prior to that he was a partner at Brodeur Communications, a communications consulting firm specialising in technology, as well as at Kohtes & Klewes Public Relations, then Germany's leading strategic PR firm. Peter studied Communications, German Language & Literature and Geography (MA) at Westfälische Wilhelms- Universität Münster, Germany.


Rupprecht Graf von Pfeil
Partner, Venturis Consulting Group
[email protected]

Rupprecht Graf von Pfeil is a partner at Venturis Consulting Group. He has been working in the legal industry for nearly 20 years. Rupprecht assists law firms in gaining competitiveness by evolving their business model in rapidly and fundamentally changing markets. His focus is on positioning and strategy, structure and governance, profit distribution systems, and culture and change.
Rupprecht holds a degree in organisational psychology from the University of Neuchâtel, Switzerland. He participated in various further training on group dynamics, social systems and systemic consulting. He is from Germany and speaks fluent English and French.

Leopoldo Hernández Romano
Managing partner, KermaPartners
[email protected]

Leopoldo Hernández Romano primarily advises law firms on strategic planning and implementation, organisational structure transformation projects and partner and attorney compensation schemes, as well as corporate governance issues. For seven years he was the founding partner and director of the firm HernándezRomano Consultores, SC. Prior to this, Leopoldo was the chief operating officer for the Mexican office of one of New York's top 10 law firms. Previously, he worked for more than 12 years in one of the main cotton trading companies in Latin America, having served as secretary of the board and commercial director. Leopoldo is a qualified attorney and holds an MBA. He has served as secretary, deputy coordinator and coordinator of the Commission for the Administration of Law Firms of the Mexican Bar Association. He is an active member of the International Bar Association, and participates in the management committee of law firms in the talent and leadership working group.

Stefanie Hoogklimmer
Partner, Venturis Consulting Group
[email protected]

Stefanie Hoogklimmer has been active in the legal market for 25 years. She advises law firms across Europe and beyond on the development of strategies for sustainable, profitable revenue growth in line with clients' expectations and needs. She assists with embedding a joined up, demand- led business development approach designing organisational structures to support those.
Stefanie combines client and market knowledge, business expertise and a comprehensive understanding of how legal partnerships operate in Germany, Europe and worldwide. She builds on over 20 years of experience at Clifford Chance and Allen & Overy in German and global business development leadership roles advising law firms on expanding their business with existing and new clients. She recommends how to complement best practices with client insight, industry expertise and efficient client relationship management.
Stefanie studied English, Portuguese and economics at the Universities of Heidelberg (Germany) and Coimbra (Portugal). She is German and fluent in English and Portuguese.

Wolf Kahles
Of Counsel, Venturis Consulting Group
[email protected]

Wolf Kahles is an of counsel at Venturis Consulting Group. He has a longstanding expertise in HR- strategy, people and career development, performance management, succession planning and executive education for law firms. Being a trained psychologist, he also offers a profound knowledge in assessment and development- centres and diagnostics. Wolf deals with upward and peer- feedback processes and is very knowledgeable on partner promotion processes, having advised law firm leaders in this matter.
Wolf was director of human resources at Clifford Chance Germany until June 2018. In this role, he was involved in various national and international HR projects (including outsourcing/ e- file/ SLAs). Before he joined Clifford Chance in 2000 he worked as a consultant at PA Consulting and as HR director at KPMG Consulting Germany (which later became Bearing Point). He spent almost another 10 years in the financial sector and chemical industry (Hoechst AG).

Steven Ongenaet
Associate consultant, KermaPartners
[email protected]

Steven Ongenaet is an associate consultant at KermaPartners. His practice has focused on executing business development strategies, strategic marketing, legal marketing, branding and communications. He has special experience in the implementation of customer relationship management (CRM) systems and business development applications in law firms. Steven has more than 10 years' experience in the legal sector, both as an external consultant and in charge of marketing and business development departments in major European firms. He has worked for several firms in Europe and Latin America leading business development strategies and programmes.

Gerard J Tanja
Partner, Venturis Consulting Group
[email protected]

Gerard J Tanja is a partner at Venturis Consulting Group in Amsterdam and Milan. He holds an LLM and PhD in law, and has an MBA from the University of California. Before establishing Venturis, Gerard worked at the University of Leyden, was legal adviser to the minister of foreign affairs and was, before moving to Clifford Chance (World Firm Management Committee), general director of the TMC ASSER Institute for International Law and with one of the leading, global consulting firms.
At Venturis, Gerard specialises in strategy formulation, merger consulting and market entries. He has been involved in a number of international law firm mergers, has assisted several Anglo- American firms with the establishment of their European offices and has undertaken a series of strategic reviews for leading European law firms. In addition, he has been heavily involved in a number of law firm restructurings and governance initiatives and strategy implementation initiatives throughout Europe.

Robert F van Beemen
Partner, Venturis Consulting Group
[email protected]

Robert F van Beemen is a partner at Venturis Consulting Group in Amsterdam. He holds an LLM in corporate law and is also an alumnus of the Rotterdam School of Management, Erasmus University. He started his career as a corporate and restructuring lawyer with a large Dutch Caribbean law firm in Curaçao. In 2009 Robert became involved in the global Lehman Brothers bankruptcy. He was co- responsible for the winding down of the bankruptcy of Lehman Brothers in Curaçao, which included recovering assets and settling creditor claims of over $6 billion.
Robert's main focus within Venturis is advising boutique and national independent law firms in the Benelux regarding market positioning, strategic reviews, (international) strategy formulation, including international referral strategies, and strategic business planning. Robert regularly publishes and speaks about the (international) market developments in the legal sector and the impact on the business model of law firms.