Book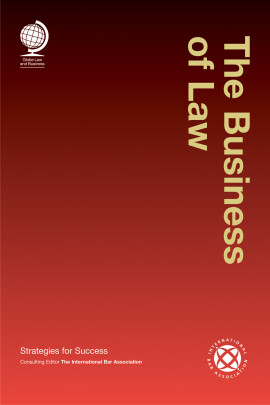 The Business of Law
Strategies for Success
The International Bar Association
Published: 2012
Pages: 173

eBook: 9781787428331
This high-level title, published in conjunction with the International Bar Association (IBA), brings together the expertise of IBA members and experienced practitioners to produce a practical guide to law firm management and building a successful business.
In the current climate, it is vital that practitioners are aware not just of legal developments, but also of how to sell their expertise in a crowded market place.

This high-level title, published in conjunction with the International Bar Association (IBA), brings together the expertise of IBA members and experienced practitioners to produce a practical guide to law firm management and building a successful business.

This title is about contributing to the growth of a firm; since growth means higher profits, and everyone can both contribute to and benefit from this; rather than on law firm management. It is a pragmatic guide rather than an attempt at crystal ball gazing, and examines issues ranging from the impact of the financial crisis on law firms to marketing and PR, the challenge of internationalisation, how to grow a law firm and governance. The book features chapters from leading international practitioners and experts, including Stephen Denyer from Allen & Overy, Professor Carole Silver from Indiana University Maurer School of Law and Sean Twomey from Norton Rose.

The book will be of practical interest to any lawyers who are looking to build their law firm; whether they be managing partners, lead partners in a department or lawyers seeking to build their client base and contribute to the growth of the firm.
Table of Contents
| | | |
| --- | --- | --- |
| Cover | Cover | |
| Title | 1 | |
| Copyright | 2 | |
| Contents | 3 | |
| Preface | 5 | |
| Acknowledgments | 7 | |
| Business models and strategies: the current state of the art | 9 | |
| Strategic challenges for law firms in the 21st century | 25 | |
| The impact of the financial crisis | 43 | |
| Bigger isn't always better | 53 | |
| The many ways to grow a law firm | 63 | |
| Effective PR strategies for the succcessful law firm | 77 | |
| The role of governance and CSR in the success of a legal practice | 89 | |
| Women and the business of law | 101 | |
| Being successful within your jurisdiction | 107 | |
| Building a leading position in a regional firm in Central and Southeastern Europe | 115 | |
| Going global: aligning local and global priorities | 129 | |
| Profitability drivers and financing techniques for law firms | 145 | |
| Building a business: winning clients and adding value to the practice | 155 | |
| About the authors | 169 | |
For anyone starting up a new practice, venturing onto the management side of law or simply interested in contributing more effectively to the growth of their own firm, The Business of Law is an invaluable and highly insightful guide.
Catriona Watt and Ronnie Fox
Communications Officer, IBA Young Lawyers' Committee; Immediate Past Chair, IBA Senior Lawyers' Committee

The book is a compilation of essays by leaders of well-known major law firms and a smaller number of those who advise such firms. The lessons taught are borne out of experience and the book is a highly practical guide.
Frank Maher

This book will inform and inspire those striding from management to leadership; finally it will enable those already in positions to confirm what they are doing is correct and to keep them persevering on the path that they have chosen.
Pippa Blakemore
The PEP Partnership LLP

This publication should be of practical interest to managing partners, heads of departments or lawyers seeking to build their client base and contribute to the growth of their firm.
PLC

It is a pragmatic guide that analyses the impact of the financial crisis and demonstrates that maintaining a solid base built up with marketing and PR can develop the client base and contribute to growth.
The Global Legal Post

Norman Clark
Managing principal, Walker Clark LLC
norman.clark@walkerclark.com

Norman Clark is one of the founders and currently managing principal of Walker Clark LLC, an international legal management consultancy based in the United States.
He advises law firms worldwide on business strategy, partnership structure and governance issues, practice management systems, career management and compensation systems. He is also one of the world's leading authorities on management and marketing for law firms in emerging economies. He has been a full-time business advisor to the legal profession for 18 years.
Mr Clark is a retired member of the Pennsylvania bar. He holds BS, JD, and LLM degrees. He is a past chair of the Law Firm Management Committee of the International Bar Association (IBA). In 2003 he was elected a fellow of the College of Law Practice Management, North America's most prestigious association of senior professionals in legal management.

Stephen RN Denyer
Global markets partner, Allen & Overy LLP
stephen.denyer@allenovery.com

Stephen Denyer is the global markets partner with Allen & Overy (A&O). He is responsible for leading and coordinating A&O's approach to markets in which it does not have an established presence, and for coordinating its relationships with associated firms and with firms in prospective new markets. He is also A&O's global representative at regulatory and professional bodies such as the IBA.
From 2007 to 2009 he was international development partner, a wide-ranging role related to the global development of the firm. From 1997 to 2007 he was regional managing partner for continental Europe. From 2003 to 2006 he was joint managing partner of A&O's Italian offices. From 1990 to 1997 he was the partner in charge of the firm's offices in Central and Eastern Europe. He headed the offices in Warsaw from 1995 to 1997 and in Frankfurt from 1998 to 2000.

Horst Ebhardt
Partner, Wolf Theiss
Horst.Ebhardt@wolftheiss.com

A partner at Wolf Theiss, Horst Ebhardt specialises in cross-border M&A in Central, Eastern & Southeastern Europe. Over the past 10 years, he has advised on some of the region's largest M&A transactions, including the €3.2 billion acquisition of BAWAG PSK by Cerberus and several acquisitions of banks by UniCredit.
Mr Ebhardt's expertise includes public and private M&A, privatisations and restructurings, and he regularly advises companies, financial institutions and private equity funds (and their portfolio companies) on corporate finance and governance. He holds law degrees from the University of Graz and the London School of Economics and Political Science, and teaches an M&A programme at the law school of the University of Vienna. Mr Ebhardt previously served as head of corporate and M&A, and firmwide managing partner at Wolf Theiss.

Neville Eisenberg
Managing partner, Berwin Leighton Paisner LLP
neville.eisenberg@blplaw.com

Neville Eisenberg is the managing partner of City law firm Berwin Leighton Paisner. A corporate lawyer, he joined the firm in 1989, became a partner in 1995 and has been managing partner since 1999. Born and educated in South Africa, he graduated in business and law from the University of the Witwatersrand in Johannesburg before qualifying to practise law in South Africa. He completed a master's in international business law at the London School of Economics in 1988 before re-qualifying as a solicitor.
As a corporate lawyer, he specialises in UK and international mergers and acquisitions, joint ventures, initial public offerings, privatisations and general corporate law.
A regular speaker on topics of law firm management and leadership, Mr Eisenberg has led Berwin Leighton Paisner's transformation into a leading London firm with a growing international presence.

Lord David Gold
Principal, David Gold & Associates LLP
info@davidgoldassociates.com

Lord David Gold is a legal strategist, a mediator and a Conservative working peer. He was also appointed corporate monitor of BAE Systems plc by the US Department of Justice in August 2010. He was formerly head of litigation and then senior partner at Herbert Smith LLP.
Instead of taking the lead in conducting litigation, Lord Gold offers to work alongside the client's existing solicitors to find a solution to the problem as an additional resource to the team. Lord Gold will bring an objective, commercial and fresh view to the problem, including a review of strategy. Lord Gold has a pre-eminent reputation as litigator and is recognised as one of the country's leading litigators by all of the top legal directories. His clients have included many FTSE 100 and leading international companies, major investment banks and high-profile individuals.

Alan Hodgart
Managing director, Huron Consulting Group
ahodgart@huronconsultinggroup.com

Alan Hodgart is recognised as one of the world's leading strategic development advisers to professional services firms. For more than 20 years he has helped clients to improve and sustain their competitiveness by establishing effective strategic management and leadership processes.
He has worked with a wide range of international businesses, from small and midsized firms to some of the world's largest. Mr Hodgart is particularly experienced at converting changes in strategy into steps for practical action, and in helping firms to build commitment to the necessary changes in behaviour. He has deep knowledge of competitive trends in the professional services markets and uses this to help clients reach a genuinely competitive position. Mr Hodgart is the author of Strategies and Practice in Law Firm Mergers. He was awarded a Lifetime Achievement Award by the Managing Partners' Forum for his work with professional services firms.

Bryan Hughes
Chief executive, Eversheds LLP
bryanhughes@eversheds.com

Bryan Hughes is the chief executive of international law firm Eversheds. Having advised the firm's clients on complex commercial litigation disputes for over 20 years, Mr Hughes was appointed UK managing partner in 2006 and chief executive in 2009. His leadership, operational expertise and desire to deliver client service excellence have been key to the continuing global success of the firm.
The dramatic post-recession shift in the relationship between clients and their external legal advisers has meant that in-house counsel and buyers of legal services can demand more from their lawyers in terms of value, efficiency and innovation. Recognising this trend early on, Mr Hughes has overseen the development of predictable pricing, innovative fee solutions and closer working relationships and partnerships with clients. The firm continuously improves its services around its clients' needs, adding commercial value to their businesses.
This forward-thinking approach led to Eversheds being named the Financial Times' Most Innovative Law Firm of 2010-11.

Charles Martin
Partner, Macfarlanes LLP
charles.martin@macfarlanes.com

Charles Martin joined Macfarlanes in 1983 and became a partner in 1990. He works principally in M&A and private equity, acting for sponsors and corporates. Much of his work is cross-border in nature.
The leading directories, including Chambers, rate him among the most highly recommended M&A and private equity lawyers in the United Kingdom.
Clients particulaly look to Mr Martin for strategic counsel and tactical input on a wide variety of legal matters, including M&A negotiations and litigation.
Recent highlights include advising:
+ Brit Insurance NV on a recommended $1.3 billion cash offer by Apollo and CVC;
+ the independent directors of TNK-BP in relation to a proposed transaction with Rosneft;
+ CSN on its offer to acquire Corus for £6 billion; and
+ Goldman Sachs on the E1.2 billion acquisition of and investment in ABN AMRO's UK, Netherlands and Nordic private equity portfolio.

Lynn M McGrade
Partner, Borden Ladner Gervais LLP
lmcgrade@blg.com

Lynn M McGrade is in the Toronto office of Borden Ladner Gervais LLP (BLG), practising in securities and capital markets, with a focus on investment, private, pooled, closed-end and segregated funds, structured products, investment management, adviser/dealer issues and securities law.
Ms McGrade is the Toronto regional coordinator of BLG's investment management group, chair of BLG's business development committee and a member of BLG's women's leadership development committee. She is a director of the National Society of Compliance Professionals (NSCP) and currently chairs the Canadian Committee of NSCP. She is also past chair of Committee I (Investment Companies and Mutual Funds) of the International Bar Association.
Past recognitions in Lexpert magazine include Top 40 Lawyer in Canada under 40 (2002); Top 15 Women Lawyers to Watch in Canada (2003); and Top 40 Corporate Lawyers to Watch (2006) in Lexpert's Guide to the 100 Most Creative Lawyers in Canada.

Robert Millard
Senior strategy manager, Linklaters LLP
robertfmillard@mac.com

Rob Millard is based in Linklaters' London office, with responsibilities worldwide. As part of the firm's strategy and business transformation team he provides business intelligence to the firm's senior leadership, helping them to make strategic decisions. Before joining Linklaters, Mr Millard was a partner for around a decade in a well-known law firm management consultancy.
His primary research interest is the evolution of law firm business models, especially in response to shifts in macroeconomics, globalisation and client demands. He is particularly interested in how this applies in emerging markets.
Mr Millard holds an MBA degree from Henley in England. He currently serves on the Law Firm Management Committee Advisory Board of the IBA, and has previously served on the committee of the Law Practice Management Section of the American Bar Association (ABA).

Philip Rodney
Chairman and partner, Burness LLP
philip.rodney@burness.co.uk

Philip Rodney has been chairman of Burness LLP since 2005.
In this role, he has been responsible for leading the strategy of Burness LLP, one of the most successful commercial law firms in the Scottish market.
He has written and broadcast on legal business, and is currently also chairman of The Glasgow School of Art.

Carole Silver
Professor of law, Indiana University Maurer School of Law
silverc@indiana.edu

Carole Silver is a professor of law at Indiana University Maurer School of Law. She teaches courses on globalisation and the legal profession, corporations, securities regulation, international securities regulation and comparative corporate governance, conflicts of law and the legal profession and ethics.
She has published more than 30 articles and book chapters analysing the global strategies of large law firms, the role of US legal education in the careers of international lawyers, and the relationships between the globalisation of legal services, regulation, legal education and law firm structure.
Professor Silver is also director of the Law School Survey of Student Engagement, which houses the largest national data set on US legal education from the perspective of students. She also is a member of the ABA's Ethics 20/20 Commission and an affiliated scholar of the American Bar Foundation.

Corinne Staves
Senior associate, Maurice Turnor Gardner LLP
corinne.staves@mtgllp.com

Corinne Staves is a senior associate at Maurice Turnor Gardner LLP. As a member of the partnerships, LLPs and commercial trusts practice, she advises on the use of partnerships, limited partnerships and LLPs for professional practices, funds, fund managers, joint ventures and wealth planning vehicles. She has advised international professional firms on structure and governance, mergers and demergers, team and individual partner moves, LLP conversions and regulatory matters. She has also advised and lectured on the uses of partnerships and LLPs in estate and succession planning.
Ms Staves is a member of the Association of Partnership Practitioners.

James Tsolakis
Head of legal services, The Royal Bank of Scotland
James.Tsolakis@rbs.co.uk

James Tsolakis is head of legal services for corporate and institutional banking at The Royal Bank of Scotland. As such, he has a wealth of experience in both the banking and legal sectors. He is a banker to the legal profession with more than 12 years' experience in both London and New York.
In addition to his global responsibilities, Mr Tsolakis supports the legal sector across the United Kingdom. His clients include a number of the United Kingdom's top 100 law firms. He works with product specialists to provide advice and best practices to the legal profession across applicable banking and financial products. Mr Tsolakis supports his clients through his understanding of the legal market, and they value him as a strategic business partner.

Richard Turnor
Partner, Maurice Turnor Gardner LLP
richard.turnor@mtgllp.com

Richard Turnor leads the professional practices group of Maurice Turnor Gardner LLP. This group was established in 2009 by the former professional partnerships team of Allen & Overy LLP, which Mr Turnor also led.
Mr Turnor is ranked as a star individual in the non-contentious partnership table of Chambers & Partners Legal Directory, 2011. Mr Turnor advises professional and other partners, partnerships and LLPs on all aspects of partnership and LLP law and practice, including internal constitutional issues, governance, regulation, international structure, mergers, demergers and disputes.
Mr Turnor has extensive experience of advising LLP fund managers, and of using partnership and LLP structures in a range of commercial contexts, from joint ventures to capital markets structures. He is a former chairman and a member of the Association of Partnership Practitioners. He is also a nonexecutive director of the Royal Marsden NHS Foundation Trust.

Sean Twomey
Head of business development, Asia, Norton Rose (Asia) LLP
sean.twomey@nortonrose.com

Sean Twomey qualified as a solicitor in 1997 and went on to practise with Collins solicitors, a small and leading civil litigation practice in Hertfordshire. As a trainee and then a solicitor at this firm, he worked on a number of high-profile cases that gave him experience of dealing with the media.
Following his exposure to the press, he decided to make the transition from lawyer to PR professional in the legal sector. He joined the PR department of Denton Wilde Sapte in 1999 and subsequently joined Allen & Overy as PR manager for its banking department. After working inhouse for a number of years, he moved to the PR agency Grandfield as account director. At Grandfield he worked with Norton Rose, which was a client, and in 2004 decided to join the legal practice as their head of PR. In 2010 he became head of business development, Asia, for Norton Rose (Asia) LLP. He is currently based in Singapore.

Emma-Jane Weider
Partner, Maurice Turnor Gardner LLP
emma-jane.weider@mtgllp.com

Emma-Jane Weider is a partner in the charity, notfor- profit and philanthropy practice of Maurice Turnor Gardner LLP.
She advises on a wide range of issues, including the powers, duties and liabilities of charity trustees, and investment, funding, taxation and trading issues. She has been particularly active in the past year advising major UK corporates on their relationships with affiliated charitable trusts, and their corporate social responsibility programmes. She also plays a pivotal role in the firm's pro bono legal advice programme. Ms Weider was a key contributor to the firm's response to the Giving Green Paper and has recently led a seminar with Cherie Booth QC about diversity in the professions.
In addition, Ms Weider advises on the creation, administration and taxation of trusts and other asset-holding structures, in both family and commercial contexts.
Ms Weider is a member of the Society of Trust and Estate Practitioners, the Charity Law Association and the European Association for Philanthropy and Giving.