Book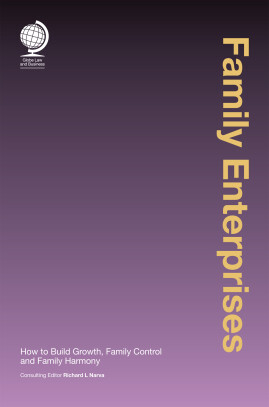 Family Enterprises
How to Build Growth, Family Control and Family Harmony
Published: 2015
Pages: 360

eBook: 9781787420076
This book compiles the wisdom of experienced leaders of family growth companies and those who advise them, focusing on what works to sustain business success without sacrificing family relationships or control. Each of the contributors is grounded in deep management or professional expertise guiding or advising family-controlled enterprises.
Recognition of the power and importance of businesses controlled by family shareholder groups has grown steadily over the past 30 years. Apologies for working in the family business in the 1980s and 1990s have been replaced by public pride on the parts of leaders of family controlled firms for their enduring growth under family control and contributions to all stakeholders in the enterprise.

What has been missing from the business literature is a guide to the processes, structures and interventions that assist family-controlled enterprises to sustain continuity of growth, family control and family harmony. This book compiles the wisdom of experienced leaders of family growth companies and those who advise them, focusing on what works to sustain business success without sacrificing family relationships or control. Each of the contributors is grounded in deep management or professional expertise guiding or advising family-controlled enterprises. And each chapter contains clear, practical advice on how to address issues that challenge family firm leaders and their advisers on a regular basis.

This new book demonstrates to members of family shareholder control groups, their non-family executives and members of the boards of directors, as well as lawyers and other long-term advisers, that there are ways to address the emotionally powerful issues and challenges that are specific to family controlled enterprises. Many of these proven solutions to the special requirements of leading family firms have broad global applications, assisting them to grow, without sacrificing their culture or strategy.

Table of Contents
| | | |
| --- | --- | --- |
| Front Cover | 1 | |
| Title | 2 | |
| Copyright | 3 | |
| Table of contents | 4 | |
| Preface Richard L Narva Narva & Company | 8 | |
| Part I. Understanding the power and constraints of family shareholder control groups | 12 | |
| Entrepreneurship in family firms: re-examining the fascination with success, failure and succession Jennifer Halyk Communications consultant | 12 | |
| Entrepreneurial family businesses and family entrepreneurs: the unsung heroes of entrepreneurial effort Matt Allen Babson College | 20 | |
| The entrepreneurial family revisited Ramona Kay Zachary Baruch College, The City University of New York | 28 | |
| Working with siblings and how to survive them Lucio E Dana Creativity in Business Pty Ltd, trading as Family Business Dynamics Kosmas X Smyrnios RMIT University Australia | 40 | |
| Thriving once thefounder has gone Doug Rauch Conscious Capitalism | 58 | |
| The power of family Shari Wyner Narva Narva & Company | 68 | |
| Consulting with a clinician Adam Narva Psychologist | 76 | |
| Part II. Building human capital to lead family controlled enterprises | 86 | |
| Characteristics of centennial family companies Ernesto J Poza Thunderbird School of Global Management | 86 | |
| Understanding paternalistic leadership of family enterprisesDorothy Nebel de Mello Nebel&Mello Consultores Associados and BI International | 102 | |
| Effective legal representation of family firm clients John L Talvacchia Eckert Seamans Cherin & Mellott, LLC | 116 | |
| This is not your father's HR department Joshua A Narva Sonos Inc | 128 | |
| Challenges facing the executive coach in a family firm Sunny Stout-Rostron Institute of Coaching at McLean Hospital | 132 | |
| Part III. Designing family controlled organisation for growth | 150 | |
| A practitioner's guide to transferring a family business from one generation to the next Frederic J Marx Hemenway & Barnes LLP | 150 | |
| Effective family governance in entrepreneurial families Kathrin Phelan Midgley Phelan Family Enterprises, LLC | 160 | |
| Building for success: better governance today begets a brighter tomorrow Denis Thomas USALCO, LLC | 168 | |
| One family business's governance journey Daniel B Hatzenbuehler E Ritter & Co | 178 | |
| The non-executive chair's role in maintaining and strengthening the cultureof the enterprise Gareth M Ackerman Pick n Pay Stores Limited | 190 | |
| The role of independent directors in family controlled listed enterprises Richard L NarvaNarva & Company | 206 | |
| Part IV. Financing growth and change in family controlled enterprises | 220 | |
| Shareholders' agreements for family-controlled businesses: managing expectations and covering all bases Dara C Bachman Timothy Malloy Michael L Mixell Barley Snyder, LLP | 220 | |
| How the best family business owners optimise their financial adviser relationship David C Linton Bigelow LLC | 238 | |
| Challenges faced by family controlled companies in growing by acquisition Simon Mordant Luminis Partners affiliated with Evercore | 248 | |
| How to manage the successful disposition of a family firm Charles S Fradin Former family business owner and corporate director | 256 | |
| Family enterprises and their real estate Janet B Fierman Sheehan, Phinney, Bass + Green, PA | 266 | |
| Part V | 284 | |
| Afterword Richard L Narva Narva & Company | 284 | |
| About the authors | 286 | |
Gems in this collection make it an excellent companion to the NACD Handbook Series for family business boards.


Allen Bettis
NACD Directorship Magazine

Richard Narva is the gold standard when it comes to insights and advice on the world of family business!

Steve Forbes
Chairman and Editor-in-Chief of Forbes Media

Gareth Ackerman
Chairman, Pick n Pay Stores Limited
gareth@ackerman.co.za

Gareth Ackerman is the chairman of South African retail chain Pick n Pay Stores. As a familycontrolled listed company founded by Raymond Ackerman in 1967, it is one of the region's largest retailers in eight countries and employs more than 60,000 people. Mr Ackerman is a board member of the controlling company board Pick n Pay Holdings Limited, and chairs the family office and investment committee.
He is a member of the board of the Consumer Goods Forum and its vice co-chair for 2013-2015 and incoming co-chair 2015-2017. He is the African chair of the World Presidents Organisation and a global board member. He is also chairman and co-founder of Pleiad Capital, which engages in private equity investment, corporate finance and strategic consulting.
He is a passionate contributor to the issue of global food security and sustainable development and is widely involved in philanthropy.
Mr Ackerman hold a bachelor of social science from the University of Cape Town and a CMS from the University of Oxford. He is an associate fellow at Green Templeton College, Oxford, and lectures at a number of global universities.

Matt Allen
Associate professor, Entrepreneurship Division, faculty director, Institute for Family Entrepreneurship and faculty director, global STEP project, Babson College
mallen4@babson.edu

Matt Allen is an associate professor in the Entrepreneurship Division and faculty director of the Institute for Family Entrepreneurship at Babson College and faculty director of the global STEP project. His expertise is in the effective management of human capital within entrepreneurial environments, especially family enterprises. His research interests focus on the performance implications of leadership and effective management in entrepreneurial organisations. His research has appeared in publications such as Personnel Psychology, Entrepreneurship Theory & Practice and Strategic Organisation. In addition to working with his father (Ray H Allen & Associates) as an accountant and consultant to family businesses and other privately held organisations, he has held positions in corporate finance at IBM and Hewlett-Packard. He teaches entrepreneurship and family entrepreneurship courses at undergraduate and graduate level. In addition, Professor Allen has been involved in executive education programmes across the world with a special interest in Latin America. In addition to programmes in the United States, he has worked with executive students from countries including Argentina and Turkey. He earned his BA from the University of Utah, his MBA from the University of Notre Dame and his PhD from Cornell University.

Dara Bachman
Associate, Barley Snyder
dbachman@barley.com

Dara Bachman is a member of Barley Snyder's taxation and business law groups where she counsels and represents clients on a wide range of tax matters, including those associated with business transactions, tax controversy, advocacy and litigation, legislative and regulatory activities, financing, deferred and executive compensation, tax planning, international taxation, state and local taxation, asset protection, succession planning, foundations and tax-exempt organisation matters. In addition to her work on tax matters, Ms Bachman assists business owners with the creation of entities, including advising her clients on issues related to choice of entity. She also acts as a trusted adviser to clients on issues that arise in their day-to-day business operations. Ms Bachman works with business owners on succession planning by helping to create and carry out a plan to either sell or pass their business on to the next generation.

Lucio E Dana
Managing director, Creativity in Business Pty Ltd trading as Family Business Dynamics
ledana@bigpond.com

Lucio Dana is a specialist family business facilitator and adviser. He is an accredited Family Business Australia adviser and a Margerison McCann Team Management Systems facilitator. He holds degrees in arts and law and has lectured in family and non-family business management subjects at RMIT and Monash Universities in Melbourne, Australia. Mr Dana is the co-author of Family Business Succession Planning – A 10-Step Guide (2000, CPD); Succession Matters – The Australian Family Business Survey (2000); the MGI Australian Family and Private Business Surveys (2006, 2010 and 2013); the MGI (New Zealand) Family and Private Business Survey (2007); and "Family business best practices: Where from and where to?" (2010) Journal of Family Business Strategy, 1(1), 40–53.

Janet B Fierman
Shareholder, Sheehan Phinney Bass + Green PA
jfierman@sheehan.com

Janet Fierman is an equity owner of Sheehan Phinney, a New England-based law firm specialising in privately owned and familycontrolled enterprises. She has degrees in law and international affairs and is a trained mediator. She founded, grew and managed her own law firm for 25 years before merging part of her law business into her present law firm while liquidating her law firm seven years ago.
Throughout her legal career, she has acted as outside general counsel to privately owned and family controlled businesses in many industry areas such as real estate, design, construction, life sciences, biotechnology, manufacturing, marketing and consulting. She has helped many of them to create and implement governance systems tailored to their industry, business, family culture and demographics, and she has helped others reach acceptable solutions without litigation.

Charles S Fradin
Former family business owner and corporate director
cfradin@sirenictrust.com

Charles S Fradin holds degrees in American studies and English, in addition to a master's from the Weatherhead School of Management at Case Western Reserve University.
Mr Fradin is a third-generation business owner and has served as a director of several firms. He has also acted as an external adviser and consultant to other family-controlled business and public foundations in the United States. He has special expertise in the areas of logistics, shared service projects and political business issue advocacy.

Jennifer Halyk
Communications consultant
jenniferhalyk@gmail.com

Jennifer Halyk is a business writer and communications consultant who works for several educational institutions and organisations in Vancouver.
Ms Halyk consults with academic and industry experts to source dynamic content and leading edge topics in the field of family enterprise, family enterprise advising, as well as entrepreneurship and thought leadership. She analyses and synthesises complex research and information, and develops communications materials for organisations looking to provide deep expertise and increased value to their audience.
While at the Sauder School of Business at the University of British Columbia she wrote Research Matters, a series of white papers on academic research in the field of family enterprise. She currently writes various educational and communications materials for the Institute of Family Enterprise Advisers, the first and only comprehensive designation programme for family enterprise advisers in Canada.
She holds degrees in English literature from the University of British Columbia, Vancouver and journalism from Ryerson University, Toronto.

Daniel B Hatzenbuehler
Chairman, E Ritter & Co
dan.hatzenbuehler@eritter.com

Daniel Hatzenbuehler is chairman of the board of E Ritter & Co, a diversified agribusiness and rural communications company located in Northeast Arkansas and West Tennessee in the United States. He holds degrees in history and law and specialised in M&A law before becoming affiliated with the company.
During his tenure, the company has grown significantly through acquisitions of farmland as well as voice, video, high-speed data and statewide fibre networks in northeast and north central Arkansas as well as West Tennessee. In his current role, he is focusing primarily on the development of next-generation family leadership capabilities and opportunities for this fifth-generation family business.

David C Linton
Managing director and senior partner, Bigelow LLC
dlinton@bigelowllc.com

David Linton has dedicated his professional career to serving successful entrepreneur ownermanagers to help to build and ultimately capture the hard-earned enterprise value that they deserve. He is a partner at Bigelow LLC, an M&A advisory boutique exclusively serving successful privately owned, founder-run and multigenerational family-governed businesses throughout North America.
Mr Linton's client engagements have spanned the full spectrum of industry, from service firms in environmental, lead generation and online brand design to distributors of building products and animal health to manufacturers of pharmaceuticals, specialty coffee and technology hardware. Mr Linton has also been a passionate leader of non-profit organisations that are making the world a better place through social enterprise, including FareStart and its national network, Catalyst Kitchens, a leader in providing food service and life skills to the homeless and disadvantaged in 60 cities throughout the United States.

Timothy Malloy
Associate, Barley Snyder
tmalloy@barley.com

Timothy Malloy is a member of Barley Snyder's business and finance and creditors' rights groups. He has experience dealing with a number of business and corporate law matters, including issues regarding corporate governance, corporate income tax, tax planning, tax controversies, income tax accounting and international tax. Within the finance and creditors' rights group, Mr Malloy works on several matters including commercial lending, loan work-outs and general collection matters.

Frederic J Marx
Chair of business law group, Hemenway & Barnes LLP
fmarx@hembar.com

Frederic Marx is a partner at Hemenway & Barnes. Mr Marx concentrates his international family business practice advising clients on continuity planning for the enterprise over multiple generations, establishing family structures that promote diversification of investment by the family and diversification of opportunity for family members, legal issues particular to familyowned enterprises such as balancing the fiduciary duties of maximising shareholder value with the mission and values of the family and advanced structures to provide liquidity as required by the family as well as stability for the enterprise. Mr Marx's clients include firms in the manufacturing, consumer product, technology real estate and biotechnology industries. Mr Marx is a member of the management committee of Hemenway & Barnes and is the founder of its family enterprise group.

Kathrin Midgley
Member, board of directors, PFE

Kathrin Midgley started her career working in non-profit development and capital campaign management. For more than 10 years she has been deeply involved in governance of her family's 60- year-old firm, Taconic Biosciences, Inc. Ms Midgley was chair of her family council for four years and founding chair of the board of directors of her family's holding company. She served for several years on numerous committees of the Taconic corporate board of directors before her recent election as the first member of the third generation of her family to serve as a member of the board of directors. She has lectured frequently on the topic of family governance. In addition to her work with Taconic, Ms Midgley has served as a board member for several non-profit institutions.

Michael L Mixell
Partner, Barley Snyder
mmixell@barley.com

Michael Mixell is a member of Barley Snyder's business, trusts and estates, and finance groups. In his practice he advises a broad range of clients in the areas of corporate succession and estate planning, as well as banking and commercial, corporate, and real estate matters. Mr Mixell represents commercial and non-profit lending institutions in a broad range of financing transactions, including loans financed through the Pennsylvania Industrial Development Authority, the Small Business First Fund and the First Industry Agriculture Loan Programme. Mr Mixell also has extensive experience in estate and trust administration, including the representation of various financial institutions in trust and estate matters. He also represents a number of corporate trustees of special needs trusts, including Orphan's Court matters in connection with special needs trusts and guardianships.

Simon Mordant
Executive Co-Chairman Luminis Partners affiliated with Evercore
simon.mordant@luminispartners.com

Simon Mordant has been advising clients globally for more than 30 years on strategies to enhance long-term shareholder value, including mergers, acquisitions, divestments and capital management. He is Executive Co-Chairman and co founder of Luminis Partners affiliated with Evercore. Previously, he was Vice Chairman and managing director of Greenhill & Co, Inc after co founding Caliburn Partnership and prior to that Australasian co-head of corporate advice at ABN Amro and Barclays de Zoete Wedd.
Mr Mordant chairs the Museum of Contemporary Art Australia and is a board member of the Australian Broadcasting Corporation, MoMA PS1 and Garvan Research Foundation. He is Australian commissioner at the 2015 Venice Biennale. He is also on the Executive Committee of the Tate International Council and on the International Council of the Museum of Modern Art, the Leadership Council of the New Museum in New York, the advisory board of Venetian Heritage, Italy, and the Asian Executive Board of Wharton. He lives in Australia, Italy and New York.

Adam Narva
Psychologist
adamnarva@gmail.com

Adam Narva is a psychologist and a psychoanalyst with a private practice in Boston. He is also a member of the Massachusetts Bar, having practised business law and litigation for a number of years before completing his doctorate in psychology. In his various capacities he has worked with firms, families and individuals. He has also taught and supervised trainees in the Harvard Medical School, where he was clinical instructor in the Department of Psychiatry. Dr Narva earned his AB from Harvard, his JD from the University of Chicago and his PhD in clinical psychology from Boston University. He is also a graduate and a faculty member of the Boston Psychoanalytic Institute. He also works as a clinical adviser with Narva & Company, both in direct service to familycontrolled firms and as a clinical consultant to other advisers.

Joshua A Narva
Global head of recruiting, Sonos, Inc
josh.narva@sonos.com

Joshua Narva oversees global recruiting for Sonos (www.sonos.com), the leading maker of HiFi wireless speakers and audio components. Founded in 2002 and one of the fastest-growing consumer companies in the world, Sonos set out to reinvent home audio for the digital age and to fill every home with music. Sonos now operates in more than 60 countries, in seven languages and through thousands of retailers.
Before joining Sonos, Mr Narva was vice president of people at MarkLogic (www.marklogic.com). Backed by Sequoia Capital, Marklogic is one of the leaders in the Enterprise NoSQL database market. Mr Narva was one of the MarkLogic's first 10 employees and helped to grow the company to more than 300 employees and more than $100 million in revenue. Previously Mr Narva ran recruiting at another Sequoia investment and was an associate in the global technology practice at Heidrick & Struggles, one of the world's pre-eminent executive search firms.

Richard L Narva
Founder and senior adviser, Narva & Company
rnarva@narvaandcompany.com

Richard Narva leads a multidisciplinary team of advisers helping family-controlled enterprises to preserve their values and vision while addressing organisational, strategic, governance and human capital issues. He has been a member of the Massachusetts Bar since 1975 and practised corporate law, specialising in mergers and acquisitions, before succeeding his father as president of Morton Shoe Companies, Inc, becoming the third generation in his family to head the American Stock Exchange-listed firm founded by his grandfather in 1921.
He is the author and editor of numerous publications on the general theme of improving governance of family-controlled enterprises. He presents frequently at international conferences and has consulted to dozens of universities and written on the subject of university based family business programmes. Mr Narva has been elected to the boards of directors of both public and private family-controlled businesses and currently serves on the councils of advisers of several familycontrolled companies and as a trustee of a trust for the benefit of the family shareholder group that controls a global retail company. Mr Narva earned his AB from Brown University and his JD from Boston University School of Law.

Shari Wyner Narva
Senior clinical adviser, Narva & Company
snarva@narvaandcompany.com

Shari Wyner Narva has worked for more than 30 years with families as an adviser, consultant and psychotherapist. She specialises in assisting families to engage in the difficult conversations that prevent progress by creating a safe and effective forum for family dialogue and a coherent family narrative that incorporates the past and honors their legacy for the future.
Ms Wyner Narva has presented to many university-based family business programmes, foundations, law firms and other professional firms on these subjects. Her previous professional experience includes private practice in psychotherapy, teaching and clinical supervision. Ms Wyner Narva received a BS from Cornell University in human development and family studies and earned an MSW at the Smith College School for Social Work. She also volunteers as a hospital clown.

Dorothy Nebel de Mello
Partner, Nebel&Mello Consultores Associados and BI International
dorothy@nebel.com.br

Dorothy Nebel de Mello is a partner at Nebel&Mello, a consulting firm, and BI International, an international business school, both in Sao Paulo, Brazil. She specialises in consultation to family businesses, helping them to build family and corporate governance, preparation of the new generation, communication and family relations for more than 30 years. She helped in the creation and development of BI and is responsible for its international department. She developed international partnerships and programmes with schools like Berkeley, Columbia, Johns Hopkins and Babson, where she also teaches corporate governance in the international development programme. She holds a PhD and a master's degree from the University of Chicago.
She is a fellow of the Family Firm Institute and a former board member. She has also been a board member of Brazilian family businesses. She has written many articles and chapters in books on family business published in Brazil, Europe and the United States.

Ernesto J Poza
Clinical professor of global entrepreneurship and family enterprise at Thunderbird's School of Global Management
ernesto.poza@thunderbird.edu

Ernesto J Poza (BS Yale University; MBA, Sloan School of Management, Massachusetts Institute of Technology) is an internationally recognised, toprated speaker and consultant to family-controlled and family-owned businesses. He is clinical professor of global entrepreneurship and family enterprise at Thunderbird's School of Global Management. His work on governance, family entrepreneurship and succession has been featured on CNN, NBC, NPR, The New York Times and The Wall Street Journal.
Mr Poza has advised companies globally in strategic renewal, succession and governance. Firms served include Mars, Chiquita, EW Scripps, Simpson Investments, Vitamix, Femsa, Gonzalez Byass and Almirall.
Mr Poza won the Family Firm Institute's Richard Beckhard Practice Award in 1996 and its International Award in 2010. He is the co-author of Governing Family Enterprises (2014, Macmillan), Family Business, 4th edition, (2013, Cengage), and author of Family Business (2004, 2007, 2010).

Doug Rauch
Chief executive officer, Conscious Capitalism
drauch@consciouscapitalism.org

Doug Rauch spent 31 years with Trader Joe's Company, the last 14 years as a president, helping to grow the business from a small chain in Southern California to a nationally acclaimed retail success story. He developed their prized buying philosophy, created their unique private label food programme and wrote and executed the business plan for expanding Trader Joe's nationally. He worked directly with the founder, Joe Coulombe, for 12 years before Joe left the company. Mr Rauch retired from Trader Joe's in 2008. He was a senior fellow at the Harvard University Advance Leadership Initiative, where he focused on the challenges of hunger and obesity. He is the founder/president of Daily Table, a unique retail concept designed to bring affordable nutrition to the underserved in our cities.

Sunny Stout-Rostron
Founding fellow, Institute of Coaching at McLean Hospital, a Harvard Medical School Affiliate
sunny@ssra.biz

Sunny Stout-Rostron is an executive coach and consultant, with a wide range of experience in leadership and management development, business strategy and executive coaching. With over 25 years' international experience as an executive coach, Dr Stout-Rostron has played a leading role in building the emerging profession of coaching.
She is executive director of Sunny Stout- Rostron Associates CC; a founding fellow at the Institute of Coaching at McLean Hospital, a Harvard Medical School affiliate; an advisory board director with the Professional Development Foundation UK; and founding president of Coaches and Mentors of South Africa. Dr Stout-Rostron has worked for more than 10 years with a variety of family-controlled firms, both large and small. Her books include Leadership Coaching for Results: Cutting Edge Practices for Coach and Client (Knowres, 2014), Business Coaching International: Transforming Individuals and Organizations (Karnac, 2009/2013) and Business Coaching Wisdom and Practice: Unlocking the Secrets of Business Coaching (Knowres, 2009/2012).

Kosmas X Smyrnios
Professor, RMIT University Australia
kosmas.smyrnios@rmit.edu.au

Kosmas Smyrnios is professor of family business entrepreneurship, School of Management RMIT University. He was a founding associate editor of the Journal of Family Business Strategy, a former associate editor of the Family Business Review Journal and a former founding board member of the International Family Enterprise Research Academy.
Professor Smyrnios has developed an extensive applied research record with more than 150 international and national refereed publications in different disciplines, including marketing, psychology, family therapy, physics, management, and accounting. He has established international credentials in family business, having been involved in a number of prominent national and international research projects. Professor Smyrnios has undertaken a number of research consultancy projects for prominent multinational corporations, including AXA, the Commonwealth Bank, MGi Australasia, Price Waterhouse Coopers, BDO Chartered Accountants and Family Business Australia. Professor Smyrnios is also frequently called on to provide expert media commentary on pertinent matters relating to family business and entrepreneurship.

John L Talvacchia
Member, Eckert Seamans Cherin & Mellott LLC
jtalvacchia@eckertseamans.com

John Talvacchia is a corporate lawyer and member of Eckert Seamans Cherin & Mellott LLC in Boston. He counsels and directs legal services, both domestically and internationally, for a diverse client base of public and private business entities. He is a skilled manager serving as outside general counsel to many businesses.
Mr Talvacchia represents businesses in a variety of verticals including manufacturers, retailers and service providers in industries such as technology, land use, banking and broadcasting. He counsels on issues ranging from the organisation, acquisition, sale and financing of commercial enterprises, to regulatory compliance, employment, contract and real estate matters.
Mr Talvacchia also represents entities expanding operations into the United States, as well as entities expatriating to other countries addressing organizational, tariff, tax and human resource management issues. He frequently assists clients with contract matters in Europe, the Americas and throughout the Pacific Rim.

Denis Thomas
Non-executive chairman, USALCO, LLC
golfden@aol.com

Denis Thomas is the non-executive chairman of a privately held growth company and an adviser to other similar enterprises. He was awarded master's and doctoral degrees by Harvard Business School and served on the faculties of the graduate business schools of both Harvard and London Universities. Dr Thomas is the former chief executive officer of two, substantial, familycontrolled businesses, one with operations in seven countries.
He has been a consultant and adviser for family-owned and managed businesses in a wide variety of industries and countries for more than 25 years, specialising in the areas of corporate strategy, marketing, organisational development and human resources. He has also advised business schools offering postgraduate degree and executive programmes on several continents. Among his present assignments he is a member of the board of directors of a nationally ranked hospital and chairman of its planning committee.

Ramona Kay Zachary
Professor, Baruch College, The City University of New York
ramona.zachary@baruch.cuny.edu

Ramona K Zachary is the academic director of the Lawrence N Field Programme and the Peter S Jonas distinguished professor of entrepreneurship in the Department of Management of the Zicklin School of Business at Baruch College, The City University of New York.
Professor Zachary teaches and conducts research about the owning family's internal social and economic dynamics, the effects of the family on the family business viability over time and gender issues. She has published numerous articles and edited two books on family business; she also recently authored a new book with Dr Chandra S Mishra titled The Theory of Entrepreneurship: Creating and Sustaining Entrepreneurial Value, which exlpores the effects of the owning family on new and continuing ventures.
Currently, Dr Zachary serves as a co-editor of the new Entrepreneurship Research Journal published by De Gruyter. She received her PhD from Purdue University and is a member of the International Family Enterprise Research Academy. She also serves on its board as the director of research and publications.