Book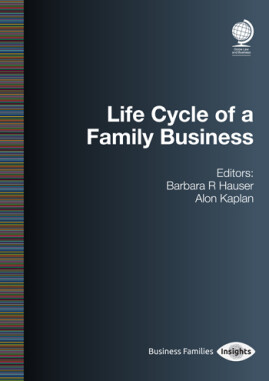 Life Cycle of a Family Business
Published: 2020
Pages: 151

eBook: 9781787424081
This Special Report is a one-stop collection bringing together a distinguished team of international contributors, each an expert in their respective field with a global reputation, to cover the entire life cycle of a family business.
The 'life cycle' of a family business is a fascinating process. Beginning with the initial entrepreneur starting the business, it encompasses the development of the business to success, involvement of family members in the business, estate planning, preparation for integration of the next generation, creating a family constitution to regulate relationships among family members, and creating a family trust when appropriate. The completion of the cycle then gives the option of continuing - to potentially become one of the one-hundred-year businesses.

This Special Report is a one-stop collection bringing together a distinguished team of international contributors, each an expert in their respective field with a global reputation, to cover the entire life cycle of a family business. It provides guidance on many of the key issues encountered including governance issues, protecting the family business assets, fostering entrepreneurship and succession planning.

Life Cycle of Family Business is a unique source of knowledge for family businesses and professionals working in this specialist field. In this very readable single volume - edited by Barbara R Hauser and Alon Kaplan - those involved in family businesses can benefit from its expert guidance, at any stage of the life cycle.

Table of Contents
| | | |
| --- | --- | --- |
| Cover | Cover | |
| Title Page | 1 | |
| Copyright Page | 2 | |
| Table of Contents | 3 | |
| Foreword | 5 | |
| Preface | 11 | |
| Stage I: The same but different – enterprise heterogeneity | 13 | |
| Stage II: The delicate family issues | 29 | |
| Stage III: Creating a board for continuity and growth | 45 | |
| Stage IV: Risk management in family enterprise expansion | 59 | |
| Stage V: Protection of the family business assets on divorce | 77 | |
| Stage VI: Entrepreneurship in the family business | 93 | |
| Stage VII: Leadership succession in family firms | 109 | |
| Stage VIII: Beyond the third generation | 131 | |
| About the authors | 145 | |
| About Globe Law and Business | 151 | |
Life Cycle of a Family Business is like a wonderful Gem; nine Contributors look at Family Businesses from eight different angles and stages. Each one from the Prism of their own expertise. Together this becomes a Diamond, condensed, shining and precious.

In the 1st Stage (The three circle paradigm prism) we learn about the uniqueness of a family business which is owned (and run) by a heterogenic group of people which are related by blood, but otherwise might be very different. This needs a "Stewardship" mind as well as a firm framework and a lot of planning; actually a few plans which are interdependent.

In the 2nd Stage (The family relationship prism) we learn about the emotional side of the family business and how good communication, gratitude, expressed love, common family vision and to make room for togetherness as well as individualism is important. Multidisciplinary approach for all people involved with the family is key. The chapter ends with this important statement: "This multidisciplinary approach can produce successful outcomes when everyone – family members, business stakeholders and advisers – is working in harmony for the good of all. In fact, that is what much of this book is about."

Stage 3 is all about Challenges and Boards (The structural prism). We all know that a good governance and board makes all the difference. A good board does not happen automatically. This chapter introduces the process of how to build and advance an effective board. It does not happen overnight, but happens in stages. Through examples we get introduced to various designs of boards.

What about Risk? In this chapter (Stage 4; The risk prism) the author talks about four main Risk categories, in particular Risk appetite, Risk attitude, Risk strategy and Risk management in the environment of a family business. In these days of "black swans" it is crucial for family businesses to have forward-looking, multifaceted systems of risk management in place.

Stage 5 looks at another risk; the risk of family feuds and divorces (The family feud prism). The damage such an event could do to the family business should not be underestimated. Lots of challenges to prepare for this unexpected and unfortunate risk. Family Courts very frequently drag the business into the divorce negotiations. A situation one should avoid. What happens in the divorce has also long-term effects on the family business and its next generation of leaders. Every stakeholder in the family business is exposed. This chapter shows actual court cases to describe the traps and pitfalls one should be aware of when the 'black swan' happens in the family and not in the business.

The 6th Stage touches on the uniqueness of a family business – (The longevity prism). If you are the steward of your family business you can and should plan for longevity, 50 to 100 years at least. You are not "in it" for the fast buck, but manage your business in an entrepreneurial spirit, also as successor generation. Relying on the past is not good enough. One needs entrepreneurialism and intrapreneurialism. Also an established business needs to reignite and rediscover the entrepreneurship the founding generation had in the first place, when all the business success was only a dream.

In the 7th Stage (The advisor prism) we learn that not every family member is suited to be the successor to the business leadership or to have any role beyond being a shareholder. The selection process needs thorough preparation by an advisor and the decision process inside the family business needs to be well designed. Often there are no structures in place when the advisor is hired and the process includes also ignoring the obvious and rather than finding the correct structure from "out of the box" thinking. First the advisor needs to get to know the family and its values, before the process of successor finding can even start.

The 8th Stage is about the 100-year families (The 100-year prism), the ones that make "it" beyond the third generation; the exception. Of course the success beyond the 3rd Generation depends on the result of the choices the first and second took. Cooperation and collaboration has to be trained and governance, which becomes relevant in the 3rd Generation, has to be initiated. The business will look different from the initial business. Change is inevitable; in the business and in the family. "Generative families see themselves as being on a journey, continually reinventing themselves […]". Transformations come in various ways: Harvesting, Pruning, Diversifying and Grounding. The author explains these transformations. Without cultivating and strengthening the family relationships the family will not succeed to transition beyond the third generation. "The family enterprise rests on twin pillars, separate and independent: the family and the enterprise."

This book manages to touch all the important facets and tools that make a family business the long-lasting and special place where the family can flourish and be a role model for generations to come. Every Next Gen of a business family needs to read this book BEFORE joining the family business.

Philippe J. Weil

Practitioners as well as families owning a family business will benefit from this book as it fills a prevalent vacuum in addressing and advising on vital family and business related questions, questions that are crucial to sustaining any family business… The holistic discussion and the detail with which the reader is familiarized will certainly stimulate further thought and develop a greater understanding of the workings of family businesses worldwide. As such the book is also an ideal starting point with a view to any corporate structuring for international families, both in the pre- as well as the later structuring phases.
Dr. Johanna Niegel, LL.M., LL.M., TEP

This Special Report on the Life Cycle of a Family Business offers vital insights for a business owner to help "keep the business in the family" while "keeping the family in the business" and the business alive, adaptive and competitive. With chapters on key phases in the business and family lifecycles, it delivers a cogent framework for designing (and continuously redesigning), managing, building and transmitting a business across multiple generations. It guides founders, their families, non-family executives and professional advisors.
William B Bierce

The book sets out a framework and best practices for identifying, separating, harmonizing and optimizing the potentially conflicting roles of the business operator, business owner and family members across predictable scenarios. It is a one-stop collection bringing together international contributors.
Tom Burroughes

Allen Bettis
President, Legacy Associates LLC
allen.bettis@legacyassociates.com

Dr Allen Bettis is a recognised expert in family business governance. He has advised boards and family owners of large, multi-generational family companies around the US and in Latin America and is a frequent speaker at family business conferences. He is the author of The Family Business Board Directors Handbook, Volume 2, published by the National Association of Corporate Directors. He is an active member in the NACD, where he was recognised as a board leadership fellow, and of the Family Firm Institute, where he earned fellowship recognition in family business advising and family wealth advising. He earned a doctorate in counselling psychology from Emory University, Atlanta. Allen lives in Minneapolis.

Justin B Craig
Professor of entrepreneurship and family enterprise, Bond University Visiting professor of family enterprise and programme director, Kellogg School of Management, Northwestern University
justin.craig@kellogg.northwestern.edu

Dr Justin Craig has worked in, on, with and for family enterprises since he was eleven. In addition to positions at Bond University, where he is a full professor of entrepreneurship and family enterprise, he has held faculty positions at Oregon State University, Northeastern University in Boston, and the Kellogg School of Management at Northwestern University (where he holds a visiting professorship). He has codirected the Australian Centre for Family Business at Bond University (with Professor Ken Moores) and the Centre for Family Enterprises at Northwestern University's Kellogg School of Management (with Professor John Ward). Justin has authored 50 peer-reviewed academic publications, numerous book chapters and teaching cases, and has co-edited several books, all aimed at better understanding the challenges of business-owning families across the globe. Justin works closely with family business leaders, their consultants and advisers, and trains and presents to members of enterprising families worldwide.

Claire Gordon
Partner, Farrer & Co
claire.gordon@farrer.co.uk

Claire Gordon is a partner in the Farrer & Co family and divorce team. With over two decades of specialist family law experience and practice, she has a stellar reputation amongst her clients and peers for working on the most complex and high value cases, with an outstanding client focus. Clients are inspired by Claire's "incredible grasp of the complexities and subtleties" of their matters and her holistic approach. Claire's client base is diverse and her cases often involve assets well over £100 million.
Claire acts for entrepreneurs, professionals, private equity individuals, the international elite and those with substantial generational wealth in helping to resolve family disputes.
Claire's fellowship of the International Academy of Family Lawyers reflects her vast international experience, with a substantial portion of her practice involving jurisdictions from all around the world, requiring international collaboration. Claire has also developed a particularly notable reputation for her work on high value internationally complex pre- and post-nuptial agreements.
She has been recommended in legal directories for many years.

Barbara R Hauser
Independent family adviser
brhauser@aol.com

Barbara Hauser, JD has worked with family businesses her entire legal career, dealing with international family clients' concerns in the fields of international estate planning and family wealth. A new edition (with Melissa Langa) of her book on international estate planning has been released, and her co-authored book (with Suzan Peterfriend), Mommy, are we Rich? has had multiple printings. With Globe Law and Business she has been an editor of Trusts in Prime Jurisdictions (with Alon Kaplan), Family Offices: The STEP Handbook for Advisers, Setting up a Family Office (with Keith Drewery), Advising the Wealthy Client: A Handbook for Working with the Ultra Wealthy, and now Life Cycle of a Family Business (with Alon Kaplan). After the University of Pennsylvania law school she had the honour of clerking at the US Supreme Court. Barbara is editor-in-chief of the quarterly The International Family Offices Journal.

Thomas M Hubler
President, Hubler For Business Families, Inc
tomh@thehublergroup.com

Tom Hubler is president of Hubler For Business Families, Inc and a founding member of FFI. He integrates the notion of spirit and work with family businesses. Tom's consulting practice focuses on succession planning, leadership development, managing conflict and board development. In addition to consulting, he has served as a professional in residence at the University of St Thomas in Minneapolis, where he was on the advisory board for the Center for Family Enterprise and co-taught the family business management class for ten years. In addition, Tom served as a member of the editorial board for the Family Business Review.
Tom has authored numerous articles on success strategies for familyowned businesses and recently authored the book, The Soul of Family Business: A Practical Guide to Family Business Success and a Loving Family. He is the founder of the Minnesota Family Business Awards, now in its 13th year.

Dennis T Jaffe
Research associate, Wise Counsel Research
djaffe@dennisjaffe.com

Dr Dennis Jaffe is a San Francisco-based adviser to families on family business, governance, wealth and philanthropy. He is the author of Borrowed from Your Grandchildren: The Evolution of 100-Year Family Enterprises; Cross Cultures: How Global Families Negotiate Change
Across Generations; Stewardship in your Family Enterprise: Developing Responsible Family Leadership Across Generations; and Working With the Ones You Love. His global insights have led to teaching or consulting engagements in Asia, Europe, the Middle East and Latin America. The Family Firm Institute awarded him the 2017 International Award for service, and in 2005 he received the Beckhard Award for service to the field. In 2020 he was given a special commendation as an individual thought leader in the field of wealth management by the Family Wealth Report. He has a BA degree in philosophy, an MA in management and a PhD in sociology, all from Yale University, and is professor emeritus of organisational systems and psychology at Saybrook University in San Francisco.

Alon Kaplan
Founder and managing partner, Alon Kaplan Advocate & Notary
alon@alonkaplan-law.com

Alon Kaplan was admitted to the Israel Bar in 1970 and appointed a notary in 1989. He was admitted to the New York Bar in 1990 and became a member of the Frankfurt Bar in 2010. He was one of the founders of STEP Israel and currently serves as its president. He is an academic coordinator and lecturer on the STEP diploma programme. He was also an adjunct lecturer at the law faculty of Tel Aviv University and lectured on its LLM programme.
Alon is an academician of the International Academy of Estate and Trust Law and of the American College of Trust and Estate Counsel, and has advised the Israeli Tax Authority on trust legislation. He obtained a PhD from Zurich University in 2014. His doctoral dissertation was entitled "Trusts in Israel: Development and Current Practice".

Wendy Sage-Hayward
Partner, family estate winery, Southern Gulf Islands, Canada Senior consultant, The Family Business Consulting Group Adjunct professor, University of British Columbia, Sauder School of Business
wsagehayward@gmail.com

As educator, author and family business owner, Wendy Sage-Hayward brings 30+ years of experience to her work with business leaders, family firms and their boards. She is an adjunct professor at the University of British Columbia's Sauder School of Business and a lead instructor and adjudicator for the Family Enterprise Exchange. Wendy was a fifth-generation member and director of a 135-year-old US family firm for 20+ years. She currently owns and operates an agricultural tourism business with her family in the Southern Gulf Islands.
Wendy is co-author of the book Human Resources in Family Business: Maximizing the Power of Your People, a definitive work on matters related to HR in family firms. Her background in family business ownership and governance motivated Wendy to dedicate her career to serving the needs of business families who are passionate about operating and transitioning their enterprise to future generations.

Christian Stewart
Managing director, Family Legacy Asia (HK) Limited
cstewart@familylegacyasia.com

Christian Stewart is the founder of Family Legacy Asia, a process consulting firm based in Hong Kong. He assists family enterprises around Asia with family governance, succession and family learning and development.
Christian originally qualified and practised as a solicitor in South Australia from 1990 to 1994. He moved to Hong Kong in 1994, joining PricewaterhouseCoopers and becoming a partner and head of their trust and private client group. In July 2002 he joined JPMorgan Private Bank to head the bank's wealth advisory team for Asia. He left JPMorgan and founded Family Legacy Asia in July 2008, to provide independent advice to Asian families on family governance and succession issues. In May 2016 he also became an associate with Wise Counsel Research, a non-profit think tank and boutique consultancy based in Massachusetts and focusing on matters of wealth and philanthropy.

Daisy Tarnowska
Associate, Farrer & Co
daisy.tarnowska@farrer.co.uk

Daisy Tarnowska is an associate in the Farrer & Co family and divorce team with an equal practice in both financial and children matters. She works on a broad range of complex private family law matters, both contentious and non-contentious. These include resolving complex financial issues following marital or relationship breakdown, disputes relating to children, pre- and post-nuptial agreements and co-habitation disputes. Daisy acts for a wide variety of clients including bankers and other professionals, celebrities, landowners, entrepreneurs and homemakers, with an equal balance of men and women.
Daisy has particular experience in working on complex financial cases that involve issues covering trusts, companies and tax with an international element. Her practice also covers private law children matters such as residence, contact and international relocation cases. Daisy has extensive experience of litigation but is also committed to achieving solutions outside of the court setting where appropriate and possible.

Peter Vogel
Professor of family business and entrepreneurship Director, IMD Global Family Business Center Debiopharm chair for family philanthropy, IMD Business School
peter.vogel@imd.org

Peter Vogel is professor of family business and entrepreneurship and holder of the Debiopharm chair for family philanthropy at IMD Business School in Lausanne. He is also the director of IMD Global Family Business Center.
Peter works with families, owners, board members and executive teams of family enterprises and family offices globally. The focus of his work is around major organisational and governance transformations. Peter has published in academic journals, authored books and is frequently referenced by leading newspapers and other media outlets around the world. He is a sought-after keynote speaker at global conferences.
Peter is the founder and chairman of the Delta Venture Partners AG and is an associate partner of the Cambridge Family Enterprise Group. He is featured in the Top 100 Family Influencers globally by Family Capital.