Book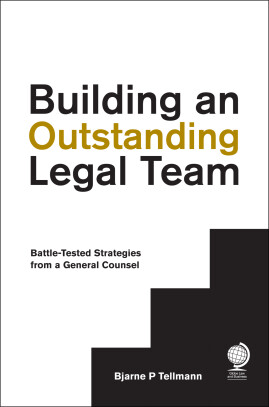 Building an Outstanding Legal Team
Battle-Tested Strategies from a General Counsel 
Published: 2017
Pages: 347

eBook: 9781787420724
In this practical "how to" guide, Bjarne P Tellmann, General Counsel and SVP of Pearson, draws upon more than 20 years of leading top legal organisations across Europe, Asia and the United States to provide a structured plan for upgrading your legal team in an age of disruption.
In this practical "how to" guide, Bjarne P Tellmann, General Counsel draws upon more than 20 years of leading top legal organisations to provide a structured plan for upgrading your legal team in an age of disruption.

The challenge: In an era of exponential change, the role of the general counsel (GC) has become one of the most complex, intense and challenging in the corporate world. GCs, must lead, unify and inspire diverse groups of people across the globe with subtlety and diplomacy. The stakes have never been higher and the consequences of getting it wrong can be existential. GCs must react to these challenges with ever-fewer resources and at a time when the legal profession itself is undergoing disruption.

The response: To succeed in this "new normal", GCs must become their own chief executives. They must lead, communicate, inspire, build cultures, manage talent, formulate and execute strategies, ensure efficacy, anticipate and manage risk and manage quality control – all in addition to being top-notch lawyers. This book gives GCs the battle plan they need to get there in three parts.
Table of Contents
| | | |
| --- | --- | --- |
| Front cover | 1 | |
| Title | 2 | |
| Copyright | 5 | |
| Table of contents | 10 | |
| Foreword | 14 | |
| Acknowledgements | 16 | |
| About the author | 20 | |
| Part A: Setting the scene | 22 | |
| Introduction | 24 | |
| The changing context | 32 | |
| Part B: The hardware | 52 | |
| Talent and risk assessments | 54 | |
| Designing an integrated team structure | 82 | |
| Law firms | 112 | |
| Alternative legal services providers | 140 | |
| Selecting the right partners | 156 | |
| Technology | 182 | |
| Part C: The software | 204 | |
| Culture | 206 | |
| The generational context and the rise of the millennials | 236 | |
| Leadership skills | 254 | |
| Part D: Critical threads | 284 | |
| Change management | 286 | |
| Strategic direction | 304 | |
| Part E: Conclusion | 318 | |
| Concluding remarks | 320 | |
| Chapter notes | 324 | |
| Further reference material | 338 | |
| Index | 350 | |
Bjarne Tellmann's book is brimming with important ideas about skills and techniques needed to be an outstanding general counsel
Ben W Heineman, Jr
Former GE General Counsel, Senior Fellow at Harvard Law School and author of The Inside Counsel Revolution

As a General Counsel who has led legal department transformations in three public companies, I can assure you that Bjarne Tellmann's practical yet sophisticated battle plan has been designed to help General Counsels achieve superior performance in almost any situation. The book is articulate, easy to follow and highly instructive and a road map for new and established General Counsels to create world class premier performing legal departments.
Bobby Katz
Executive Vice President, General Counsel and Corporate Secretary, Jabil Circuit, Inc

Bjarne Tellmann has written a deeply practical book about the challenges facing the modern general counsel. Based on his own extensive experience, the book is filled with insights that both experienced and novice GCs can immediately use to build a world-class legal department.
David B Wilkins
Lester Kissel Professor of Law, Vice Dean for Global Initiatives on the Legal Profession, Faculty Director of the Center on The Legal Profession, Harvard Law School

Bjarne Tellmann's novel approach centres on identifying and managing core legal risk, while building an innovative, connected and future-oriented team. This book is required reading for any CEO who wants to understand what the legal department should be doing.
Glen Moreno
Chairman of Virgin Money Holdings (UK) plc, former Chairman of Pearson plc, UK Financial Investments Limited and former Chief Executive Officer of Fidelity International Ltd

Tellmann's book will help outside counsel understand the multifaceted roles the GC serves and the types of support needed from their outside counsel. It underscores the critical need for law firms to serve as strategic partners, providing a deep and concentrated level of specialised legal expertise that is tailored to and aligned with business needs.
Jami Wintz-McKeon
Chair, Morgan, Lewis & Bockius LLP

A powerful and practical analysis that illustrates the complex challenges that today's general counsel face. Bjarne Tellmann's innovative book provides cutting-edge tools for in-house leaders, while giving law firm and business partners alike a deeper understanding of what excellence looks like for a modern legal department.
Jan Gustavsson
General Counsel, Company Secretary and Director of Strategic Development, Coca-Cola HBC AG

Building an Outstanding Legal Team is both accessible and actionable. Bjarne Tellmann has written a book that will be immensely useful for general counsel and business leaders alike. Tellmann lays out a path-breaking model that will help general counsel accelerate the performance of their teams at a time of disruption and change.
Kevin Michaels
Managing Director, AeroDynamic Advisory

This book is a must-read for both current and aspiring general counsel and the law firms that represent them. It highlights real-world topics that can make or break a GC and provides practical, thoughtful and innovative advice on how to successfully handle them. Bjarne Tellmann has made a significant contribution to the profession as he discusses, with great insight, the multifaceted role of today's general counsel.
Louise M Parent
Former General Counsel and Executive Vice President of American Express and Of Counsel, Cleary Gottlieb

The insights and enduring principles contained in this book are applicable to law firm and general counsel leadership. It is a guide to navigating both types of organisation and maximising the outputs from the firm or the company.
Mark Rigotti
Joint CEO, Herbert Smith Freehills LLP

Every in-house lawyer must have this essential playbook on his or her desk which combines decades of experience into an incredibly useful and practical read on the role of the modern General Counsel in today's world. This book is my bible.
Rachel Barnett
General Counsel, Travelzoo

How is the innovation revolution changing the legal profession? What do successful General Counsel and T-shaped individuals have in common? Why will change management play a critical role in your team's success? A trailblazer and a recognised change agent in the corporate legal industry, Bjarne Tellmann brings decades of in-house and law firm experience to dissect these and other questions central to building and running outstanding legal teams. His new book is a must-read for any forward-thinking legal industry professional.
Robert S Insolia
Managing Partner, Goodwin Procter LLP

Building an Outstanding Legal Team offers a fresh perspective from the front lines of the in-house counsel revolution. Arising out of Bjarne Tellmann's deep experience and passion for building effective legal teams, this book is an invaluable resource for anyone involved in the critical mission of preparing the next generation of corporate counsel leaders.

That mission is critical and this book is crucial because in an increasingly complex global economy, we need a new framework for corporate counsel leadership and legal teams to empower in-house lawyers to help their businesses to create long-term value through both creativity AND integrity, finding common ground at the intersection of strong corporate values and cutting edge strategy.
Scott Westfahl
Professor of Practice and Faculty Director of Executive Education, Harvard Law School

The curriculum of top law schools does well to prepare our graduates for high-level work at private firms, in the government, or in public interest law. Only recently have we begun to focus on the particular organisational, economic and leadership issues faced by general counsel at major institutions. Bjarne Tellmann's new book is a comprehensive treatment of those issues that in-house lawyer/leaders deal with each week, and as such will be welcome reading for law students, and lawyers of any age or seniority level.
Theodore W Ruger
Dean and Bernard G Segal Professor of Law, University of Pennsylvania Law School

Bjarne Philip Tellmann is General Counsel and Chief Legal Officer of Pearson plc and a member of its Executive Committee. A FTSE 100 company with over 30,000 employees in more than 70 countries, Pearson provides a range of education products and services to institutions, governments and individual learners. At Pearson, Bjarne leads a legal team of 170 people across six continents. He previously worked across Europe, Asia and the United States in various capacities with Coca-Cola, most recently as associate general counsel of The Coca- Cola Company. He has also held various legal positions at Kimberly-Clark and the law firms of Sullivan & Cromwell LLP and White & Case LLP.

Bjarne has received multiple awards for legal excellence. In the United States, he was recognised in 2016 as a 'Legend in Law' recipient of The Burton Awards, held in association with the Library of Congress and cosponsored by the American Bar Association. In the United Kingdom, he was included in The Legal 500's GC Powerlist for 2016, and in 2015 The Lawyer magazine named him as one of its Hot 100 lawyers.

Originally from Norway, Bjarne holds a JD with honours from the University of Chicago and an MSc (Econ) from The London School of Economics. He has also completed Harvard Law School's Leadership in Corporate Counsel programme. Bjarne is a frequent speaker, panellist and lecturer in the United States and Europe, and he publishes regularly, including as the author of the "Career Path" column in ACC Docket, the award-winning journal of the Association of Corporate Counsel.

Prior to studying law, Bjarne was a professional actor, having appeared in several Norwegian and Swedish films and TV shows.