Book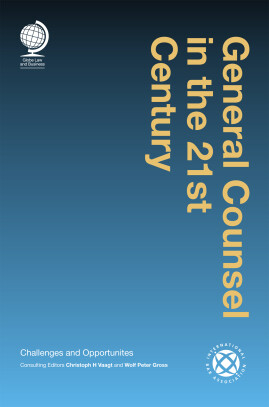 General Counsel in the 21st Century
Challenges and Opportunities
Christoph H Vaagt, Peter Gross
Published: 2015
Pages: 226

eBook: 9781787420137
This unique new handbook, includes chapters by leading experts on a diverse range of topics, explaining how legal departments can best support the businesses they serve, devise astute legal strategies, collaborate with other departments to optimum effect and source the skill sets they need, among other things.
The function of the general counsel - and in wider terms, the legal in-house department - has undergone a remarkable change in recent years. Law as such is now understood as a valuable resource, not just as a limit on commercial activities, by businesses around the world. As a result, the way that the legal function is managed is coming under heightened scrutiny from the world of management.

This unique new handbook, produced in association with the International Bar Association, includes chapters by leading experts on a diverse range of topics, explaining how legal departments can best support the businesses they serve, devise astute legal strategies, collaborate with other departments to optimum effect and source the skill sets they need, among other things. The consulting editors, Chris Vaagt and Wolf Peter Gross, have both been advisers to legal departments since 1997.

The handbook has been compiled to reflect current changes and anticipate what may happen in the future. Readers - whether in-house counsel or private practitioners - will learn new and perhaps surprising lessons about the drivers for change in the traditional world of the business of law.

Table of Contents
| | | |
| --- | --- | --- |
| Front Cover | 1 | |
| Title | 2 | |
| Copyright | 3 | |
| Table of contents | 4 | |
| Part I. Introduction | 6 | |
| Introduction: challenges andopportunities for generalcounsel in the 21st century Wolf-Peter Gross Christoph H Vaagt Law Firm Change Consultants | 6 | |
| Part II. Strategy | 12 | |
| Integrating law and strategy: the value of legal astuteness Constance E Bagley Yale Law School | 12 | |
| Strategy and the leveraging of legal resources Robert C Bird University of Connecticut | 36 | |
| The difference between carrying out legal work and adding value Abhijit Mukhopadhyay Hinduja Group | 48 | |
| Managing legal risk: a bridge too far for lawyers? Peter Kurer BLR & Partners AG | 58 | |
| Corporate governance issues Bruno Cova Paul Hastings | 72 | |
| Part III. Leadership | 88 | |
| New competencies expected of today's general counsel E Leigh Dance ELD International LLC | 88 | |
| General counsel as innovation agent: the end of the'Department of No' Paul Lippe OnRamp Systems | 100 | |
| Lawyers at the revolution Kent Walker Google | 112 | |
| The case of PGGM: the transformational legal department Max Hübner PGGM NV | 124 | |
| General counsel: leaders in the legal arena Christian Rau DaVita HealthCare Partners, Inc | 136 | |
| Part IV. Organisation | 150 | |
| Managing workloads into the future: corporate legal operations efficiency Paul Smith Eversheds LLP | 150 | |
| Legal standard setters Jochen Deister DMZ Legal Carsten Reimann Xenion Legal | 162 | |
| The legal disruption dilemma: a case study on new service Filip Corveleyn Felix Rackwitz Tools4Legal GmbH | 174 | |
| The role of information technology in shaping and supporting global legal operations Scott D Rosenberg Project Leadership Associates | 186 | |
| Compliant customer data handling: a challenge for IT service providers Dennis Grabherr Hewlett-Packard Company | 204 | |
| About the authors | 218 | |
Chris Vaagt and Wolf-Peter Gross have put together a remarkable book containing valuable perspectives and contributions on the opportunities and challenges we face, as well as on potential strategies to lead the change more effectively and efficiently.
Hergen Haas
General Counsel, Heraeus Group

General counsel, and those working with general counsel, will find this book interesting and helpful.
PLC Magazine

Constance E Bagley
Senior research scholar, Yale Law School
[email protected]

Constance E Bagley is a senior research scholar at Yale Law School. She was formerly professor in the practice of law and management at Yale School of Management, an associate professor at Harvard Business School, a senior lecturer at the Stanford Graduate School of Business and a partner at Bingham McCutchen. Her work focuses on law and strategy. Ms Bagley's books include Managers and the Legal Environment: Strategies for the 21st Century (8th edn, 2015) and The Entrepreneur's Guide to Business Law (4th edn, 2011) (co-authored with Craig E Dauchy). She is also a skilled public speaker and facilitator. Her clients include MassMutual Financial, PepsiCo, Microsoft,
Prudential and CVS Health.
Ms Bagley received her JD magna cum laude from Harvard Law School, her AB with honours and distinction from Stanford University and an honourary doctorate in economics from Lund University.

Robert C Bird
Associate professor, University of Connecticut
[email protected]

Robert Bird is an associate professor of business law and the Eversource Energy chair in business ethics at the University of Connecticut. Mr Bird's scholarship focuses on employment law, legal strategy, intellectual property, business and human rights. He is the author of more than 50 publications, including works in the Journal of Law and Economics, American Business Law Journal, Law and Society Review and the Harvard Journal of Law and Public Policy.
Mr Bird is the recipient of the Academy of Legal Studies in Business best international paper award, the distinguished proceedings award and the Holmes-Cardozo best overall conference paper award, among others. He was editor in chief of the American Business Law Journal in 2012 and 2013, where he designed and published the 50th anniversary issue of the journal's founding. He served as administrative editor, articles editor, senior articles editor and managing editor from 2006 to 2012.

Filip Corveleyn
Head of research and development, Tools4Legal GmbH
[email protected]

Filip Corveleyn is a lawyer specialising in collective labour law project management. He has been actively managing large employment restructuring programmes for international clients for 14 years, as well as providing consultancy on legal project management. Mr Corveleyn has been recognised as an employment law specialist by Who's Who Legal. In the past he was a scientific researcher at the law department of the University of Louvain, where he read law and obtained his masters degree in European Tax law. He obtained his MBA degree at the Judge Business School/University of Cambridge.
He has published papers on legal innovation together with Felix Rackwitz and presented at the Bucerius School of Law, Hamburg. In 2015 Mr Corveleyn founded the legal startup Tools4Legal together with Felix Rackwitz, as featured in the Financial Times.

Bruno Cova
Partner, Paul Hastings
[email protected]

Bruno Cova is partner of global law firm Paul Hastings and chair of its Milan office. He focuses his practice on mergers and acquisitions, restructurings, securities law and corporate governance and corporate crises. In the field of corporate governance, he advises general counsel and boards of directors on governance reforms, legal risks and internal controls, regulatory and internal investigations.
Mr Cova has been general counsel of Eni E&P and Fiat Group and chief compliance officer of the European Bank for Reconstruction and Development. Immediately before joining Paul Hastings he served as chief counsel to the commissioner appointed by the Italian government to investigate Europe's largest financial fraud, at Parmalat.
He is also an officer of the International Bar Association Anti-corruption Committee and a member of the troika of experts advising the Corporate Governance Committee of Borsa Italiana on governance reforms.

E Leigh Dance
President, ELD International LLC
[email protected]

E Leigh Dance is president of management consultancy ELD International LLC, based in New York and Brussels. She is also founder and executive director of the Global Counsel Leaders Circle, an invitation-only forum of high-level corporate counsel and compliance leaders with multinationals.
Ms Dance helps corporate legal teams apply top global enterprises' best practice to improve legal function performance, structure, service delivery, governance, crisis management, professional development and provider management.
Her commentary on legal and compliance issues facing law firm and in-house leaders have appeared in The Wall Street Journal, Financial Times, American Lawyer and Legal Week. Ms Dance's book Bright Ideas: Insights from Legal Luminaries Worldwide (Amazon), compiles 26 original essays by industry leaders.
Ms Dance has international experience in global financial services, international public policy and development, with assignments in over 30 countries. She speaks English, French and Italian, holds an MBA in international management with high honours and a BA in international relations with honours.

Jochen Deister
Partner, DMZ Legal
[email protected]

Professor Dr Jochen Deister is a partner at DMZ Legal, a law firm with a focus on IT and privacy law. He holds degrees in German, French and Japanese law, and has specialised in IT and privacy law for more than 15 years. He began his legal career at Clifford Chance and has occupied various legal management positions at Amazon, Motorola and Avanade.
Mr Deister is also professor at the faculty of computer sciences at the University of Applied Sciences in Wiesbaden, Germany.
He founded and has served as director of the In-house Counsel Institute. He has run the Deister Institute for Negotiation Science for almost a decade and has trained and advised clients on negotiation and persuasion techniques. Mr Deister is a major contributor to the German standard for legal quality management.

Dennis Grabherr
Associate general counsel and vice president, Northern Europe, Hewlett-Packard Company
[email protected]

Dennis Grabherr is an in-house lawyer with more than 18 years of international leadership experience in multinational IT and telecommunications organisations. Most recently he joined Hewlett-Packard as associate general counsel and vice president for Northern Europe. He started his career working in private practice with Baker & McKenzie in Bogotá, Colombia, and then with Haarmann, Hemmelrath & Partner in Munich, Germany, and Warsaw, Poland.
He set up and ran the legal team for EQUANT's Central Europe, Middle East and Africa region in Frankfurt. Moving on to BT Global Services, he first headed the legal department for Germany, Austria, Central and Eastern Europe and Nordics. Thereafter, he was chief counsel for Latin America based in São Paulo and then set up and headed BT's global data governance function.

Wolf-Peter Gross
Management consultant, Law Firm Change Consultants
[email protected]

Dr Wolf-Peter Gross is a management consultant at Law Firm Change Consultants, a leading consulting firm for law firms and legal departments in Europe. He is a lawyer, systemic organisational consultant and business mediator. He has been general counsel in the telecommunications and system integration industries and has many years of experience as a managing director in international businesses. Since 2005 Dr Gross has been a consultant focusing on strategy, organisation, operations and change in professional service firms and law departments.
He is the author of several published articles and a member of the visiting faculty of GGS, the German Graduate School for Management and Law, Heilbronn, Germany.

Max Hübner
General counsel, PGGM NV
[email protected]

Max Hübner is general counsel at PGGM NV. He leads the legal and tax department, which acts as a law firm for PGGM NV and a business partner for PGGM's entities. He is also a lecturer at the Amsterdam University of Applied Sciences, a strategic adviser for law firms and general counsel and executive coach for legal professionals.
For more than 20 years Mr Hübner worked on legal matters in the field of law enforcement, governance, environment and financial markets. Since 1999 he has explored the nature of legal services and has introduced document assembly and legal workflow management and brought new concepts for legal services and pricing to the market. Based on his failures and successes, Mr Hübner has developed an approach for the transformation of legal departments.

Peter Kurer
Partner, BLR & Partners AG
[email protected]

Peter Kurer is a partner with the private equity firm BLR & Partners AG. He studied law and political science at the University of Zurich and the University of Chicago. He started his professional career with international law firm Baker & McKenzie, where he became a partner in 1985. In 1990 Mr Kurer became a founding partner of the Zurich law firm Homburger, where he headed the corporate law practice group. He specialised in mergers and acquisitions and corporate law, and served on a number of boards of public and private companies. In 2001 Mr Kurer joined UBS as general counsel and member of the group executive board. He served as the chairman of the bank during the 2008–2009 crisis and then retired.
Mr Kurer is now chairman of Kein & Aber, a Swiss book publisher; he sits on a number of boards and acts as independent adviser. He also writes and speaks frequently on M&A topics, corporate governance issues and legal and compliance risk management. His new book Legal and Compliance Risk: a Strategic Response to a Rising Threat for Global Business was published by Oxford University Press in February 2015.

Paul Lippe
Chief executive officer, OnRamp Systems
[email protected]

Paul Lippe is chief executive officer of OnRamp Systems, the leader in using Watson and other machine-learning systems in order to analyse and simplify legacy contracts, manage complexity, improve quality and reduce costs for legal departments. The firm's Legal OnRamp system was first developed as a legal department productivity and collaboration platform for Cisco Systems.
Mr Lippe was general counsel and senior vice president for business development and corporate marketing at Synopsys, an electronic design automation company. He was also chief executive officer of Stanford SKOLAR, a medical digital library and e-learning company which was part of Stanford Medical School.
A graduate of Yale College and Harvard Law School, Mr Lippe speaks and writes regularly about the 'new normal' in law. Before law school he was special assistant to Senator Daniel P Moynihan (D NY) and chairman of the Colorado Air Quality Control Commission.

Abhijit Mukhopadhyay
President (legal), Hinduja Group
[email protected]

Abhijit Mukhopadhyay, a qualified lawyer and chartered secretary from India and the United Kingdom, has been general counsel and company secretary in various multinationals in India. Mr Mukhopadhyay is currently president (legal) and company secretary for the Hinduja Group in London – a $15 billion multinational employing 89,000 people in 35 countries engaged in 10 business verticals. He is a non-executive director in five countries.
Mr Mukhopadhyay is vice chairman of the International Chamber of Commerce's Commission of Arbitration and Alternative Dispute Resolution in Paris, a member of the India Business Forum of Confederation of Indian Industry, an Advisory Board member, of the International Bar Association's LFM committee, European Advisory Board member of CPR Dispute Resolution and Faculty in the Global General Counsel Academy in London.
In 2010 Mr Mukhopadhyay was ranked in the top 50 legal professionals in India. His articles on legal issues have been published in India, France, the United States, Austria, the United Kingdom and Malaysia. He has spoken at seminars in India, Malaysia, Singapore, Germany, England, the United States, France, Sweden, Japan and Austria.

Felix Rackwitz
Managing director, Tools4Legal GmbH
[email protected]

Felix Rackwitz was a partner and later on head of business development at a large German law firm for 12 years, working in their St Petersburg, Kiev and Frankfurt offices. He read law at the Universities of Marburg, Regensburg, Odessa and Kiel and obtained an MBA at the Judge Business School/University of Cambridge.
Since 2014 he has been active in start-ups in the legal sphere and founded the legal start-up Tools4Legal in 2015 together with Filip Corveleyn, which has been featured in the Financial Times.

Christian Rau
General counsel for Europe, the Middle East and Africa, DaVita Healthcare Partners, Inc
[email protected]

Dr Christian Rau is general counsel for Europe, Middle East and Africa of the US healthcare company DaVita, based in Amsterdam. He also serves as the director of the in-house legal function for the Bucerius Centre on the Legal Profession. He holds a German and US law degree. Dr Rau has 20 years professional experience with Freshfields, Johnson & Johnson, The Linde Group and Davita, having been based in Berlin, Brussels, New Jersey, Munich and Amsterdam. He specialises in mergers and acquisitions, compliance, governance, US litigation and legal leadership.
His passion for developing and operating legal departments is demonstrated by the highly successful integration and operation of two distinct legal functions after the Linde–BOC merger. In the process, Dr Rau hired and developed dozens of lawyers in a newly-structured legal and compliance organisation, comprising more than 100 legal professionals in 18 offices across the globe.

Carsten Reimann
Chief executive officer, Xenion Legal
[email protected]

Carsten Reimann is founder and chief executive officer of Xenion Legal, a startup providing lawyers on demand and developing nextgeneration legal solutions for corporate clients and law firms. He holds degrees in law and management from the Universities of Edinburgh and St Gallen. For more than 15 years Mr Reimann has specialised in legal management issues, including staffing and sourcing, while based in Brussels, Cologne, Frankfurt and London.
Mr Reimann was an attorney at Freshfields. He served as head of Nissan's Brussels office after having established Nissan's legal department for Central Europe, which was successfully certified according to ISO DIN 9001.
Mr Reimann also initiated the expert group on legal quality management at TÜV Rheinland and coordinated the project work on the standard for in-house legal departments.

Scott D Rosenberg
Corporate counsel, Project Leadership Associates
[email protected]

Scott Rosenberg has 25 years' experience helping law departments identify and translate practice management needs into strategic and actionable technology plans supporting operational best practices. Mr Rosenberg's work allows his clients to 'do more with less', creating a state-of-the-art technology platform while implementing successful change management strategies to ensure user adoption.
Mr Rosenberg served as senior manager of legal operations for Kraft Foods Group Inc and as managing director of Huron Consulting Group's legal business consulting practice. He started the corporate legal practice of Baker Robbins & Company. Mr Rosenberg is an expert in areas of legal technology and systems selection and implementation, including matter management, e-billing, document management, enterprise search, knowledge sharing, contract management, intellectual property and litigation support. Mr Rosenberg is a lawyer and certified public accountant. He earned a BS in accountancy and a JD from the University of Illinois.

Paul Smith
Chairman, Eversheds LLP
[email protected]

Paul Smith is chairman of Eversheds LLP. He is also a recognised expert on law firm partnering, convergence and innovation. He began developing this expertise as client partner for DuPont more than 10 years ago. In recent years, Mr Smith has focused on how the law firm and global corporate law department can work together effectively across multiple jurisdictions. He consults with many global corporate law departments on their structures, processes and practices to derive greater value from outside counsel. He put in place the Tyco convergence project in Europe, the Middle East and Africa, where Tyco consolidated most of its outside legal services from more than 250 law firms across 37 jurisdictions to one: Eversheds.
Legal Business magazine honoured Mr Smith as Lawyer of the Year, one of the most prestigious awards in the United Kingdom, in 2008. He was given this honour for his pioneering work in delivering new approaches to global client relationship management.

Christoph H Vaagt
Managing partner, Law Firm Change Consultants
[email protected]

Chris Vaagt is founder and managing partner of Law Firm Change Consultants – the consulting firm for law firms and legal departments – based in Munich, Germany. He holds a law degree and has worked as a consultant for various industries and as a lawyer in Munich, before turning to consulting for law firms and legal departments. Before founding his own firm in 2005, he was a consultant with Hildebrandt International, a major US law firm consultancy. He has acted for major German, Austrian, Swiss and continental European Top 100 firms. He specialises in change management techniques, focusing on strategy and law firm culture.
Mr Vaagt is author of the first benchmark study of the German law firm market and edited the book Law Firm Strategies in the 21st Century on behalf of the International Bar Association.

Kent Walker

Senior vice president and general counsel, Google Kent Walker leads Google's legal team and advises the company's board and management on legal issues.
He previously held senior legal positions at leading technology companies, including eBay, Netscape, AOL and Airtouch Communications. He also served as an assistant US attorney with the Department of Justice, specialising in the prosecution of technology crimes and advising the attorney general on management and technology issues.
Mr Walker graduated from Harvard College and Stanford Law School. He serves on the advisory boards of the Harvard School of Public Health and the Mercy Corps Social Ventures Fund.