Book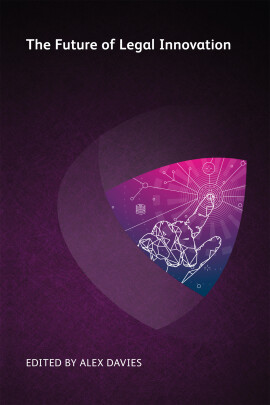 The Future of Legal Innovation
Anna McGrane, Dean Boeschen, Rebecca Holdredge, Nicola Shaver, Vishal Agnihotri, Anusia Gillespie, Linda Perez Clark, Aaron Crews, Josias N Dewey, Gordon Vala-Webb, Linda Novosel, Anshoo Patel, Sharon Scenna, Evan Parker
Published: 2021
Pages: 98

eBook: 9781787426375
This insightful book features contributions from legal firms doing innovative things in all aspects of the field, going beyond the enabling technology as well as approaches to dealing with market disruption itself.
With barely a week going by without news that yet another chief innovation officer has taken up residence in a global law firm, it's clear innovation is still a hot topic, continuing to grow and expand in terms of its reach within law firms. However, despite rapid advancement in recent years, it's generally acknowledged that legal is behind the curve in terms of innovation compared to the rest of the corporate world. It's also generally assumed that innovation relates purely to technology - meaning none but the largest companies with the deepest pockets can benefit from it. This insightful book features contributions from legal firms doing innovative things in all aspects of the field, going beyond the enabling technology - from partnering with clients to productizing services, developing external alliances, transforming the talent management function, to encouraging lawyers to invest billable time in new innovative approaches to the business and practice of law - as well as approaches to dealing with market disruption itself.
Table of Contents
| | | |
| --- | --- | --- |
| Cover | Cover | |
| Title page | i | |
| Copyright page | ii | |
| Contents | iii | |
| Executive summary | vii | |
| About the authors | xi | |
| Chapter 1: Leveraging professional teams to build a sustainable innovation strategy for your firm | 1 | |
| Mining your own data – where to start | 2 | |
| Communication and collaboration – where to start | 4 | |
| People and project management – where to start | 6 | |
| Efficiency gains and better process – where to start | 8 | |
| Conclusion | 10 | |
| More information | 10 | |
| Chapter 2: Driving innovation – ideas are the key | 13 | |
| Need ideas? Try a hackathon | 14 | |
| Avoid chaos with an idea management system | 20 | |
| Conclusion | 22 | |
| Chapter 3: Introducing design thinking into legal | 23 | |
| Why design thinking? | 24 | |
| How to kickstart your design thinking initiative | 29 | |
| Chapter 4: Cultivating an innovation mindset | 35 | |
| Barriers to change | 35 | |
| Drivers of change | 36 | |
| Starting point | 37 | |
| Background | 38 | |
| The solution | 38 | |
| How it worked | 39 | |
| Awareness and adoption | 39 | |
| The results | 41 | |
| Chapter 5: Innovation as a Service and the Maker's Matrix | 43 | |
| The Innovation as a Service model | 44 | |
| A more accurate way to think about innovation | 45 | |
| The Maker's Matrix© – a tool to fast track the problem diagnosis-solution process | 48 | |
| Creating the right team | 49 | |
| Chapter 6: Seeing things differently – diversity and innovation | 53 | |
| Innovative recruiting of diverse attorneys through pipeline building | 53 | |
| Embracing innovation | 57 | |
| Practical innovation | 59 | |
| Conclusion | 61 | |
| Chapter 7: Using machine learning and AI to drive innovation | 63 | |
| Artificial intelligence and machine learning – what are we even talking about? | 63 | |
| Innovation how to – the importance of change management | 64 | |
| Barriers to innovation | 65 | |
| Specific technologies | 67 | |
| Machine learning/AI based legal research | 67 | |
| Document and contract review | 67 | |
| Contract management applications | 68 | |
| Document drafting tools | 68 | |
| Chatbots | 69 | |
| Expert systems | 69 | |
| Data visualization | 70 | |
| Chapter 8: The new arms race – how machine learning may redefine the legal landscape | 71 | |
| Machine learning – an introduction | 71 | |
| Deep learning | 73 | |
| A digital transformation? | 75 | |
| Obstacles to delivery | 76 | |
| Chapter 9: The velocity and geography of legal innovation | 79 | |
| Are firms all talk and no action? | 80 | |
| High correlation between titles and tech firms | 80 | |
| Is China a legal innovation leader? | 81 | |
| The United – Legal Tech – Kingdom!? | 81 | |
| US legal tech is huge | 82 | |
| Canada and Australia – punching above their weight? | 82 | |
| Rate of change | 82 | |
ANNA MCGRANE

Anna holds a JD from the New York University School of Law and a masters in Chinese Laws from Peking University School of Law. While at NYU, Anna was awarded the Jacobson Leadership Scholarship, granted to students showing exceptional promise at the forefront of the convergence of business and law. Speaking five languages, Anna practiced at the London firm of Herbert Smith Freehills in its Moscow office and then transitioned to Beijing and to public interest, advising the Chinese government on oil and gas regulatory matters. She also graduated from the Fullstack Academy of Code, one of the country's top rated coding bootcamp programs. Anna has been featured in the Legal Tech News "Women of Legal Tech" series, the Lawyers Who Code series, and is a Fastcase 50 honoree.

DEAN BOESCHEN

Dean serves as the chief growth officer at Husch Blackwell LLP, and is responsible for driving firm expansion through strategic planning, innovative technology, attorney recruitment, and forwardthinking solutions. Dean's 28 years of experience in law firm finance, client development, and operations management affords him extensive insight into how the fi rm can better serve clients. He looks for ways to strategically grow the firm and ensures it stays abreast of new technologies that directly benefit clients. He partners with collaborative tech communities, such as Cortex in St Louis and Plexpod in Kansas City, to help guide the firm on the leading edge of innovation.

REBECCA HOLDREDGE

Rebecca Holdredge is the innovations manager at Husch Blackwell and an experienced data scientist, attorney and Six Sigma Black Belt. Rebecca leads the firm's innovation advisory team and the associates legal innovation team and encourages attorneys to create a culture of innovation, efficiency, and quality by developing best practices and leveraging technology. She also engages with clients and in-house counsel to better understand their needs, develop relationships, and collaborate on innovative and effective solutions. Rebecca is well versed in the approach and techniques of design sprints to encourage more collaborative ideation and experimentation.

NICOLA SHAVER

Nicola Shaver is the managing director of innovation and knowledge at Paul Hastings, LLP. Her interest in design thinking was sparked in 2015 when she participated in one of Margaret Hagan's workshops and witnessed the power of empathy and user-centric design to solve problems in a more meaningful way. Since then, Nicola has introduced design thinking at two major law firms, both as an internal driver of change and as an external tool for improving client service and xi Design Thinking for the Legal Profession engagement. Nicola is an IDEO-trained design thinking facilitator, and a 2019 graduate of the Helsinki Brainfactory Legal Design Workshop (in association with the Legal Design Summit). She is also the founder of the Legal Innovation and Design Association (LID), a support and education network for innovation professionals in US law firms with an interest in service design methodologies.

VISHAL AGNIHOTRI

Vishal Agnihotri is chief knowledge officer at Hinshaw and Culbertson LLP, where she oversees knowledge management, legal project management, and research services in support of the practice. She has held operational, consulting, and leadership roles for 22 years in enterprise knowledge management, spanning business research, knowledge technology implementation, training and adoption, knowledge process outsourcing (KPO), and social learning. Vishal has spent her career in professional service firms, most recently establishing the knowledge management function at two large law firms (Hinshaw & Culbertson and Akerman) as their first Chief Knowledge Officer. Previously at Ernst & Young, she was the Head of Knowledge for the Americas Financial Services Office (FSO), and at KPMG she was the Global Implementation and Adoption Lead for the Global Knowledge Management group. Vishal holds an MBA from the University of Leicester (UK). She frequently speaks on Knowledge Management in the professional services, and her audiences have included the World Bank, Lex Mundi Roundtables, ILTA, The Ark Group Knowledge Management in the Legal Profession Conferences, APQC, E2, IABC's Intranet Global Forum, Digital Workplace Group, and the EY Human Capital Conference. Vishal has lived and worked in four countries across three continents and speaks five languages. Her cross-cultural experiences, both personal and professional, have made her effective at leading change management, an integral component for the success of Knowledge Management and Innovation programs.

ANUSIA GILLESPIE

Anna is the director of innovation at Eversheds Sutherland, where she works to combine the right mix of talent, methodology, and technology to build new value for clients. She was brought into Eversheds Sutherland in early 2018 to build and formalize the firm's innovation function. Now a robust mechanism, the Innovation as a Service function serves as a client value research and development capability, using the best available tools and talent to design and implement creative approaches and solutions for clients. Anusia brings to her work the wealth of experience gained in both the practice and business of law, and in designing business of law programs for lawyers from around the world at Harvard Law School Executive Education. Her published works include co-authoring Smart Collaboration for Lateral Hiring (2018) with renowned Harvard Business and Law School professor, Dr Heidi K. Gardner. All of this work has earned her a variety of esteemed recognitions, including being honored with the 2019 Fastcase 50 Award. Anusia earned her Bachelor of Science in Management (BSM) from Tulane University's A.B. Freeman School of Business, Juris Doctor (JD) from Boston College Law School, and Master of Business Administration (MBA) from Boston College Carroll Graduate School of Management. She was awarded a seat on BC Law's academic law journal, the Uniform Commercial Code Reporter Digest, and inducted into the Beta Gamma Honors Society, recognizing honors in her graduate business studies.

LINDA PEREZ CLARK

Linda is the firm-wide managing partner of Kean Miller LLP. She has more than 25 years of experience representing clients in a wide variety of transactional matters, including mergers and acquisitions, and engineering, procurement, construction and construction-related contracts for projects in Louisiana and in the Gulf of Mexico. She also provides general advice to large and small businesses, including assisting clients with entity structure and governance and business succession plans. Linda is listed among the top Corporate/M&A lawyers in the State of Louisiana by Chambers USA 2019. Linda has been instrumental in diversity and inclusion initiatives at Kean Miller, founding the innovative Kean Miller Connection program that focuses on undergraduate minorities who are interested in entering law school. The program has contributed to the firm receiving the Baton Rouge Chapter of the Louis A. Martinet Society, A.P. Tureaud Award in 2015, the Louisiana State Bar Association "Human Rights Award" in 2012 and "You Make a Difference" award in 2013, the Council on Legal Education Opportunity "William A. Blakey Diversity Pipeline Architects" honor in 2013, and the YWCA Greater Baton Rouge, "Racial Justice Award" in 2007.

AARON CREWS

As Littler's first chief data analytics officer, Aaron Crews leads the firm's data analytics practice and Big Datastrategy. Leveraging an extensive background focused on the intersection of technology, business, and thelaw, Aaron's team of lawyers, analysts, statisticians, and data scientists work with clients and case teams to harness the power of data to build superior legal strategies and improve legal outcomes. This team also advises the firm and its clients on the development, implementation, and use of analytic models, machine learning and algorithm-driven technologies (often called AI), and using data visualization/data story-telling to enable insight, drive understanding, and extract value. Littler's long-held dedication to innovation is exemplified in this team, and the firm is one of the first in the United States to hire a leader dedicated exclusively to data analytics and Big Data into a position in its C-Suite.

JOSIAS N. DEWEY

GORDON VALA-WEBB

Gordon Vala-Webb is an innovation professional, organization transformer, and an award-winning knowledge management practitioner and thought leader with over two decades of experience helping organizations become smarter. Currently he works globally with Lex Mundi memberlaw firms as senior advisor, technology and innovation, to accelerate their uptake of new technology and innovative approaches. His book Building Smarter Organizations: How to Lead Your Zombie Organization Back to Life was published in 2017. Previous roles he has held include national director of innovation and information at McMillan LLP, national director of knowledge management for PwC Canada, and cabinet offi ce policy advisor (Ontario). Teams he has led have won a number of awards including Jive World's "New Ways in Business," N/ng's Top Ten Government Intranets, and the Showcase Ontario Award for Organizational Transformation. He is a member of the Board of Directors of the International Association of Innovation Professionals and holds a Master's degree in the Management of Technology. Gordon lives in Toronto, Canada.

LINDA NOVOSEL

ANSHOO PATEL

SHARON SCENNA

EVAN PARKER

Evan is the founding partner of Parker Analytics LLC. Evan has a PhD in Political Science, is an accomplished researcher, skilled practitioner, and expert at effectively communicating data-driven insights that serve as the foundation for building diverse legal teams and equitable cultures in the legal industry. Evan counts among his clients AmLaw 100 firms and Fortune 100 companies, including among the Top 10, and serves as data analytics partner and advisor to the Leadership Council on Legal Diversity (LCLD). By introducing statistical models and analytics, Evan helps clients select and retain top talent while increasing diverse representation; facilitates collaboration between law departments and law firms to increase the utilization of women and lawyers from diverse backgrounds; uncovers key drivers of firm culture; and documents the positive impact of a diverse workforce on value and financial performance. Evan's innovative use of systems thinking and data science to challenge the status quo in law firm management and legal operations has saved clients millions of dollars and put his clients at the forefront of their industry.