Book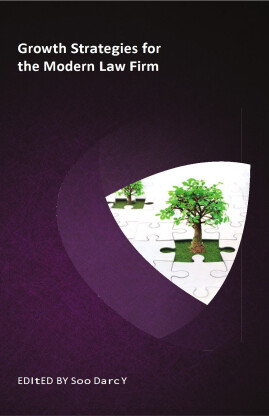 Growth Strategies for the Modern Law Firm
Ian Turvill, Angela Hickey, John Cahill, Jill Weber, Deepa Tharmaraj, Susan Pettit, David H Freeman, Robert Pay, Andrew Hedley, Soo Darcy
Published: 2016
Pages: 125

eBook: 9781787427785
Growth is an imperative for any successful business. Law firms facing rising costs, pricing pressure, and the need to invest in staff, resources, and service delivery are finding that growth is not as easy to achieve as formerly, and that market share must be wrestled from the competition.
Since the economic downturn law firms that once saw growth as easy and inevitable are finding that the only way to achieve this is now to wrest market share from the competition. There is no one "right" way to do this; some firms have opted for a determined policy of buying market share and recruiting lateral talent, while others rely on more organic growth.

With contributions from a wide range of thought leaders and industry experts, Growth Strategies for the Modern Law Firm provides advice on a number growth options available, and shares practical guidance designed to help firm leaders to formulate and implement a profitable, sustainable growth strategy.

Topics covered include:

Aligning strategy, culture, and performance management with a growth agenda
Utilizing a key relationship management program to retain and grow clients and referral sources
Implementing listening programs to better serve clients, and create a platform for differentiation and growth
Making cross-selling a cornerstone of growth strategies and firm culture
Critical success factors that enable lateral hiring to be a key to client growth
Creativity and innovations impact on growth strategies for legal departments
Systematic programs for lawyer business development
Organic growth strategies through focusing practice specialties
Holistic approaches to improving client experience that drives client growth

and much more...
Table of Contents
| | | |
| --- | --- | --- |
| Cover | Cover | |
| Title page | i | |
| Copyright page | ii | |
| Contents | iii | |
| Executive summary | vii | |
| About the authors | xi | |
| Part 1: Insight and Practice | 1 | |
| Chapter 1: Aligning strategy, culture,and performance management with a growth agenda | 3 | |
| The growth imperative | 3 | |
| Strategic overview – The nature of growth | 5 | |
| Exploring strategic options and choices | 8 | |
| Positioning and Ansoff's generic strategies | 8 | |
| Client retention and growth | 10 | |
| Sales pursuit | 10 | |
| Pricing strategy and robust financial hygiene | 11 | |
| Culture and performance management | 12 | |
| The recipe for growth | 13 | |
| Chapter 2: Designing a key relationship program – Getting started and process overview | 15 | |
| Why a key relationship program? | 15 | |
| Preconditions for successful adoption of a KRP | 17 | |
| Getting buy-in for the concept | 17 | |
| The design process | 20 | |
| Setting the program objectives | 22 | |
| Relationship program design team | 22 | |
| Launching the concept | 28 | |
| Piloting | 33 | |
| Launch | 36 | |
| Barriers to key relationship programs | 37 | |
| Chapter 3: Let your clients be the guideto your strategic success | 45 | |
| The problem | 46 | |
| The guide | 47 | |
| The plan | 49 | |
| The results | 54 | |
| Chapter 4: Crafting a cross-selling culture shift – An eight-phased approach | 57 | |
| Change the game | 57 | |
| Cross-serving as a catalyst for change | 58 | |
| The eight phases of a cross-serving culture shift | 59 | |
| Chapter 5: Lateral hiring can be key to client growth – If you do it right | 67 | |
| Critical success factor 1 – Develop and communicate an explicit strategy for lateral hires | 67 | |
| Critical success factor 2 – Recognize that successful integration begins long before and extends far after the hire date | 68 | |
| Critical success factor 3 – Apply close scrutiny to performance versus plan and make course corrections over time | 77 | |
| Conclusion | 80 | |
| Chapter 6: Why creativity and innovation are the key to value enhancement for legal departments | 81 | |
| Drivers of a changing market from the client's perspective | 81 | |
| Creativity and innovation | 84 | |
| Culture to innovate | 85 | |
| Opportunities to innovate | 88 | |
| Tools for innovation | 92 | |
| Conclusion | 95 | |
| Part 2: Case Studies | 97 | |
| Case study 1: Fast forward – Driving top-liner evenue for your law firm | 99 | |
| An innovative idea | 100 | |
| An integrated approach | 102 | |
| A focused approach | 104 | |
| The power of first impressions | 105 | |
| The "Valley of Despair" | 105 | |
| Results | 106 | |
| A packaged product | 108 | |
| Case study 2: Stewarts Law's organic growth strategy | 111 | |
| Our product | 111 | |
| Our people | 112 | |
| Improving product, people, and profitability | 115 | |
| The other stuff | 115 | |
| The results | 116 | |
| Postscript | 117 | |
| Case study 3: The LP Way – A revenue growth strategy | 119 | |
| What is the LP Way? | 119 | |
| The roll-out | 121 | |
| The LP Way steps in detail | 122 | |
| The Waysayers | 133 | |
| Results | 134 | |
| Conclusion | 135 | |
JOHN CAHILL

John Cahill is the managing partner of Stewarts Law LLP and chairman of the executive committee and risk management committee. He took over the role of managing partner in 2000, 10 years after he co-founded the firm. His objective in 2000 was to refocus the firm and thereby create a firm specializing in high-value complex disputes only. Today, Stewarts Law is a Top 100 firm and the largest litigation-only firm in the UK. John is frequently described as the "architect" of the current Stewarts Law business model. His experience (over 25 years) of dealing with a wide range of complex civil disputes has informed the firm's choice of specialist litigation areas and supported the promotion and growth of the firm.
Although not now an active fee earner, John is a member of all departmental risk assessment committees, which decide whether or not to accept instruction on a case if it is to be funded on a contingent or conditional fee basis. Correct litigation risk assessment at the outset has been and will continue to be a key component of the firm's success. John is also keen to ensure that individual practice areas are supported by a system of clear and effective management. In 2010, Stewarts Law was delighted to see this "fundamental" acknowledged when it was voted Best Managed Professional Firm at Managing Partners' Forum's European Practice Management Awards.
In the last 10 years, John has spearheaded the launch of the firm's divorce and family, aviation and travel, commercial litigation, employment, competition litigation, international arbitration, tax litigation, and trust litigation departments.

DAVID H. FREEMAN

David H. Freeman, JD is a former practicing lawyer, the award-winning CEO of the David Freeman Consulting Group, and founder of Law Firm CultureShift®. He is a bestselling author, speaker, consultant, and coach who has shown thousands of lawyers and professionals how to become more effective leaders and rainmakers.
For three consecutive years, David was recognized nationally as the top "Law Firm Business Development Consultant and Coach" in National Law Journal surveys, and for over 20 years he has worked with hundreds of law firms worldwide, including over one-third of the AmLaw 200. He is the author of four books: The Law Firm Leader's Reference Guide for Creating a Business Development Culture; Secrets of the Masters: The Business Development Guide for Lawyers; Weekly Reminders for Revenue- Focused Leaders; and Creating a Cross-Serving CultureShift: Mastering Cross-selling for Lawyers and Leaders. David is a highly rated speaker, trainer, and consultant, and his expertise has been recognized through appointments as an elected fellow in the College of Law Practice Management, and as the exclusive business development coach for the Women in Law Empowerment Forum (WILEF). He also brings a deep understanding of how to engage the organizational and human factors that drive successful implementation based on several years as a change management, strategic planning, and balanced scorecard consultant for mid-sized and large corporations. He brings all of his expertise together in his proprietary Law Firm CultureShift® process, a whole firm methodology that dramatically increases client and revenue-focused activity throughout a firm. He can be reached at 949–715–0819 or David@LawFirmCultureShift.com.

ANDREW HEDLEY

Andrew Hedley works with the leaders of law firms on issues of vision, strategy, and change in what is an increasingly dynamic and unpredictable market. He is engaged by firms on both a project and retained basis to assist in developing strategy which responds to these challenges and creates sustainable competitive advantage.
In addition to his strategic project advice, Andrew is also much sought after as a strategy group guide for away-days, a partner retreat speaker, workshop facilitator, and moderator. He is the author of The Law Firm Merger: A Leader's Guide to Strategy and Realisation (2014), Client Strategy in a Changing Legal Market (2011), and Developing Strategic Client Relationships (2008). Andrew sits on The Lawyer Business Leadership Summit's advisory board and the judging panel of the Managing Partners' Forum (MPF) Awards for Management Excellence. He has also judged both The Lawyer Management Awards and the Legal Marketing Awards. He served on the editorial board of Managing Partner magazine for 10 years. Andrew has been a guest speaker on both Nottingham Law School's MBA in Legal Practice and the Postgraduate Certificate in Legal Practice Management at Manchester Law School.
He has been admitted as a fellow of the Institute of Directors, the Strategic Planning Society, the Chartered Management Institute, Cambridge Marketing College, and the Royal Society of Art. He is a member of the Triple Nine Society. Andrew established Hedley Consulting (www.hedleyconsulting. com) in 2005. The practice is recognized as a leading boutique strategy consultancy within the legal sector.

ANGELA HICKEY

Angela Hickey is executive director of Levenfeld Pearlstein, overseeing LP's business operations with the philosophy that change can only be driven by trust built through transparency. Applying this philosophy to her own role within the firm, she has become one of LP's most trusted and influential leaders, paving the way for the development of many of the innovative business strategies that help to make the firm a marketplace leader. This includes orchestrating the successful execution of the LP Way through her position as a member of the firm's executive and compensation committees, and using her influence there to broaden perspectives and systems within the firm.

ROBERT PAY

Robert Pay started his career in London, working in advertising as an account manager for a number of multinational clients. He first got involved in key relationship management at Deloitte Haskins & Sells, where he worked as marketing manager for the banking and securities practice both for the UK and the international firm. He was then recruited by Clifford Chance to establish its first marketing function and set up a key relationship program, the first in a major law firm.
Robert served at the London Stock Exchange as head of marketing where he partnered with investment banks to develop a successful campaign to compete with NYSE and Nasdaq for international IPO business; he also launched and served on the board of Aim, working with regional and national legal and accounting firms to promote this successful growth companies market. After this, he became managing director of Jaffe Europe, working with a wide range of law, accounting, and consulting firms, largely on client relationship and satisfaction programs. Moving in-house, he led the marketing functions of BSI Management Systems, a global certification body, and international law firm Taylor Wessing LLP.
Based in New York since 2008, he is currently director of business development (global shared services) at Alvarez & Marsal LLC, a global professional services firm best known for restructuring and performance improvement. He is also an associate of the Z/Yen Group. He has designed and implemented over 10 key relationship programs in accounting, law, and consulting firms.
Robert is a graduate of Oxford University where he majored in history. He has an MBA (distinction) from Cass Business School, City University, London; he holds a UK Market Research Society Diploma (distinction); and is a certified business coach.
He is fluent in French, German, and Spanish.
He is contactable at robert@robertpayconsulting.com or via www.robertpayconsulting.com.

SUSAN PETTIT

Susan Pettit is the founder and managing director of Client Central, and has been helping businesses create profitable client relationships for over 16 years. Working with a range of high-profile professional services firms as well as a leading international research company, Susan has a unique perspective on how to undertake and manage client listening programs. She has presented on the subject of client feedback around the world, contributed to leading business publications, and works hand in hand with her clients to ensure they extract maximum value from each and every feedback project undertaken. For more information visit clientcentral.co.uk.

DEEPA VARGIS-THARMARAJ

Deepa Vargis-Tharmaraj, currently a legal director for Middle East, Africa, and Turkey at Dell FZ-LLC, a leading enterprise and consumer technology solutions provider, is responsible for providing legal advice on all matters supporting the local and regional Dell businesses. She joined Dell four years ago, having previously worked at British Telecom in roles involving intellectual property, product development (patent licensing, technology transfer, and collaborations), and procurement. She is also the telecom, media, and technology sector lead for the Association of Corporate Counsel, Middle East. Within Dell, Deepa is the global program manager to one of Dell's 11 employee resource groups (a CSR initiative) that focuses on connecting cultures and celebrating diverse perspectives – Mosaic. Deepa is also passionate about innovation and inspiring the next generation within the UAE to be bold and take on new challenges. She has embraced social media and actively speaks and writes about innovation in the UAE and beyond. She is also a committee member of the GCC national committee for an international network of not-for-profit schools, United World College.

IAN TURVILL

Ian Turvill is the chief marketing officer of Freeborn & Peters LLP, a full-service law firm and GGI member headquartered in Chicago. Ian oversees the firm's marketing and business development functions, including marketing strategy, marketing communications, digital media, public relations, and client events and outreach. Ian is the treasurer-elect of the international Legal Marketing Association. He is a graduate of the University of Oxford and was also a John M. Olin Fellow at the Simon School of Business. He has dual US/UK citizenship.

JILL WEBER

Jill Weber is chief marketing and business development officer for Stinson Leonard Street, where she created Fast Forward®, a nationally recognized revenue program. Jill appears on the National Law Journal's "50 Business of Law Trailblazers & Pioneers" and was recognized as an "Unsung Legal Hero" by Minnesota Lawyer. She has received 22 local and national Legal Marketing Association (LMA) "Your Honor" awards. She will be the 2017 president of the LMA board of directors, and attended Harvard Law School's "Leadership in Law Firms" executive education program.