Book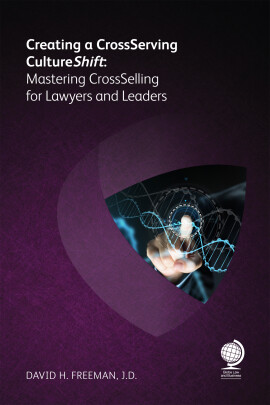 Creating a Cross-Serving Cultureshift
Mastering Cross-Selling for Lawyers and Leaders
Published: 2015
Pages: 104

eBook: 9781787427600
Drive greater cross-selling success with this practical, actionable guide on creating a cross-serving culture within your law firm.
Are you making the most of your firm's cross-selling opportunities?

On average, in a typical firm, 20% of the lawyers are high-performing rainmakers. They know the secrets to capitalising on business development opportunities and they often manage to secure big clients. A further 20% are doing little in the way of business development. The rest (around 60%) are sitting somewhere in the middle. They're bringing in business, but more needs to be done to find that extra revenue. How can this 60% really capitalise on making more money? More and more law firm leaders are turning to cross-selling.

Develop a cross-serving culture to cross-sell

In many cases, cross-selling in the legal sphere is a lot easier said than done. It should be easy to get more work in different practice areas from your existing clients, but organisational challenges and working cultures can often stand in the way of cross-selling success.

How can your firm overcome these challenges and make the most of this traditionally untapped revenue stream?

Creating a Cross-Serving CultureShift: Mastering Cross-Selling for Lawyers and Leaders is a practical guide dedicated to helping you achieve exactly this. Packed with clear, actionable guidance on how to attract, retain and grow a client base, it provides scores of practical tips to help you and your firm become a true master of cross-selling. To address the crux of the challenge at most firms - adjusting mindsets and cultural attitudes of lawyers to encourage cross-practice collaboration - the book outlines a proven strategy to address the cultural change that is necessary to a successful cross-selling initiative.

The guide will also show you how to:

Initiate excellent communication between practice groups
Educate your teams to ensure they have a deep understanding of the services offered by other lawyers at your firm
Instill a culture of trust and empathy between lawyers so a cross-serving culture can develop more easily
Implement an active client feedback programme
Achieve higher levels of client service, so you become the firm your clients turn to for important work
Implement a compensation system that rewards team-based behaviours
Encourage personal accountability
Employ proactive leaders who are committed to driving key cross-serving behaviours

Why this guide is a real-game changer

Learn from David Freeman, one of the world's leading authorities on maximising cross-selling in law firms. He has over 30 years' experience and was recognised as the top "Law Firm Business Development Consultant and Coach" in National Law Journal surveys in the US.

Actively increase the amount of lawyer time and energy that is devoted to cross-selling at your firm. Uncover 13 key 'Accelerators' that will help your future business development success. Drive greater cross-selling success with the Appendix designed for firm leaders, offering a practical, high-level checklist of major activities. In addition to the author's perceptions, this book includes insights from law firm leaders who have provided input based on a survey conducted specifically for this project.
Table of Contents
| | | |
| --- | --- | --- |
| Cover | Cover | |
| Praise for Creating a Cross-Serving Culture Shift and David H. Freeman, J.D. | i | |
| Title page | ix | |
| Copyright page | x | |
| Contents | xi | |
| Executive summary | xiii | |
| About the author | xv | |
| Dedication | xvii | |
| Chapter 1: Introduction | 1 | |
| Retention and loyalty | 2 | |
| Serve the best interests of the client | 2 | |
| Reframe the game | 3 | |
| Culture is everyone's job | 4 | |
| The duty of leadership | 5 | |
| Chapter 2: Increase motivation to acton cross-serving | 7 | |
| Build the business case | 9 | |
| Focus on the "coalition of the willing" | 9 | |
| Access the inner entrepreneur | 10 | |
| Collaborative planning | 11 | |
| Aligned personal planning | 11 | |
| Compensation | 11 | |
| Chapter 3: Obstacle removal | 13 | |
| Barriers to success | 13 | |
| Just say "no" | 15 | |
| The importance of leadership | 15 | |
| Listen to your inner voice | 16 | |
| The obstacles | 17 | |
| Chapter 4: Activate the Accelerators | 29 | |
| 1. The Client Feedback Accelerator | 29 | |
| 2. The Key Client and Industry Team Accelerator | 32 | |
| 3. The Exceptional Client Service Accelerator | 35 | |
| 4. The Internal Cross-Connections Accelerator | 38 | |
| 5. The Internal Giving Accelerator | 46 | |
| 6. The Internal Approach Accelerator | 48 | |
| 7. The Client Contact Accelerator | 52 | |
| 8. The Technology Accelerator | 59 | |
| 9. The Compensation Accelerator | 63 | |
| 10. The Key Measures Accelerator | 67 | |
| 11. The Internal Communication/PR/EducationAccelerator | 69 | |
| 12. The Accountability Accelerator | 71 | |
| 13. The Leadership Mega-Accelerator | 73 | |
| Chapter 5: The race to the future | 81 | |
| Appendix: The Watcher toolkit | 85 | |
David Freeman has a keen understanding of the art of cross-selling and the benefits it brings. His professional background and experience allows him to articulate the case for team centered business development in a way that motivates and inspires even the most reluctant professional.
Peter Kellett, Chairman and CEO
Dykema

In my opinion, David is the world's leading authority on practical aspects of maximizing cross-selling in law firms.
Elizabeth Anne "Betiayn" Tursi, Global Chair and Co-Founder
Women in Law Empowerment Forum

David Freeman has literally written the book on cross-selling. This is NOT a 30,000 foot view but rather he gives us boots on the ground, practical guidance from years of overcoming obstacles in every type of law firm culture.
Doug Hoover, CMO/Director of Marketing & Business Development
Schiff Hardin LLP

David H. Freeman, J.D.
https://www.linkedin.com/in/davidfreemanconsulting/

David H. Freeman, J.D., a former practicing lawyer, is the award-winning CEO of the David Freeman Consulting Group and founder of Law Firm CultureShift(R). He is a best-selling author, speaker, consultant and coach who has shown thousands of managing partners, group and department leaders, partners, counsel, laterals and associates how to become better leaders and rainmakers.

For three consecutive years, David was recognized nationally as the top "Law Firm Business Development Consultant and Coach" in National Law Journal surveys, and for over twenty years, he has worked with hundreds of law firms world-wide, including over 1/3 of the AmLaw 200.

David has authored three other books in the area of law firm leadership and business development: The Law Firm Leader's Reference Guide for Creating a Business Development Culture; Secrets of the Masters: The Business Development Guide for Lawyers; and Weekly Reminders for Revenue-Focused Leaders, and he has written dozens of articles on the revenue-related aspects of leadership, service, strategy, and business development for many of the major legal publications.

David is a highly rated speaker, trainer and consultant who presents at firm retreats, law firm networks, bar associations, law schools, and law firm leadership conferences. His expertise has been recognized by his peers as evidenced by appointments as: An elected Fellow in the College of Law Practice Management The exclusive business development coach for the Women in Law Empowerment Forum (WILEF) Co-Chair the 2010 Annual Conference for the Legal Marketing Association (LMA) A former member of the Board of Editors for Marketing the Law Firm (an American Lawyer Media publication) A former member of the Education Committee of the Legal Marketing Association In his work as the founder of Law Firm CultureShift(R), David helps firms transform their culture of business development.

His main areas of practice include leadership training and coaching for firm leaders; accelerated cross-selling; business development training and coaching; client service training; retreat design, speaking and facilitation; and business development culture assessments.