Book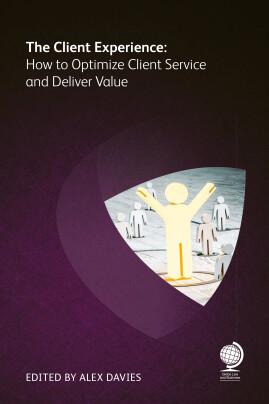 The Client Experience
How to Optimize Client Service and Deliver Value
Sally Dyson, Will Taylor, Yolanda Cartusciello, Andrew Hedley, David H Freeman, Kim Carr, Douglas McPherson, James Matthews, Scott Rechtschaffen, Helen Hamilton-Shaw, Paul A Williams
Published: 2021
Pages: 118

eBook: 9781787428157
A client-centric business model is essential for future law firm success and the authors of this far-reaching title utilize their own experience and real-life case studies to drill down into the importance of maintaining the one thing no business can do without: its client.
We all know that law is a people business. Clients buy from lawyers whom they like, respect, and trust, and they judge those lawyers and their firms on the quality of service that the firm provides, the results achieved, and whether they receive value for money. This applies to corporate, institutional, and private clients alike. For their business plans to be connected to reality, partners and law firm leaders must learn how they are perceived by their clients and adapt accordingly. They do this by listening to their clients. Historically this was through informal, fireside chats. In recent years, many firms have devised formal client listening programs and in recent years there has been an explosion of review sites and social media channels enabling clients to leave their unfiltered and public feedback, whether solicited or not. Forward-looking firms are adopting multi-channel approaches to taking feedback to maximize the intelligence they gather and to adapt to clients' own preferences. As ever, the most nimble and adaptable will reap the rewards.

The Client Experience: How to Optimize Client Service and Deliver Value looks at the client experience from end-to-end, from client listening programs to journey mapping, from customer audits to how legal tech can help improve the way a client interacts with a law firm throughout its relationship. A client-centric business model is essential for future law firm success and the authors of this far-reaching title utilize their own experience and real-life case studies to drill down into the importance of maintaining the one thing no business can do without: its client.
Table of Contents
| | | |
| --- | --- | --- |
| Cover | Cover | |
| Title page\r | i | |
| Copyright page\r | ii | |
| Contents | iii | |
| Executive summary | vii | |
| About the authors | xiii | |
| Chapter 1: Client feedback has gone stereophonic: are you still listening in mono? | 1 | |
| Introduction | 1 | |
| How firms listen | 2 | |
| Bringing it all together | 13 | |
| Conclusion | 15 | |
| Chapter 2: Client feedback – asking the hard questions to get the best results | 17 | |
| Introduction | 17 | |
| Why have a client feedback program? | 17 | |
| Have a structured set of questions | 19 | |
| Ask the hard questions | 21 | |
| Go "off piste" when given the invitation | 23 | |
| Ask the "hard" clients | 24 | |
| Have the right person asking the questions | 25 | |
| However you do it, make sure you act on the feedback | 25 | |
| Conclusion | 25 | |
| Chapter 3: Cultural shift or cultural shove? The challenges of the client journey in the post-pandemic era | 27 | |
| Client journeys in the pandemic and beyond | 28 | |
| What the clients told us | 29 | |
| The shift versus the shove | 30 | |
| Client journey management | 31 | |
| Client journey mapping | 31 | |
| Inject client thinking into the client journey design process | 33 | |
| Identify new client needs and services | 33 | |
| Provide management committees with a powerful governance tool | 33 | |
| Conclusion | 33 | |
| Chapter 4: Client journey mapping as a source of sustainable competitive advantage | 35 | |
| Setting the strategic context: what client journey mapping is and why it matters | 35 | |
| Client journey mapping as an integrative process | 36 | |
| Understanding touchpoints: necessary but not sufficient | 39 | |
| Stages of the client journey | 40 | |
| Using Servqual to understand and align brand promise with brand experience | 43 | |
| Taking things forward | 46 | |
| Chapter 5: Client loyalty – delivering exceptional client service | 49 | |
| Build long-term relationships | 49 | |
| Be highly responsive | 50 | |
| The new math | 51 | |
| Get on their turf | 52 | |
| Understand the client's business | 52 | |
| Client feedback | 53 | |
| Client service teams | 54 | |
| The feedback process | 55 | |
| Annual client meetings | 55 | |
| End-of-matter reviews | 56 | |
| Mid-matter reviews | 56 | |
| Act on feedback | 56 | |
| Deliver added value | 57 | |
| ACC Value Challenge | 57 | |
| Work as a team | 58 | |
| Other techniques for delivering exceptional service | 58 | |
| Chapter 6: Defining, measuring, and delivering a stellar client service strategy | 61 | |
| Defining "stellar" | 62 | |
| Bringing everyone on board | 63 | |
| Sharpening the tools of our trade | 64 | |
| Chapter 7: Optimizing client service in the post-COVID legal market | 67 | |
| How do you provide the best possible client service? | 69 | |
| How do you put the improvements you want to make into practice? | 73 | |
| How do you ensure you are delivering the optimal levels of client service while working in a hybrid environment? | 75 | |
| Chapter 8: Are automated assistants ready to optimize the next chapter of online client care? | 77 | |
| Is LegalTech the springboard to a higher level of client service? | 77 | |
| Where to start? | 79 | |
| Virtual assistants – a simple starting point | 80 | |
| How could a virtual assistant improve your client care? | 82 | |
| How can virtual assistants be used to improve the way you market and the results your marketing achieves? | 83 | |
| Chapter 9: Innovation as a business development strategy | 87 | |
| Law firm marketing approaches have evolved | 87 | |
| Why innovation is relevant for today's corporate legal clients | 88 | |
| Innovation at Littler | 89 | |
| The beginnings of innovation at Littler – knowledge management | 89 | |
| Knowledge management as the foundation of a comprehensive content marketing strategy | 90 | |
| How do we do it? | 92 | |
| Innovative legal service solutions as a brand differentiator for Littler | 93 | |
| Conclusion | 96 | |
| Chapter 10: The LawNet Mark of Excellence – lessons for law firms | 97 | |
| The LawNet Mark of Excellence | 98 | |
| Cultural commitment | 102 | |
| Rates of satisfaction | 104 | |
| Learning lessons | 105 | |
| Feedback from LawNet member firms on how they are making use of CX metrics to effect change: | 107 | |
| Chapter 11: Litigation management in a still uncertain world | 109 | |
| Pandemic litigation trends so far | 109 | |
| What still lies ahead? | 112 | |
| The litigation burden | 112 | |
| The litigation management solution | 113 | |
| The practice of successful litigation management | 115 | |
| An opportunity to take control | 117 | |
Client demand for excellent service and great value from law firms is a constant but how that service is delivered and evaluated has been transformed by the COVID-19 pandemic and the digital revolution. This timely book brings together eleven legal sector experts who share their experience of the latest approaches to gaining new solicited and unsolicited feedback; mapping client journeys; measuring client service and leveraging technology. This book is an invaluable resource for anyone seeking to deliver what clients need in the way they most appreciate.
Paul Smith
former Global Chairman, Eversheds Sutherland

The main ideas and first-hand examples cover the key objectives, processes and outputs in client service optimisation. Being 'client-focused' might be overused but the book demonstrates how fine-tuning the client journey can be an effective route to differentiation and growth.
Matt Baldwin
PM Magazine

KIM CARR
https://www.linkedin.com/in/kim-carr-7a959715/

Kim Carr is lead partner of the wills, probate, and lifetime planning department at FBC Manby Bowdler LLP. Ranked in both the Legal 500 and Chambers, FBC Manby Bowdler LLP is a 28-partner firm with over 170 staff working from six offices across the West Midlands, Shropshire, and Worcestershire in the UK. Kim first joined the firm as a trainee solicitor in 1986 and later progressed to partner and then managing partner before taking the position as lead partner for the wills, probate, and lifetime planning department in April 2020. Kim was named LawNet Managing Partner of the Year in 2012 and has been chair of the LawNet board since 2015 - the first woman to hold the role in the network's 26-year history.

YOLANDA CARTUSCIELLO
https://www.linkedin.com/in/cartusciello/

For more than 20 years, Yolanda Cartusciello served in senior administrative leadership roles in major law firms, including Debevoise & Plimpton and Cleary Gottlieb. At both firms, she led the marketing teams, designed their business development and media strategies and took charge of their implementation. She was the chief architect of profile enhance-ment strategies, perception studies, branding exercises, comprehensive client interview programs, and practice and lateral partner rollouts. She co-developed marketing technology solutions and created media relations and digital strategies. She has also developed business development and communications training and coaching programs for lawyers at all levels. For the last five years of her tenure at Debevoise, Yolanda was a permanent participant in the weekly management committee meetings and worked on a number of firm committees and projects, including an evaluation of all of the partner-facing support functions of the firm. Since joining PP&C Consulting in January 2016, Yolanda has undertaken a number of strategic planning projects, working with firm management to adopt firmwide, practice- and office-specific strategies. She has also performed marketing function analyses, including a review of people, processes, and technology. Yolanda has also helped to launch several smaller firms, leading the marketing and business development rollout and providing overall administrative direction. In addition, Yolanda has long experience handling organizational and personnel issues. She has advised on the development of the legal assistant, knowledge, and practice management, and legal marketing staff roles at various firms. She hired, trained, and supervised more than 150 administrative employees for work in high-achieving cultures. Yolanda has a BA from the University of Iowa and an MFA from Brooklyn College.

SALLY DYSON
https://www.linkedin.com/in/sallydyson/

Sally Dyson is the director of Firm Sense Ltd, a legal sector specialist consultancy where she provides a combination of client listening, executive coaching, and business skills training to enhance her clients' personal and business effectiveness and to enable them to create and implement client-focused success strategies. Sally's experience working both as a private practice solicitor and as an in-house lawyer inspired her to found Firm Sense to bridge the communication gap between lawyers and their clients. In addition to her legal qualifications, Sally is a trained coach and author of several books for lawyers: Client Listening: Why it Pays and How to Do it, Budgeting and Negotiating Fees with Clients: A Lawyer's Guide and The Real Deal: Law Firm Leadership that Works.

DAVID H. FREEMAN, JD
https://www.linkedin.com/in/davidfreemanconsulting/

David H. Freeman, JD is an award-winning consultant and two-time bestselling author, and for 27 years has trained and coached thousands of lawyers and leaders from hundreds of law firms worldwide, including nearly half of the Am Law 200. He is a former practicing lawyer from New York, and for three consecutive years he was voted the #1 business development consultant and coach in nationwide National Law Journal surveys, which earned him the distinction of being named to the National Law Journal Hall of Fame. He is also a fellow in the College of Law Practice Management. David is the CEO of the David Freeman Consulting Group, founder of Law Firm CultureShift®, the creator of the Culture Xray® (an internal business development culture assessment), and the developer of breakthrough technology that automates cross-selling coaching for lawyers (Cross Serving®). David is also the author and co-author of 13 books on law firm business development, leadership, and client service, and is a frequent speaker at industry conferences and law firm retreats.

HELEN HAMILTON-SHAW
https://www.linkedin.com/in/helenhamiltonshaw/

Helen Hamilton-Shaw, member engagement and strategy director with LawNet, is recognized as a driving force in legal sector client experience, having designed and developed LawNet's award-winning Mark of Excellence in client care. LawNet provides a vibrant community for progressive, independent law firms aspiring to excellence and gives its members access to collective purchasing, shared knowledge, best practice, and expertise. Members of the collaborative, mutually-owned, national network range from £2m to £25m turnover and must achieve and maintain LawNet's own ISO 9001 standard and the associated Mark of Excellence in client service.

ANDREW HEDLEY
https://www.linkedin.com/in/andrewhedley/

Andrew Hedley is a prominent advisor to the legal, accounting, and property sectors. He works with firm leaders on issues of vision, strategy, growth, profit enhancement, performance improvement, merger, and change management. In addition to project work, he is also much sought after as a strategy group guide, partner retreat speaker, workshop facilitator, and moderator. Andrew is a respected contributor to specialist strategy and management publications. He is a regular keynote conference speaker, media commentator, and regularly writes within the sector media.
He is the author of Developing Strategic Client Relationships, Client Strategy in a Changing Legal Market and The Law Firm Merger: A Leader's Guide to Strategy and Realisation. He sits on the advisory board of the Managing Partners' Forum and chairs the MPF Awards for Management Excellence judging panel. Andrew has been admitted as a fellow of the Institute of Directors, the Strategic Planning Society, the Chartered Management Institute, the Chartered Institute of Marketing, Cambridge Marketing College, and the Royal Society of Art. He is a member of the Triple Nine Society and sits on the Council of The Naval Club. His firm, Hedley Consulting, is recognized as a leading boutique strategy consul-tancy to the professional services sector, with clients ranging from global firms to significant regional players.

JAMES MATTHEWS
https://www.linkedin.com/in/james-m-0b783918b/

James Matthews is the country manager of CM.com in the UK and Ireland and leads the team's expansion across the region, championing the benefits of cloud software for conversational commerce. Passionate about technology since the very start of his career and armed with a Bachelor's Degree in Marketing from the University of Portsmouth, James cut his teeth at Motorola before moving into sales roles at Sony and Canon. His passion for technology took him to Telephonetics VIP (now Netcall) where he was immersed in the cut and thrust of customer contact and automation for both the private and public sector.
Leading the corporate team at Truphone - one of Europe's best-funded start-ups - James was responsible for three sales teams (Corporate, SME and Channel). He enjoyed great success building Truphone's sales organization, selling Truphone's innovative technology services to some of the largest corporations and enterprises both in the UK and US. Bitten by the start-up bug, he joined Route Mobile as VP for Europe, selling SaaS and CPaaS solutions alongside customer support and operations services. As the first person in the region, James built a formidable team across Europe in sales, marketing, and tech support. Route Mobile recently IPO'd.
Joining CM.com in 2020, his wealth of experience in sales, marketing, and customer service - not to mention his invaluable start-up background - is the driving factor in the company's continued growth across the UK and Ireland, working with public and private sector organizations across a wide variety of industries.

DOUGLAS MCPHERSON
https://www.linkedin.com/in/dougmcpherson/

Douglas McPherson has had a long career in marketing and business development within professional services. For the last ten years he has been a director of Size 10½ Boots Ltd, a specialist BD agency that works solely with law firms, accountants, intellectual property firms, and barristers' chambers, helping them find smarter, easier, and more effective ways to grow their practice.

SCOTT RECHTSCHAFFEN
https://www.linkedin.com/in/scott-rechtschaffen-7031355/

As Littler's chief knowledge officer, Scott Rechtschaffen leads the firm's effort to provide innovative client services by integrating new technologies and work processes and enabling attorneys and clients to access the collective knowledge and experience of the firm's 1,500+ attorneys. Scott heads the firm's KM department, a team of 65+ professionals including dedicated, full-time knowledge management attorneys along with legal research specialists and writers, content administrators, and a training/ video production team. Scott is the co-founder of ComplianceHR, an innovative joint venture launched in 2015 by Littler and Neota Logic, a legal software company. ComplianceHR leverages Littler's experience and knowledge of employment law with the power of Neota Logic's expert systems to provide a transformative suite of online compliance solutions. Scott is also an adjunct professor of law at Cornell Tech in New York City where he teaches a class on delivering legal services through technology.
Scott has written extensively and has published articles in national publications on human resources management, knowledge management, and legal technology. He regularly speaks at knowledge management seminars and legal technology conferences organized by the American Bar Association's Law Practice Management Section, Association of Corporate Counsel, American Lawyer Media, Legal Marketing Association, International Legal Technology Association, Ark Publishing, and other professional organizations. For his achievements in knowledge manage-ment, Scott has been awarded the Distinguished Peer Award as KM Champion of the Year by the International Legal Technology Association. In 2014, he was named to the Fastcase 50 and the Financial Times named Scott among the ten most innovative lawyers in North America. That year, he also received an Innovator Award from The Recorder legal newspaper and the following year The Recorder awarded him for being a Serial Innovator. Scott was inducted as a fellow in the College of Law Practice Management, a peer-nominated honor bestowed on law practice management specialists, and currently serves on the College's board of trustees.

WILL TAYLOR
https://www.linkedin.com/in/willtaylor23/

Will Taylor is a senior client development manager at Wiersholm, one of Norway's leading law firms based in Oslo, and has a decade of experience working in business development and client development roles, predom-inantly in the legal sector. He has broad international experience, having worked at market-leading law firms in London and Auckland, as well as within legal roles in Australia, India, and China. His experience includes client feedback, end-to-end pitch management, client experience, pricing, business planning, thought leadership, and training. He has written a number of articles and chapters on client experience topics. He has a degree and Masters in law.

PAUL A. WILLIAMS
https://www.linkedin.com/in/pawlaw/

Paul A. Williams is a partner at Shook, Hardy & Bacon LLP and co-chair of Shook's general liability litigation practice group, based in Kansas City. He focuses his trial practice on complex litigation and trial practice management and partners with clients to create relationships that align client and firm interests to achieve better legal outcomes at exceptional value. Paul believes win-win partnerships with clients are built on collaboration, innovation, strategic action, and trust - all of which ultimately bring better results and the metrics to prove them. He has received national recognition for his innovative use of alternative billing arrangements and the Coefficient® litigation management approach to curtail legal spend and effectively manage otherwise unpredictable litigation. Paul has been named as an Acritas Star, a Client Service All-Star by BTI Consulting, and as a Litigation Trailblazer by National Law Journal for his client-first focused relationships and his leadership in alternative fee arrangements.